First 7 Days To A New You

If you have ever wondered what your first week on The New You Plan would be like, sit back and soak up Ciara's frank and unedited 7-day diary.
Very often our customers ask "What is the first week on plan actually like?". While everyone will have their own unique experiences in their first 7 days of The New You Plan, we asked first time customer Ciara to keep a diary for a week. This diary provides a brilliant insight into your first week on plan.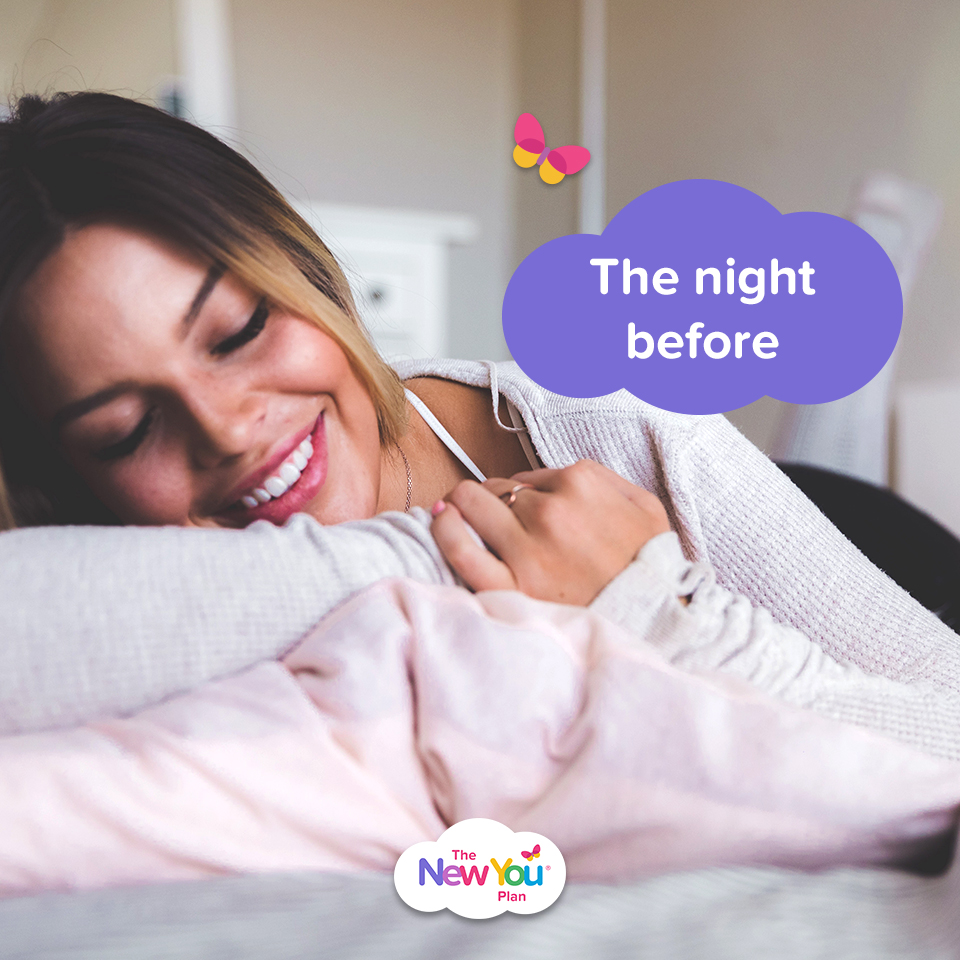 The night before
Aggh…. I am excited and nervous and hopeful and scared all at once. That's a bit of a full on confession given you don't even know me so let me introduce myself. My name is Ciara, I'm mum to two boys aged 11 and 8 and wife to Tom. I work part-time in healthcare for an NHS Trust and I enjoy cooking, reading and walking. I wasn't sure if I was going to tell you my weight here, no-one knows it – not even my mum – but I am going to be brave and type it. I currently weigh 17 stone 4 lbs. Even typing it out makes me feel awful. I am actually 4 stone heavier than I was at full term during both pregnancies with my boys.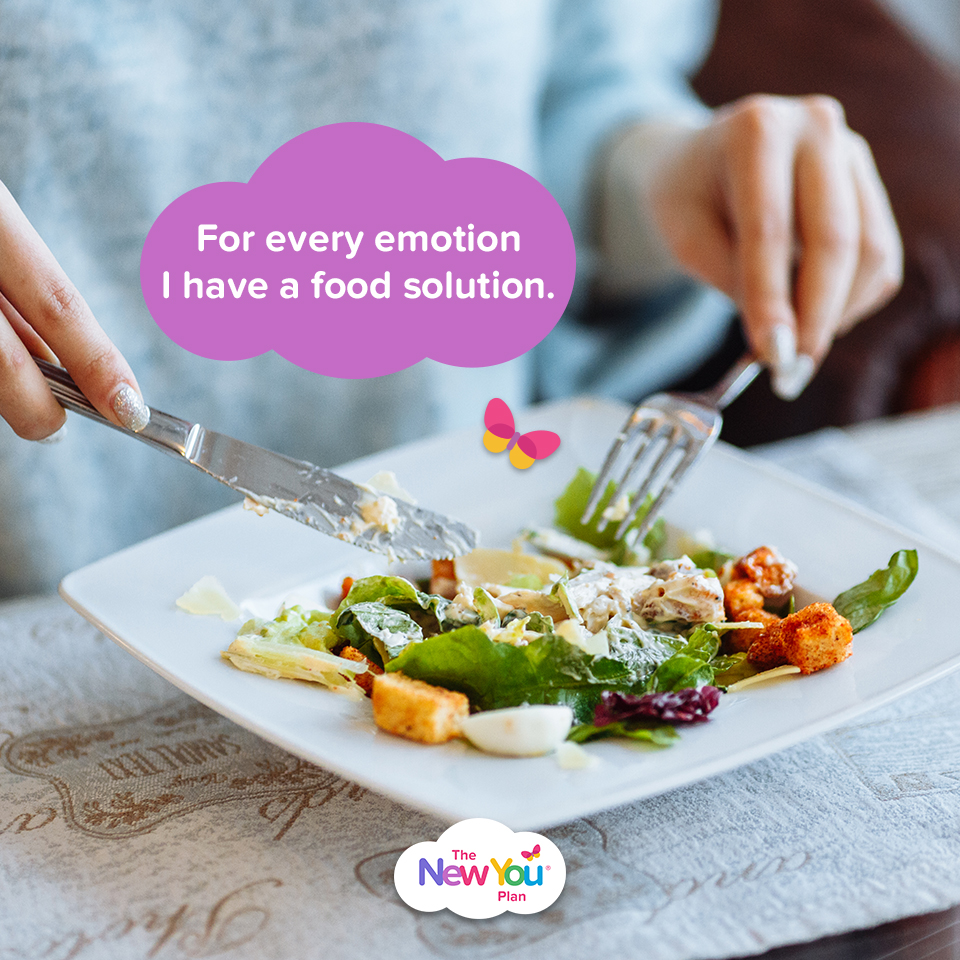 So how did I get here? The same story you have probably heard before. I am an emotional eater – I eat when I am stressed, sad, and angry. I also eat when I am chilled out, happy and excited. Basically I just eat. I use food as a coping mechanism for everything that goes on in my life. Late for work? I'll grab a few bags of crisps. Tired? I reach for chocolate. For every emotion I have a food solution.
I have been kidding myself for quite a while now. You know when you first buy trousers with an elastic waist and you feel embarrassed? But then you realise just how comfortable they are so they become the only type of trousers that you buy. That was me. As I gained more weight I just went up a size; 14, 16, 18, 20, 22. I just didn't care any more. I can still remember so clearly the day I knew I had to make a change.
I had taken the boys to a local trampoline park. They were meeting their school friends there so there was a group of around 5 mums. When we arrived I had absolutely no intention of joining the boys on the trampoline but to my dismay all the other mums jumped on with the kids. I knew the last thing I wanted to do was bounce my size 22 body all over the place but my boys were pleading for me to join in. I told them I had to mind all the shoes so I couldn't possibly bounce with them. They were so disappointed and I felt really bad but I just couldn't cope with the embarrassment of being on a trampoline.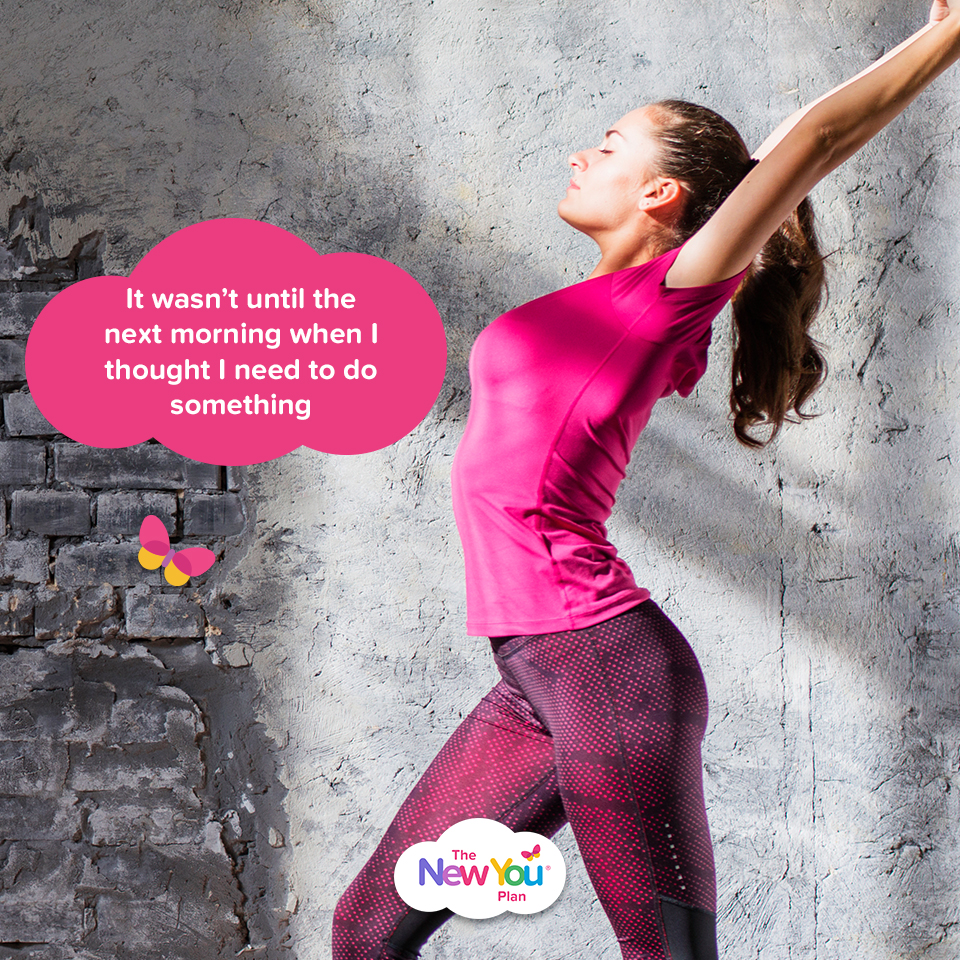 I wish I could tell you that I went home and resolved to diet there and then but I didn't. I actually went home and ate 3 bars of chocolate instead. It wasn't until the next morning when I thought 'I need to do something'.
I choose The New You Plan and after spending what felt like hours on the website, looking at before and after photos and reading reviews, I decided to place my first order. That was two days ago. And the box is sitting here on the kitchen table beside me. Ready for me to start tomorrow.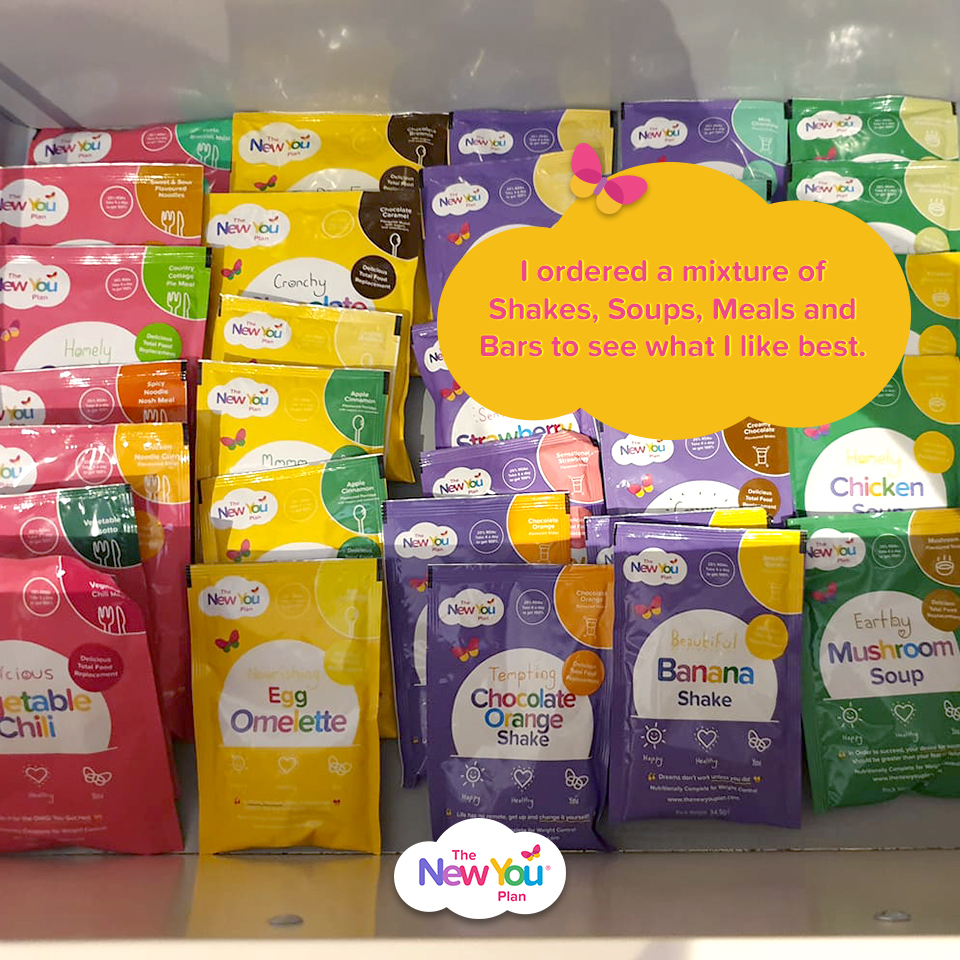 I ordered a mixture of Shakes, Soups, Meals and Bars to see what I like best. I also ordered some Pineapple Boosts and Water Flavorings. I have already read all the leaflets and today I joined Secret Slimmers. It's a private Facebook group for New You customers where you can ask questions and get support. I have weighed myself and taken measurements. I spent my lunch break on Secret Slimmers today, reading about some amazing weight loss experiences. I really hope that will be me.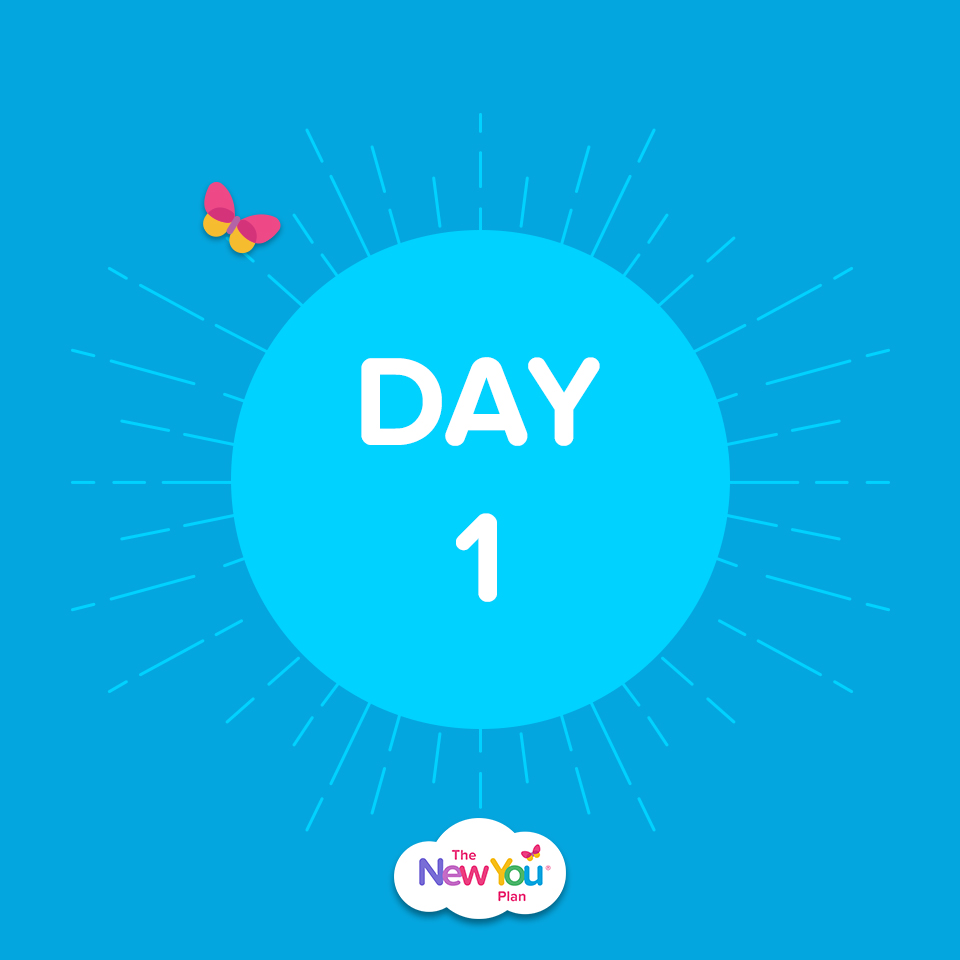 Day 1
It's here! I'm so excited. I have read the info from cover to cover and I am on 5 packs a day because I am over 17 stone. The team at New You recommend drinking at least 2.5 litres of water a day as a minimum but up to 4 litres will produce the best results. I can't even imagine drinking a litre of water never mind 4 so this will be interesting! I am relieved to see black tea and coffee count towards the water intake too.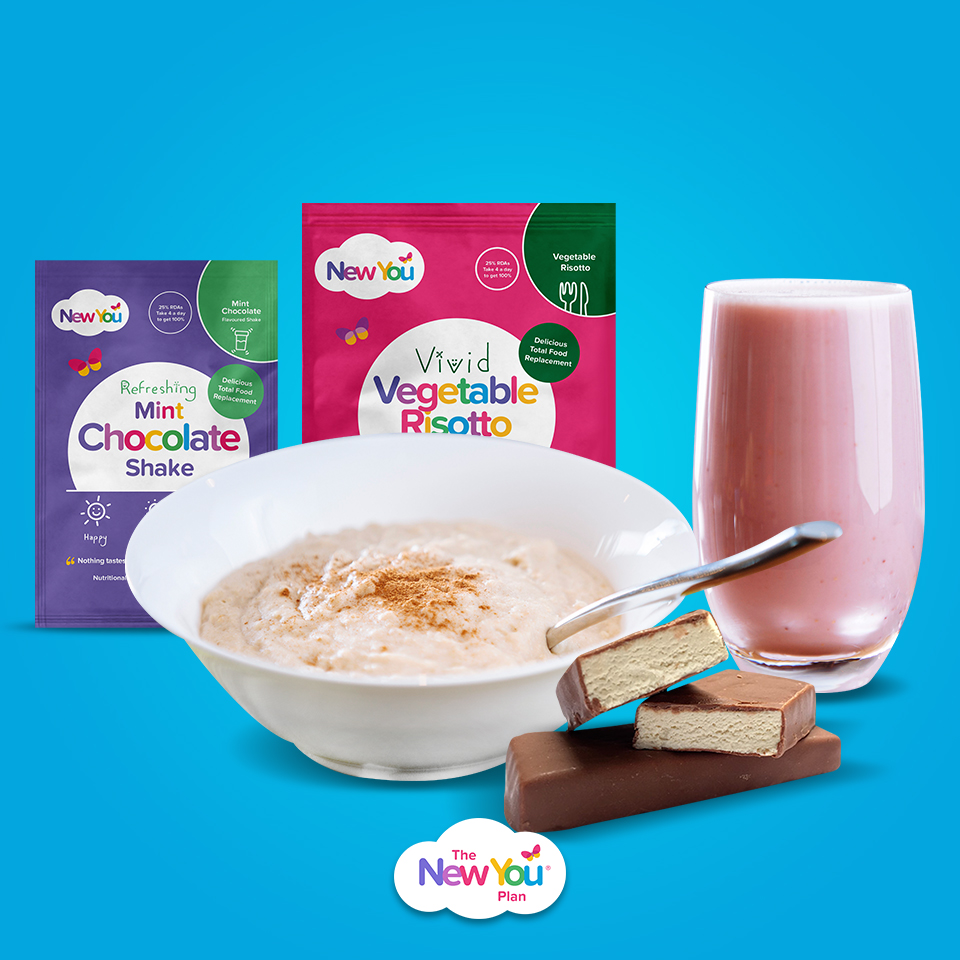 My packs today are Apple and Cinnamon Porridge, Strawberry Shake, Mint Chocolate Shake, Risotto and a Coconut Bar.
I have a work shift today so I thought the shakes would be easy to make away from home. I have packed my Strawberry Shake and my Mint Chocolate Shakes along with my New You shaker. The shaker comes with a little mini whisk ball which makes the shake easy to blend.
Breakfast was Apple and Cinnamon porridge, it was really nice and I washed it down with a glass of water. So far so good. I filled my two litre bottle with water and Orange and Lemon Zing water flavouring ready for sipping throughout the day. According to Secret Slimmers, the best way to get the water down is to add New You Water Flavorings and keep sipping throughout the day. I think I will need all the help I can get!
So the Strawberry Shake is gorgeous! I added plain water at lunchtime and shook it all together in my New You Shaker. It was so creamy. I really wanted a straw though so nipped into the shopping centre on the way home from work and bought a packet to use for tomorrow. The Mint Chocolate Shake was lovely too, I'm going to try it with hot water like a hot chocolate next time.
Trips to the loo – 364
I honestly have not wee'd so much in my life. I seem to just finish a wee and then I need to go again. Added toilet roll to tomorrow's shopping list 🙂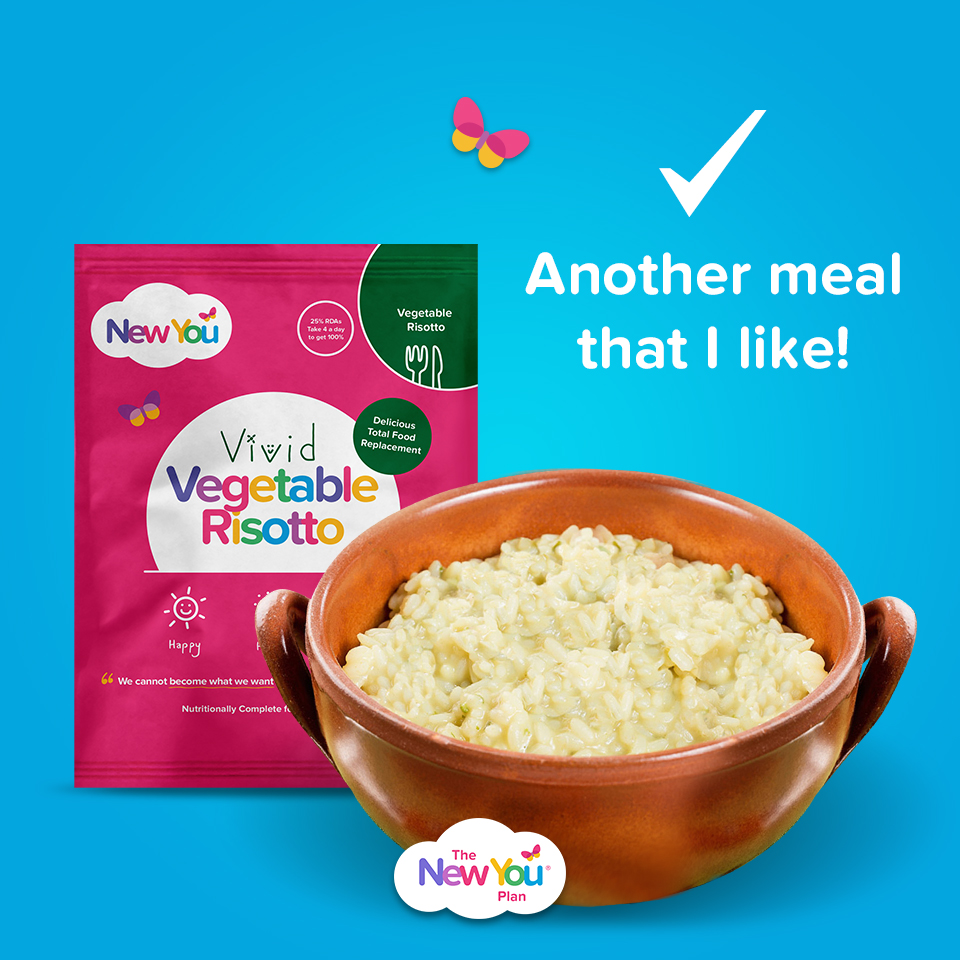 I was looking forward to trying the Risotto for my evening meal. I made it up as per instructions but I thought I had got it wrong as it just didn't seem to thicken for ages on the hob. Then after about 6 minutes it thickened up really well. Another meal that I like!
It was surprisingly ok cooking for the family tonight, wasn't tempted at all!
I feel a bit bloated with all the liquid tonight but really enjoyed my Coconut Bar. I could eat about 10 of them! Just as well only one bar a day is recommended.
I managed 3 litres of water today which is amazing for me. I made sure I stopped drinking around 7pm so I wouldn't be up all night weeing. Day 1 in the bag!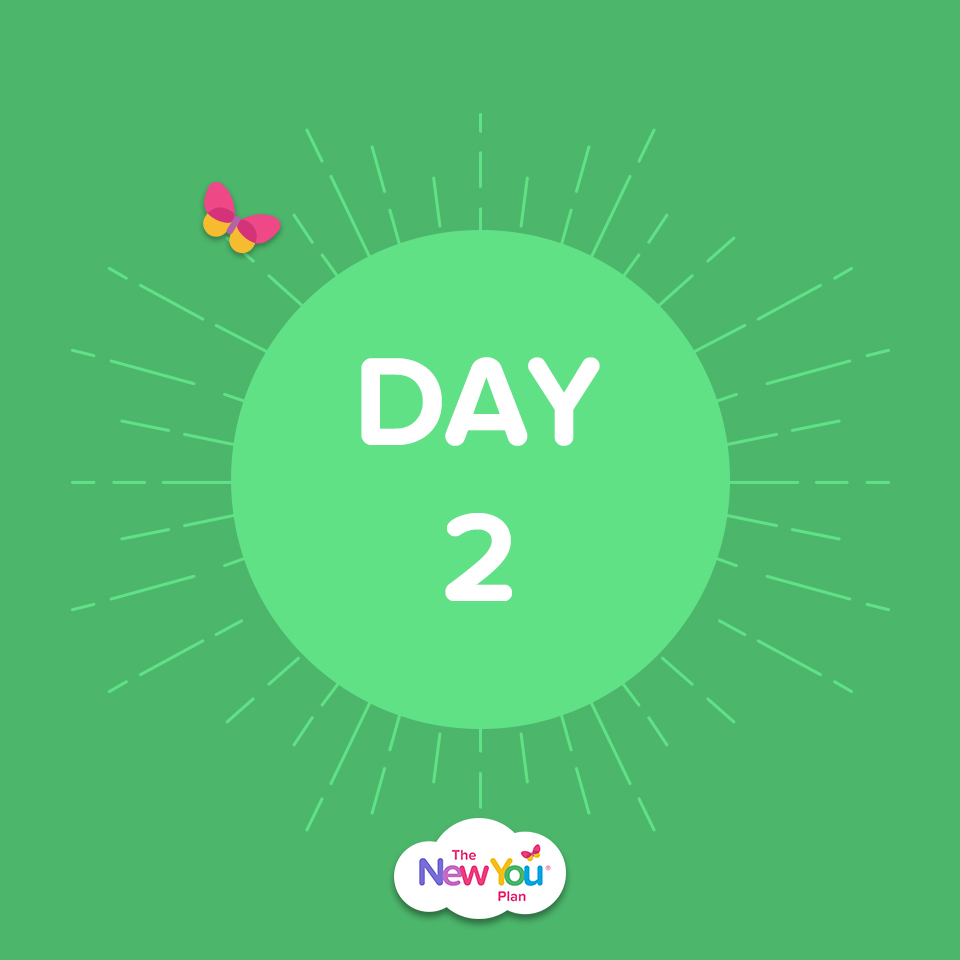 Day 2
Woke up this morning feeling a bit dehydrated. How on earth after 3 litres of water yesterday? Clearly there must be a lot of water in food! My glass of water with my Apple and Cinnamon Porridge was easy this morning though. I added a little extra cinnamon to the Porridge as well. Yum!
Today's shakes are Vanilla and Hazelnut. I am at home today though so I am going to add ice and use my stick blender.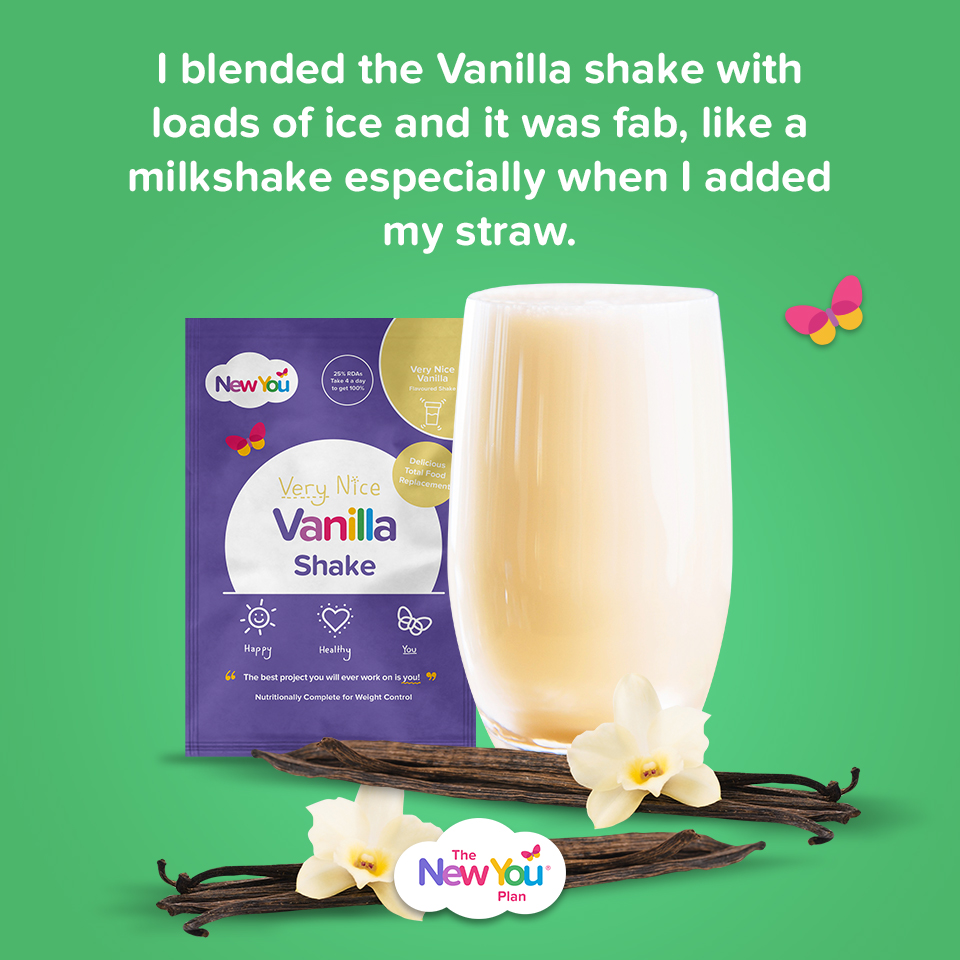 I blended the Vanilla shake with loads of ice and it was fab, like a milkshake especially when I added my straw.
Managed to do the school run without weeing myself. Bonus! But it was a mad dash from the car to the house.
Feel a bit tired today too but this is to be expected. All part of the process of getting into ketosis. I can't wait until that happens! Water intake is supposed to help with the side effects so I am trying to get over 3 litres today, sipping and weeing all day!
One thing I noticed today was how often I go to put food in my mouth when I am preparing meals for the kids and Tom. I have had to be really on the ball as it's almost a reflex. Spicy Noodle Nosh for dinner was tasty… not too spicy… just how I like it. It's really weird getting used to smaller portions. I honestly didn't think the portion would fill me but it did. I would normally have a dinner portion 5 times the size so I am starting to see how my portion sizes have been out of control!
Finished the day with a Strawberry bar… another thumbs up from me.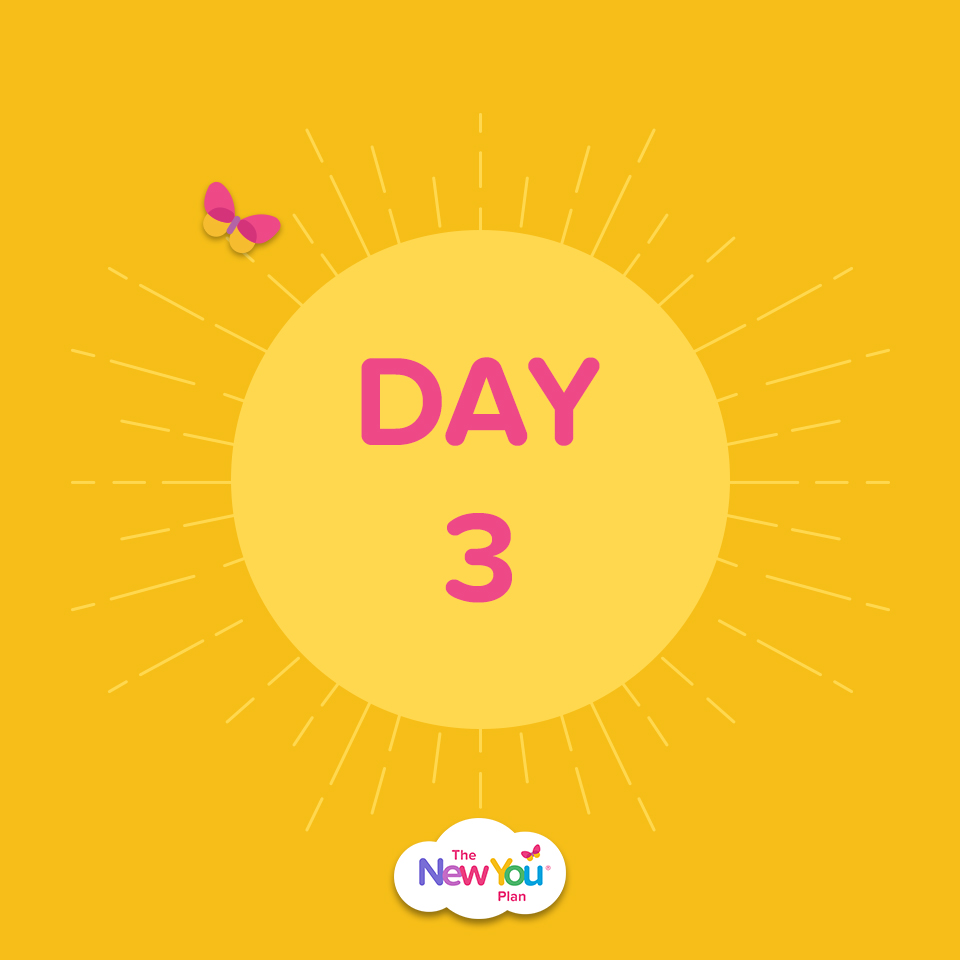 Day 3
Today has been officially named 'I am so grumpy' day.
I woke up an hour early needing the loo and my tummy has been gurgling all night so not a great night's sleep. Thought I would cheer myself up by making the Maple Syrup Pancakes for breakfast. I used two packs which made about 10 pancakes. I am definitely not going to win any awards for presentation but they were lovely and very filling. Water sipping started as soon as I got up. I have figured the best way for me to get enough water is to keep a water bottle in front of me all day and just keep filling it up.
I started to get a headache around lunchtime. Took 2 paracetamol which was recommended in Secret Slimmers but feel like I am getting the cold or something. I have a pile of housework to do but I just wanted to curl up with a book. I felt really angry that I had all these chores to do and no 'me time'. It made me think how I always 'just keep going'. Even if I am tired or ill as there is always something that needs done. Then I get frustrated and upset and turn to food. Hmm. I decided to be kinder to myself and left the housework for today.
I tried the Asparagus soup for lunch today, it was lovely but I think I prefer the shakes. Maybe they fill me up more as there's more water?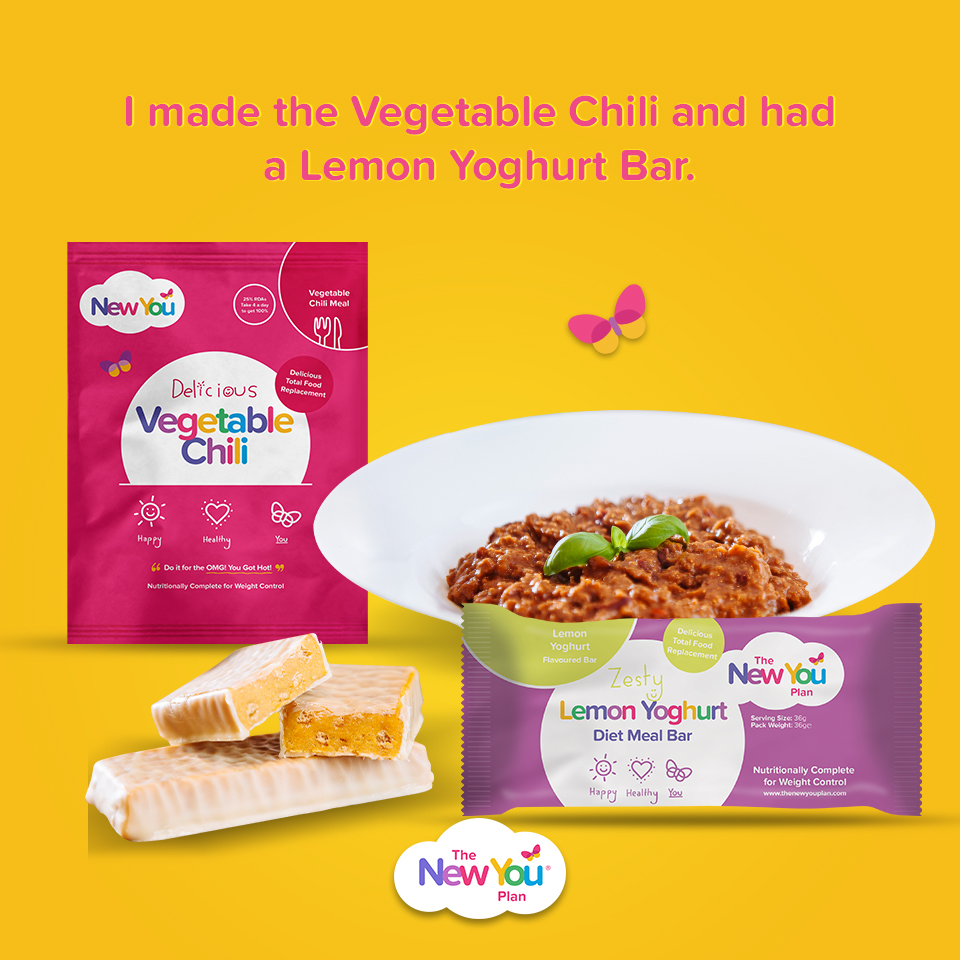 Actually could not face making dinner tonight so Tom took the boys for a takeaway. I made the Vegetable Chili and had a Lemon Yoghurt Bar. I think I might need to hide the bars! They are all so good. I am trying to reframe how I think about being on this diet plan. It's not that I will never eat those foods again, I'm just choosing not to eat them right now. Need to work on that a bit more.
As I would win awards for Grump of the Year, I took myself off for a bath and a face pack. Early night for me and fingers crossed I feel better tomorrow.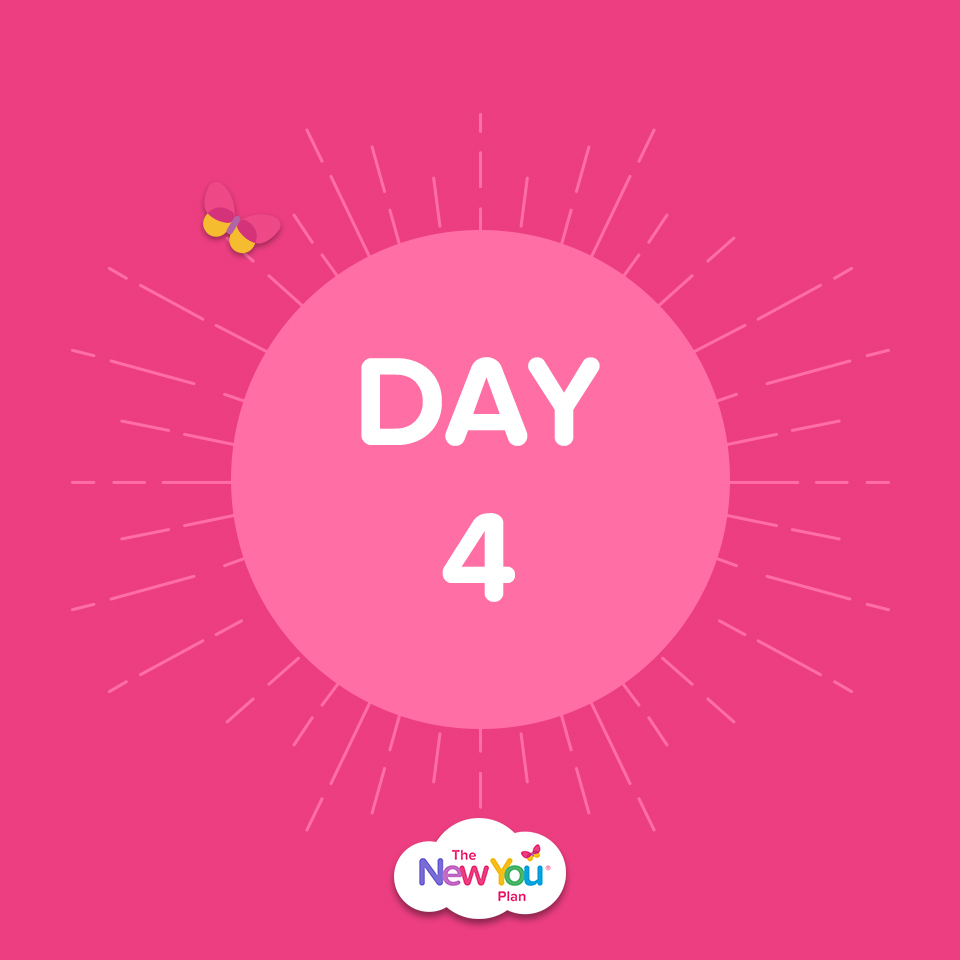 Day 4
Well cock a doodle do! Woke up this morning buzzing with energy, I feel super alert and energised. I think this must be ketosis! Yay! My mouth is very dry but apart from that I feel brilliant.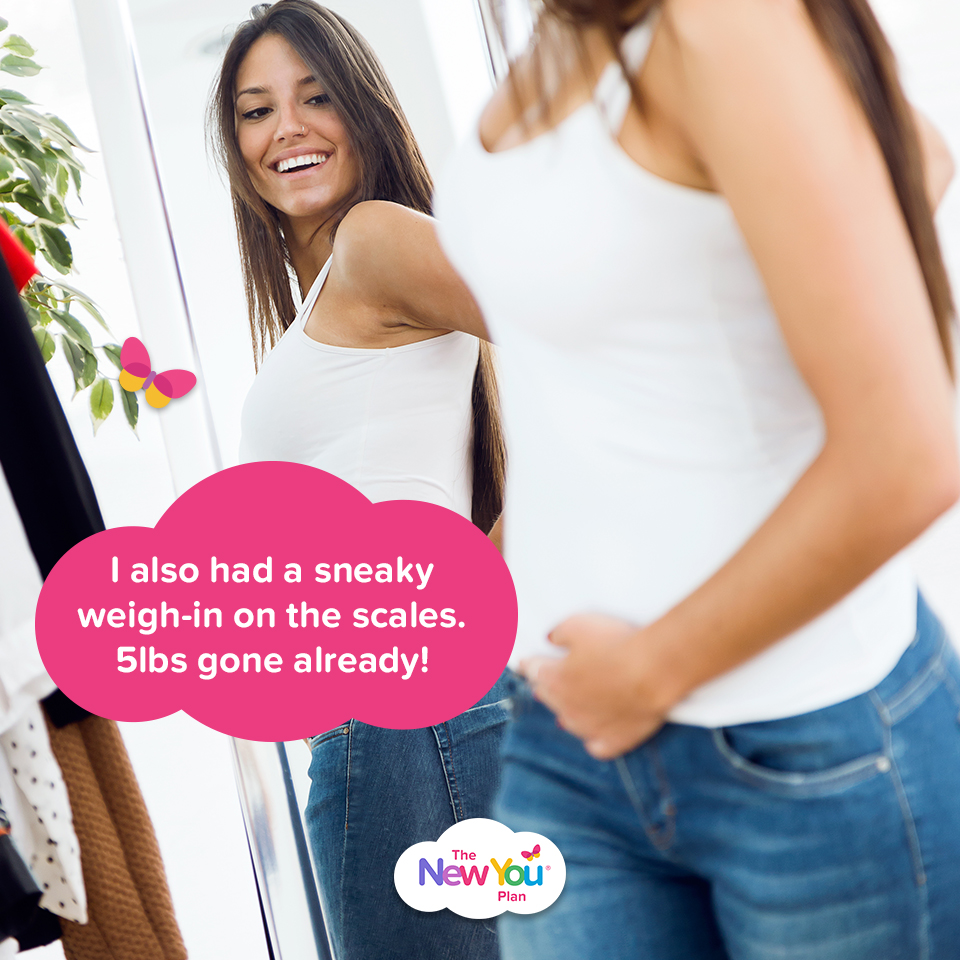 I also had a sneaky weigh-in on the scales. 5lbs gone already! Can't believe it. I am so pleased. It really has made me determined to stick to this plan.
Started today off with Chocolate Caramel Muesli, it was so moreish. I had a shift at work this afternoon but I decided that I was going to clean out the under the stairs cupboard and the boy's wardrobes before I had to leave. Honestly, I was like a whirlwind. I blasted some tunes while I was doing it and even did a bit of dancing.
I actually forgot to make my lunch shake as… and this is really weird… I don't feel hungry. Not at all. Thirsty yes, but not hungry. I ended up grabbing a Vanilla Shake to go and made it up in the staff room.
Dinner was a double pack again – this time I had Cottage Pie. There actually isn't one pack that I have disliked which is such a relief as I was terrified I wouldn't like the food.
The day went so quickly at work and at 8pm I was still full of energy. This never happens. Usually by that time I am slumped on the sofa waiting for bedtime. I actually tackled a huge pile of ironing instead and had a Hazelnut Bar to finish off the day. Water is getting easier too. Feel super efficient. Long may it last!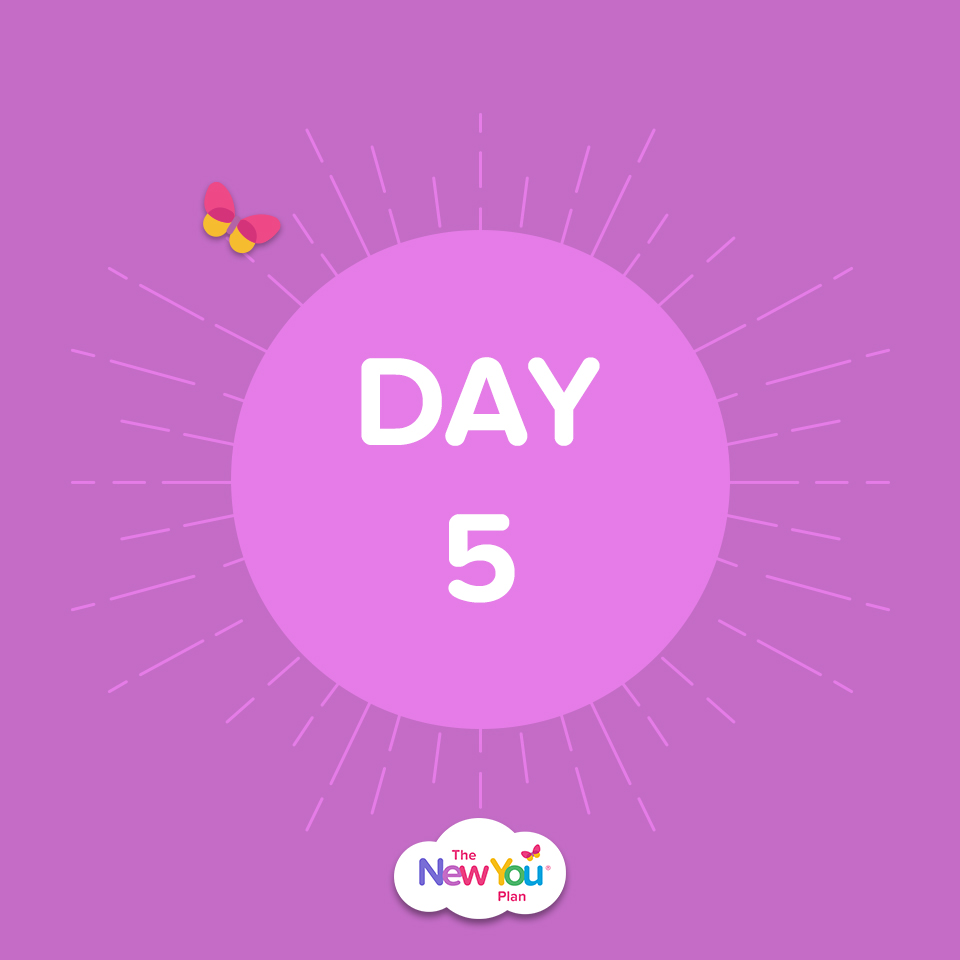 Day 5
I am sure my tummy is flatter. I did take my measurements before I started but I want to wait until I have done a full week before I measure again. My jeans usually leave a full imprint of themselves on my tummy by the end of the day. Maybe it's my imagination but it seems less somehow. I think my face is less bloated too.
I have started to look at my front and side profile using my phone camera . Took a screenshot so I can compare the number of chins next week!
Still have loads of energy today so the house got a Spring clean. From top to bottom. At this rate I am going to be living in a show house. Actually with two small boys that will NEVER happen!!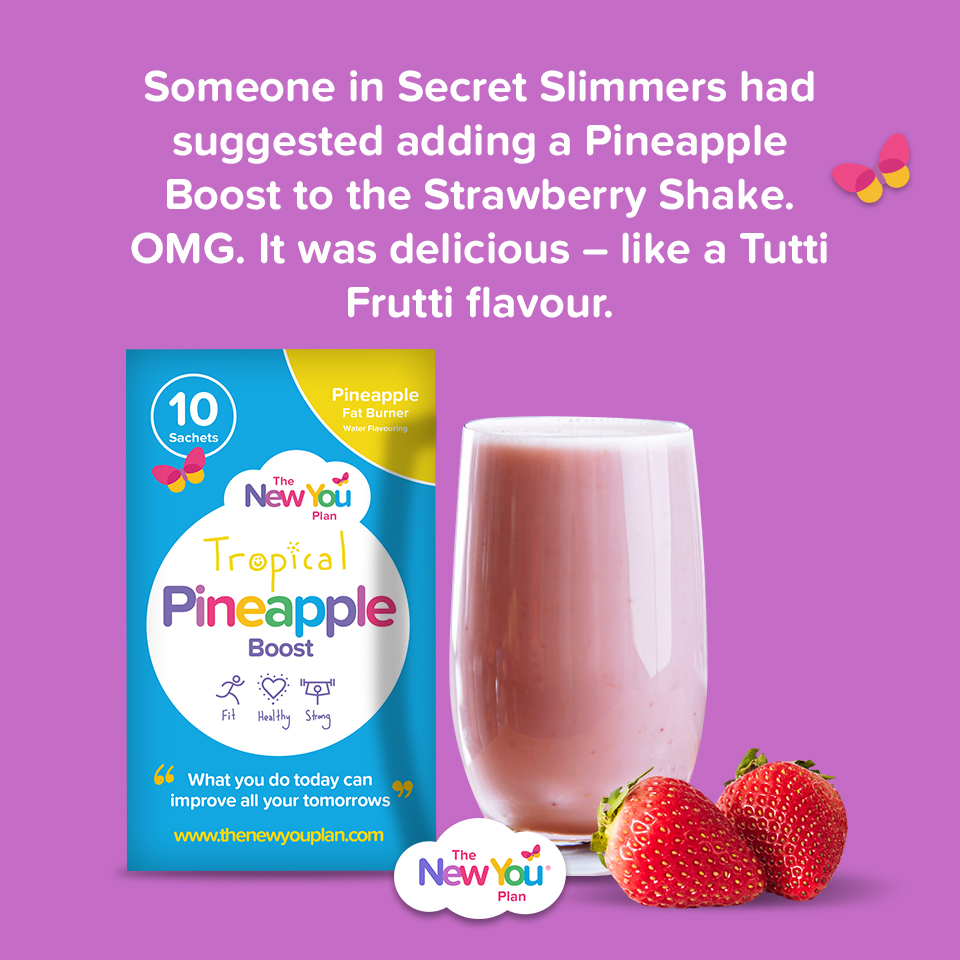 I made the most amazing shake today! Someone in Secret Slimmers had suggested adding a Pineapple Boost to the Strawberry Shake. OMG. It was delicious – like a Tutti Frutti flavour. I actually had 3 different shakes today. The Strawberry with Pineapple Boost in the morning, a Vanilla Shake for lunch and a hot Mint Chocolate one in the evening. I had a Triple Chocolate Cream Cookie Bar with my Mint Chocolate Shake… divine. I tried Chicken Noodle Curry for dinner, it was quite runny but I realised the consistency is meant to be more like a soup than a traditional curry. Still tasty!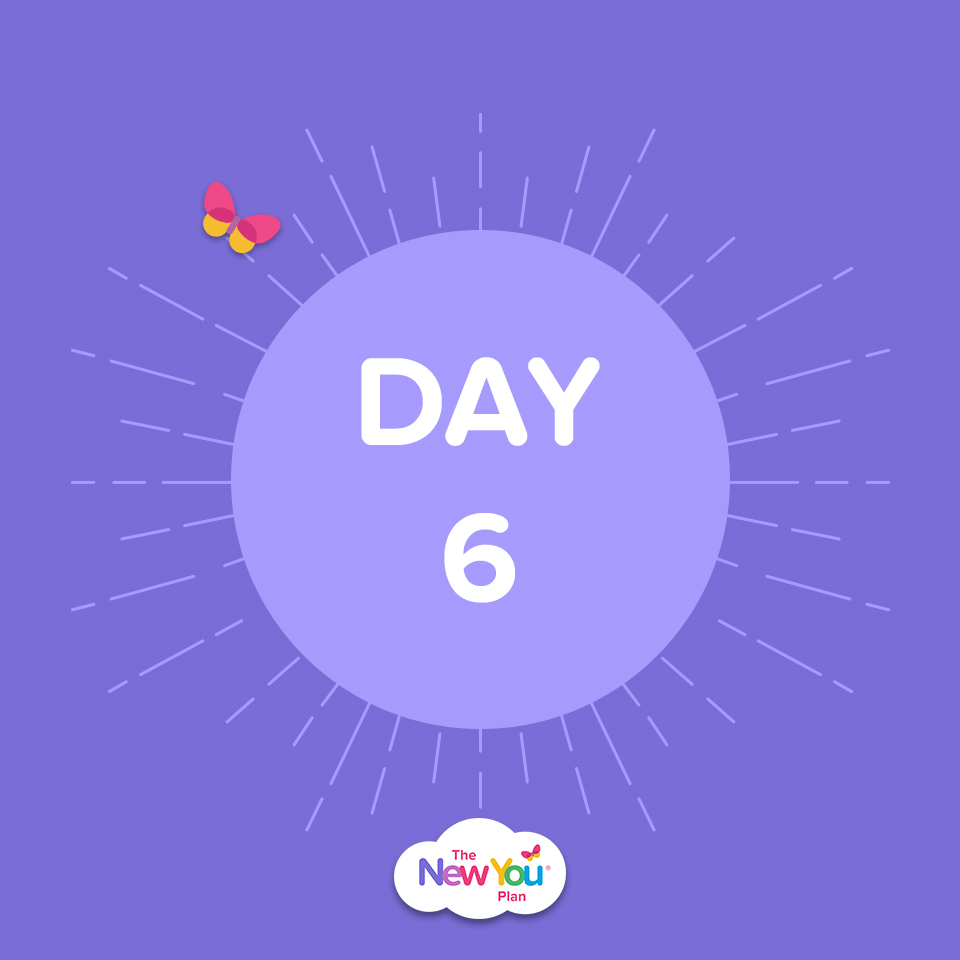 Day 6
Eek it's the weekend. We have a cinema trip planned with the boys so I am being extra organised with my packs and water. I am going to save a Bar for when I am watching the film and I ordered a packet of Salt and Vinegar crisps in my original order as a snack. So I will bring those too.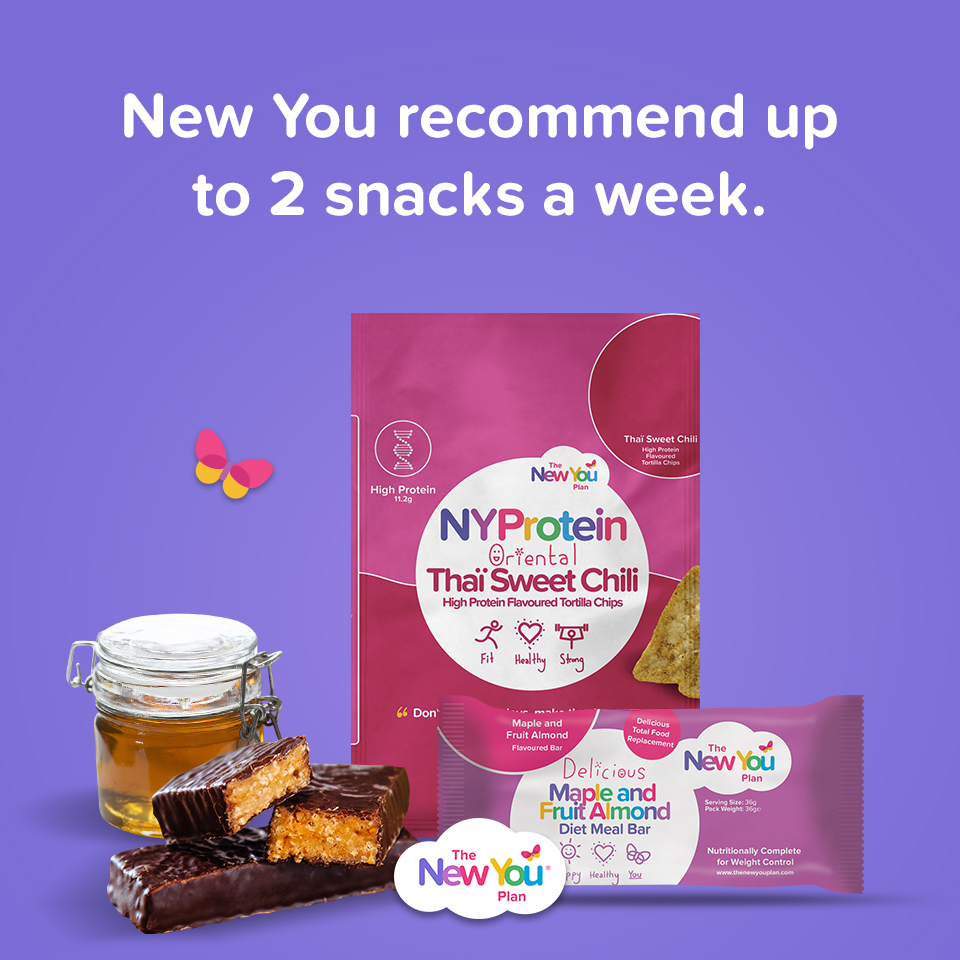 New You recommend up to 2 snacks a week but you can have a packet of New You crisps every day as they are lower calorie. I only ordered one pack as I can't trust myself around crisps. The last thing I wanted to do was eat all my snacks in one go! Strawberry Shake with Pineapple Boost (my new favourite thing) for breakfast, Vanilla Shake for lunch and a double pack of Spicy Noodle Nosh for dinner and I am all set.
The film was great but I had forgotten how often I needed to go to the loo when I am on this plan. I actually went before the film, twice during the film and then again afterwards. I'm sure the other cinema goers thought I had a problem! The fact I was sipping water all the way through probably didn't help matters. I am on a mission!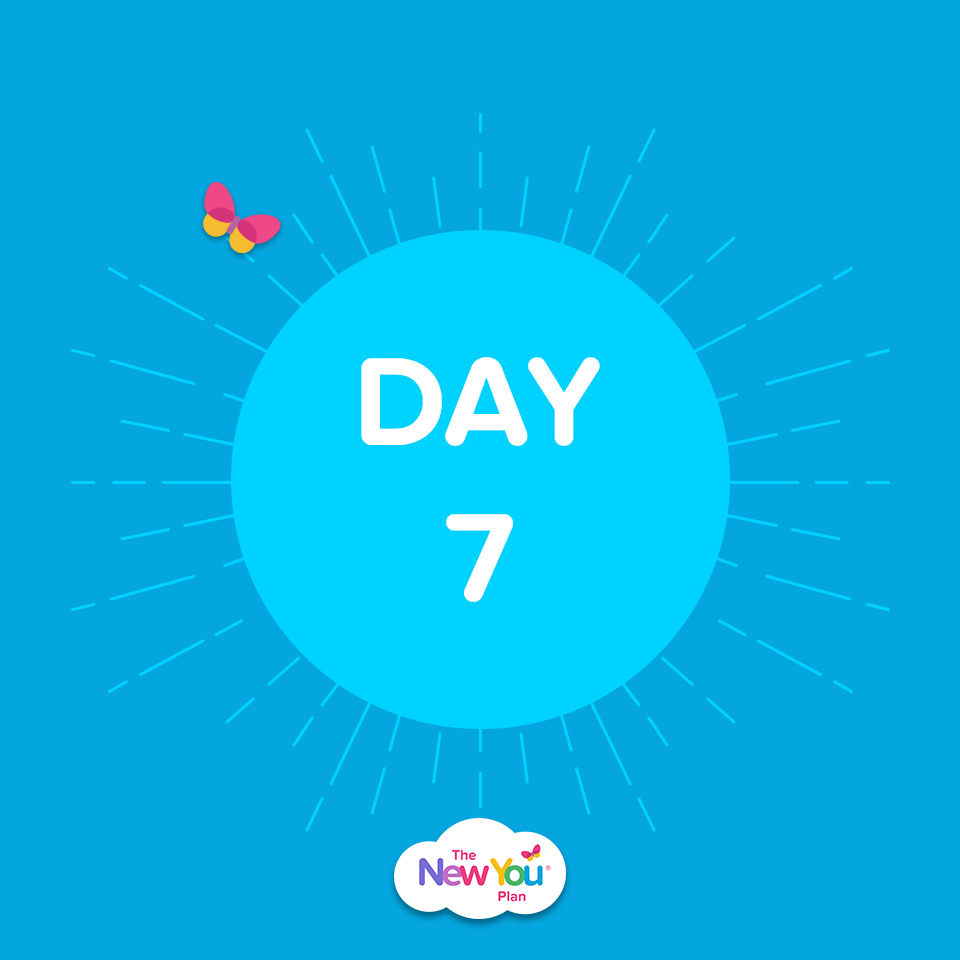 Day 7
A week! I have made it to a week. I am so pleased with myself and super excited for my weigh in tomorrow. I actually think I might be able to do this. Usually when I start a diet I last 4 days tops before I break it but this seems different. I am not hungry at all. I have also noticed this week how often I would use food to make myself feel better. By not having the option to reach for something to soothe myself, it's really made me aware of my coping mechanisms and finding new ones.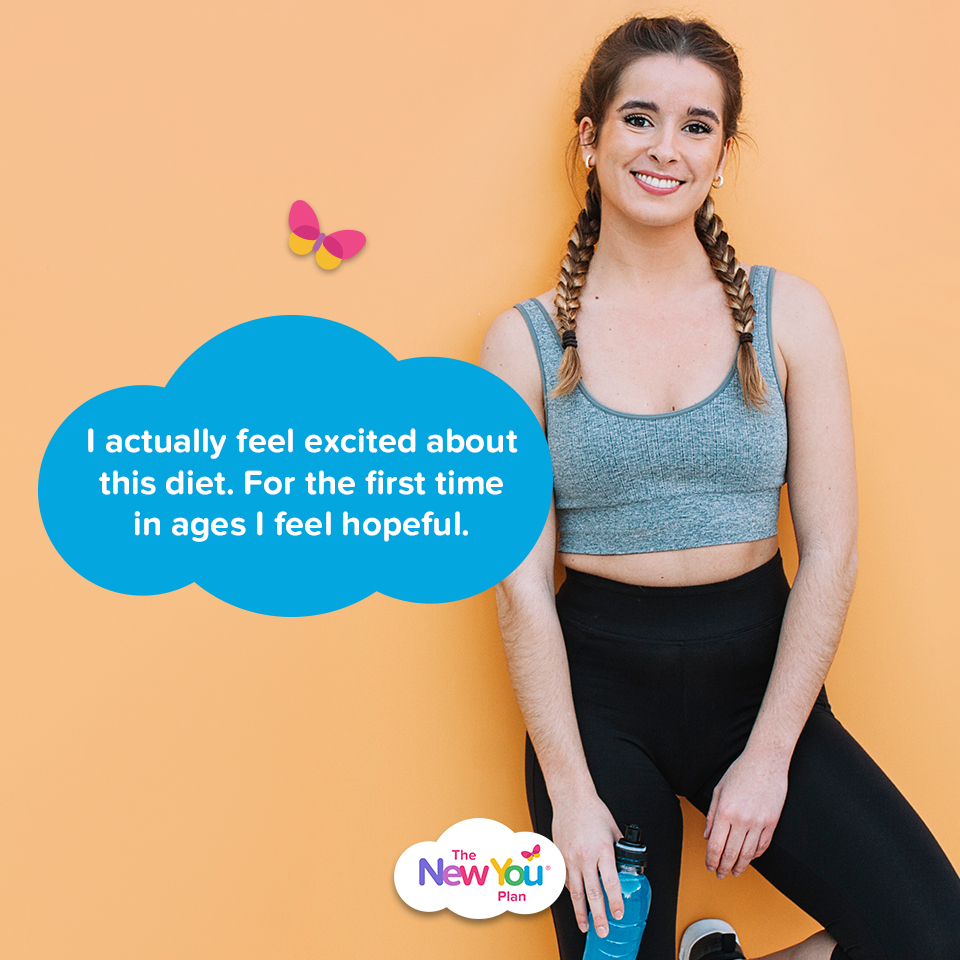 Apart from a bit of a grump fest on Day 3 my mood has been really good too. I actually feel excited about this diet. For the first time in ages I feel hopeful. I even went through my phone calendar, working out how much weight I would have lost by my birthday by sticking to the diet plan. The New You Plan averages 1 stone a month so I used that as a guide. In 4 months I will be at my pre-pregnancy weight! I have not been that weight for 12 years! I can't wait.
I'm a bit scared about tomorrow's weigh in. There have been some amazing first week losses on Secret Slimmers and I am hoping I do well. I know the first week is mostly water weight but it sets you up for fat loss the week after. My clothes definitely feel looser and I am sure I have lost a chin!! Wish me luck!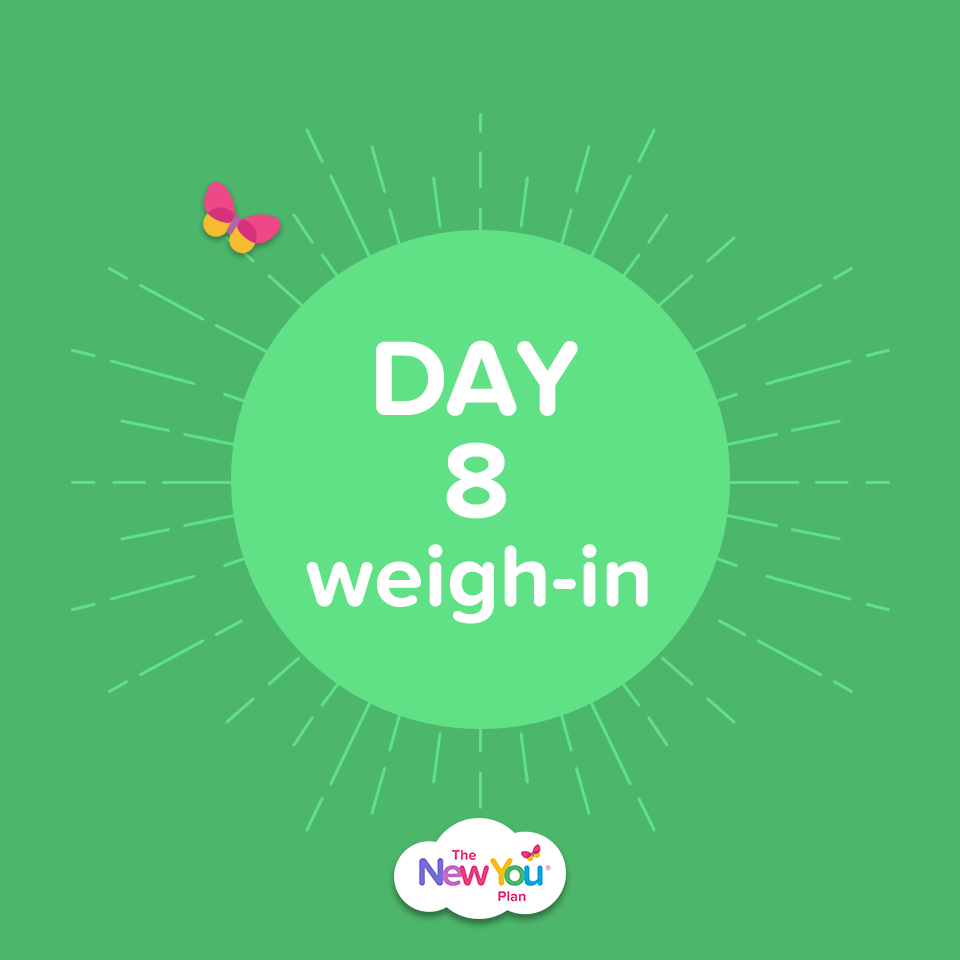 Day 8 Weigh in
Drum roll please!
I have lost 9lbs and 8 inches! I am so happy. I actually checked the scales 3 times to make sure but it was correct. I have lost 3 inches off my tummy… see, jeans don't lie! This first week has taken me down to 16 stone 9lb which means I drop down to 4 packs a day from tomorrow. I honestly don't think I will even notice as I still don't feel hungry. I can't wait to see what I will lose in a month! Watch this space…
---
Are you ready to get started on a really, really, really easy diet plan?


Getting started is the first step in your journey to a brand New You! To help you understand fully how our plan works, our Get Started page with designed specifically for people new to the plan.
Head over to our site where you'll find tonnes of important information including how our plan works, the science behind it, loads of top tips, information on our meals, as well as real customer testimonials.
Click here to visit our Get Started page!