Diet Mindset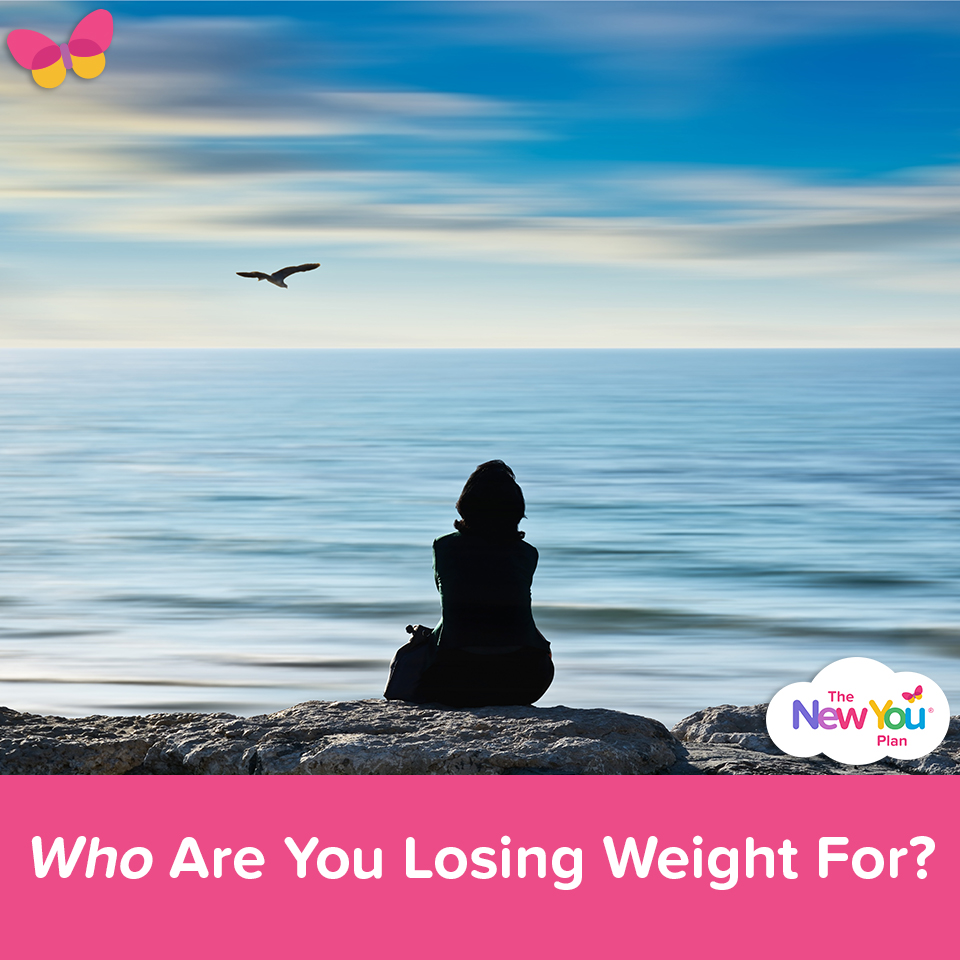 Who Are You Losing Weight For? Is Losing Weight For Yourself Good Or Bad?*

Who are you losing weight for? People say that you should only lose weight for yourself, but what does that really mean? Here, New You Plan Founder Julz shares her thoughts on who exactly you are losing weight for…
Is losing weight for other people bad? Is losing weight for yourself good?  What exactly does this mean? What is the right reason to lose weight?
I have thought about this question a lot in my quest to get motivated…
"Who are you losing weight for?"
Am I losing weight just for me?
What about my husband?
My kids?
My team in work?
My friends?
My family?
Because I AM a WIFE, MOTHER, MANAGER, FRIEND, DAUGHTER & SISTER.  
That IS WHO I AM.
And I am ALSO ME. 🙂
When I look at my weight loss journey I can look it at from so many aspects.
Personally I know that I am going to LOOK & FEEL BETTER when I am at my healthy weight.
I know when I am getting dressed up to go out, I am going to feel better about myself, have more confidence and higher self esteem.
When I look in the mirror I know I am going to feel happy with how I look.
I also know that I will greatly reduce my chances of obesity related diseases. I will have more energy and be better at yoga, or running to catch a plane I am late for!
That is good… losing weight for me, makes me feel good.  
But what actually motivates me MORE, is how I will be able to LIVE UP TO WHO I WANT TO BE IN OTHER AREAS OF MY LIFE.
I want to be an attractive wife for my husband. Because that is WHO I WANT TO BE as a wife.
I want to be a slim, healthy, energetic, happy Mum who is setting a good example to my kids.  Because that is WHO I WANT TO BE as a Mum.
I want to be a manager who is at the top of her game, and who has the confidence and energy to lead by example and inspire my team. Because that is WHO I WANT TO BE as a Manager.
I want to be able to go clothes shopping, and go for nights out and feel excited about socialising. Because that is WHO I WANT TO BE as a friend.
I want to be proud to get my photo taken at our family get togethers, and capture special memories instead of hiding away, and missing those moments. Because that is WHO I WANT TO BE as a Daughter & Sister.
I want to be the person that enjoys making the healthy choice, and makes other people think about changing their eating or exercise habits, because they are inspired by my actions.  Because that is WHO I WANT TO BE to everyone I love and care for.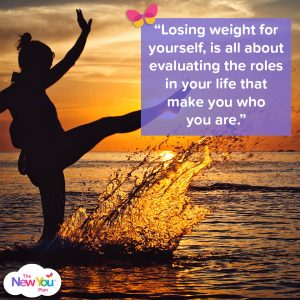 Losing weight for yourself, is all about evaluating the roles in your life that make you who you are, the roles that you know will define you, the people that you love, and how you want to show up and serve them. And then deciding….
WHO DO I WANT TO BE IN THIS ROLE?
HOW DO I WANT TO SHOW UP IN THIS ROLE?
WHAT EXAMPLE DO I WANT TO SET?  
WHO DO I WANT TO INSPIRE?
HOW CAN I BE MY BEST?
WHAT WORDS DO I WANT THE PEOPLE I LOVE TO USE WHEN THEY TALK ABOUT ME IN THIS ROLE? 
Creating YOUR NEW YOU in every area of your life, from the inside out, is an incredibly exciting journey. There is only one person who gets to decide how you show up in the roles in your life, and that person is YOU.  
YOUR MISSION MINDSET TASK!  Are you ready?
Getting clear on how losing weight IMPACTS YOU IN EVERY IMPORTANT ROLE YOU HAVE IN YOUR LIFE is a great way to find motivation to surge ahead with your weight loss journey.
I recommend that you print out the MISSION MINDSET TASKS, fill them in and read them every morning as part of your morning routine. Reconnecting with your WHY, and YOUR MISSION will help you to start off every day feeling focused on what matters.
In today's MISSION MINDSET TASK  I want you to list out the MOST IMPORTANT roles in your life, and think of 20 ways you will be better in that role as a result of losing weight, and being healthy, slim and happy with yourself.
Maybe…
✔ Your confidence will be higher
✔ You will have more energy
✔ You will be able to help more people
✔ You will gain more respect
✔ You will set a better example to people who look up to you
✔ You will be able to create better memories
✔ You will be able to experience intimacy at a new level
✔ You will be able to find true love again
✔ You will be able to travel and see the world
✔ You will get a family portrait
✔ You will organise a reunion of old friends
It might be a struggle to get 20 reasons for each role, but I really urge you to not stop listing out reasons until you get to 20 for every role. Sometimes the BIGGEST BREAK THROUGH don't come until you hit 20; until you have to dig deep and really think… How will this really impact my life and the people that I love??
_____________________________________________________________________________________
Start Your TFR Journey Today!

Getting started is the first step in your journey to a brand new you! So that you can fully understand how our plan works, our Get Started page was designed specifically for people new to the plan.
Head over to our site where you'll find tonnes of important information including how our plan works. Plus learn the science behind it, get loads of top tips, information on our meals, and read real customer testimonials.
You can visit our Get Started page by clicking here.