New You Plan Blog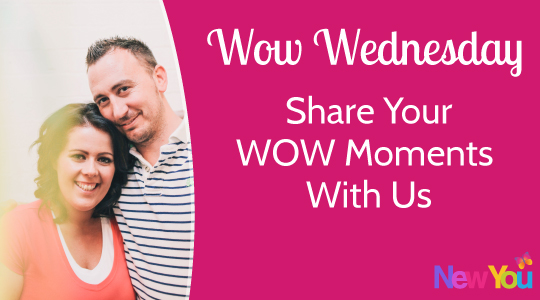 [Video] WOW Wednesday – Your off scale victories week 3*
Wow Wednesday
Mid – week motivation!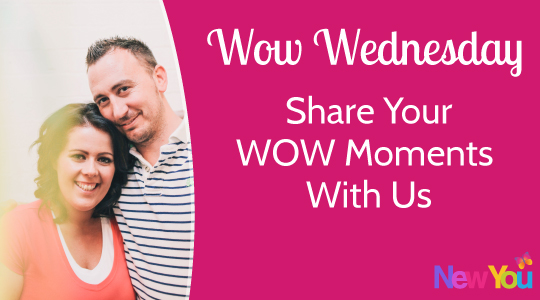 *Results may vary. This is not a guarantee
Welcome to my favourite day of the week where we get to share in all the things that have brightened your day over the last 7 days.
You are all blasting your way through this challenge and each and every week the comments in this section leave a big impact with us – some funny to the point of making you cry with laughter and others that are so deeply moving that for us it provides a eureka moment where the bulb goes to remind us of why this is and always will be so important to us. We never lose sight of this but your comments go a long way to materialising the reasons why we are here!
Some of the comments from last week were:
"Wow moment: fitting on a dress I've had in my wardrobe over a year as "it will fit some day" that some day was this week!!!!" – Karen 
"My wow moment was trying on the dress I bought online 2 weeks ago that didn't zip up – 4 days on the plan and it fits snugly – so a few more pounds and I'll have to get it taken in!!!" – GLM
"My Wow moment this week was when I tried on my old jeans that I could ent wear for months and they were comfortable and no muffin top was best of all. That feel so good…" Liz
 Today's task:
As I have done every week so far in this challenge, I would love to hear from you in the comments of today's Wow Wednesday about the things that have happened to you off the scales that have been worthy of being called WOW moments!!!! It is my hope that there are things that happen to you each day that make you stop for just a second and think YES! before a sneaky smile adorns you.
[box type="download" size="large" style="rounded" border="full"]Comment below and be in with a chance of winning one of our awesome prizes:[/box]
 Don't Forget our clearance sale is on this week!
New Range Strawberry Shake – £35/€45 for 50
New Range Banana Shake  – £35/€45 for 50
New Range Vanilla Shake  – £35/€45 for 50
New Range Tomato Soup  – £50/€64.50 for 50
New Range Vegetable Soup  – £50/€64.50 for 50
New Range Porridge  – £35/€45 for 50
New Range Pasta Carbonara  – £35/€45 for 50
Click here to check out the clearance offers!
ALSO OUR SPECIAL THREE DAY PROMOTION ALSO ENDS TONIGHT!!!
Check out the details below and click image to place your order today 🙂
See you tomorrow 🙂
Kind regards
Grant