Before & Afters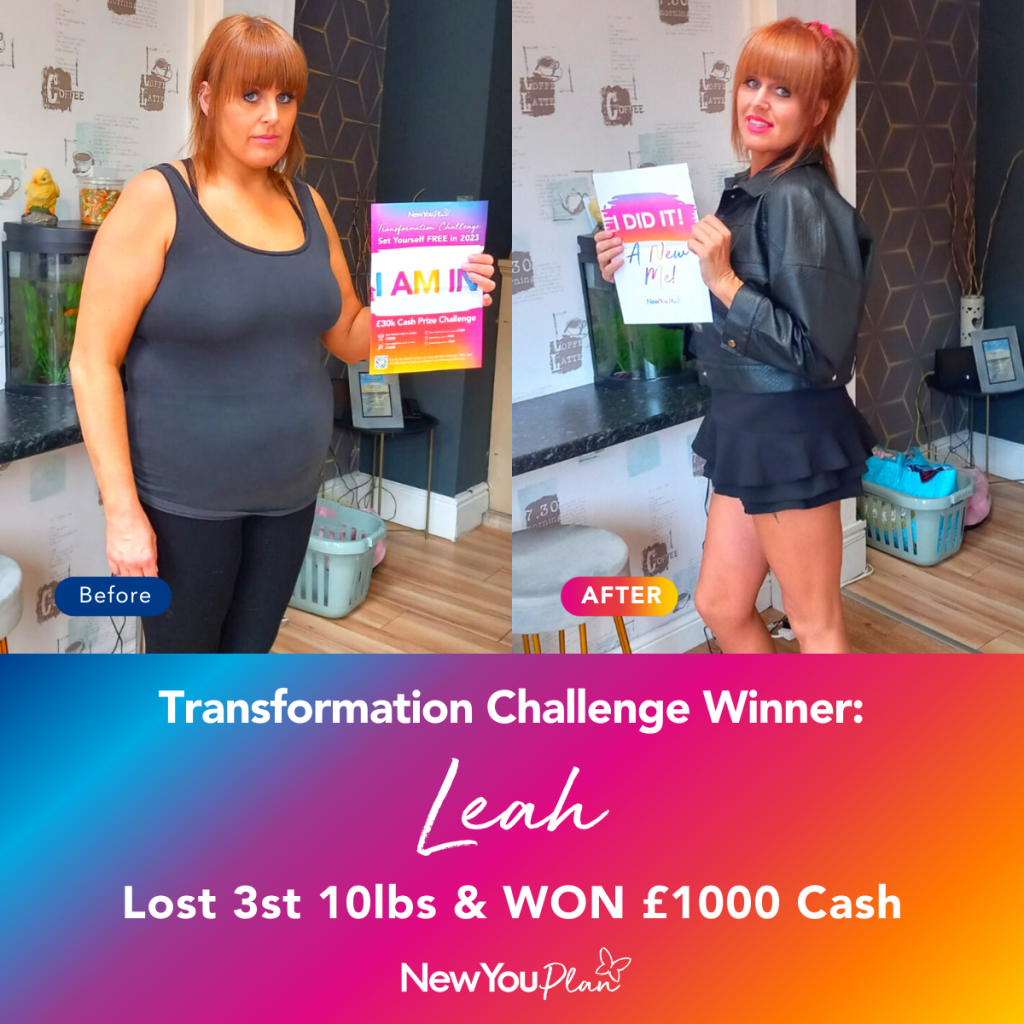 TRANSFORMATION CHALLENGE WINNER: Leah Lost 3st 10lbs & WON £1000 Cash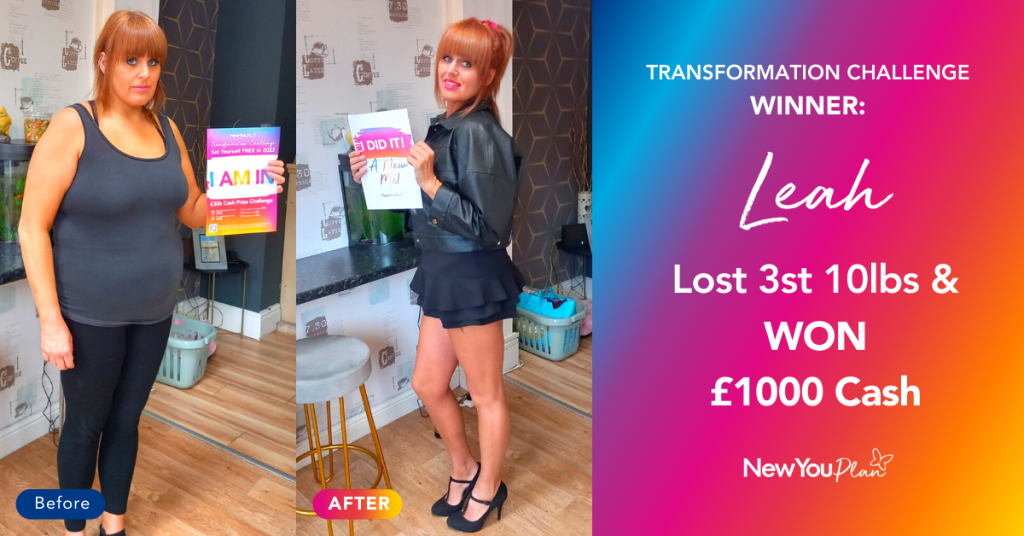 Over the years, Leah's weight crept up. Following a diagnosis of fibromyalgia and chronic fatigue last year, she decided to do something about her weight. Here, she shares how the plan has completely changed her life, helping her lose almost 4 stone and how our Transformation Challenge kept her motivated & saw her winning £1000 cash!
New You: Leah, what was your biggest motivator for joining the challenge?
Leah: I joined the Transformation Challenge because the number of comments I was getting was so inspiring. I was being told I looked 10 years younger and that I looked completely different. I kept on track and stayed focused as I could see the weight dropping off me. This pushed me to carry on and it sent me into determination mode. I kept reminding myself what weight I wanted to be and what clothes I wanted to wear.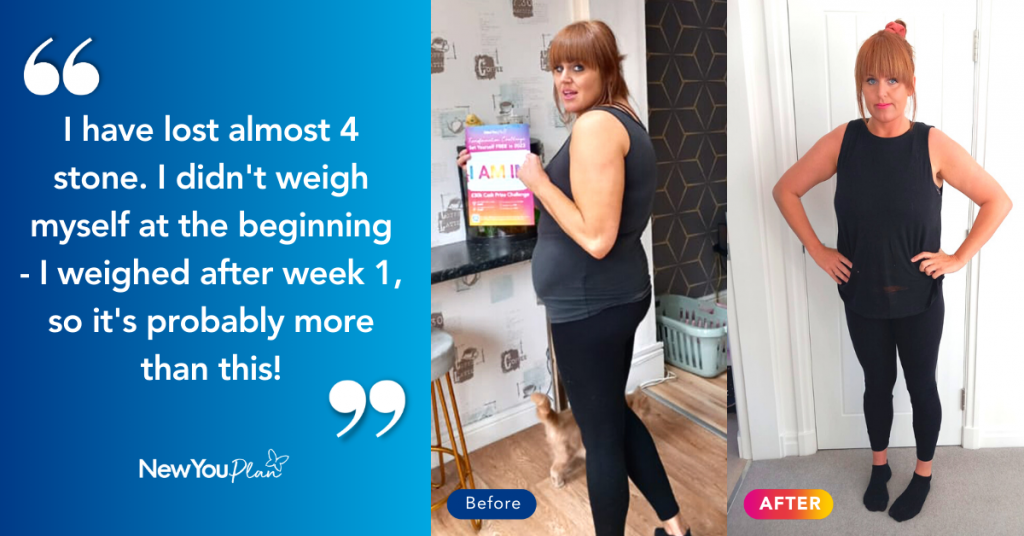 New You: So tell us, how much weight have you lost?
Leah: I have lost almost 4 stone. I didn't weigh myself at the beginning – I weighed after week 1 (which was a bit silly). After week 1 I was 14st 3lbs. I am now 10st 11lbs so I was most likely heavier before I actually started, as most people have their biggest loss in that first week.
New You: We'd love to know how you heard about the plan!
Leah: I discovered The New You Plan on a Facebook. I saw a video of customer Anne-Marie, which inspired me within seconds. I chose to start the plan as I felt like I trusted in it right away. It's like I connected with it and just wanted to start the very next day.
Getting Started…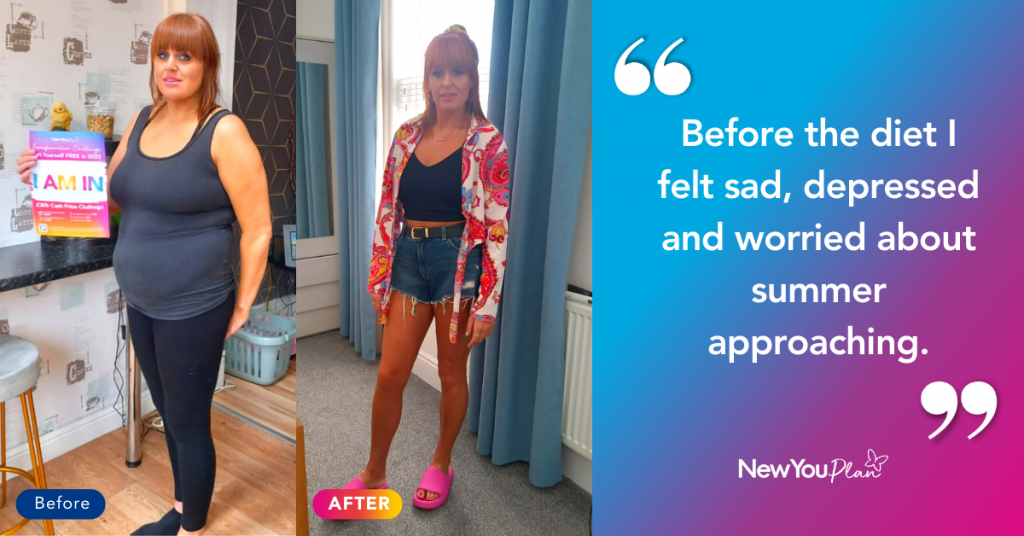 New You: What led to you starting the plan?
Leah: Before the diet I felt sad, depressed and worried about summer approaching. I worried about what clothes I would suit as I had become so big. I was diagnosed with chronic illness, fibromyalgia and chronic fatigue last year. I also have osteoarthritis which affects my joints. It took years to get diagnosed and during that time, I gained weight.
New You: And tell us about that first week…
Leah: I'm not going to lie, my first week was difficult. But then around day 5 I felt like the hunger eased and I started to feel lighter. Once I got to this point, it motivated me to another level.
New You: What are your go-to meals & snacks?
Leah: My absolute favourite meal is the Tacos and Salted Caramel Cake. I'm a big fan of most products. The Chocolate Balls are probably my favourite snack.
Life Changing…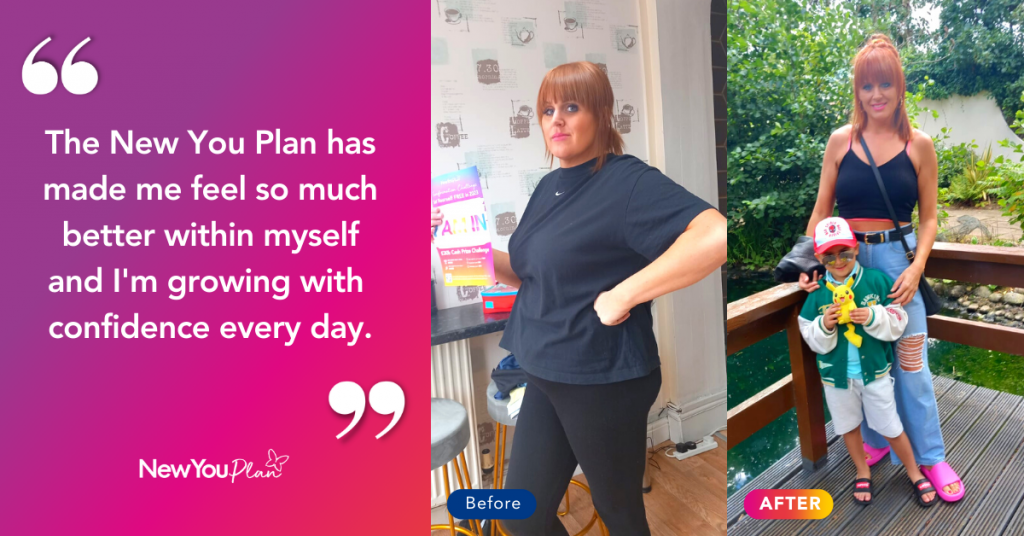 New You: What difference has the plan made to your life?
Leah: The New You Plan has made me feel so much better within myself and I'm growing with confidence every day. It's completely changed my life. Within a few short months I look and feel like a different woman. The plan has given me my confidence back and a whole new wardrobe! My chronic illness has certainly improved in areas too. I feel like it helps me manage it and live with it better than before. If I have a flare up, it may only last a day or two, whereas before it was 4/5 days at a time.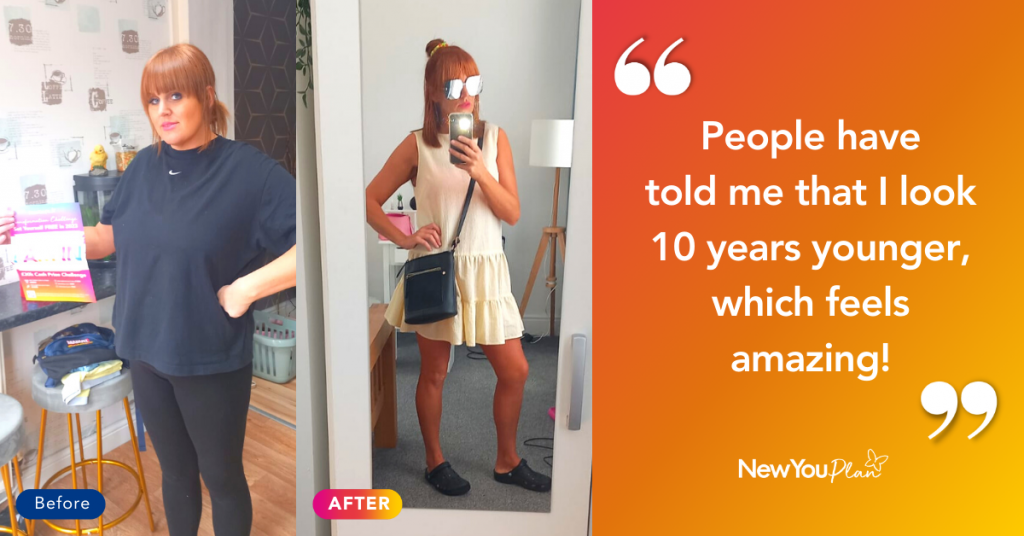 New You: What is the nicest compliment you have received since losing weight?
Leah: People have told me that I look 10 years younger, which feels amazing!
New You: What would you say to someone thinking of starting the plan?
Leah: My advice to anyone thinking about starting the plan, is to trust the process and most importantly trust in yourself! The New You Plan will help you achieve your goals towards a totally new you!
New You: And then finally, what's next?
Leah: I am still aiming for another half a stone to a stone. My goal was 11st and I smashed that within a few short months. New You Plan I love you 😍 ❤️
Fancy Losing Weight & WINNING Cash?! End 2023 STRONG!
Leah is proof that you can lose weight and change your health for the better!
Whether you want to lose half a stone or 10 stone, have a slimmer figure, or are just looking to get maximum nutrition in minimum time, then New You can make the perfect partner to get you to where you want to be.
Join Our £30K Cash 2023 Transformation Challenge

Leah won £1000 cash and you could win too! This year, we are on a mission to help as many men and women reach their goals for good. In 2023, you really could lose weight, win cash and diet for FREE, thanks to our MASSIVE £75K giveaway.
There are 2 more chances to enter:
31st October
31st December
We still have £10,000 cash to give away!
Get all the details in this dedicated blog post here.