Before & Afters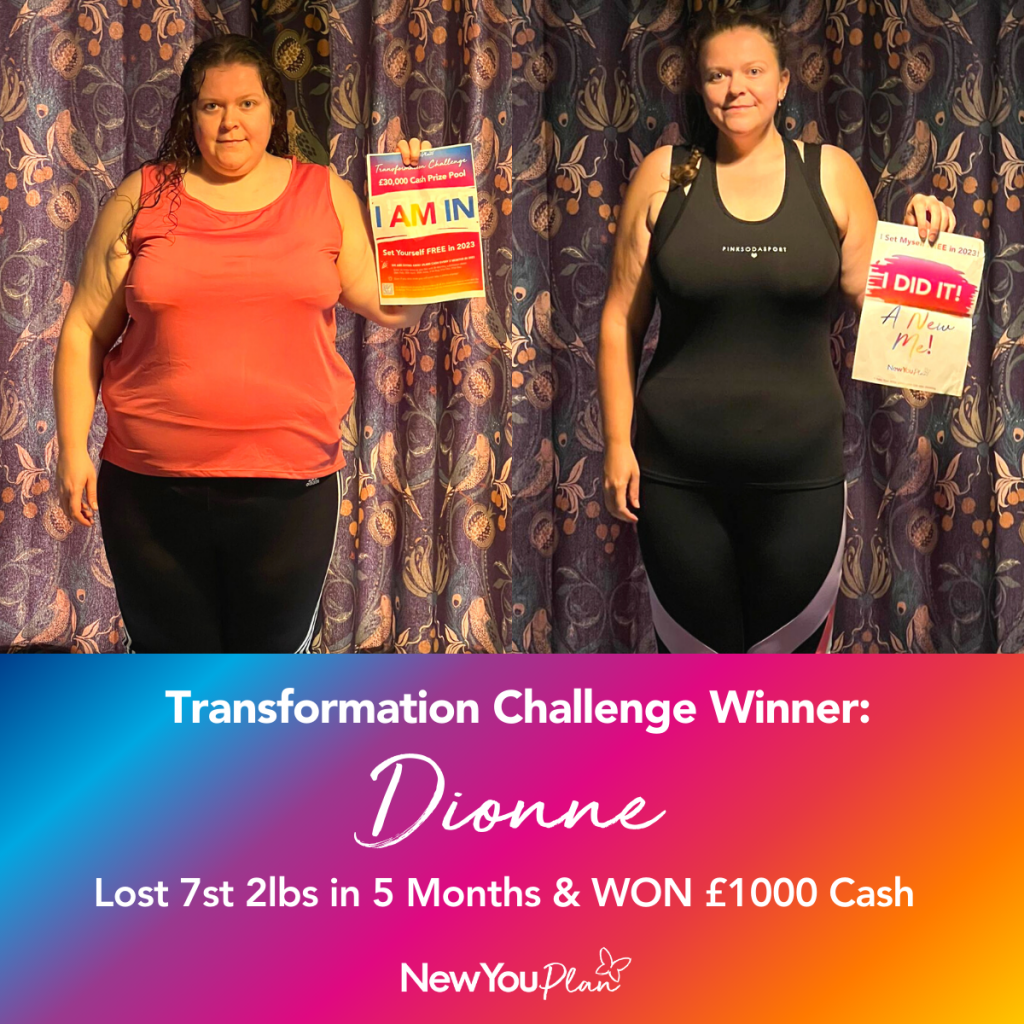 TRANSFORMATION CHALLENGE WINNER: Dionne Lost 7st 2lbs in 5 Months & WON £1000 Cash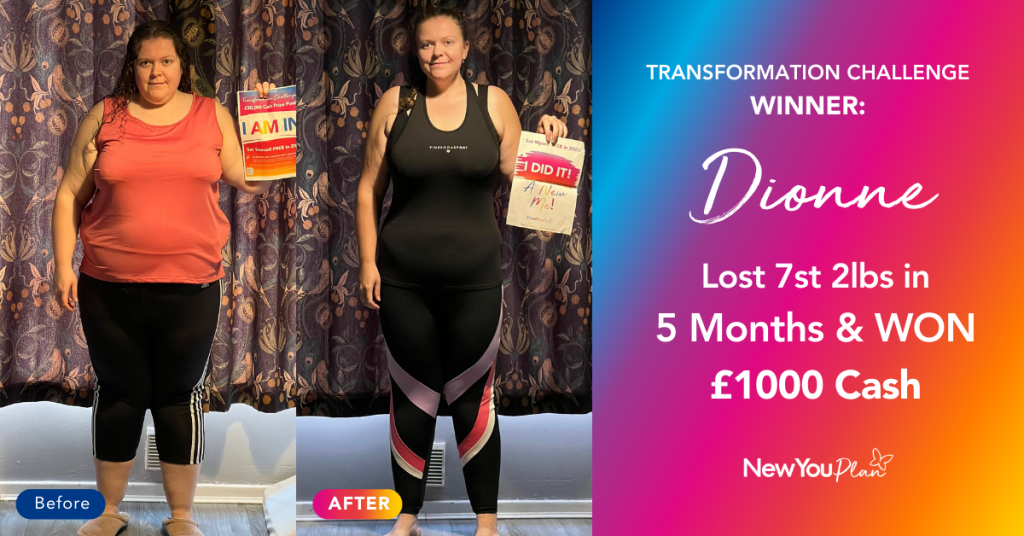 Customer Dionne was anxious and depressed. Embarrassed about her weight, she didn't leave the house. She wasn't sleeping because her back was in agony and her knees were painful and swollen. She constantly worried that her kids would lose their mum. After trying various diets with no success, Dionne found The New You Plan.
Here, she shares how she lost 7st 2lbs & dropped 5 dress sizes in 5 months, her health has drastically improved and she was named a winner in our July/August Transformation Challenge, winning £1000 cash.
New You: Dionne, what was your biggest motivator for joining the challenge?
Dionne: Well, the reason I actually decided to join the challenge was because I always wanted to keep a record of pictures of myself, but I'm never sure when to do that. And I thought that entering the challenge every 2 months would give me that opportunity to take photos and see my progress.
And of course, getting involved with the challenge is fun as well. I was never expecting to win and I didn't think I would do as well as I have to be quite honest. I've surprised myself.
New You: Was there anything that helped you stay on-track while doing the challenge?
Dionne: Yes, when I wake up in the morning, I'm the sort of person that's hungry and ready to eat. So I'll have my first pack pretty much within half an hour of getting up. I'll have most of my packs by 3pm because in the evening I'm always really busy with the children so I don't have to worry about that. I just focus on having my water then and that's it. A lot of people say they're hungrier in the evening, but that's not me. It's about figuring out what works for you.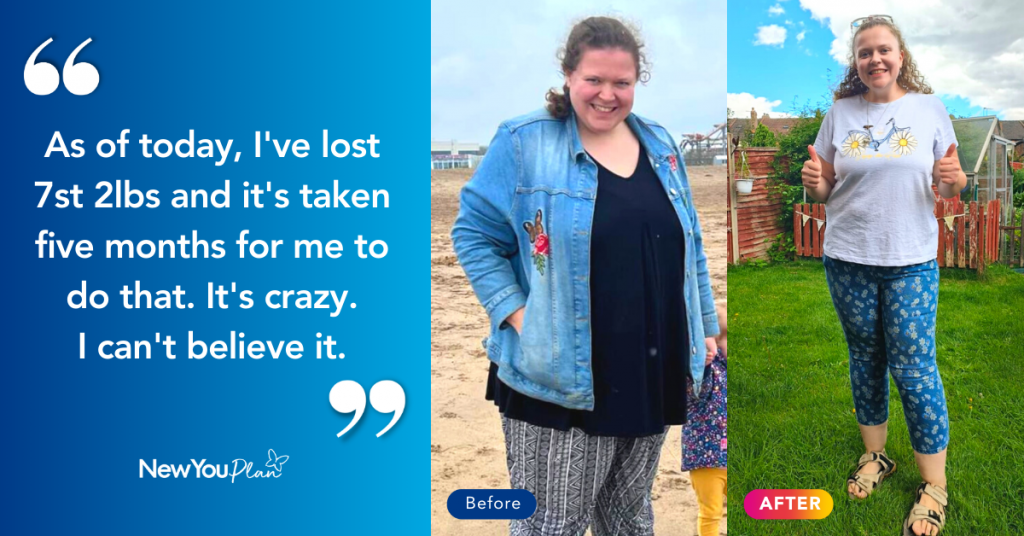 New You: So tell us, how much weight have you lost?
Dionne: As of today, I've lost 7st 2lbs and it's taken five months for me to do that. It's crazy. I can't believe it. It's crazy how it just happened so fast. Honestly, I've never done anything like it, but it's brilliant.
New You: We'd love to know how you heard about the plan!
Dionne: I'd tried so many different diets and nothing had worked and it was just getting worse and worse. And then I stumbled across The New You Plan during a Google search. I had a look at the website and after reading the reviews, I felt great about it so I went ahead and just bought the Kickstart pack. When I saw that there were so many meals to choose from, I knew I was going to be able to do this. I knew I needed a break from all normal food, removing all that temptation and just focusing and concentrating on doing a total food replacement plan.
I also loved the fact that there is that online support community because I've done plans in person and I've always felt embarrassed about that. But I do need that support as well and with it being online, it suited me better.
Getting Started…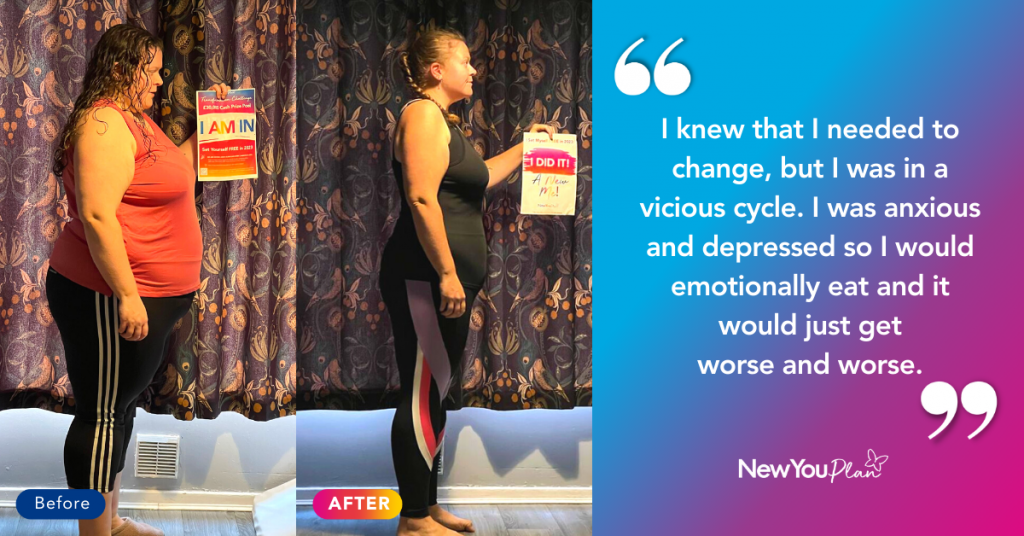 New You: What led to you starting the plan?
Dionne: I was in a really bad place with both my physical and mental health because I was too embarrassed to even go out, to be honest, because I was afraid of bumping into people that I know and wondering if they'd be thinking that I'd put on a lot of weight.
I was constantly anxious about my health because I thought I've got two small children. I was very big, I was 23, stone, so it was now or never. And I was suffering really bad with back pain to the point where I couldn't even sleep because my back was so sore and my knees were always swollen and sore. I'm only 31 and I would be exhausted and out of breath walking down to my son's nursery school. It was scary.
I knew that I needed to change, but I was in a vicious cycle. I was anxious and depressed so I would emotionally eat and it would just get worse and worse. I was just getting bigger and bigger to the point that I was dangerously overweight. I was massive and I was uncomfortable.
New You: And tell us about that first week…
Dionne: I did really struggle that first week. And I struggled because I was starving, because I was used to eating such massive portions. So I felt really hungry all the time because I would just eat all the time before. And now I was trying to spread the meals out, so I did feel really hungry. I did also have bad headaches and lots of aches and pains that first week. But I was so determined that I wanted and needed to do it that I just stuck it out. And I'm really pleased that I did because that first week I actually lost 15 pound and then that really kept me going. From about day 5 or 6 the headaches were gone & I started to feel great. And then when I got that first weigh in and it was 15 pounds – over a stone – I couldn't believe it. And that just spurred me on and I've not stopped since.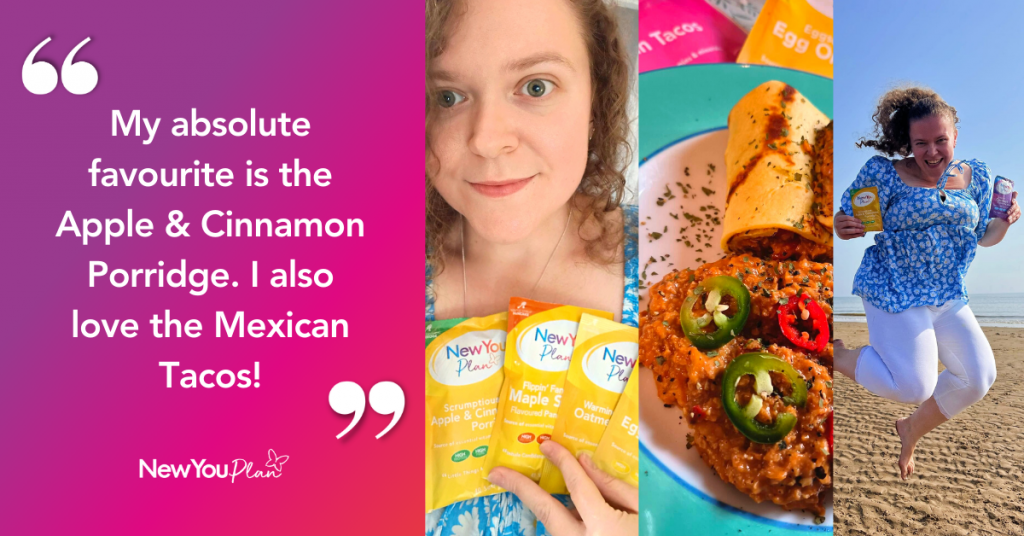 New You: What are your go-to meals & snacks?
Dionne: Well, my absolute favourite is the Apple & Cinnamon Porridge. I have that as soon as I get up & I really look forward to it. I also love the Mexican Tacos, The Coconut Shake with a Pineapple Boost.
Life Changing…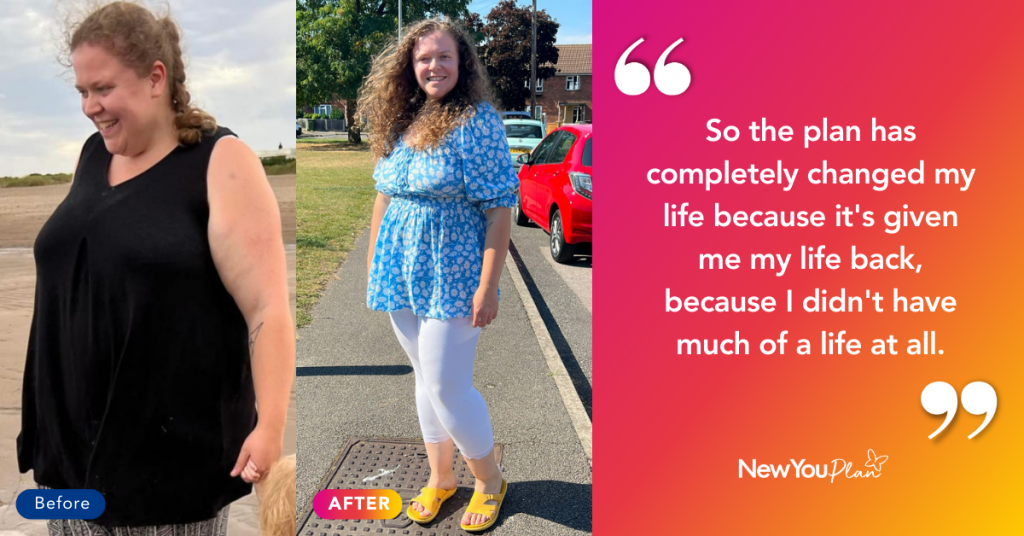 New You: What difference has the plan made to your life?
Dionne: So the plan has completely changed my life because it's given me my life back, because I didn't have much of a life at all. My health has just improved so dramatically in such a short time. It's unexplainable how amazing this plan is, if I'm honest. I mean, I've never ever done anything like this before and had such amazing results. And it's just incredible. I just can't get over it.
In just 5 months, I've lost 7st 2lbs. I've gone from a size 24/26 to a size 16. I can actually get clothes in normal shops now.
I have no back pain at all anymore. My knees are no longer swollen. I ran for the bus the other day. I actually ran. I could never have done that before. I mean, I could barely walk because I was in that much pain with my back. It's just unbelievable how much my body has changed in what I can do since starting this plan. The aches, the pains. I can sleep better. My mental health has just improved so much. I'm not anxious about just randomly popping off because I was really scared that something was going to happen to me and the children wouldn't have me anymore. So, yeah, it's just changed my life completely.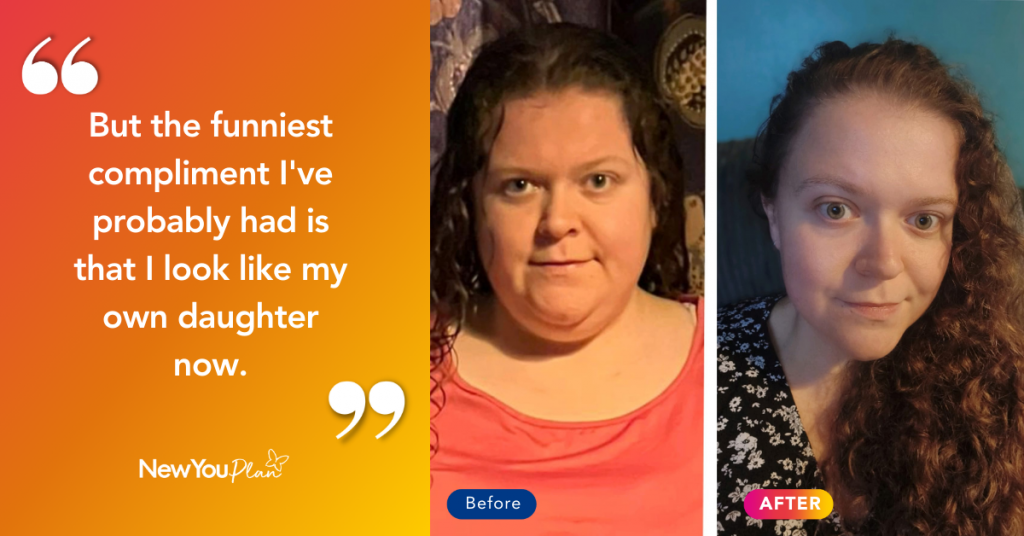 New You: What is the nicest compliment you have received since losing weight?
Dionne: I've had loads of lovely compliments. I can't really pinpoint the nicest one because they've all been so lovely. And the support you get on Secret Slimmers is amazing. Every time you post something, everybody's cheering you on and telling you how amazing you look, it really gives you a boost.
But the funniest one I've probably had is that I look like my own daughter now. I've had loads of lovely ones. I have lots of compliments about my skin now, A lot of my family still haven't seen me yet so it's going to be a surprise to them because I've been avoiding them five months.
New You: What would you say to someone thinking of starting the plan?
Dionne: So the advice that I would give is probably that just to go for it and it's worth it. And the only regret that you're going to have is probably not starting it sooner. It totally changes your life, your mind state and the way you think about food.
I would also say to just stay strong in that first week and push through. No matter how you feel, just push on, because it does get better and it does get easier. Just keep drinking plenty of water and don't be afraid to reach out to the Secret Slimmers group for support, because everybody is so supportive.
Another thing which I just love about the plan, is that you can tell that the staff really care and are supportive. You don't get that on other plans. You don't go to these groups and they give you loads of competitions to join in with. It keeps you motivated and it keeps you going. And you're just all such lovely people to deal with as well on emails or anything. You're all so nice.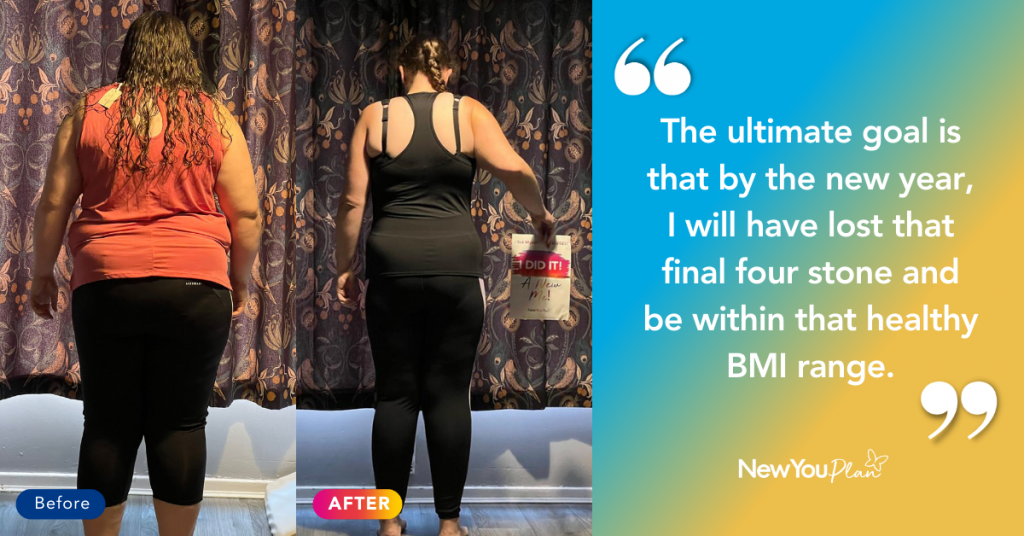 New You: And then finally, what's next?
Dionne: The ultimate goal is that by the new year, I will have lost that final four stone and be within that healthy BMI range. I'm still having steady three-pound loss for the past five weeks. It's my streak at the minute. So I'm just happy to plod on as I am at the moment and try and reach that ultimate goal.
Fancy Losing Weight & WINNING Cash?! End 2023 STRONG!
Dionne is proof that you can lose weight and change your health for the better!
Whether you want to lose half a stone or 10 stone, have a slimmer figure, or are just looking to get maximum nutrition in minimum time, then New You can make the perfect partner to get you to where you want to be.
Join Our £30K Cash 2023 Transformation Challenge

Dionne won £1000 cash and you could win too! This year, we are on a mission to help as many men and women reach their goals for good. In 2023, you really could lose weight, win cash and diet for FREE, thanks to our MASSIVE £75K giveaway.
There are 2 more chances to enter:
31st October
31st December
We still have £10,000 cash to give away!
Get all the details in this dedicated blog post here.