Before & Afters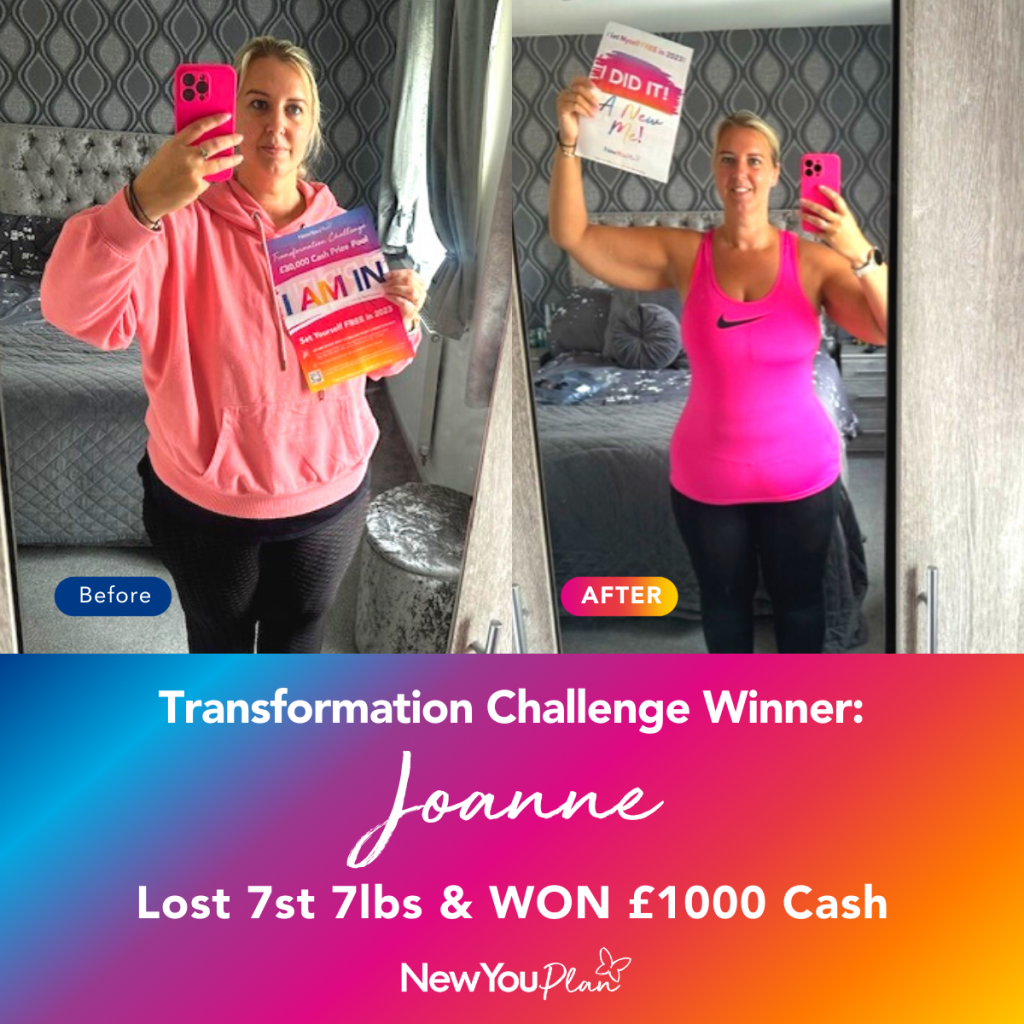 TRANSFORMATION CHALLENGE WINNER: Joanne Lost 7 stone 7lbs & WON £1000 Cash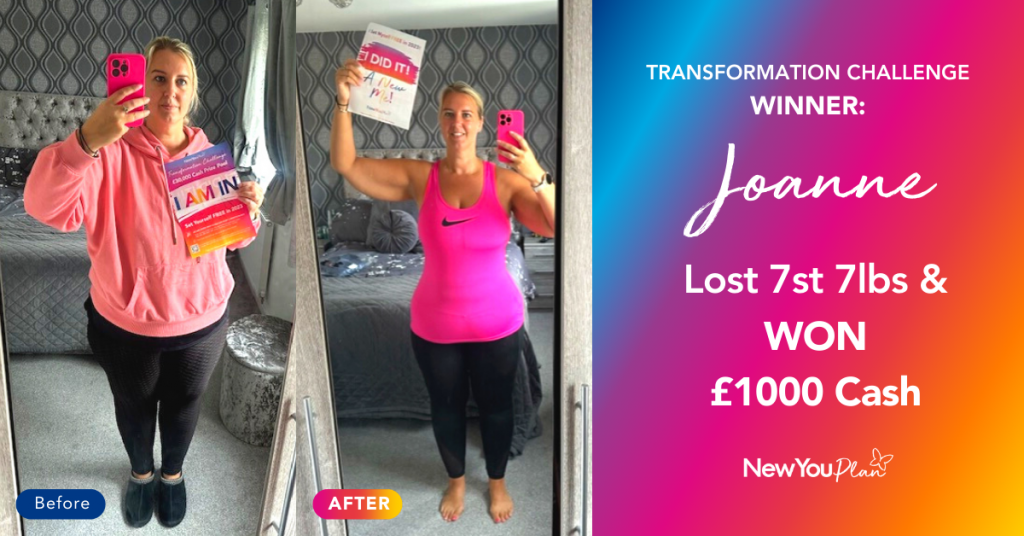 Joanne got to a point were she didn't recognise herself. She felt uncomfortable in her clothes and avoided going out. With a goal to lose 10 stone, Joanne is smashing it with 7 stone 7lbs gone for good. Here, she shares how the plan has given her a new lease of life, she entered the Transformation Challenge for accountability and ended up winning £1000 cash.
New You: Joanne, what was your biggest motivator for joining the challenge?
Joanne: I always find it inspiring reading people's stories. Seeing that people really do succeed on this diet helps keep me on track as well. I started posting for accountability and then I entered the challenge back in April for this reason. It helped keep me motivated so I re-entered for accountability.
New You: Did you do anything to help keep you motivated during the challenge?
Joanne: As well as posting in the group, I set myself mini goals. I aimed for half a stone every 2 weeks and a stone every month. When you look at the bigger picture and think: "Oh God, I've got 10 stone to lose", it's daunting. And you just think, am I ever going to get there? So, for me to break it down into smaller goals helped. I also focused on losing 100 kilos, which was one of my bigger goals and I've reached that now too.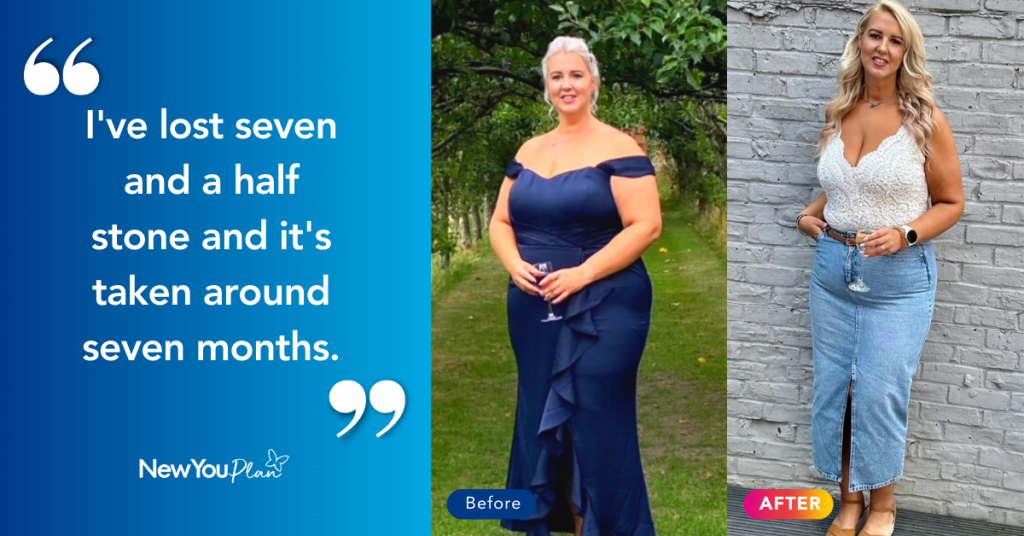 New You: So tell us, how much weight have you lost?
Joanne: I've lost seven and a half stone and it's taken around seven months. I've been very strict with myself. I've had literally three weekend breaks off the diet, then I've been so focused straight back on Monday. It just helps you be focused as well. Having those breaks, you actually feel good because you've been on the diet and you've lost weight. You get to do something amazing and feel good for that.
New You: We'd love to know how you heard about the plan!
Joanne: I discovered the new you plan via the collaboration with Slim&Save. When I heard that Slim&Save were closing their doors, I was in a panic for a little bit because I've been using their products for a while. I was more than grateful for the introduction of The New You Plan.
I had been on Slim&Save for two months and I was in the zone, so I didn't want to move away from what I was doing. The fact that they collaborated with New You was amazing because it meant I could still continue my journey.
I didn't need to try and find something else because New You had a great variety of products. Quite a few of them are manufactured with the same company as them, which is amazing because the products are the same.
Getting Started…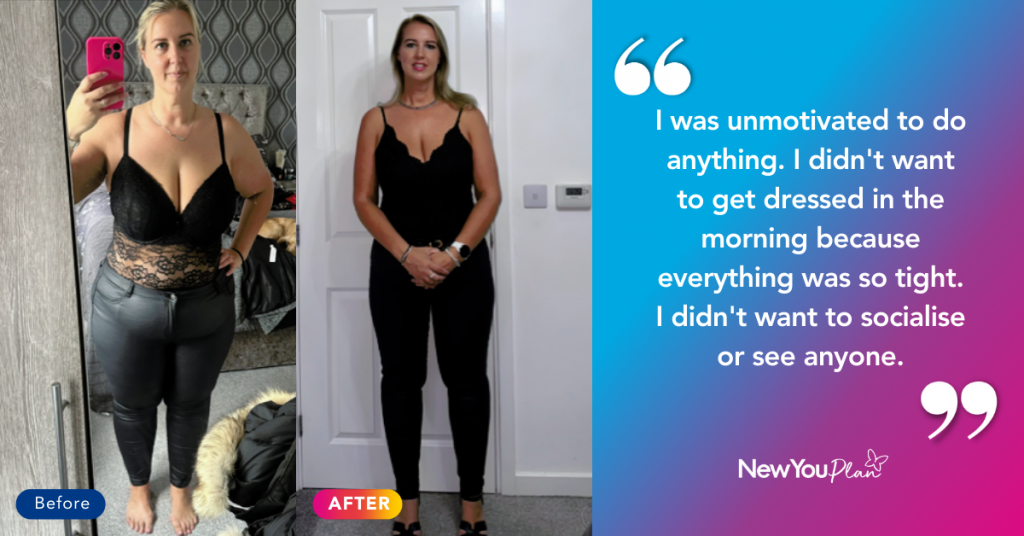 New You: What led to you starting the plan?
Joanne: I had unfortunately gone through a bit of a battle with my old employer. I ended up gaining weight. I was unmotivated to do anything. I didn't want to get dressed in the morning because everything was so tight. I didn't want to socialise or see anyone. That's how I felt before I started the diet. I fortunately got a job offer and there was no way that I wanted to start a new job the way that I was, and that was my motivation. I finally got my head in the right space to be able to focus on myself to start this diet.
It's not necessarily a medical reason but I do have polycystic ovary syndrome, which is the reason why I gain weight easily and find it hard to lose it. Other conventional diets don't work for me. A meal replacement works for me. How it's designed works for me.
You have to be in the right mindset. You have to really want to do it to be able to focus on it. I like that I don't need to think about anything. I don't need to think about food. I have my four packs and my veg, and I know that that's what I'm having for the day. I don't need to weigh anything. I don't need to think about ingredients I need to buy, nothing. It's very simple in that way.
New You: And tell us about that first week…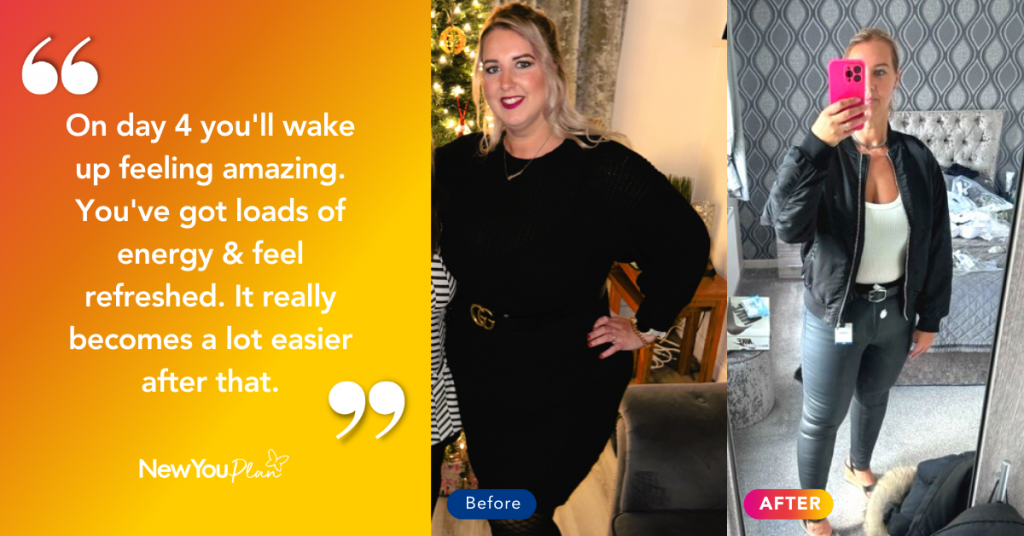 Joanne: You do have to be mentally prepared and wanting to really do it because it's so easy to get halfway for a day and think, no, this isn't for me. The first three days are the hardest days because you're starting the diet, detoxing your body, reducing your intake of food and getting into ketosis. I always say the first three days are the hardest and then on day four you'll wake up feeling amazing. You've got loads of energy and feel refreshed. It really becomes a lot easier after that.
New You: What are your go-to meals & snacks?
Joanne: I really like the Indian Daal meal because it's actually quite refreshing to have something different and it's full of flavour. I have that with spinach, it's really nice. It's not necessarily a meal, but I do really like the Water Flavourings. They don't taste very artificial, which I like.
Life Changing…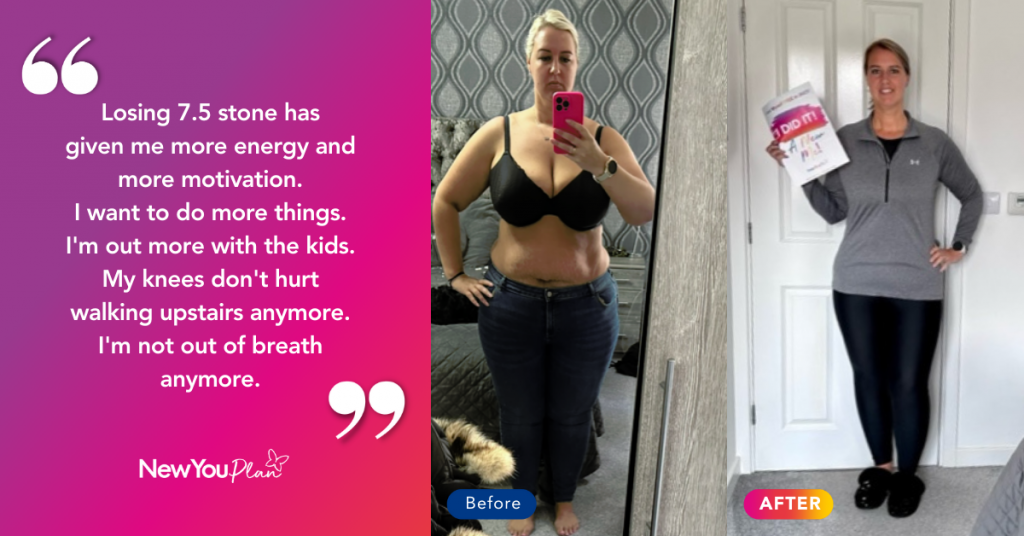 New You: What difference has the plan made to your life?
Joanne: Losing 7.5 stone has given me more energy and more motivation. I want to do more things. I'm out more with the kids. My knees don't hurt walking up stairs anymore and I'm not out of breath. So generally, from a health point of view as well, it's great. It's given me a new lease of life.
New You: What is the nicest compliment you have received since losing weight?
Joanne: It's just the usual,"Oh my God, you've lost so much weight. You look amazing. You've done really well. How have you done it?" They always want to know information on the diet. But yeah, generally it's just that I look really good from losing all the weight and I look pretty well.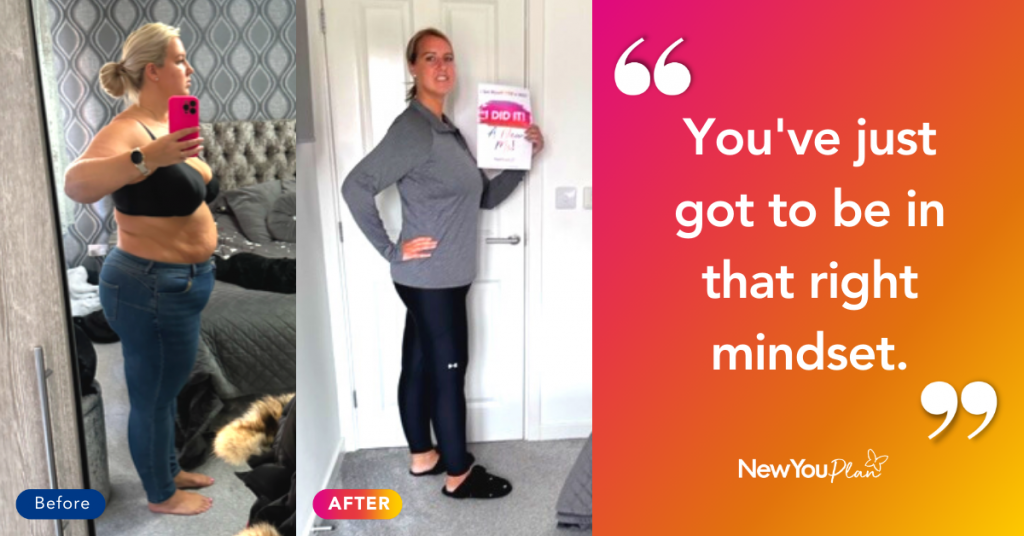 New You: What would you say to someone thinking of starting the plan?
Joanne: The advice that I would give them is you've got to really want to do it, be motivated to do it and just stick to those first three days and by the fourth day, it becomes easier. You've just got to be in that right mindset. I would never say it's an easy diet, but if you're really willing to do it and you're motivated to do it, then you will do it, you will succeed.
New You: And then finally, what's next?
Joanne: I still have two and a half stone to go. That will take me to the top end of a healthy BMI. Then after that, I will maintain. I will probably start Switch because I've seen a couple of the ambassadors are on the Switch version of the plan, and that's my next – step to maintain and join the gym. It's a lifestyle change. I'm learning to have healthy meals and lifestyle to make sure that I don't start gaining the weight again by going back into bad habits.
Fancy Losing Weight & WINNING Cash?! End 2023 STRONG!
Joanne is proof that you can lose weight and change your health for the better!
Whether you want to lose half a stone or 10 stone, have a slimmer figure, or are just looking to get maximum nutrition in minimum time, then New You can make the perfect partner to get you to where you want to be.
Join Our £30K Cash 2023 Transformation Challenge

Joanne won £1000 cash and you could win too! This year, we are on a mission to help as many men and women reach their goals for good. In 2023, you really could lose weight, win cash and diet for FREE, thanks to our MASSIVE £75K giveaway.
There are 2 more chances to enter:
31st October
31st December
We still have £10,000 cash to give away!
Get all the details in this dedicated blog post here.