Before & Afters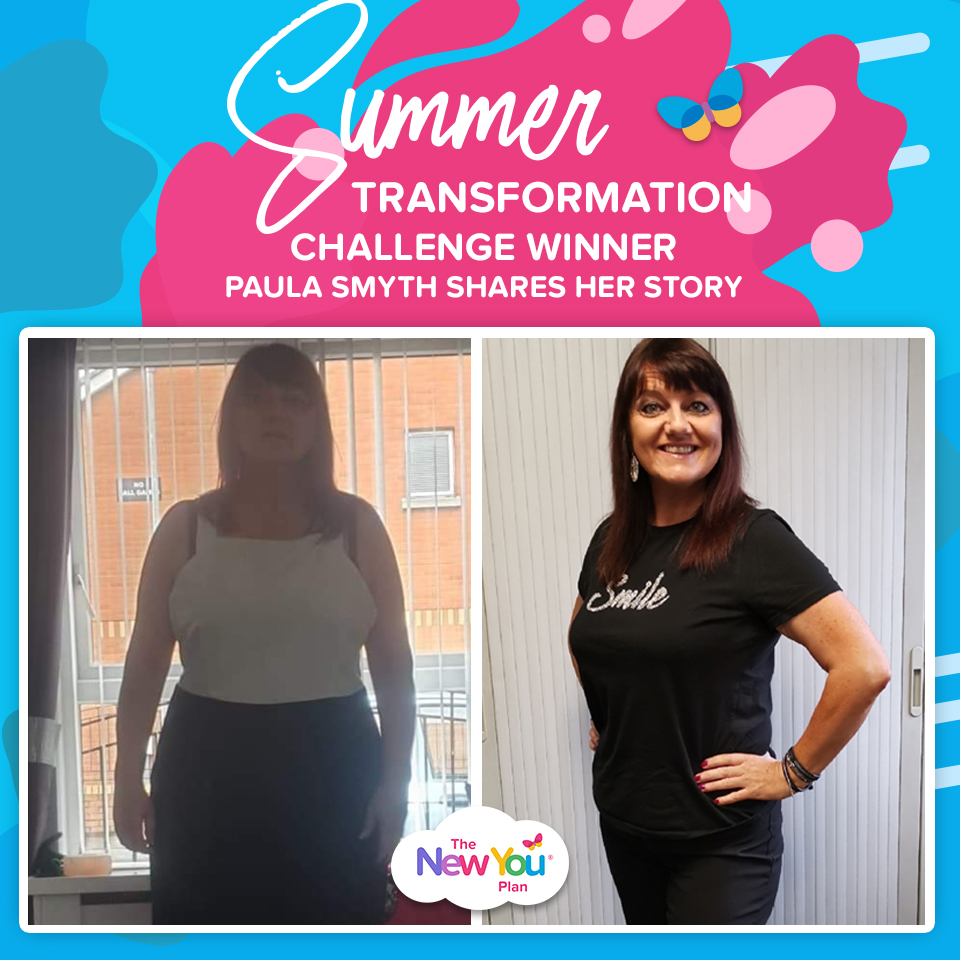 Summer Transformation Challenge Winner Paula Smyth Shares her story

After being named the WINNER of our Summer Transformation Challenge, we caught up with customer Paula who shares how she lost 1st 7lbs in just 6 weeks and learned a massive life lesson, which has inspired her to continue until she reaches her goal.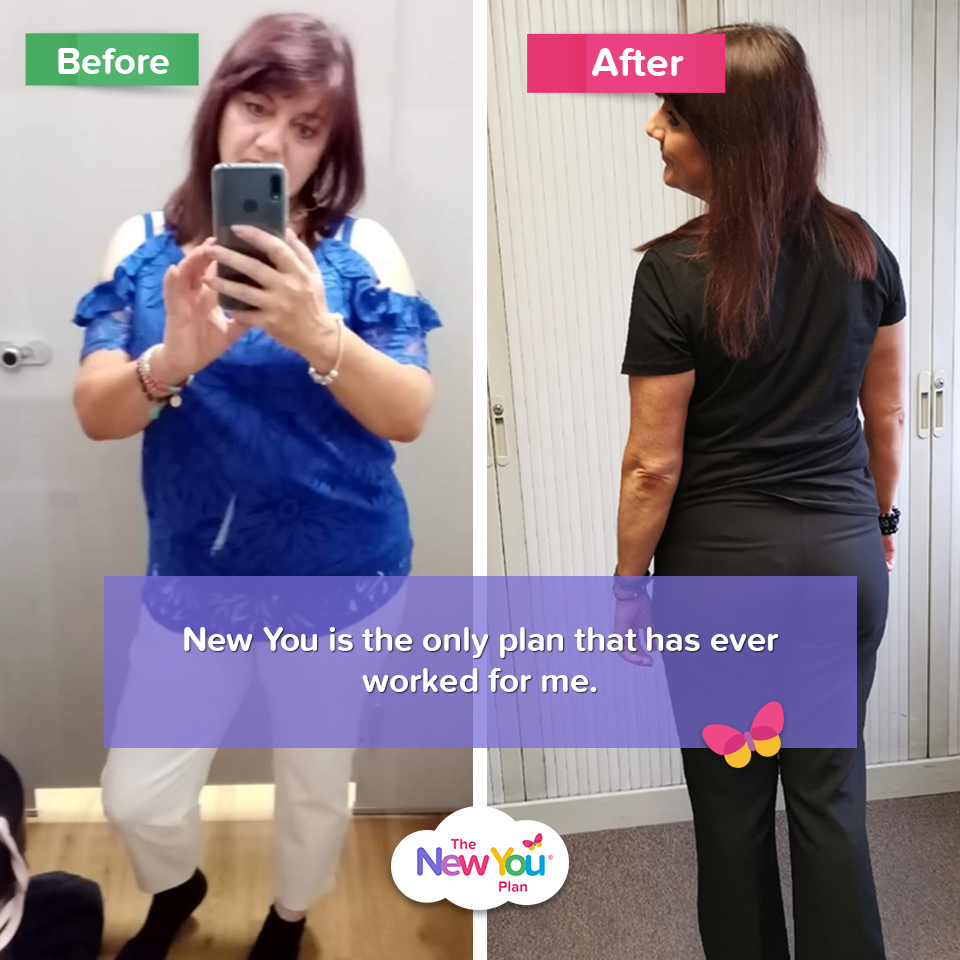 Paula, why did you decide to take part in the Summer Transformation Challenge?
Taking part in the Summer Transformation Challenge gave me a goal to aim for. Even if I didn't win, I would definitely keep up with the plan because I believe in it and it is the only plan that has ever worked for me.
What's the biggest lesson you've learned since taking part in the Summer Transformation Challenge?
The biggest lesson I have learned is if you focus on something that you think you can't achieve in such a short time, you definitely CAN achieve it – thanks to determination and a good support network of others all doing the same thing. Secret Slimmers definitely played a part in helping me do this and it was amazing to be part of the challenge with so many others.
Describe how you felt before you started the plan?
Before New You, I felt bloated and frumpy and hated my body shape the older I was getting.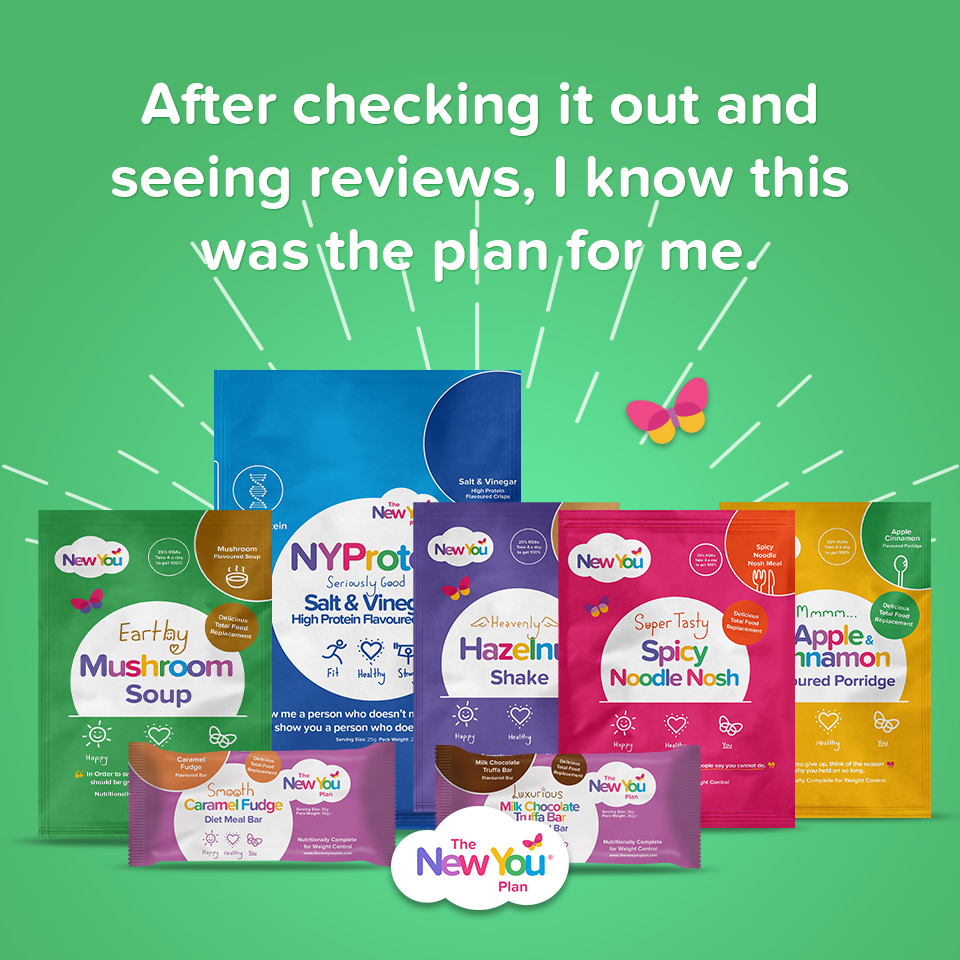 How did you discover The New You Plan?
I came across New You on Facebook. The bright colours of the website just jumped right out at me. After checking it out and seeing reviews, I know this was the plan for me.
How has the plan changed your life? How has your health improved?
I am much more confident in myself now. l'm a lot happier in my day-to-day life and I'm always smiling! I'm still on plan but I'm enjoying all the meals with zero hunger. l'm sleeping better at night and I have so much more energy.
I have also got my daughter who is 21 and never dieted before, my friend and her sister signed up for the plan because they can see the results and fast!
I am so proud of this plan and will continue to sing its praises to everyone who needs it!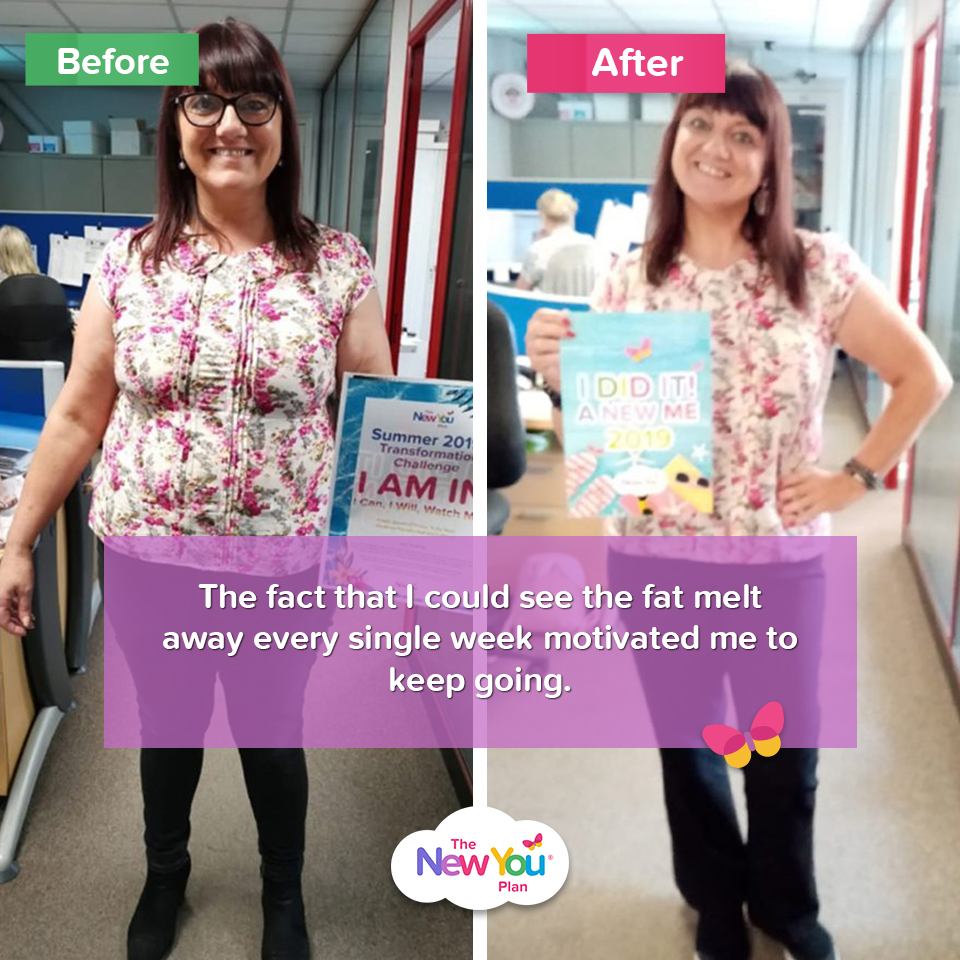 What was your biggest motivator in staying on track?
The biggest motivator in staying on track is the fact that this plan is so doable, with results that can be seen from week 1. The fact that I could see the fat melt away every single week motivated me to keep going, although I did find it easy anyway as the products are so filling.
What's your biggest non-scale victory?
Definitely when people started telling me how young I'm looking and not the frumpy 52-year-old I was a few weeks back.
Since losing weight, what is your happiest memory / proudest moment?
When I got into size 12 clothes with room to spare, it was the best feeling. My proudest moment is when my 21-year-old daughter (who has never been on a diet in her life) asked me about the plan and could she start it. I'm her motivation and I love it!!
What is the nicest compliment you've received since losing weight?
Colleagues have told me that the plan has taken years off me, which I'm delighted to hear! Who doesn't want to look younger?!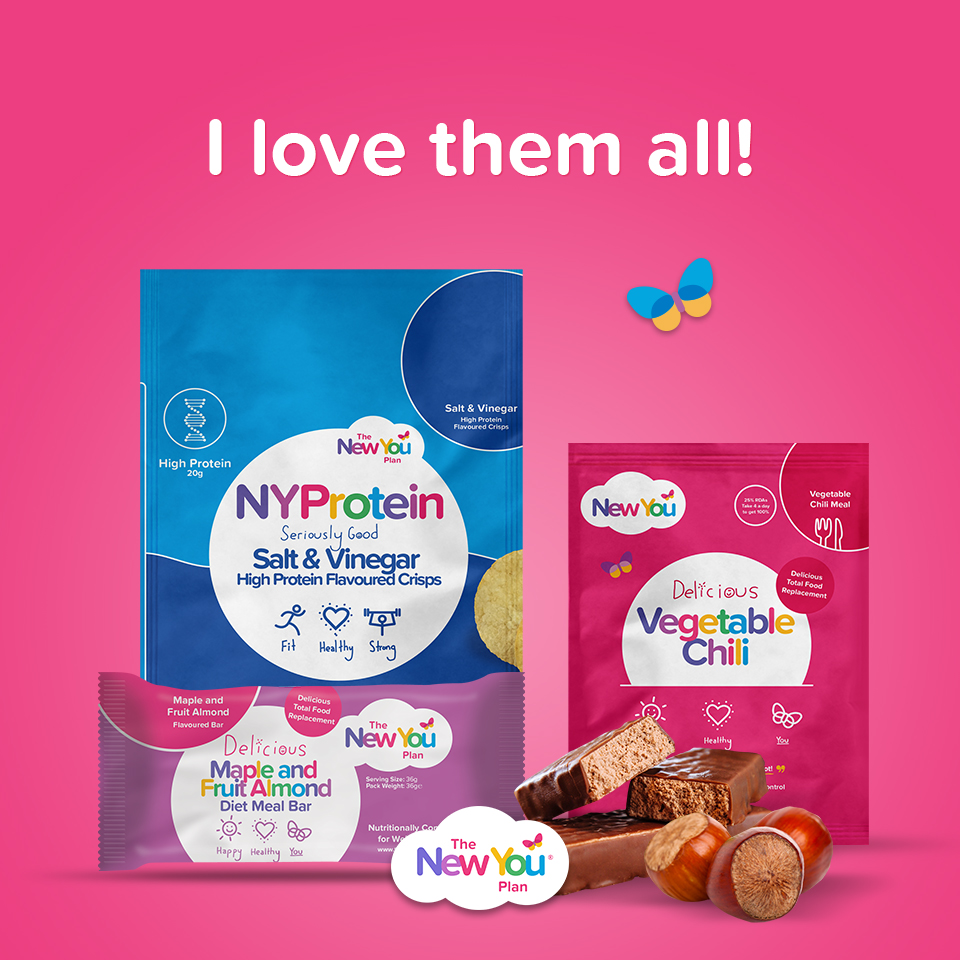 What are your favourite New You meals and snacks?
I love them all but especially the Vegetable Chili, Salt and Vinegar Crisps and definitely the Cheese Crackers – game changer!! All the bars too as they're just delicious.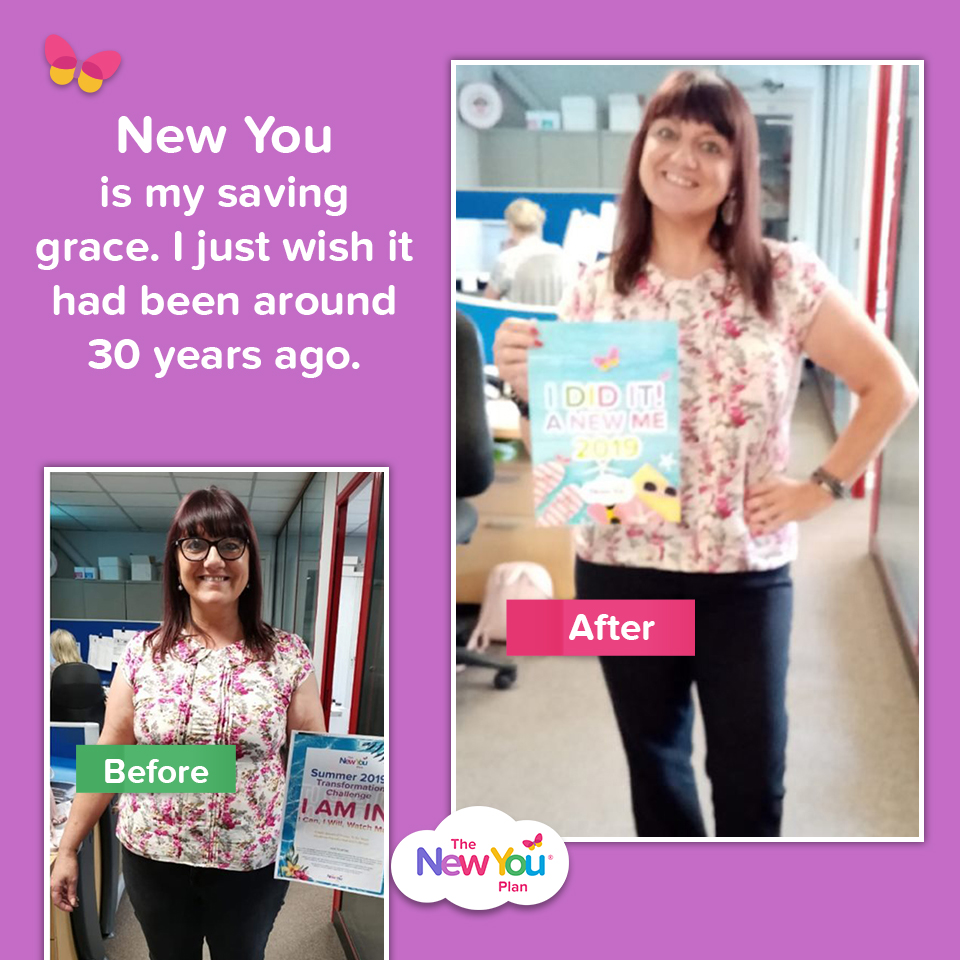 What advice would you offer anyone thinking of starting the plan?
The best advice I can give someone is commit to the plan – give it 2 weeks to start with and see how you feel about it. By that stage, you will be hooked! Drink plenty of water (4 litres per day for me, without fail) as that helps with the first few days of discomfort (which incidentally, I did't have and attribute to drinking so much water). Spread your meals evenly over the day. Keep your bar as a snack at night before bed and it really is that easy. Watch the pounds drop off in the quickest time possible. New You is my saving grace. I just wish it had been around 30 years ago, lol!
We'd like to say a massive congratulations to Paula. We are sure her story will inspire many others. Keep your eyes peels for more challenges coming soon.
---
Are you ready to get started on a really, really, really easy diet plan?

Getting started is the first step in your journey to a brand New You! To help you understand fully how our plan works, our Get Started page with designed specifically for people new to the plan.
Head over to our site where you'll find tonnes of important information including how our plan works, the science behind it, loads of top tips, information on our meals, as well as real customer testimonials.
Click here to visit our Get Started page!