Candida's Blog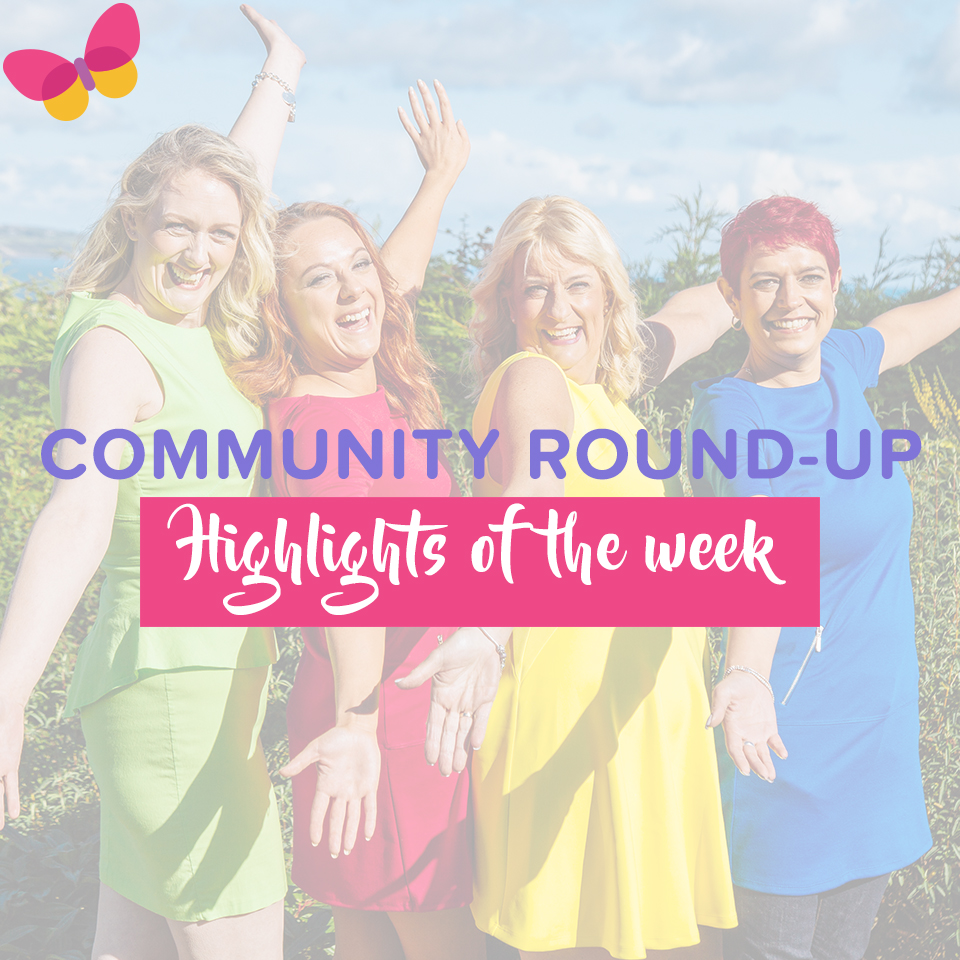 Community Highlights Of The Week

Another week and plenty of highlights to share! Today, Customer Transformation Coach Candida reflects on a wonderful week, sharing our community highlights of the week!
WOW! What amazing weather we had last weekend, making it the perfect time to get out and about in the sunshine with family and friends. Summer is on its way and we are going to be announcing some amazing deals and exciting challenges for your Summer Transformation.
So many beautiful butterflies are emerging on Secret Slimmers at the minute. For me, having the privilege of watching you on your own individual journey is incredible.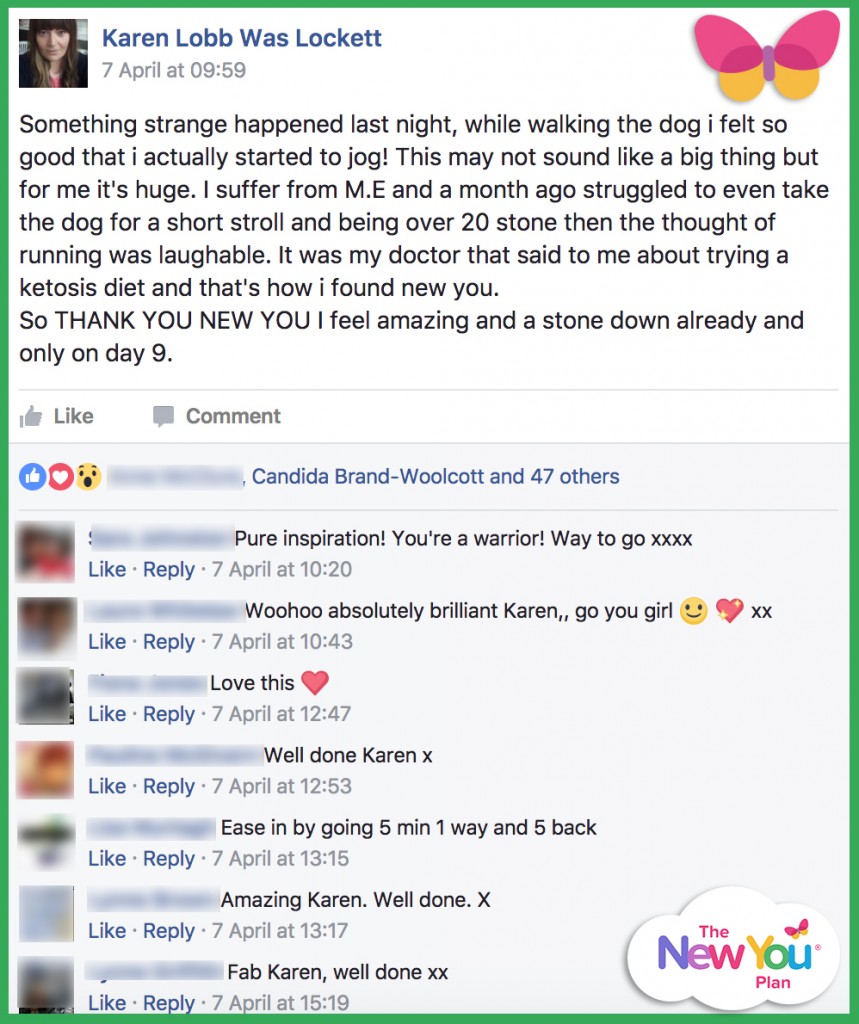 Karen Lobb, who has only recently started The New You Plan has been a true inspiration this week. She wrote: "Something strange happened last night, while walking the dog I felt so good that I actually started to jog! This may not sound like a big thing but for me it's huge. I suffer from M.E and a month ago struggled to even take the dog for a short stroll and being over 20 stone then the thought of running was laughable."
How fabulous is that?! If you stick to the plan, these euphoric moments can happen early on in your journey.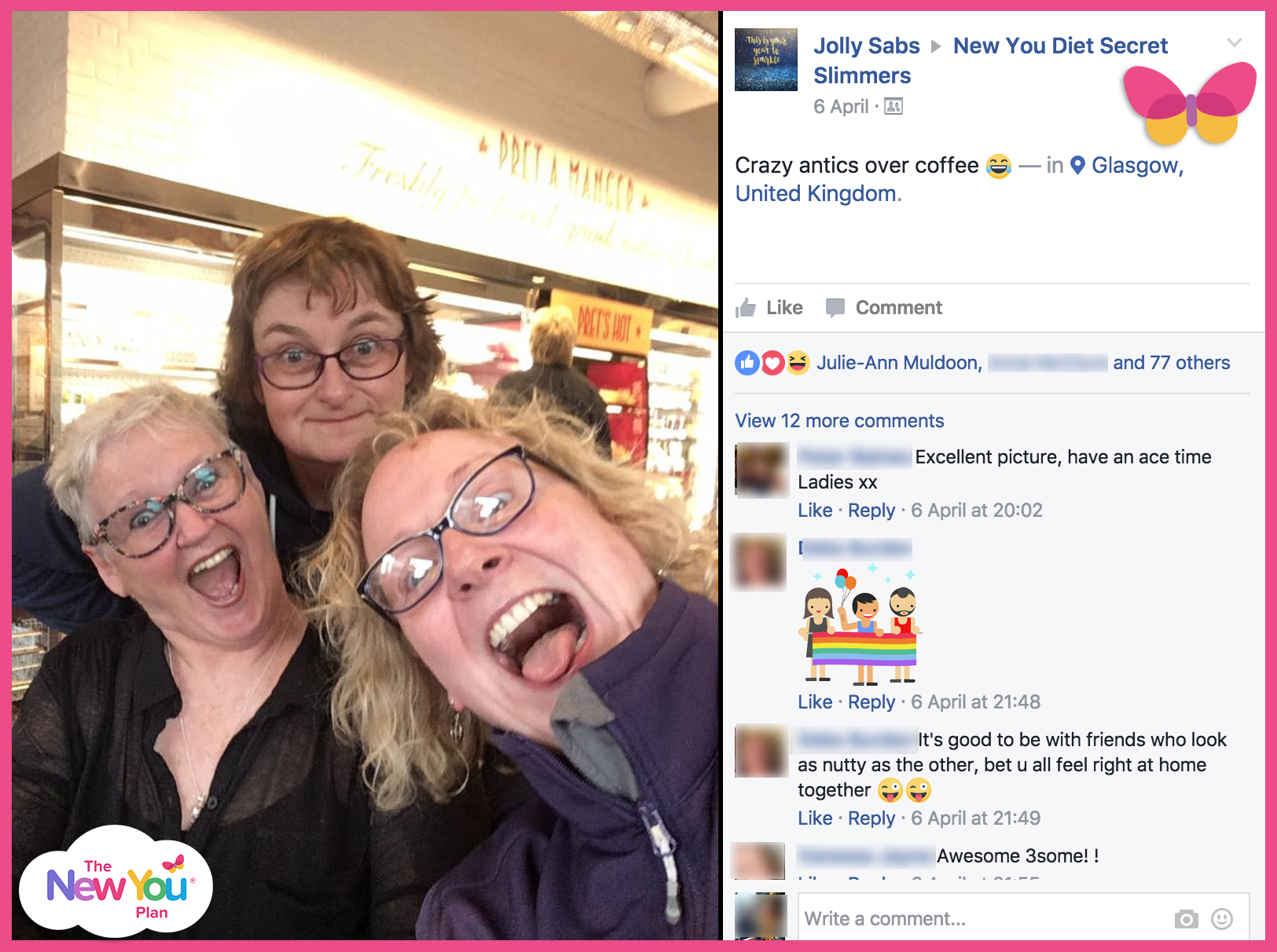 It's always wonderful to hear and see members of Secret Slimmers meeting up for a get together. Sabrina and Jackie Murphy spent several days in Glasgow meeting up with Lynne Brown and Jane Gibson. The support we can all give each other, whether on Secret Slimmers or meeting up with a fellow slimmer is very special indeed and crucial to your weight loss.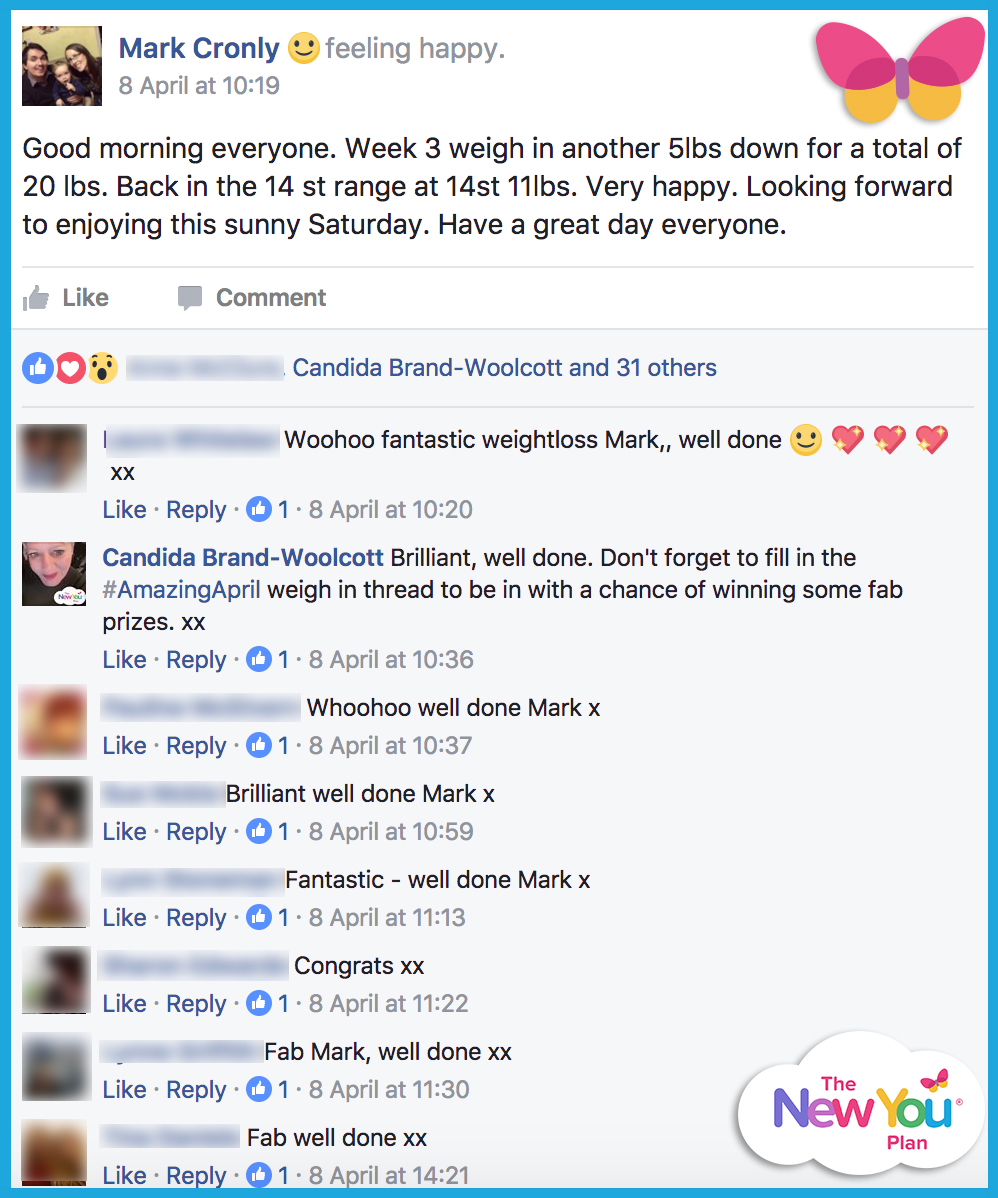 You all continue to astound us with your weight losses. Do try to remember to never ever compare your weight loss to others. We are all different and we all lose at different rates. Your journey is unique to you!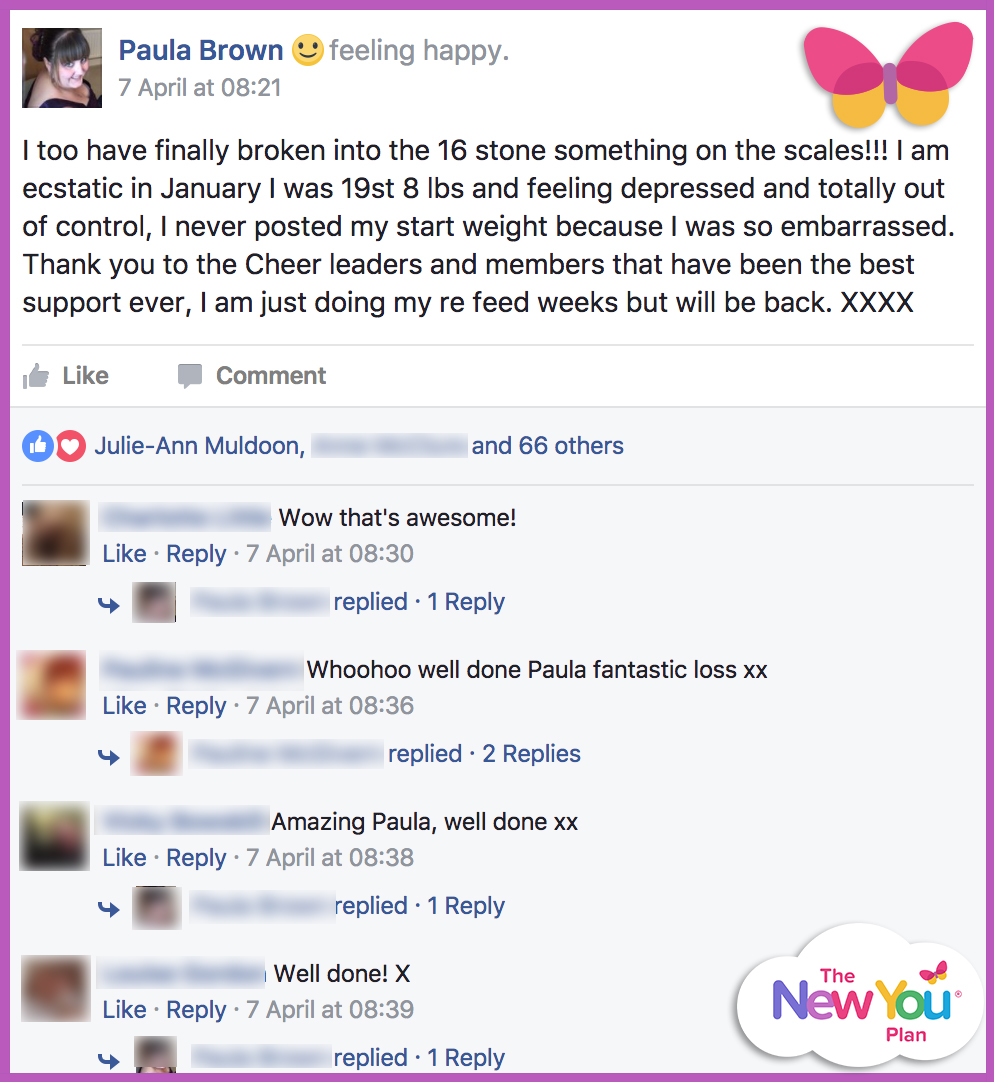 Mark Cronly is feeling very happy at losing 20Ibs in three weeks whilst Paula Brown has lost 3 stone since January. Incredible! Some weeks we may have a minimal loss and believe me, this will happen to you all but remember you may well have lost inches, so do take your measurements frequently.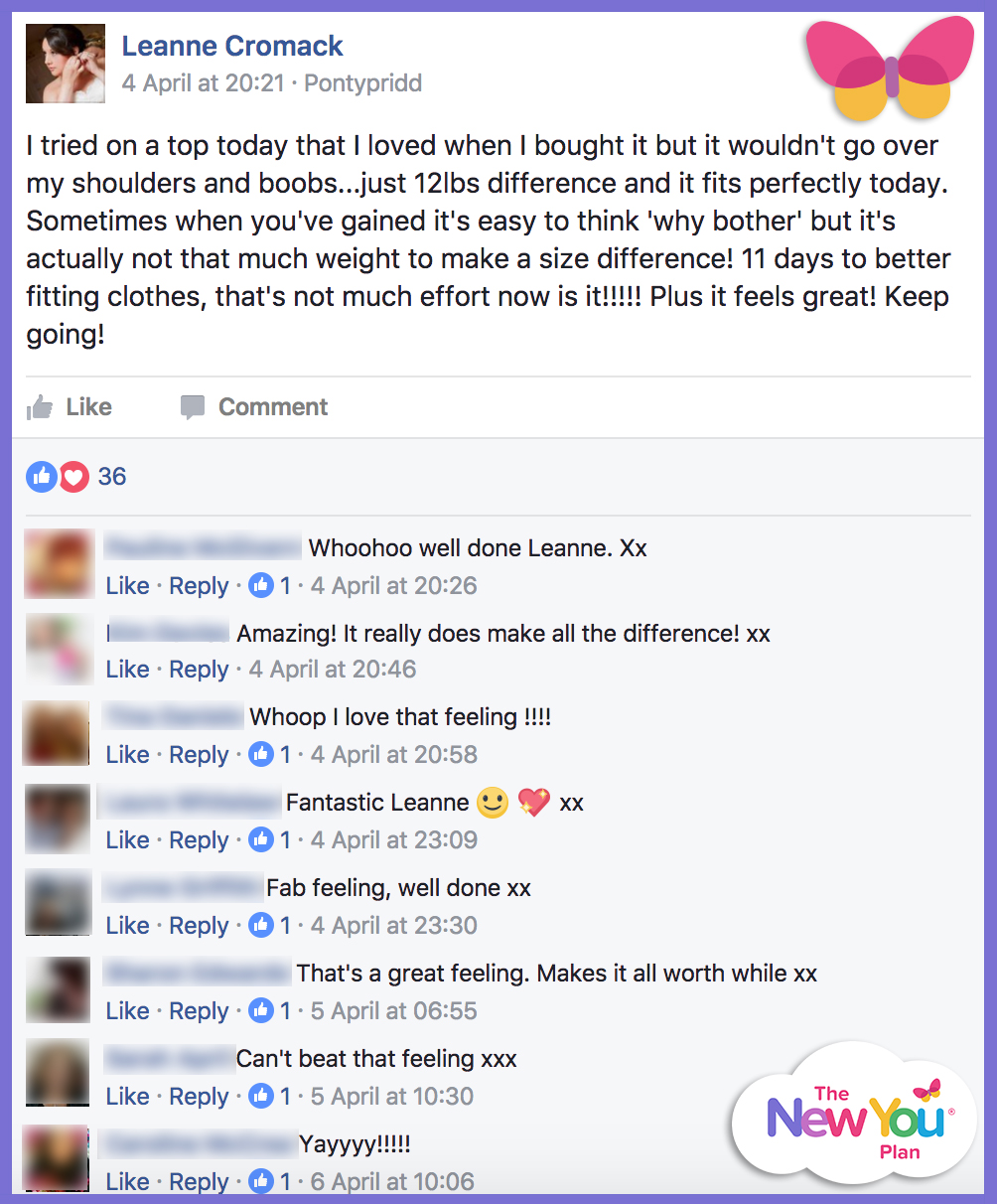 Leanne Cromack's post really stood out for me. Her determination and commitment to continue on her pathway to success is positivity at its purest!
She said: "I tried on a top today that I loved when I bought it but it wouldn't go over my shoulders… just 12lbs difference and it fits perfectly today. Sometimes when you've gained it's easy to think 'why bother' but it's actually not that much weight to make a size difference! 11 days to better fitting clothes, that's not much effort now is it!!!!! Plus it feels great! Keep going!"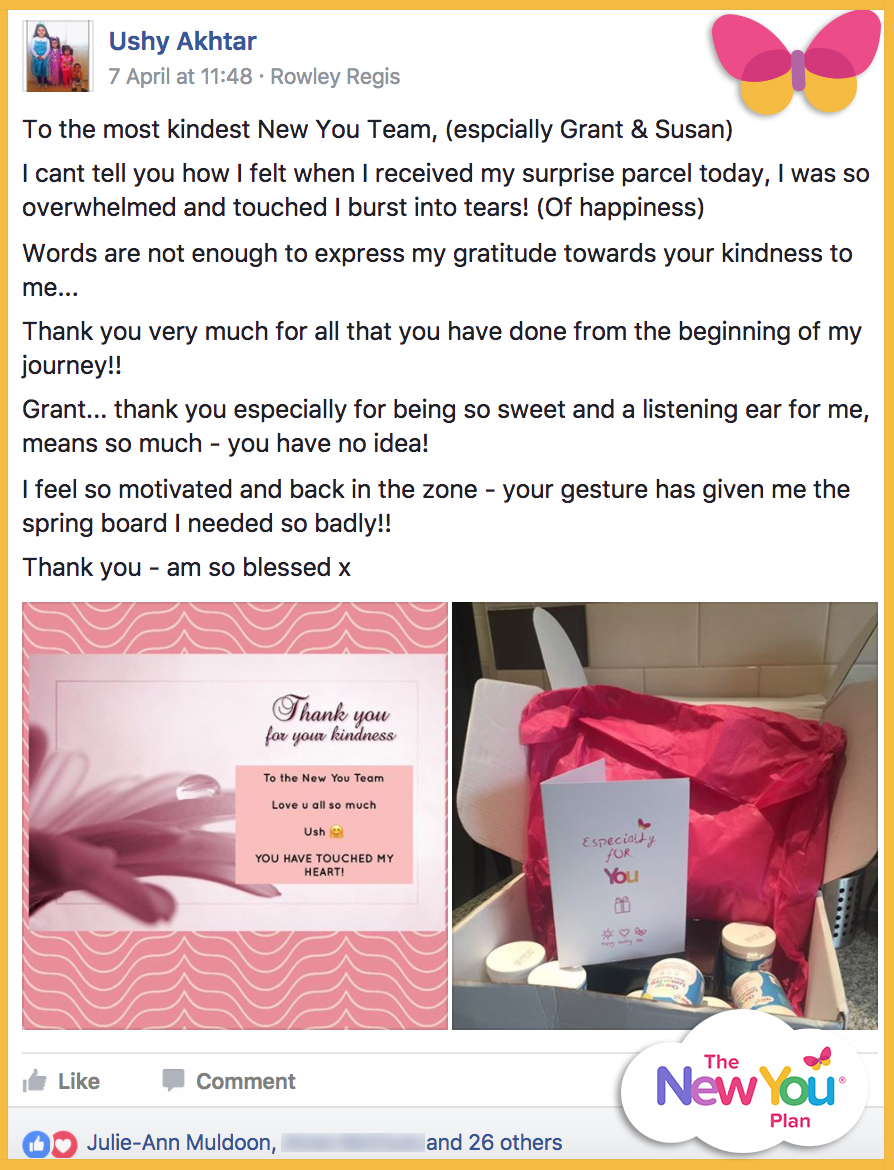 Ushy Akhtar received a 'Random Act of Kindness' parcel from The New You Team to motivate and spur her on her way. She said: "I cant tell you how I felt when I received my surprise parcel today, I was so overwhelmed and touched I burst into tears!" It's the little things in life that can make all the difference… plus we love to spoil you!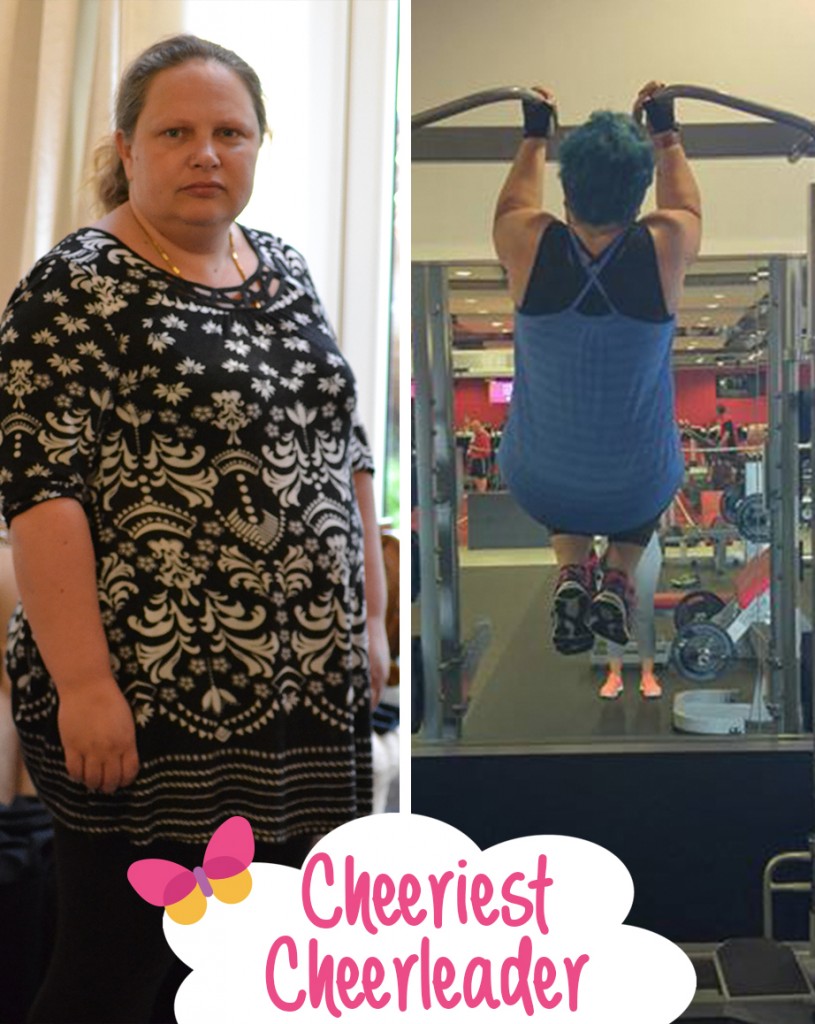 I would like to introduce you to our fabulous Cheerleader Christina Stewart. Christina is a tremendous Mum, wife and cheerleader, always on hand to guide and help you when needs be.
Here is a little bit about her: 'Hi, I'm Christina, aged 46, born in Bangor, County Down, now living in a pretty village in Northamptonshire. I have two daughters, Shivani aged 10 and Narayani aged 6. I met my husband Anoo, while travelling in India in 2005 and lived there for 2 years before returning to the UK, just before Shivani was born. My dream is to return to India to live with the girls and Anoo, but he isn't quite ready yet!
I am Operations Manager for a party food manufacturer, which can be challenging on this weight loss journey! I am also actively involved with the local homeless centre and I mentor under privileged teenage girls in the local area.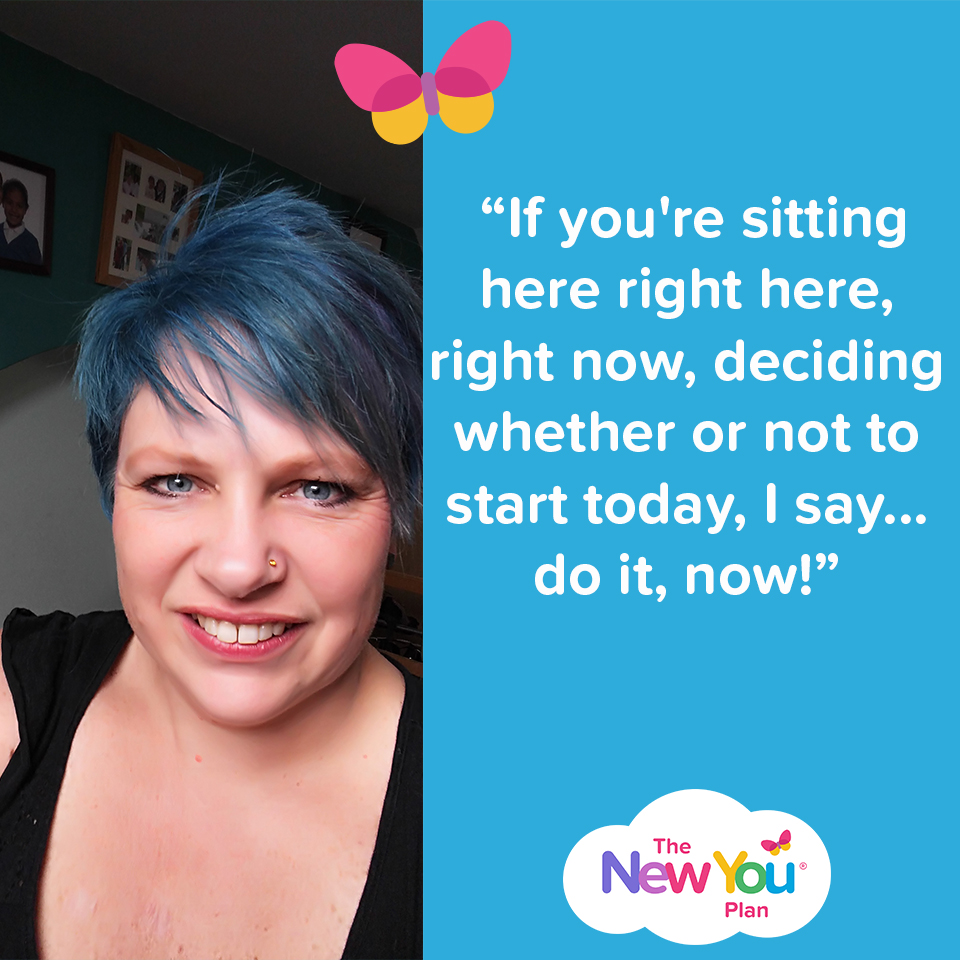 I've been on a scenic journey of transformation with the New You Plan and became a Cheerleader in November 2016. I am passionate about helping others achieve their true potential and being a Cheerleader gives me the opportunity to do this. I learn every day from the amazing inspiring people on Secret Slimmers. I get a buzz watching people lose weight, gain confidence and I am so proud of everyone's achievements.
It is a privilege to share this journey with everyone on Secret Slimmers and I have made some awesome friends along the way.
For me, life is for living. For being positive and hopeful. My New You journey has taught me that the way I feel each day is a choice. I choose to be upbeat, grateful, empowering and encouraging and thrive on sharing this with everyone around me."
I really hope you have the most amazing week. If negativity strikes, channel your energy into doing something positive in order to reverse the negativity. You have the power and strength within you to be the best you possibly can be. If you want to create miracles, don't channel your energy towards your fears, channel your energy towards your dreams. <3
________________________________________________________________________________________________
Beat The Chocolate Cravings This Easter…
SHOP 90p Chocolate Goodies & Stay On Track!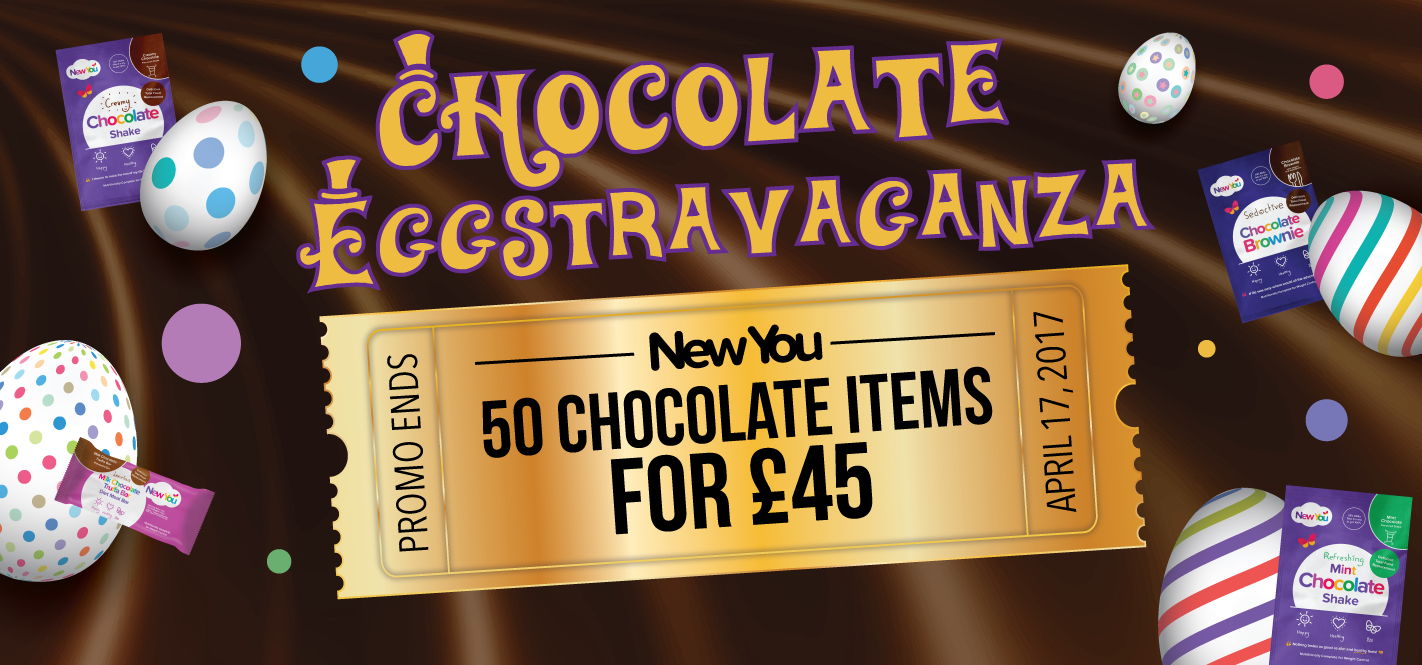 The countdown to Easter is on! In just a few days, everyone will be stuffing their faces with chocolate, which might seem like a great idea at the time.
BUT, then the guilt sets in! We start thinking: "What was I thinking?" "Why did I sabotage all that good work?"
And then you are hit with the realisation that it wasn't worth it. That one minute of pleasure could be enough to un-do all your hard work, so why risk it?
One of the things that customers love the most about our plan, is the fact that it doesn't actually feel like a diet.
How many diets can you actually eat chocolate guilt-free everyday and still feel amazing?!

Cue The New You Plan!
Until April 17th, shop 50 of our delicious chocolate items for only £45. That's an amazing 90p. From our delicious TFR Shakes and tasty Chocolate Bars, you really can have it all!
So this Easter, you can continue on your New You Plan journey, enjoy chocolate & still lose weight, without fear that you're missing out on Easter, thanks to our Chocolate Eggstravaganza!
It's a win-win!
Easter is only a matter of days away so stock up now & beat the chocolate cravings!