Before & Afters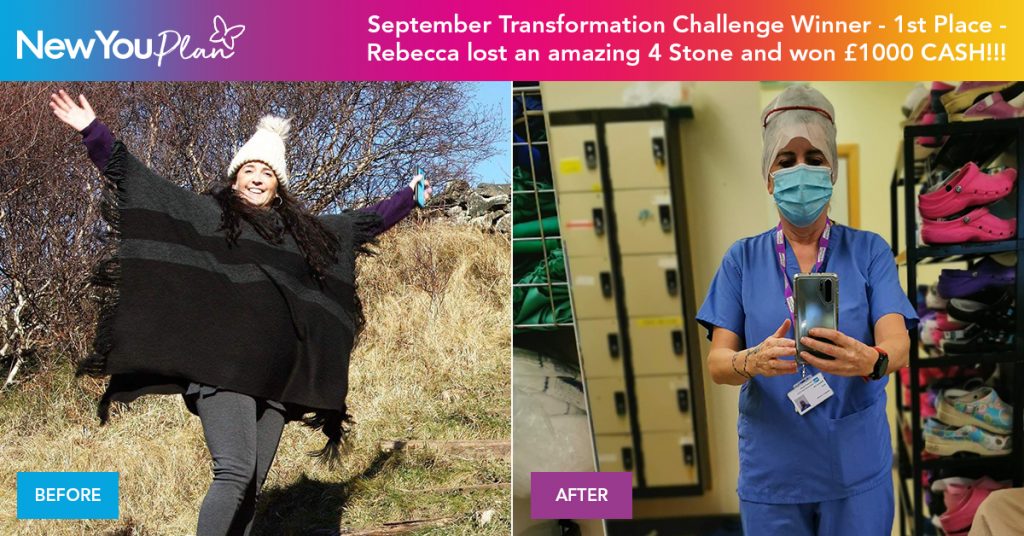 Rebecca loses a Whopping 4 Stone and wins £1000 CASH!
Here at New You HQ, we feel that all of you are winners because you've chosen to improve your health. However, this week we feel it's only right to give a special mention to our 1st place winner, Rebecca!
Rebecca entered our September Transformation Challenge and we were so inspired by both her journey and transformation that we awarded her with the £1000 cash prize.
Just like many of you, she had struggled with her weight for many years but knew she needed to change her life around as health problems started to arise.
Read her full inspiration story to find out all about the journey that led to her receiving our cash prize.
"Before I started the New You Plan I had struggled on and off with my weight for years. I desperately wanted to be the thin woman round the swimming pool on holidays instead of struggling to find a bikini that even began to hide my big belly.
On numerous occasions when I was younger I was asked if I was pregnant, I felt so upset all the time and hated looking at photos of myself and even asked if I really looked that fat. I think I struggled to diet partly because no-one was honest enough to actually tell me I was fat, my fiancé Alistair would always say you look nice whatever you wear but he wasn't telling me what I needed to hear.
I had given up smoking and my weight increased, I had no motivation to walk or exercise and I ached all over. At the time I was also diagnosed with severe hypothyroidism and started medication. My doctor also informed me that my cholesterol was high and I was borderline diabetic. After starting my medication for my thyroid I did feel better but I was getting heavier an heavier and even the doctor told me that I would struggle to lose weight because of my condition.
I knew I had to do something to change my life. I saw an advert for the New You Plan on Facebook and decided to look into it as all of the reviews were fantastic so I ordered a 2 week bundle and joined the secret Facebook group.
That was the moment my life turned round, it seemed so different from other faddy diets and the people in the group sounded great. I divided up my meals when they arrived into days and thought omg I will never do this but I weighed myself on 10th March 2021 and was 13 stone and 10 pounds, my BMI was class 1 obese and I took stock of myself."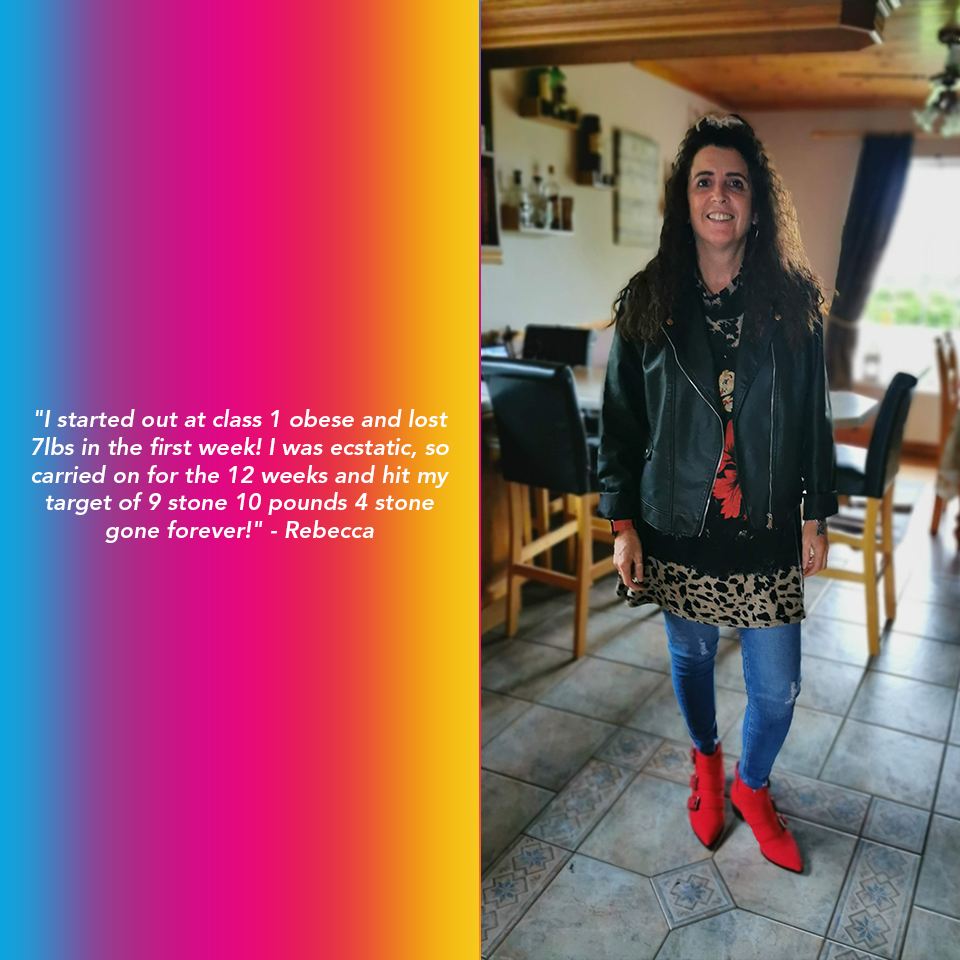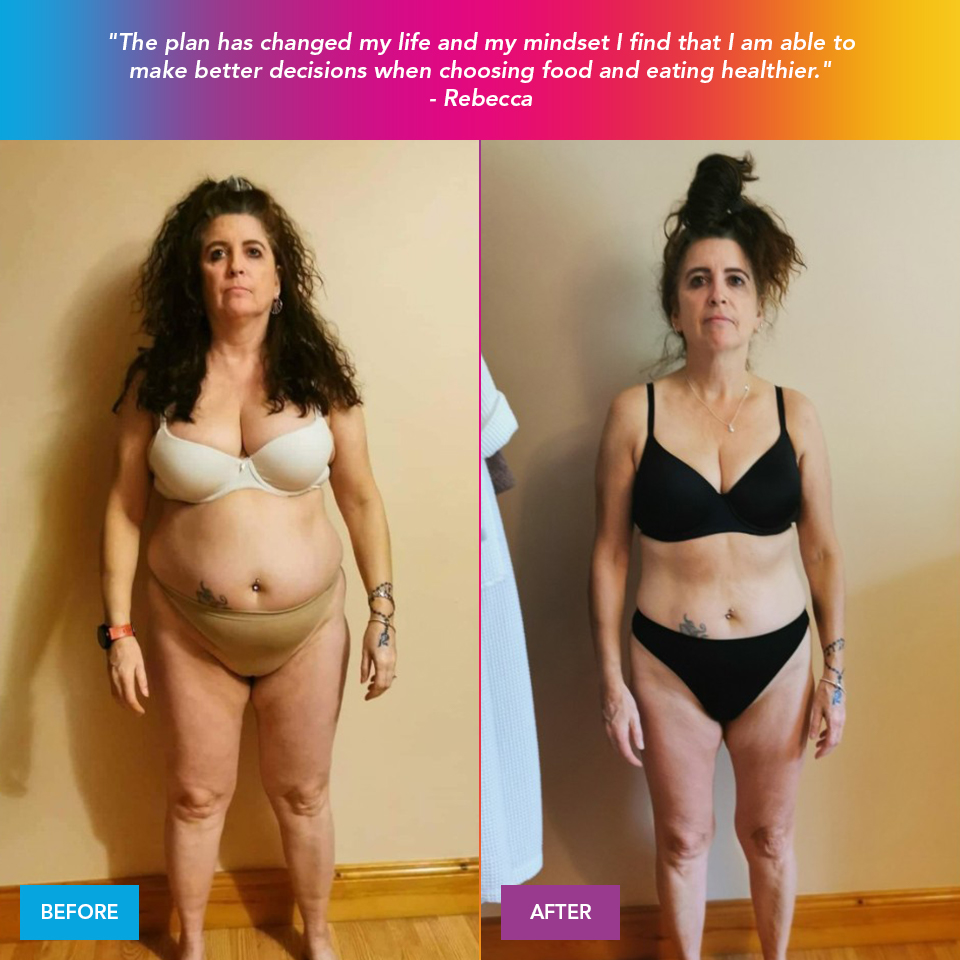 The fact that Rebecca was able to pull herself up when her motivation was so low shows the strength that was within her. After that, it's clear that there was no stopping her.
We're so pleased that not only did she lose 4 stone with New You, she also improved her health considerably and even went on to increase her fitness. A great all-around result!
Rebecca touched on how she felt especially proud because of the recognition she received by winning our Transformation Challenge and that right there is why we run them. Recognition and validation can be so powerful, so why not take up the challenge yourself? It's super easy to enter, click the link below to find out what you need to do.
And Rebecca was 100% right when she told you that you should just go for it – because we really have got you!