Before & Afters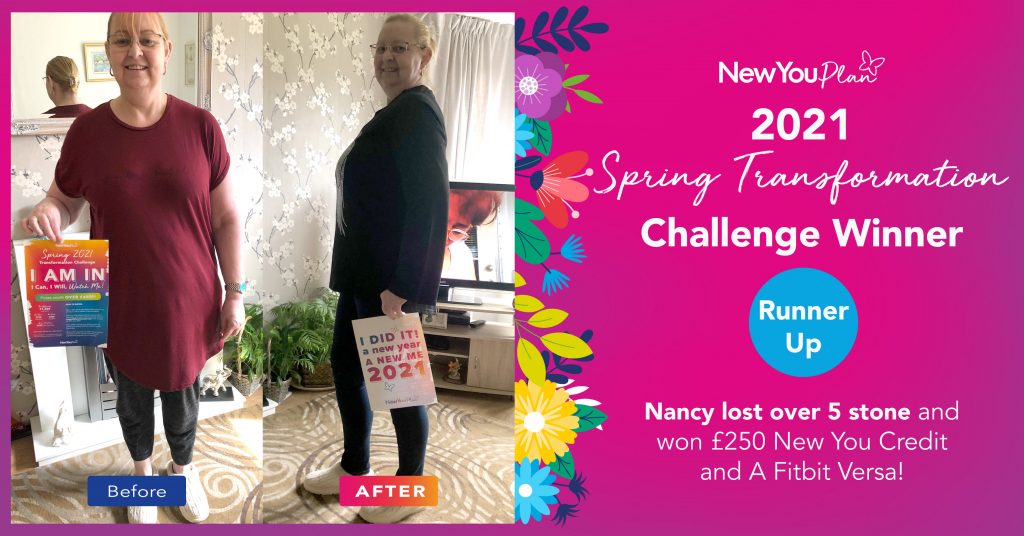 Nancy lost Over 5 Stone!
Nancy discovered the New You Plan when she was at a low point in her life. She saw the transformation in others and knew instantly that was what she wanted.
She decided to take on the Spring Transformation Challenge 2021 to motivate herself more and to also inspire others. 
We interviewed Nancy to find out more about her journey and to see if she had any advice or tips to share with us.


Please describe how you felt before starting the plan.
"Before starting the New You plan l felt old, didn't really care about myself, struggled for breath and was generally miserable with my life."
What was your mentality, what did you struggle with?
"I was very unhappy and struggled with meeting new people, was always making excuses not to go anywhere, struggled tying my shoelaces, bending over in general and got breathless just walking upstairs."

Why did you decide to start the plan, and why New You Specifically?
"I decided that I needed to do something quickly to make me feel better about myself in all aspects, health, how I looked and my overall happiness. I chose New You after searching total food replacement plans online but didn't find anything that appealed to me. A few days later while browsing Facebook an advert for the plan popped up and I immediately went to the site and was very excited to see the choice of food, fabulous offers on bundles and prices."
 
What attracted you to New You, did someone recommend you, was there anything that made us different from other companies?
"I loved this plan in particular for the reasons as stated above, the ease of ordering and the testimonials of previous people who had lost weight using this plan."

How did you feel when you received your first New You Pack?
"I was so excited to receive my first pack and couldn't wait to start and try all the different food packs."

What was your first week's weight loss and how did this loss make you feel?

"I lost 13 pounds in my first week and honestly couldn't believe it. This loss spurred me on so much to continue with the plan."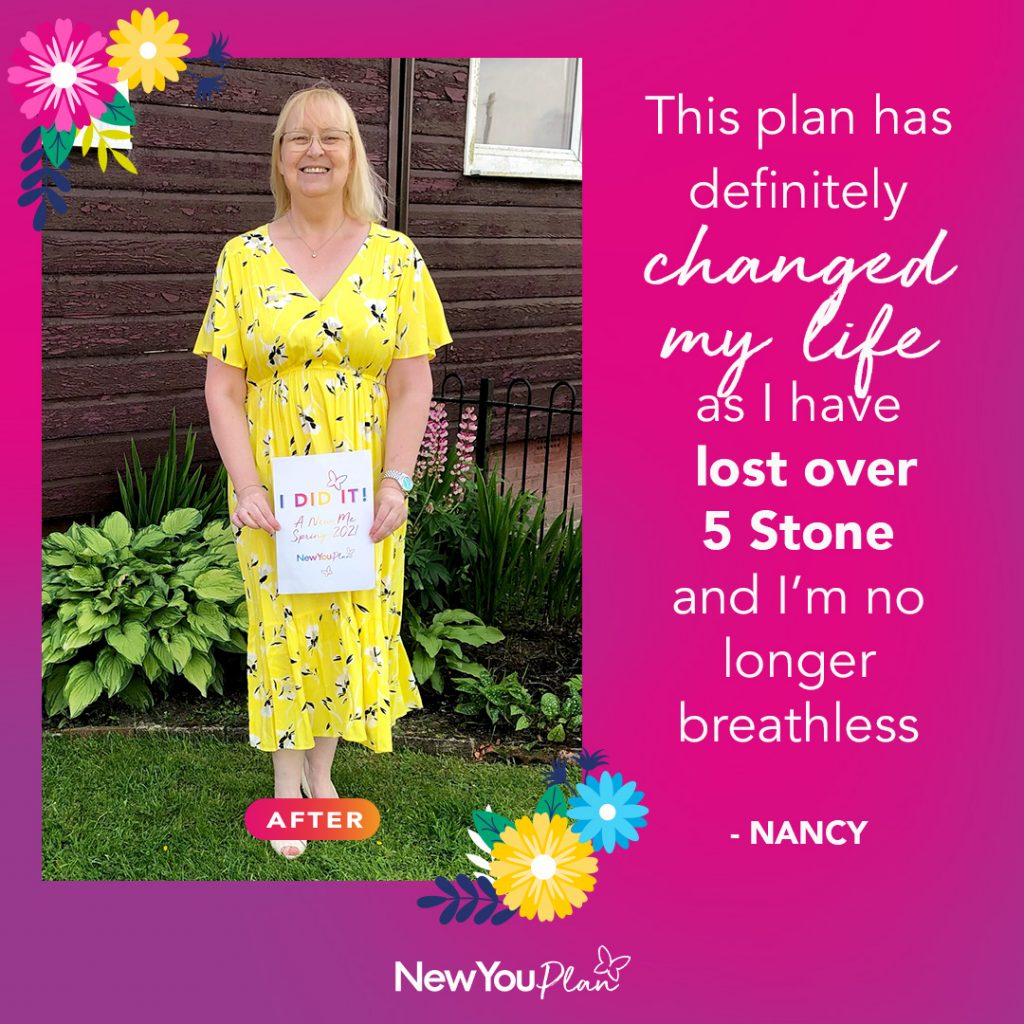 What are your favourite New You Products?
"My favourite products are the pineapple boosts which wake me up every morning, the porridge which I have every morning too, an original one day and a chocolate the next.my favourite meals are the vegetable risotto and Mexican tacos, love all the shakes and my favourite bar is the crispy caramel bar. I also love all the snacks and never feel like I'm depriving myself."

Why did you decide to take part in the Spring Transformation Challenge?

"I decided to take part in the spring challenge as it motivated me to try harder and also to show people that if I can do it then anyone can."

What is the biggest lesson you have learned since taking part in the Challenge?

"I've learned a lot since taking part in the challenge, the biggest lesson being not to let health issues or other people's opinions stop you from doing what you want to."

How much weight have you lost altogether?

"I have lost 5 stone and 2 pounds to date."

Was there a time that you found the plan difficult and how did you overcome these challenges?
"I can honestly say that at times the plan was difficult when others were eating in my company, but I overcame this as I honestly never felt hungry on the plan, the fact that I had losses on the scales every week and that I could start to see a difference in myself."
Do you feel the support offered by New You such as secret slimmer's has helped you on your journey? If so how?
"The support offered by the secret slimmer's group was an absolute godsend and in particular Glynis who runs it, she was always there to answer any questions, listen to any problems and was always there with constant encouragement. Also, the other members whom without them I couldn't have done it."
What was your biggest motivator for staying on track?

"My biggest motivator for staying on track was seeing the results on the scales, how I was starting to look and how improved my health was."

What is your biggest non-scale victory?

"My biggest non scale victory is how much my asthma has improved and the fact that I rarely need to use my blue inhaler as I'm no longer so breathless."

Since losing your weight what is your happiest memory or proudest moment?

"My happiest memory was when people noticed the difference in me, and I could fit in size 14 clothes."

Would you say the plan has changed your life, and if so how?

"This plan has definitely changed my life as I'm no longer breathless, I feel and look so much better and my confidence is so much improved."

Would you have any tips you would give to someone who is thinking of starting the plan but is not sure?
"I would encourage anyone who is thinking about starting this plan to just go for it, they have nothing to lose but the weight both off their bodies and minds."
Nancy's results just go to show how your health can improve when you lose weight. It's fantastic that she doesn't rely heavily on her inhaler anymore.
Non-scale victories should always be celebrated. And that doesn't just mean your health, it includes your mindset and mental health too.
If you want to regain your motivation and show others how they can get results then check out our blog for information on how you can enter our new Monthly Transformation Challenge 2021. There is £1000 CASH to be won every month!