Before & Afters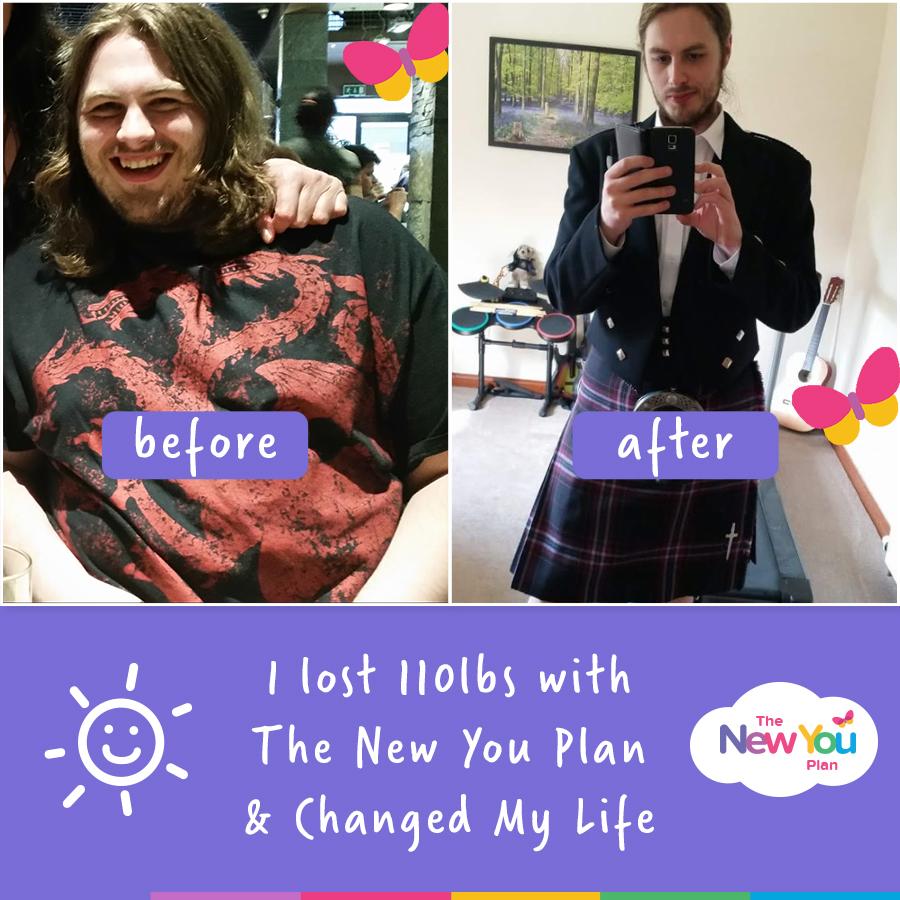 "My 110lb Life Changing Journey With The New You Plan!"

Customer Logan has an amazing story to tell. Over the years, he saw his weight steadily increase until he hardly recognised himself. Seeing a photo of himself from years ago, he knew he had to do something about it. A good friend introduced him to The New You Plan & while hesitant at first, he gave it a try. Here, Logan shares how he lost 110lbs & completely changed his life. He urges you to do the same.
My name is Logan. This is my story.
I'm a 29 year old guy that for the first time in as long as I can remember is genuinely happy with himself and the way he looks. Today, I finally hit my goal weight of 170lbs (bang on centre of normal weight BMI for my height) and I wanted to share my story with anyone who chooses to read it in the hope I might inspire others to achieve the same thing. As you can see from my pictures, this was a massive transformation. Just a few years ago I was almost 350lbs and thanks to some old fashioned exercise and a large help from The New You Plan I have managed to shed an enormous amount of weight.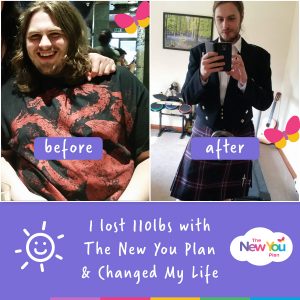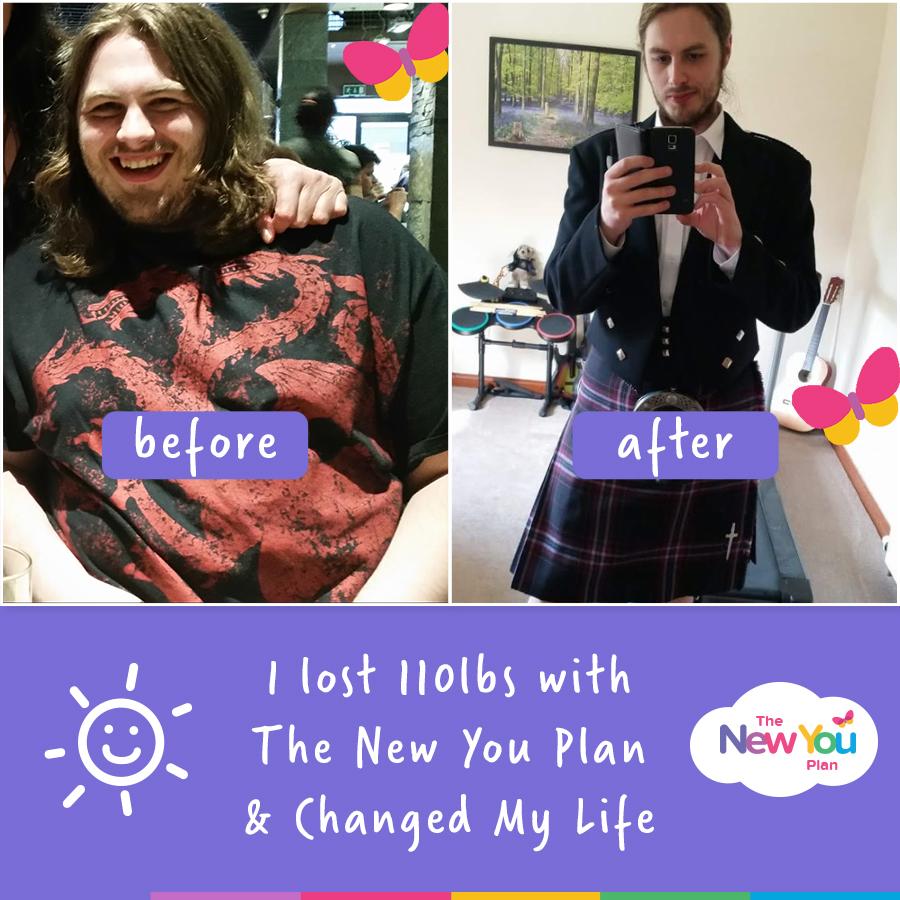 My weight crept up on me at first. I think this is the same story for most people these days. When I was young and a teenager I was never really too heavy. I have always played a lot of sports and been tall in general so I just never really thought too much of it. As I got older though my weight kept on increasing and it really started to tack on when I started university. Not only was I now completely in charge of my diet after leaving home but I also was doing a lot less of my normal exercise and sports routines because I just didn't have the same time. It was such a gradual increase over a decade that it never really occurred to me until clothes stopped fitting and I looked at old pictures and realised what a difference there was. I had a very loving friend and family circle who would pass comment from time to time but nothing serious enough for me to put the pieces together that I really had to turn things around. I don't think I was ever seriously overeating and over indulging – it was just a regular habit of eating portions that were larger than I needed over a long period of time. And then suddenly I am 26 years old and 350lbs.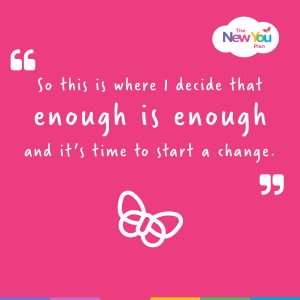 I've heard others pointing fingers and shaming who comment on: "Oh how much that person must eat" or "How little they must exercise", but it really isn't like that for most people. I think for most people it is the same as me – just a little too much for too long.
So this is where I decide that enough is enough and it's time to start a change. First thing I try is the classic "I need to go to the gym". This was mildly successful for a month or two but then I just didn't have the motivation to keep this up. Once again, I think this is very common. One thing I started doing was walking. A lot. I walk everywhere that I can nowadays. I found that getting a very good data internet package on my phone so I could watch videos, TV shows and movies while on the go and walking helped. It sort of turned my travel time into entertainment time too and all the while getting good exercise. Never underestimate the power of regular walking. Especially those in office jobs who then come home after an exhausting day to sit in from of the TV. Just that hour or so every day of walking absolutely adds up and is the perfect complement to adjusting your diet.
And diet at the end of the day is the real kicker. I've never had any success with a diet. I would always fall back into old habits. I would always have larger portions than I needed and I have never been any good at counting calories and carbs. I have tried but it requires a lot of energy and I know I'm not alone that even with the best intentions in the world it can be too easy to fall into convenience over cause. I was able to cut down slightly and over the course of about 8 months I was finally starting to see the weight loss begin. However, I plateaued at about 280lbs and this was incredibly demotivating. My diet and walking was working of course but the weight loss was slow and while I was in the heart of my motivation I wanted something else. I knew there was no magic silver bullet for these kinds of thing and it's always a long and hard working journey, but I figured there simply had to be something else I could utilise to help me stay motivated.

Cue The New You Plan.
It was a friend of mine who recommended it. She had used it previously on and off and she advised that we could try it for a few weeks together and I could try it out.
Seriously, I couldn't believe how easy it was to follow. I know you're likely reading this on the New You website and you will feel this is some sort of plug that I've been asked to share but I promise you this is not the case. I will even let you know that to begin with it's not all sunshine and rainbows to stick to. You will feel hungry at first and the first 3 to 5 days are definitely the most difficult. I recommend having a friend do it with you and motivate each other because that's what got me over the first bump. As soon as I passed that bump though I suddenly had so much more energy, I wasn't as hungry any more and sticking to the diet plan over the next several weeks really was not that challenging at all. Especially when I was seeing at my weekly weigh in that I was losing 5-7 lbs a week. Simply incredible.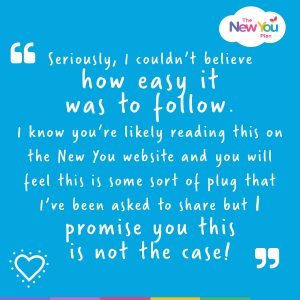 So now, I do the New You for about 2 months at a time, then I take 2-3 weeks off and then return to New You again. I've been doing this since about 280lbs and now today is the day I'm finally at 170lbs. I just couldn't be more thankful to The New You Plan and how I've been able to use it as my compass to navigate on this crazy weight loss journey.
My life changing top tips to help you with your weight loss journey
Now I've told you that it works, I wanted to share my tips on how you can get the best out of the diet plan. They recommend that you take 4 meals a day and a potential bonus snack if you need it. Truthfully, I did it with 5 packets a day of the meals and didn't use the snacks. But for me, I've never really been much of a snacker. I expect that doing it with 4 meal packs and a complementary snack each day may work just as well. I didn't use JUST the meal packs though, there are a list of things I want to share with you that I've been using the whole time in complement with the meals that will allow you to continue losing weight at a brilliant rate but really helps bring out the best of The New You Plan.
My usual routine is as follows:
Breakfast
I like to have Oatmeal or Apple Cinnamon Porridge. I usually prepare this with a little extra water so that there is a little extra substance. I also have always liked my porridge a little runny too. So I usually use about 220mls of water and then microwave it for about 4-5 minutes stirring regularly (and making sure it doesn't bubble over!). I actually use the New You blender bottle and pour this mixture into the blender bottle to take with me while I walk to work.
Things I have found you can add to this to complement wonderfully are hot cocoa powder. If you're in Ireland/UK you can use Bournville Cocoa powder. It's VERY low sugar and practically no calories. A perfect addition. Another thing I found was 0 calorie / 0 sugar flavour syrups. You can add a tiny splash of these to the porridge and you suddenly have all these different flavours at your disposal. It keeps breakfast varied but always delicious.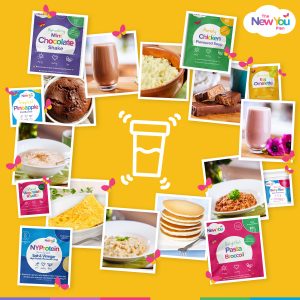 Lunchtime
Now between my breakfast and my supper I always have a pair of meal bars. I'll allocate myself two each day to have (the Lemon Yoghurt and Muesli are my personal favourites!). I'll take them when I'm hungry at work and I usually like to have half at a time and then let it settle before I have any more. Usually I find if I have half, it will satisfy me and I'm not really hungry after letting it settle for 15-20 minutes and then I'll have the other half later on. This in essence gives me "four snacks" that I have while I'm at work and I feel it gets me through the whole day really well. Of course, I have had days where I just sit and eat both bars back to back at lunch time and then grudgingly have to wait until supper time. But for the most part, especially as I get further into my two month bash, I find my appetite doesn't need it.
Water intake is key
I complement these snacks with copious amounts of tea, coffee and water. I take a 2 litre bottle of water with me to work each day and make sure that I finish it off and then make up another litre or so with coffee, tea or extra trips to the water cooler. The water mixers that you can get from New You are amazing to add to the water (I happen to enjoy the taste of water just plain, but I have tried the mixers and they are great!) and as with the porridge, you can add 0 calorie syrups and hot cocoa to the coffee. Just be a little careful not to over do it with the 0 calorie syrups or you won't be off the toilet! (one slight side effect if you have too much!)
I have had success at introducing unsweetened almond milk into my diet too without it slowing down my weight loss at all but I've heard mixed reports from others. It might be something you can try yourself. If you're someone who really does love milk in their coffee, something else you can do is mix one of the New You Shakes through your coffee. So at first you might find this is crazy but it really is amazing. Especially with flavoured coffees (you can pick up coffee flavours that are no added sugar, just artificial flavourings, and I strongly recommend this!). So you mix the packet through your coffee and make sure to really stir it in. You'll end up with sort of milk shake solids at the top that you can spoon off if you think it's gross (or just eat it like I do, I actually love it) and you end up with a milky tasting coffee that you can treat yourself to once a day perhaps instead of one of your lunch time snack bars.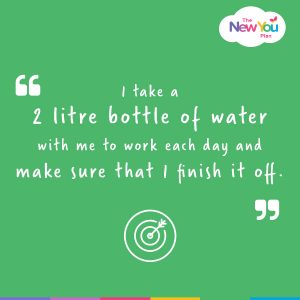 For supper
I have found that I actually prefer to double up and use 2 packets for supper. I just use 2 packets and double the water and then just keep an eye on it in the microwave, mixing regularly and judging when it's ready to eat. I find one just isn't enough and I would rather have one slightly larger meal at supper time than spread it out any more. I guess that since I was always used to eating LARGE portions too this helped make it feel like I wasn't just having a "taster" and was actually having a full meal. My favourites are the Vegetable Chilli and the Noodle Nosh and I like to really pack it up with hot chilli powder and pepper. I love my food spicy and I feel these really complement these packs. I would seriously recommend adding spices and herbs to your food packs. I find a small portion of green veggies with the Cottage Pie for instance works wonders too and doesn't slow the weight loss. You do need to spice it up and add a little variety to keep it up long term.
Another thing you might find very useful when you're taking a few weeks off New You or just as a treat maybe once a week is to add some ready cooked chicken pieces to your meal too. I found I would treat myself on a Friday night to this. Just pick up some of the sandwich chicken breast pieces you buy in a pack and mix half the pack in. It really feels like a treat and it never slowed my weight loss down at all.
In summary
So that's really the gist of what I did for the last 18 months or so. I did 5 packets a day (porridge in the morning, 2 snack bars during the day and a double dose of 2 packets for supper) with a variety of cocoa powders, 0 calorie syrups and herbs/spices. It felt varied, it was delicious and it was very easy to stick to.
On my weeks off the New You I wouldn't go crazy. I would just eat porridge as normal but usually just shop bought and would have it with almond milk or ordinary milk. I'd have chicken wraps for lunch and make myself pasta/rice dishes for supper and even treat myself to a take away once a week.
I would find by the end of that fortnight I would have put on about 5-10lbs. This is mostly just glycogen stores in your muscles. You will find it comes off really quickly again when you start back into New You and should not be a demotivation. You also find that you put on that 5-10 but then you just steady out. Don't think that when you stop the New You that suddenly your weight is going to skyrocket over the next few months and all your hard work wasn't worth it. It ABSOLUTELY was worth it. You'll also find you just don't want to eat LOADS any more. And if you were like me, and I think it's the most common story and were just eating portions that were too big, this sort of cures you of this over time. I find now that I am able to eat mostly how I was before but just slightly smaller portions and I'm able to maintain weight.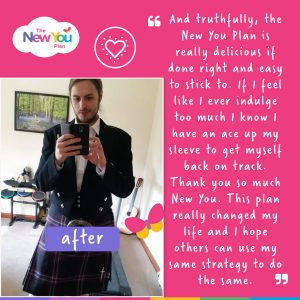 The future
It's been a really crazy journey the last few years and I'm just so pleased that I've finally managed to get down to my goal and I plan to maintain it now and really believe I'll be successful. And truthfully, The New You Plan is really delicious if done right and easy to stick to. If I feel like I ever indulge too much I know I have an ace up my sleeve to get myself back on track. Thank you so much New You! This plan really changed my life and I hope others can use my same strategy to do the same. If you find you end up taking a few cheat days or end up taking an early break from things, don't be disheartened. I'd be lying if I said I didn't do the same. Occasionally I just cracked and ordered pizza in week 5. Or I went out for dinner with friends and just ate at the restaurant normally and had that dessert afterwards that I knew I shouldn't have. Even with those little road bumps all along the way, I just started the next day back onto the 5-meal strategy that I started off with and continued as normal and I was able to succeed. You can do it too.
Seriously if I can do it, anybody can. And if you need the help and support and haven't got a friend willing to go through it with you, the Secret Slimmers community and the blogs and online companion booklets and resources are absolutely amazing. You're never alone on your journey.
I am Logan. This was my story. Now go ahead and write your own.
_____________________________________________________________________
Start Your New You Journey TODAY!

Getting started is the first step in your journey to a brand New You! To help you understand fully how our plan works, our Get Started page with designed specifically for people new to the plan.
Head over to our site where you'll find tonnes of important information including how our plan works, the science behind it, loads of top tips, information on our meals, as well as real customer testimonials.
Click here to visit our Get Started page!
*Everyone is different, and we can't guarantee how much weight you will lose.  Check out our success stories to see what our customers have lost.