New You Plan Blog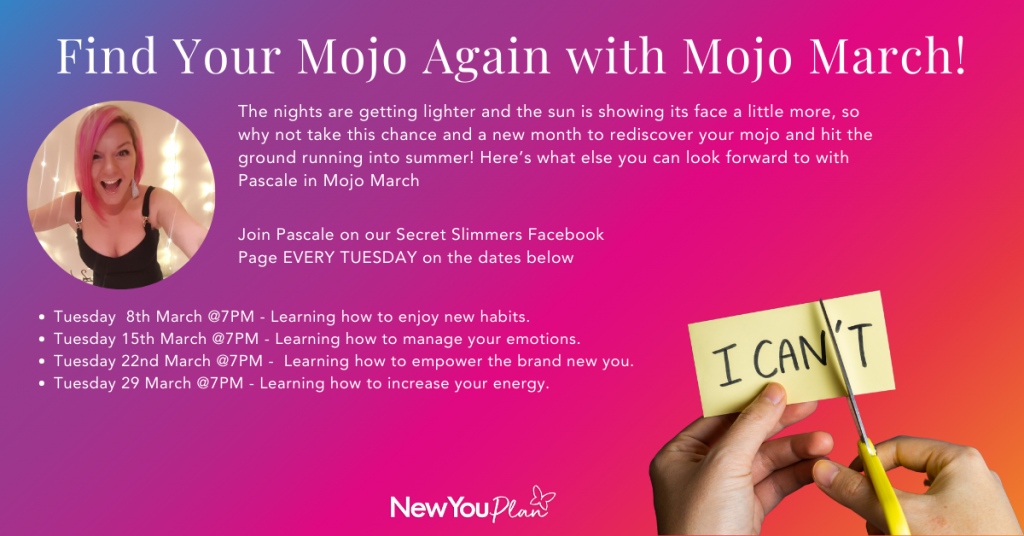 Mojo March! – Create Enjoyable Habits That Work For You
The mindset focus for March is getting your mojo back. But what does that mean? It means getting excited again and getting back your zest for life! All of this can get easily lost when you go through difficult times. You end up feeling stuck with no way forward. Well, there is a way forward and that way starts with you and the decision to make a change for the better.
Ok, if we're completely honest, habits themselves can be mundane and boring. But they can be good for you and can also change your life in a positive way. Habits can be enjoyable due to the way they affect your life. They can also be exciting, inspiring and motivating!
Creating new habits can also help you find your mojo which is what March is all about, so get started with Pascale this week!
Along with your workbook, Pascale will help you to focus on new habits and then implement them.
Think about what your top three priorities in life are right now and then consider what you could do on a daily basis to support those priorities. Again choose just three things. Then divide those into smaller chunks which you can implement as mini habits so you can make an easy start with just one of them.
Think of your new small habit as a tiny spark that will eventually grow into a much larger and more powerful fire. Along with starting a new habit, it's important that you reward yourself for the success you achieve in working to make it happen. You can do this by creating a reward plan which details what your reward will be, when you will get it, and how it will make you feel to receive it.
Such a plan will certainly make your habits more enjoyable. It will also encourage you to repeat your actions to cement your habit and create motivation that you can use to succeed in your goals.
And remember, every action you take is a vote for the type of person you wish to become and the type of life you wish to live.
For more in-depth coaching on starting exciting habits, you can Join Pascale over on the Secret Slimmers Facebook group and if you make it live you could win yourself £25 in New You credit. If the day and time aren't ideal then you can catch up with Pascale's sessions in the Guides section.
Oh and don't forget to download your FREE workbook in secret slimmers, it's so handy to refer to again and again.
With springtime just around the corner, it's the perfect time to refocus on your goals and get excited about the future again. Your mojo is there, deep down inside you you've just got to encourage it out again!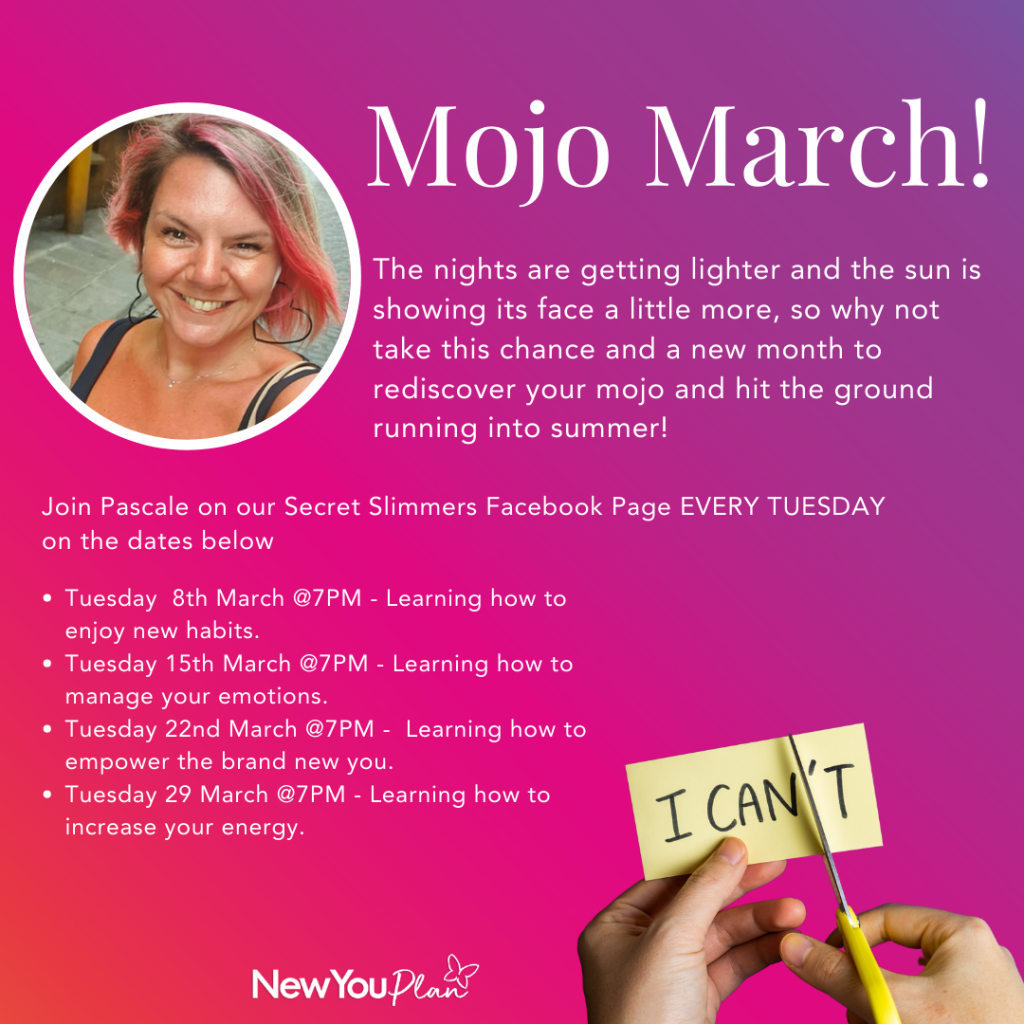 Pascale believes that by getting your mojo back, that not only it will make your New You Plan journey easier, but you will experience life with a brighter and more positive perspective.
So isn't that worth making time for?
Here's what else you can look forward to with Pascale in Mojo March, don't forget to pop these dates in your diary, as this is when you can see Pascale:
Tuesday 8th March 7 pm – Learning how to enjoy new habits.
Tuesday 15th March 7 pm – Learning how to manage your emotions.
Tuesday 22nd March 7 pm – Learning how to empower the brand new you.
Tuesday 29 March 7 pm – Learning how to increase your energy.