Before & Afters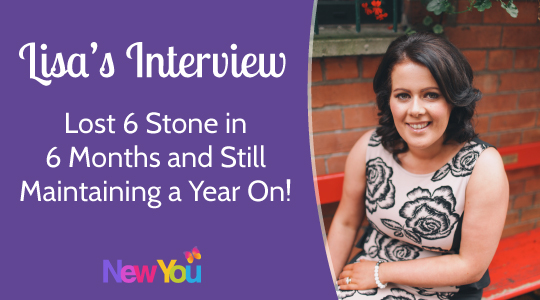 [INTERVIEW] Lisa's shares her journey to lose 6 stone on The New You Plan*
Lisa's shares her journey to lose 6 stone* on The New You Plan
Lisa is still maintaining her weight loss a year, listen in as she shares her secrets for you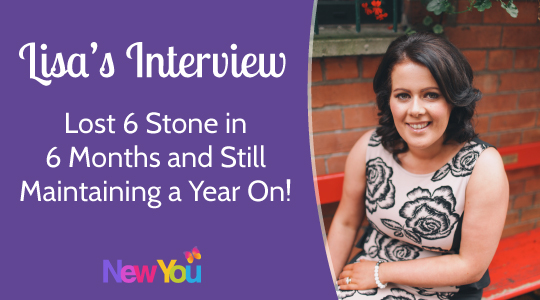 *Results may vary, this is not a guarantee.
Lisa is an amazing bubbly person who we all adore as one of the family members of The New You Plan. I interview Lisa to share some of the inspiration and tips that Lisa has to offer as a person who has done so well on the Plan!
Lisa started on the 16 January 2012 and lost an amazing 6 stone in 6 months which meant she dropped from from a size 20 or 22 down to 10 or 12!!! The speed of the results and the competitive pricing meant that we were the first choice for Lisa when considering a total food replacement diet.
As a caring mother and someone who loves a healthy social life, Lisa sought to achieve her weight loss results not only for herself but also for the benefit of her family. For the sake of her health and a passion for fashion meant that her own self esteem was holding her back!  A wedding provided the deadline for achieving  the results. Lisa set this goal and completely blitzed it. Now she shares her thoughts tips and Secrets on how she achieved such great results on the plan.
A year on and and Lisa has kept the weight off and is a shining example of how a successful plan can change your life forever!
Lisa states that as a person who does not expose her emotions she needed food as a mechanism to deal with her emotions. The plan gave Lisa the confidence to deal more with social situations and boosted her over all confidence and we are over the moon it did as she is a pivotal member of our team.
I hope you love the interview as much as I did!
[box type="download" size="large" style="rounded" border="full"]Please show your support for Lisa and leave a comment![/box]
Need a little extra guidance?
Make sure you check out Julie Ann's journal
It takes 21 days to form a new habit and once something becomes a habit it will have the ability to change your life forever! What you can achieve in 21 Days will blow your mind!  You can drop a jean size in this length of time and this will give you new ways of thinking about yourself and food.
Click here to add this item to your order before checkout!