Diet Mindset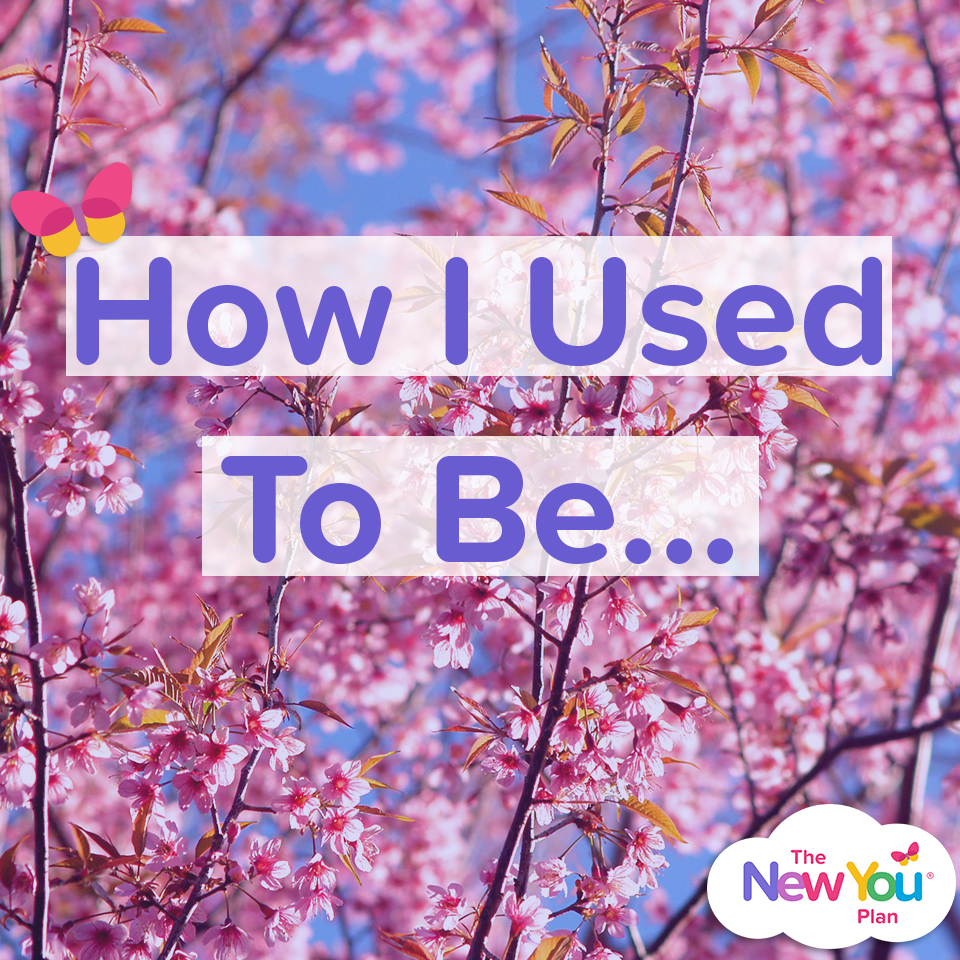 [Julz Journal] How I Used To Be…

A lot of people losing weight want to get back to "How I Used To Be…"
💜 I used to be slim.
💜 I used to have lots of energy.
💜 I used to be really healthy.
💜 I used to have gorgeous clothes.
💜 I used to love going out.
💜 I used to go swimming every week.
💜 I used to go to the gym.
💜 I used to get up early every morning.
💜 I used to have date nights.
💜 I used to feel better.
💜 I used to be happy.
Do you notice any of the above as things that you catch yourself saying?
A lot of people want to get back to the "Old Me", and back to the days of "What Used To Be".
What used to be is over.
The old you is gone.
All we have is TODAY.
The present – is our BIGGEST GIFT.
💙 So what are you going TO DO TODAY?
💙 How are you going to FEEL TODAY?
💙 Who are you going to BE TODAY?
💙 How are you going to LIVE TODAY?
💙 What lifestyle are you DESIGNING TODAY?
💙 How are you going to SHOW UP TODAY?
💙 What are you going to do DIFFERENT TODAY?
Everyday we are reinventing ourselves, and every decision we make is setting us in a new direction.

We cannot go back to the past. We can only live today, and live it in such a way, that we are creating amazing, special memories today, and that we are building a better future for tomorrow.
Don't be afraid to dream big! Stay focused on what matters to you, and believe with all your heart and soul that you deserve to be slim, healthy, happy, loved, wealthy, and free! Then everyday take action to set yourself in the direction you want to go in!
Here are my 5 TOP TIPS ON HOW TO MAKE TODAY AMAZING, SO THAT TODAY IS BETTER THAN WHAT USED TO BE!
1.) SMILE TODAY!
When you smile 🙂 the world smiles back at you!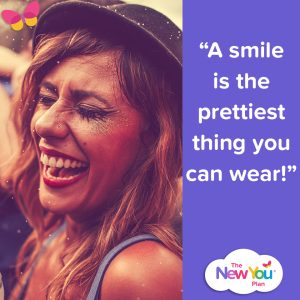 When you meet someone today, give them a warm smile. When you look at your reflection, give yourself a big happy smile! When you smile, you will automatically look better and feel better.
Today as you commit to a day of 100% total food replacement, SMILE and be happy and content with your decisions. When everyone orders food in the restaurant and you reach for your New You bar, SMILE and know that you are another step closer to where you want to be.
SMILE because you know you are building willpower. SMILE because you know you are creating the life, body and health you deserve! SMILE because you are on an exciting transformation, and you making your dreams come true!
So today be on a mission to SMILE, SMILE, SMILE!
2.) FEEL GRATEFUL TODAY <3
I have come to realise that the best times of my life are the times that I am full of gratitude. Every morning I write out 5 things I am grateful for. I change it up everyday depending on how I am feeling…. I feel grateful for my friends, family, home, my past, my present, my future, my health, my dog, nature, my dreams, my breath, the progress that I have made, my diet meals, the support in secret slimmers, the people who inspire me and encourage me on my diet.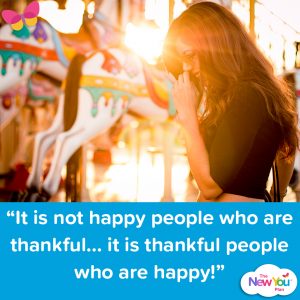 I am so grateful that there is such a thing as "diet meal replacements" because I know without having my diet meals I would find it very very hard to lose weight. I know I would be confused, overwhelmed, frustrated, hungry, tired and bored.
Another great tip for when you experience a hater, or a small minded person who wants to bring you down is to be grateful that you are not like them! Be grateful for karma. Be grateful for your integrity and not stooping to their level. Be grateful that you are on a journey to an amazing life that you are designing.
So today feel grateful for everything and everyone, and feel grateful for being on the plan, and having a fast pass to a new you!
3.) MOVE TODAY!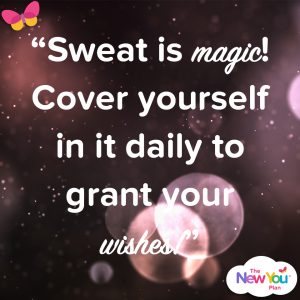 Emotion comes from motion! I remember the first time I heard this it was like a light bulb went on for me.
How you feel is reflection of what you are doing with your body. If you feel down, you are most probably lying down or your shoulders and head are down, and your smile is upside down. If you feel energised and excited, you are probably standing up and moving about and smiling!
The moment you feel yourself starting to feel down, MOVE! Put some music on and dance! Get the dog and go for a walk! Grab your gym gear and go to the gym! Jump up and tickle the kids! Have a play fight with someone you love! Do some yoga! Do some zumba! Just MOVE!
I love this quote… "Sweat is Magic.  Cover yourself in it daily to grant your wishes."  
Plan movement into your day everyday. 30 minutes of movement in the morning and 30 minutes in the evening… it doesn't have to be on the treadmill, it just has to involve you moving and smiling  🙂
4.) BE CONGRUENT TODAY 😉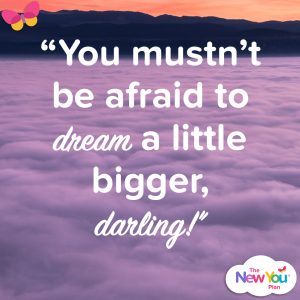 If you have been part of The New You Plan for a while, you will know I always bring this one up as I believe it is the key to a happy, healthy life!
When you are being congruent, what you think, say and do are in alignment and harmony. So if you say "I am going to be 100% today", and all your thoughts are empowering you to be 100% on plan today, and you go to bed that night and you feel proud because you took action to make yourself 100% that day, You are being congruent. You are happy. You are empowered. You are strong. You have high self esteem. You are unstoppable. You are moving towards your dreams and life is easy, and good, and fun!
If you are INCONGRUENT, that means your thoughts, words and actions are not in alignment and they are not in harmony, which means you have inner conflict. Different parts of you are fighting each other. You are at war with yourself. You are saying you want to do the plan and be 100%, but all you think about is eating off plan, and then you end up blipping. You are being incongruent. You are feeling frustrated. You are feeling overwhelmed. You are feeling sad. You are feeling mad. You are feeling weak. You have low self esteem. You have no confidence. You are unmotivated. Your dreams are small or non-existent, life is hard, tough and upsetting.
Today be at harmony with yourself. Be congruent.
5.)  GET INSPIRED TODAY!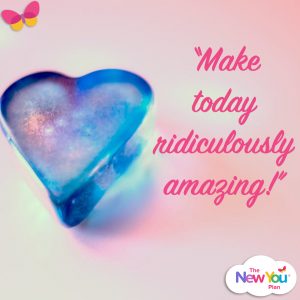 Find out who and what inspires you and make time everyday to connect with your source of inspiration. I will share with you my sources of inspiration:
💛 I love our Secret Slimmers group on Facebook. The people in our community are like part of my family and they lift me up and inspire me everyday.
💛 I love to listen to audio books from people that inspire me. People like Jim Rohn, Marc Allen, Robin Sharma, Eckhart Tolle, Wayne Dryer.
💛 I love to spend time with people who dream big, and love taking about great ideas and things that matter.
💛 I love to spend time alone, with just me and my journal so that I can drink coffee and write out my dreams, goals and affirmations.
💛 I love to spend time in nature. Going for a walk by water is one of my favourite ways to get inspired.
Are you ready to make today amazing? 🙂
Start Your TFR Journey Today!

Getting started is the first step in your journey to a brand new you! So that you can fully understand how our plan works, our Get Started page was designed specifically for people new to the plan.
Head over to our site where you'll find tonnes of important information including how our plan works. Plus learn the science behind it, get loads of top tips, information on our meals, and read real customer testimonials.
You can visit our Get Started page by clicking here.