Before & Afters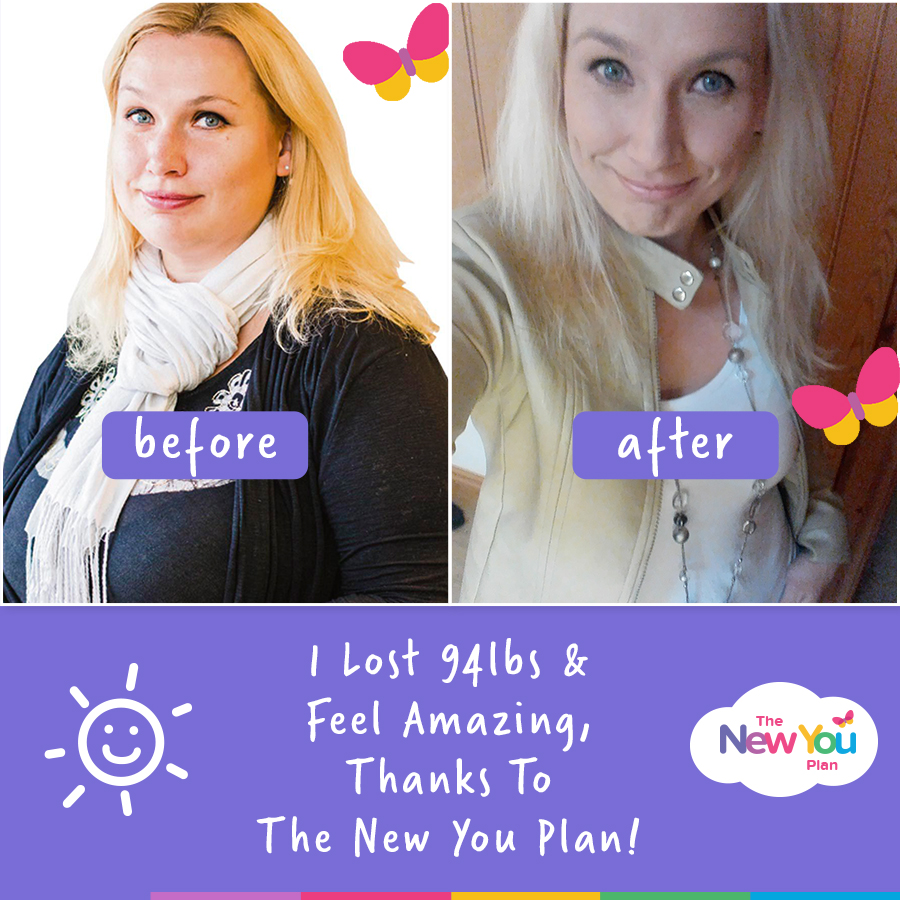 Hele Lost 94lbs in 2017 With The New You Plan

For 35 year old Hele, 2017 will always be the year that changed her life. Over a period of 7 months, she has lost a whopping 94lbs. That's 6st 8lbs, and an incredible 5 dress sizes, going from a size 22 to a size 12. The reason for her weight gain was stress, taking her to 17 stone 10lbs. However, after discovering The New You Plan, she decided that this year would be her year. And that it was! Here is her incredible story…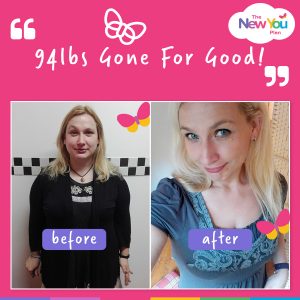 Hele, what do you think led to your weight gain?
The reasons for gaining weight are usually very similar for everyone. For me, it was related to a big stress in my life. During my New You journey I have discovered a lot of things about myself. Let's not forget that if you have decided to change how you look, you will always change inside too. One of the reasons why is the fact that you have made the decision to lose weight, which goes against your usual way of thinking.
From there on, the journey begins, and not only physically, but also mentally and emotionally. We travel back to the roots of our reasons for putting weight on, we redefine ourselves and we discover ourselves. I know my reasons lay back in my childhood where my insecurities started to grow. So everytime I have faced big, stressful times (and I am not talking about everyday stress, but things like bad relationships which change you and everything around you), you start to compensate and comfort yourself. In my case, the comfort was food.
How did you feel when you were at your heaviest?
I felt like I was trapped in someone else's body, or wearing a costume that doesn't fit and is too big for me. I can't say I hated myself. Sure, I didn't like how I looked and it made me really sad, but I never look back with disgust, because it was my life then and I had some joy and laughter in my life then as well. That is something that I wish everyone could do when they lose weight. When you look back at the pictures you took before the journey, don't hate yourself. It was you back then and that's the end of it. Everything happens for a reason.
My weight loss journey had to start as soon as possible because my body was aching under all that weight. My joints were killing me. I couldn't get up in the mornings because my ankles were so sore. My children helped me up many times and I limped hard for the first 10 minutes or so. It was exhausting. And that was the sign for me – my body was screaming for me to do something about it.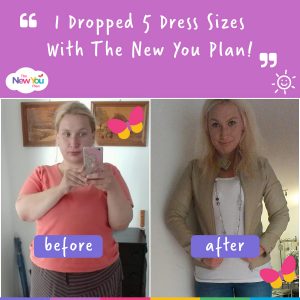 When did you decide to do something about your weight?
I had a big change in my life. I moved to England from abroad. And I knew that when I was going to make a big change in my life that I was going to make it bigger. It would be a complete change. The decision was made months earlier but I also knew that I would make it happen when I moved and got myself settled.
How did you hear about The New You Plan?
I heard about The New You Plan through a friend. She did the plan a couple of years ago with some amazing results. She lost 6 stone in 6 months. At first I felt really envious! I wanted that too. But I didn't think I could do it. Over the time my envy grew to be stubbornness. I had to do it and I wanted to do it! Because I believed that if everyone else can do it, so can I!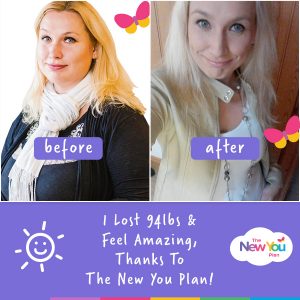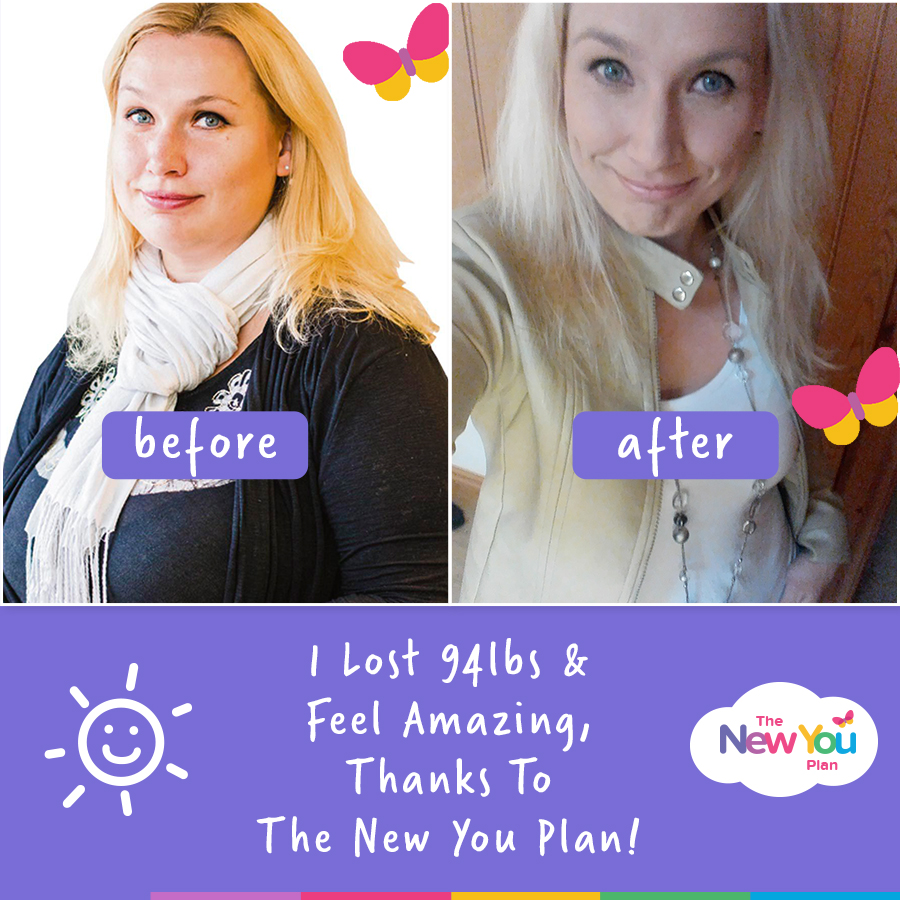 Tell us about your weight loss journey
My approach wasn't planned but at some point I realised what worked best for me. Like for instance, from the beginning I concentrated only on the present moment. The amount that I had to lose was just too big and too unreal. So I didn't actually put down any goals. Initially, I just wanted to see if it worked.
When it did, I got so much energy from it that I broke my weight loss into small goals. Because I was used to calculating in kilograms I went by 5kg (11lbs) and started from there.
Planning too much ahead was never an option for me. I had to concentrate on the present moment. I told myself to 'survive today' – just try to do okay today – that's all that it takes. Some days I needed to 'survive this hour' and then the next and next. And by doing that – concentrating on today only, I didn't even notice when days became weeks and weeks became months. The more I lost, the more I was inspired and motivated to continue.
The whole journey taught me a lot about myself. One of those things was to learn to listen to myself. So that is something I have followed. And because of that I always recognised every morning, how hungry I was. If I wasn't too hungry, I postponed my breakfast as far in the day as possible, because I knew that the evenings are my enemies – the time when I feel the hungriest. By postponing my breakfast I managed to 'survive' the nights as well.
How has the support from The New You team helped you?
The New You team is very helpful and kind. Whatever question you might have, you will always get a nice and very personal answer. You don't feel like you've been treated like 'another customer' among hundreds of others. No – you feel they really care, which is absolutely amazing!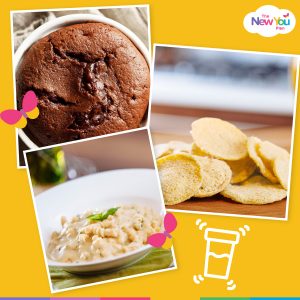 Which meals are your favourite?
I have many favourites, but if I had to choose just a few then it would probably be Pasta Carbonara, Chocolate Brownie, Pancakes, Salt and Vinegar Crisps and Chocolate Wafers.
Would you recommend joining Secret Slimmers?
Secret Slimmers is such a wonderful place. The support that the New You team offer as well as the motivation and inspiration that the Cheerleaders inject is inspiring. But another thing is the fact that all the people there know exactly how you feel and what you are going through. And that is such an important but also amazing thing! Yes, it takes time to settle there. It took time until I spoke there publicly because I wasn't used to talking about myself with strangers, let alone about my weight! Oh no!
And of course – Transformation Tuesday – it took me a looong time to have the courage to post a picture of myself. But now I feel I am a full member. I try to participate in all the challenges and also share my experience, because I have done the same thing that everyone else does there. Also, I have felt hopeless, weak and incapable. I know those things and feelings and that is why I try to support others as much as I can. We have so much potential and strength inside that we wouldn't ever believe it – until we experience it!
How do you feel since losing weight?
I feel so much better. My health is all good, I can walk and run (okay, okay… not so much still, because I don't like running – but rushing somewhere doesn't make me feel like dying anymore… as it did before).
I have also gained so much confidence and I have started feeling like a woman again. There was a time when I used to hide under big baggy clothes because I just wanted to hide myself. But I don't do that any more. I can wear baggy clothes now as well – and not because I want to hide from the world, but because I choose to. Feeling like a woman again means seeing myself as beautiful and sexy and I am not afraid of mirrors anymore. It is so different now but I would say it is not like I have achieved something new. It's more like I am "me" now. It feels normal and good.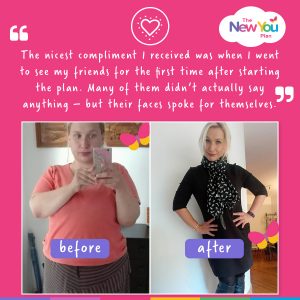 Tell us about the nicest compliment you've received since losing weight?
The nicest compliment I received was when I went to see my friends for the first time after starting the plan. Many of them didn't actually say anything, but their faces spoke for themselves. My closest friends couldn't stop making compliments, repeating again and again how beautiful I looked. Oh it made me smile!
Another time that sticks in my head, isn't because the thing that was said was so special but rather the effect it had on me. It was my neighbour and it was the time when I hadn't started to see the loss myself, even though I had lost 4 stone. I remember how he looked at me and told me "you look stunning". It came as a such a surprise. But why it is so important is because after that I actually started thinking that maybe I am!! So from that small compliment my confidence started growing.
How has your mindset changed?
With physical change comes a mental change. There isn't one without the other. Because the weight loss with The New You Plan is so rapid, it takes a lot longer for our minds to start changing. And that is also the reason why we 'notice' our losses the least.
My mindset has changed hugely – I do accept myself and I can say that I love myself more now. I have also started to listen to my body. We don't need anyone telling us how we feel or should do something as our bodies are talking and guiding us. And I have learned that I am my own ideal version and I don't hate myself back when I hadn't lost the weight. No – I respect that it was a stage in my life that I had to experience. Something that was necessary for me to be where I am today.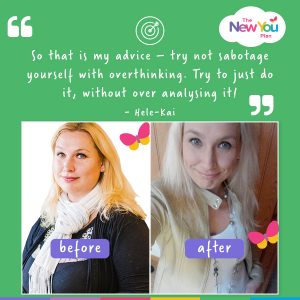 What advice would you offer someone considering starting their New You journey?
It is very difficult to give any advice because dieting is a very personal thing. Also, when starting a diet, you have to be sure of yourself and recognise the moment when you're ready, or be really stubborn like I was. I planned ahead the day when I would start. But my parcel arrived 2-3 days earlier. So I thought, well they are here now, I might as well start it.
And I didn't think about it! Because I am a terrible over thinker, I knew that I could find 100 reasons why I shouldn't or I can't or I am too weak or whatever excuse for not starting. So I just did. I didn't think about it. I just walked into my kitchen and opened the first pack.
So that is my advice – try not sabotage yourself with overthinking. Try to just do it – without a longer analysis. Also, avoid thinking ahead. Be here and right now to make sure you will 'survive' today!
Also, for the first few days on plan, I needed to distract myself a lot, either by going on walks, reading or watching a film – whatever it took. Because in the beginning I was obsessed with food. I didn't crave regular food that much, but rather I was overthinking everything, worrying about when to eat next, asking myself if I was feeling hungry now etc.
Finally, don't forget – water is the key here! And water is your best friend over the journey! So either drink normal water, use the Water Flavourings, drink tea or sparkling water… just keep on drinking!
And for anyone currently on plan?
If you are currently on plan then I want to congratulate you! You are doing something absolutely amazing for yourself! Also, don't forget that all the days are not the same. There will be days when you feel weak, defeated, bloated, down – but it is just a temporary state. It will pass! Don't turn to food for comfort or think about quitting. Sometimes it helps when you recognise the root of the problem – hormonal changes, cold weather, dark evenings – it all affects us and in the end have no connection to food.
So remember, whenever you feel weaker, it is just this moment. You might feel better in just an hour. So don't quit and keep on going!! It is so worth it!!
Love,

____________________________________________________________________________________________________
Get started on the BEST TFR Plan TODAY!

Getting started is the first step in your journey to a brand New You! To help you understand fully how our plan works, our Get Started page with designed specifically for people new to the plan.
Head over to our site where you'll find tonnes of important information including how our plan works, the science behind it, loads of top tips, information on our meals, as well as real customer testimonials.
Click here to visit our Get Started page!
*Everyone is different, and we can't guarantee how much weight you will lose. Check out our success stories to see what our customers have lost.