New You Plan Blog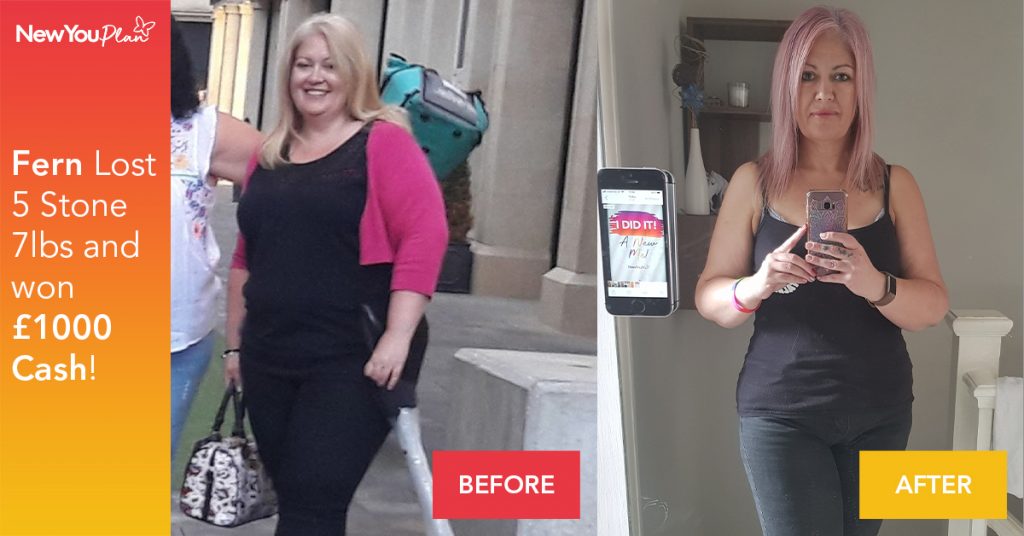 Fern takes £1000 CASH and loses over 5 Stone!
Growing up Fern was an overweight child and always struggled to get that part of her life under control. As an adult, she was caught up in the perpetual cycle of losing weight then putting on even more. All in all, she felt like a failure. 
Finding herself a single mum of 2 during lockdown she saw it as a chance to make changes in her life and decided to commit to the New You Plan. With food shortages, it just made sense.
During her journey, Fern took on our Transformation Challenge and won! We interviewed her to discover more about her story and to see if she had any tips or advice to share with us.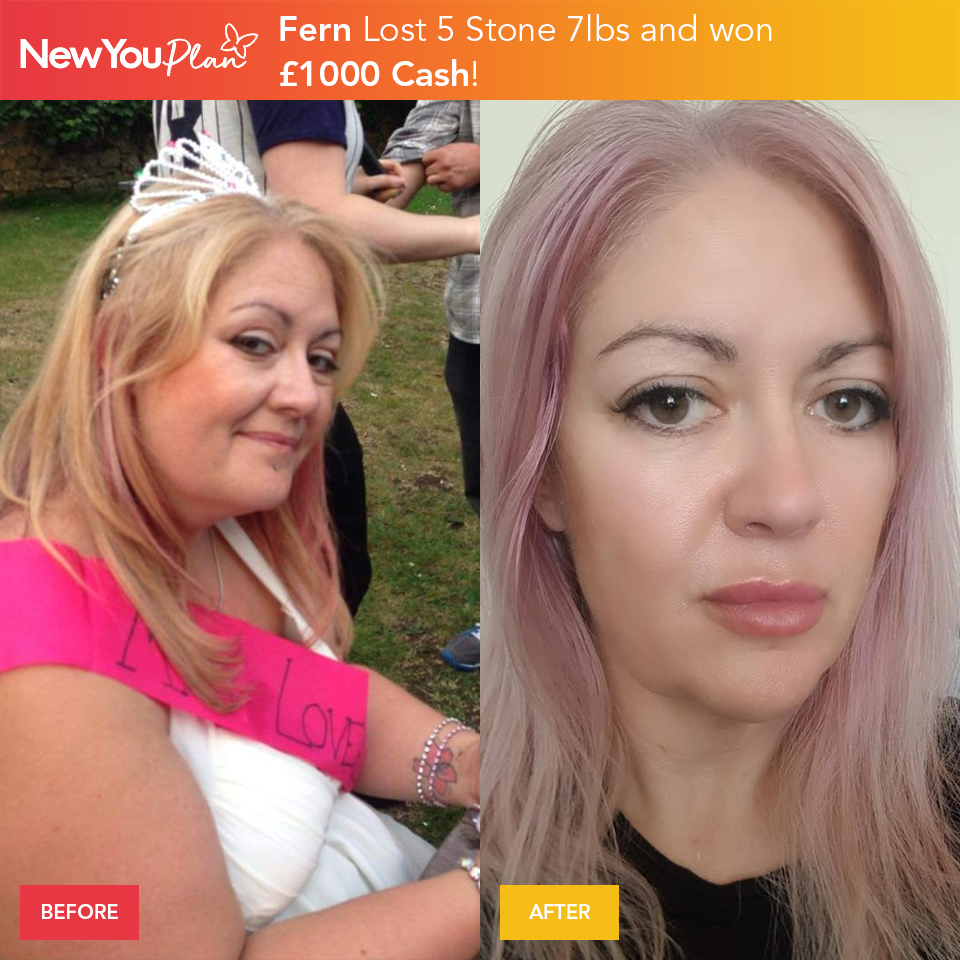 How did you feel before you started The New You Plan?
"Before I started the plan I felt like a failure. I'd been overweight for most of my life, and was stuck in a spiral of yoyo dieting and then gaining more weight – ending up bigger each time. This was something that I inherited from mum who had always obsessed about her own weight and mine, putting me on a jacket potato diet when I was 11 years old and weekly visits to diet clubs well into my adult years. Of course she only did it because she wanted me to be happy and healthy, but it made me feel 'lacking' and not quite good enough.
This left me feeling like I couldn't quite get control of my life, because I couldn't even control a simple thing like my weight and my eating. I didn't quite grow up, and kept on partying drinking and eating to  excess as a way to try and convince myself that I was living my best life. I didn't chase jobs that I would have been great at because I had no faith in myself, and I stayed in a relationship way longer than I should have because I couldn't imagine a better life for myself.  Months before my 40th birthday (and 2 weeks after I  married someone I'd been with for over 18 years)  I found myself single, with 2 children under 4. My Mum had died a couple of years before and I had no one."
What was your mentality, what did you struggle with?
"I struggled with being a 40 year old single mother, with low self esteem and very little to look forward to.  When I did meet someone he behaved very badly but I kept forgiving him as I didn't think I was worthy of anyone else. Being overweight has lot to answer for!!"

Why did you decide to start the plan?
"I started New You just before the 1st lockdown hit in 2020. I had intended to lose a stone just to kickstart my weight loss, but as the threat of food shortages loomed and the reality of working from home whilst trying to educate 2 children on my own hit, I decided to use the lockdown for something positive and stick to my food packs. I was trying to recapture the attention of that certain' kryptonite man' that I'd met the year before, and who dropped in and out of my life, so emerging slimmer from lockdown was an attractive idea. I decided to work on ME so that I could feel confident and sexy when the world was allowed to restart. I got him back too, when I emerged like a butterfly. Ultimately it didn't work out and he moved out earlier this year, but I now have better self esteem and don't settle for being cheated on and lied to."

What attracted you to New You, did someone recommend you, was there anything that made us different from other companies?
"I'd done a similar TFR diet a few years previously and lost a bit of weight before my doomed wedding. I decided to find that diet again and started googling, when I came across New You Plan. I loved the bright and sleek website, the products were a lot more varied and tempting, and the support group on Facebook was so easy to access. Everyone was so friendly and supportive, and on a platform that was in my hand for most of my day while I was stuck at home."

How did you feel when you received your first New You Pack?
"When I received my fist box I was excited to get started and decided to just jump in rather than waiting for a suitable Monday with no upcoming plans to present itself. The packets were all beautifully packed with lovely coloured tissue paper. It felt like a real treat!"

What was your first week's weight loss and how did this loss make you feel?
"I started my journey at 16st 13lbs and in my first week I lost 5lb. I was thrilled with this, it would have taken weeks to lose this on a different type of diet and I'd have lost interest by then. Accepting that it took years for me to get this big, so it would take a little while to get it off again I wasn't determined to carry on. I lost steadily, between 2-5lbs a week and have reached my lowest weight of 11st 7lbs. From a size 22/24 to a 14….which I could never have imagined when i started and I'm so glad that I didn't give up. If I had, I'd be sitting here feeling sad and lonely instead of positive and confident and excited for the future."

What are your favourite New You Products?
"My absolute favourites are the Crispy Caramel bar and the Crunchy Peanut bar. I've been going through a sweet phase but have recently rediscovered some different ways to have my savoury packs, so I've been getting back into them again. The group is full of so many great ideas to keep things interesting!"

Why did you decide to take part in the Transformation Challenge?
"I had not entered any of the challenges before as I'd seen all of these amazing transformation pictures and heard so many inspiring stories, I didn't feel like m story would come close. But I was persuaded to step out of my comfort zone and give it a go.. and I'm so glad that I did!"

What is the biggest lesson you have learned since taking part in the Challenge?
"Since taking part in the challenge I've learned to celebrate my hard work and my losses. It may not have been as fast, or as big or as inspiring as others. But it's still my story and I worked hard to get on this road towards my amazing new life."

How much weight have you lost altogether?
"Altogether I've lost 5 and a half stone."

Was there a time that you found the plan difficult and how did you overcome these challenges?
"I struggled most when I had another adult here and I felt pressured to be more relaxed and join in with social and boredom eating. Being single again was actually a bonus as it gave me the time to concentrate on me, get to the gym and to simply have a bath and an early night if I was feeling tempted."

Do you feel the support offered by New You such as secret slimmer's has helped you on your journey? If so how?
"Having the Secret Slimmer's on hand has been my saving grace throughout this diet. From tips on how to use packs, inspirational stories and just an understanding ear if I'm having a hard day. There's always someone there with words of support and encouragement."

What was your biggest motivator for staying on track?
"My biggest motivator to stay on track was originally to get back into a relationship. But now, my motivator is that amazing feeling when  someone says 'you look amazing, I didn't recognise you'"

What is your biggest non-scale victory?
"My biggest NSV was when I cheekily bought a pair of jeans in a size 14 as something to aim for…AND THEY FIT!!! To be a size 14 for even one day in my life was on my bucket list, and I've not only done it for a day but maintained it too.
I have also done a zipwire and tree climbing with my kids, and had great gains at the gym….but still the jeans 🙂 "

Since losing your weight what is your happiest memory or proudest moment?
" My proudest moment was telling my children that I'd won this challenge. AT 10 years and 7 years old, they've supported me all the way through this and we've learned some valuable lessons about the importance of health and fitness. But also accountability, and how it's never to late to start again."

Would you say the plan has changed your life, and if so how?
"This plan has given me a life back, not just changed it. I'm happy in my own skin and rarely flinch at my own reflection anymore. I've dyed my hair pink, started dating again and love love love my time at the gym. It's a new addiction for me!"

Would you have any tips you would give to someone who is thinking of starting the plan but is not sure?
"I'd say to just get on and give it a go, there'll always be something to get in the way or a reason not to start…just do it. You don't need to be motivated to get started. Motivation follows action, not the other way round. Give yourself the chance to feel good, and don't start looking for way to cheat it and get away with things. Commit and see a New You."
Now 5 dress sizes smaller and 5 stone lighter, Fern finally feels like she has control of her life, and is happy.
For Fern, the community of Secret Slimmer's has kept her on the straight and narrow and throughout her journey, she has learned to be proud of herself and celebrate her wins.
To anyone looking to lose some weight and increase their health, Fern advises that you give yourself a chance and give it a go! All you need to do is head on over to our website and order your New You Total Plan today. You can join our community of Secret Slimmer's to enjoy the benefits of our supportive family!