New You Plan Blog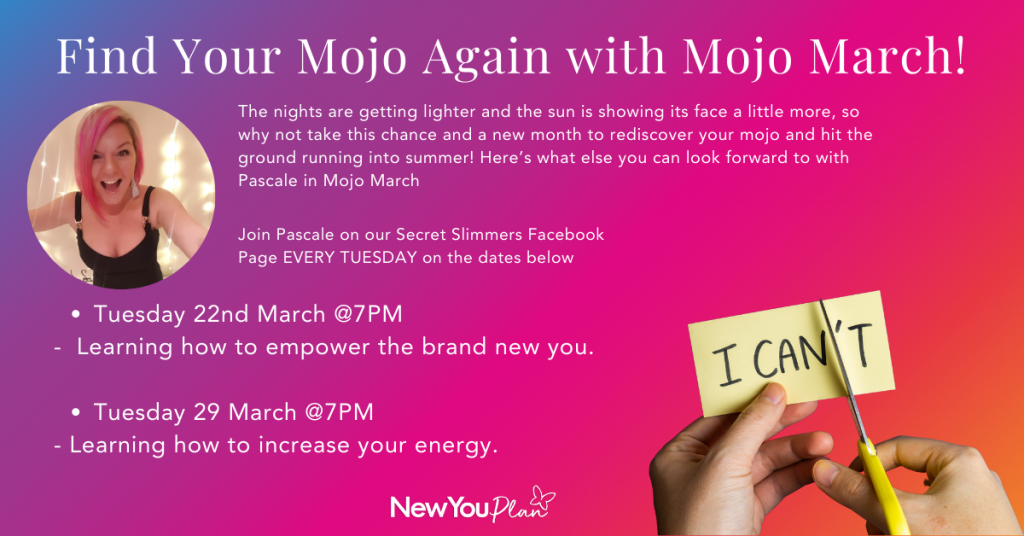 Mojo March! – Empower Your New You
Find the power in knowing you're enough with Mojo March
For the past few weeks of Mojo March, you've been working on rediscovering your goals, learning how to manage your emotions and setting up new feel-good habits. It's a lot to have achieved in a few short weeks.
So how does it feel? How would you also feel if you believed in yourself more? If you recognised your value and power? What about if you were kinder to yourself?
Did you know that Beyonce once said that if there is one person she was willing to bet on, it would be herself? Well, this is the mindset Pascale wants you to adopt too.
So this week, with the help of Pascale and your workbook, you will first remind yourself of your worth and all the reasons you should be proud of yourself for. Then it will be time to give yourself permission to be enough, do what feels good to you and have everything that you want. And finally, you will be able to practice being more supportive of yourself more often.
To remind yourself what you're worth you need to remind yourself that there are more reasons than you think to feel proud and love yourself. It's much easier to be hard on yourself and not see your worth and so not feel empowered. When you do that you neglect to remind yourself of your strengths, your qualities and your love.
To bring some positive thinking to the front of your mind, consider what you value most about yourself with:
Your appearance
How you've helped others
The challenges you've overcome
Times you've made others happy
The things that work well in your life
It's also helpful to remember that you have the right to:
Express your emotions, feelings, thoughts and opinions
Be yourself
Make mistakes
Not understand
Not feel guilty
Ask for help
To do things that people disapprove of
To elevate your needs above others
Pascale will also coach you through some mirror talk. Talking kindly to yourself, giving yourself pep talks and appreciating yourself.
For more in-depth coaching with Pascale on empowering yourself, you can Join Pascale over on the Secret Slimmers Facebook group and if you make it live you could win yourself £25 in New You credit. If the day and time aren't ideal then you can catch up with Pascale's sessions in the Guides section.
Oh and don't forget to download your workbook, it's so handy to refer to again and again.
With springtime just around the corner, it's the perfect time to refocus on your goals and get excited about the future again. Your mojo is there, deep down inside you you've just got to encourage it out again!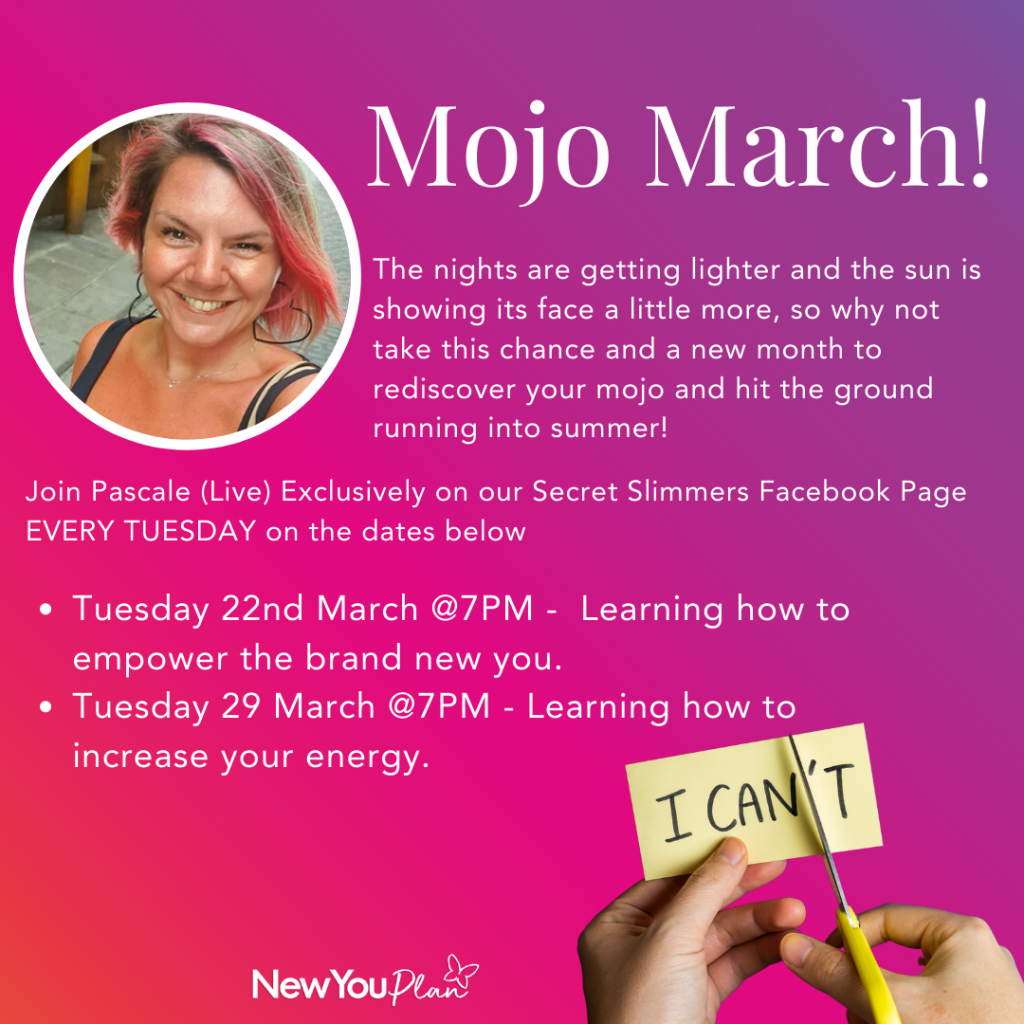 Pascale believes that by getting your mojo back, that not only it will make your New You Plan journey easier, but you will experience life with a brighter and more positive perspective.
So isn't that worth making time for?
Here's what else you can look forward to with Pascale in Mojo March, don't forget to pop these dates in your diary, as this is when you can see Pascale:
Tuesday 22nd March 7 pm – Learning how to empower the brand new you.
Tuesday 29 March 7 pm – Learning how to increase your energy.