Before & Afters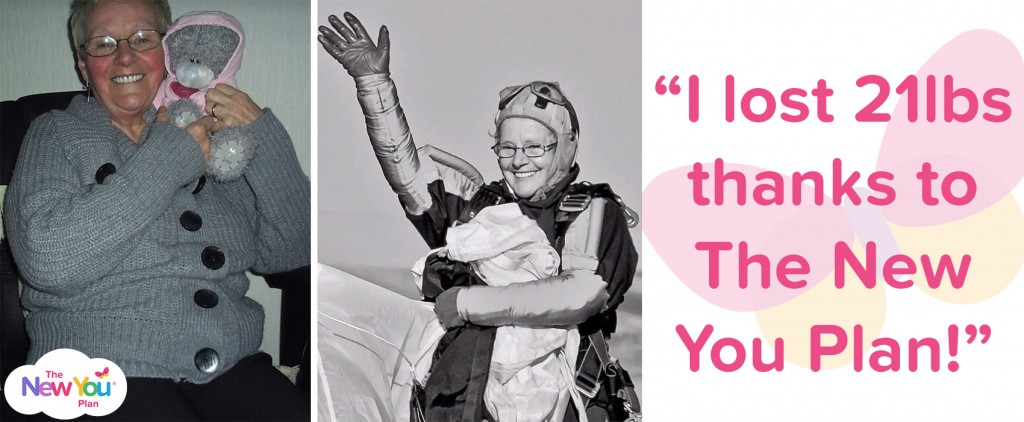 [Customer interview]: Nan lost 21lbs* with New You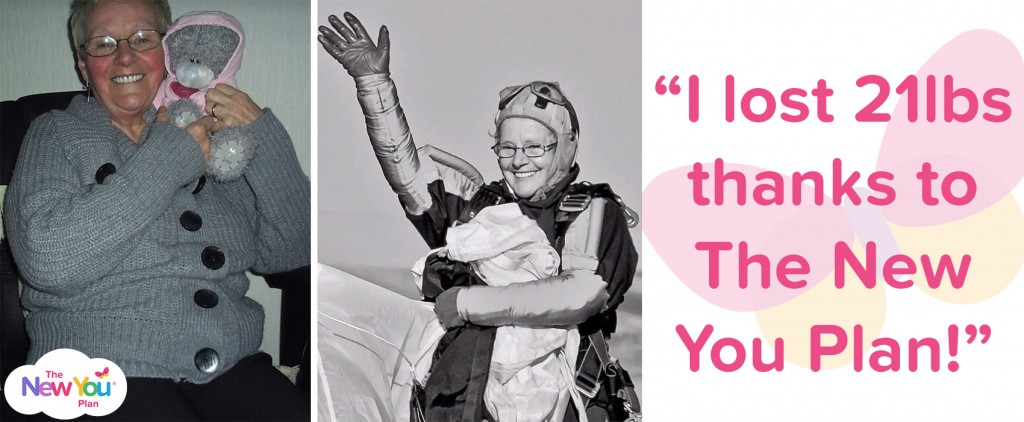 *Weight loss results may vary and are different for each individual.
At The New You Plan, we welcome all walks of life. At the age of 75 years young, customer Nan was determined to lose weight. Formerly, Nan was extremely active and loved to keep fit, regularly walking and playing squash. Unfortunately, due to a spell of depression, her desire to exercise diminished, which, when combined with overeating, became part of a vicious cycle. Seeing the results her daughter achieved on the plan, Nan decided to take action and commit herself to losing weight.
After just 8 weeks, she has dropped an amazing 2 dress sizes and a huge 21lbs.
Here's what Nan had to say…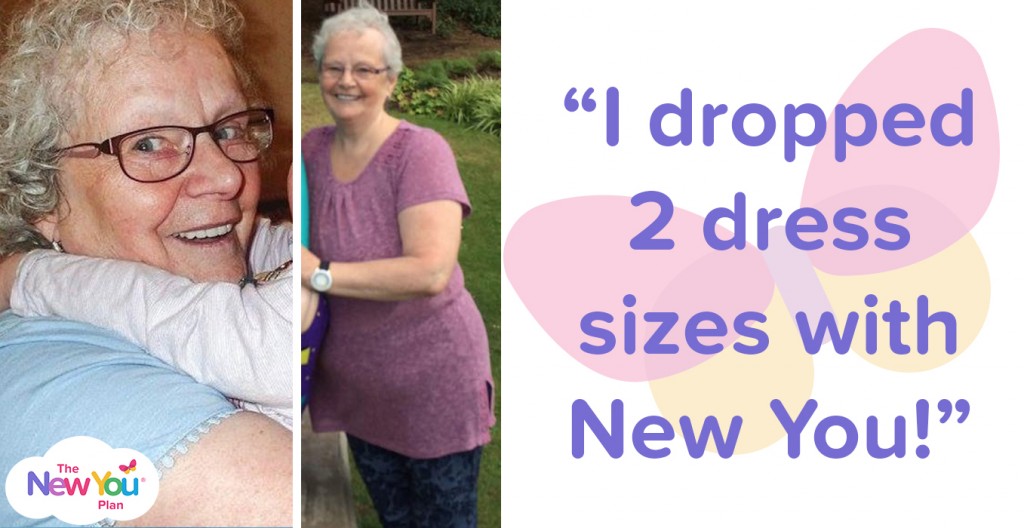 I am 75 years young. At the age of 29 myself and my husband decided to emigrate to South Africa with our two children. We lived over there for 27 years all together and had a wonderful life. We did spend a few years back in Scotland, before returning permanently in 1997.
I worked in accounts – working with numbers and journals. I was always quite an active person – I loved walking and playing squash when I got the chance.
At the young age of 70, there were two babies in the village who required surgery, but this had to be done in America. The parents were collecting money to help them and I decided to join in. I didn't want to do the cake baking, or the fancy massages – I decided to join their dad on a sky dive. Yes, that is right!!!
It was after this that I got depression.  This caused me to stop exercising, eating everything in site and piling the weight on. The more weight I put on, the more upset and depressed I became but I didn't really care. It was a vicious circle.
I tried a few diets but never really found anything that really worked. Then my daughter started New You, and lost a lot of weight in just the first few weeks. She introduced me to it and suggested it may be just what I need. After speaking to my diabetic nurses, they agreed it was ok to go ahead. It turned out to be a very good decision!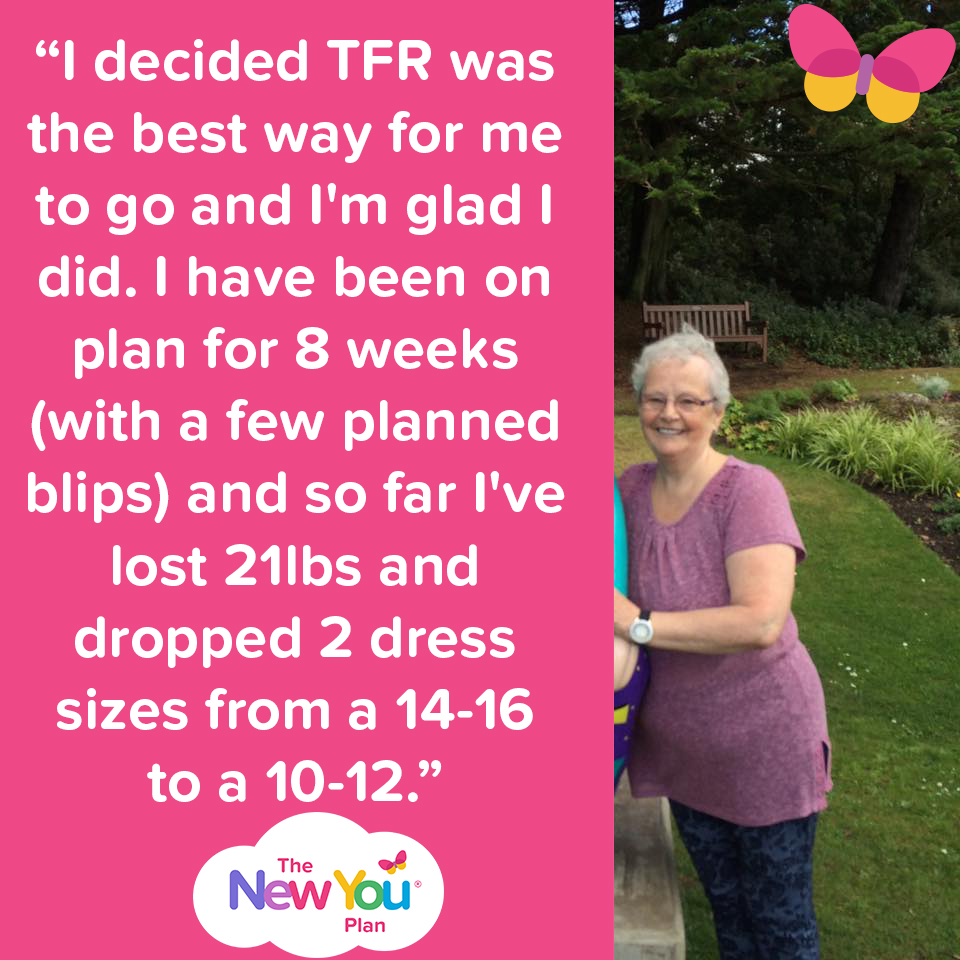 I decided TFR was the best way for me to go and I'm glad I did. I have been on plan for 8 weeks (with a few planned blips) and so far I've lost 21lbs* and dropped 2 dress sizes from a 14-16 to a 10-12.
What I'm loving about New You is trying all the different foods! I really enjoy the Cottage Pie, the Chocolate Brownies and the Shakes – all the flavours are really delicious.  The Crisps are also really lovely. Oh, and the Chocolate Bars!!!  The Lemon Yoghurt one is delicious.  It's good that there is such a variety. On a typical day, I have a Shake for breakfast, Chocolate Brownies for lunch and Cottage Pie for dinner. I like to save my Chocolate Bar or packet of Crisps for later in the evening.
But what's so good about The New You Plan is the support in Secret Slimmers group! It's fantastic!  Anytime I post I always get a quick reply from so many people. And so much good advice. Seeing that these people are real with real weight loss stories and the fact that you can communicate with them is amazing! Everybody was always there when I needed a question answered. They're a wonderful group of people.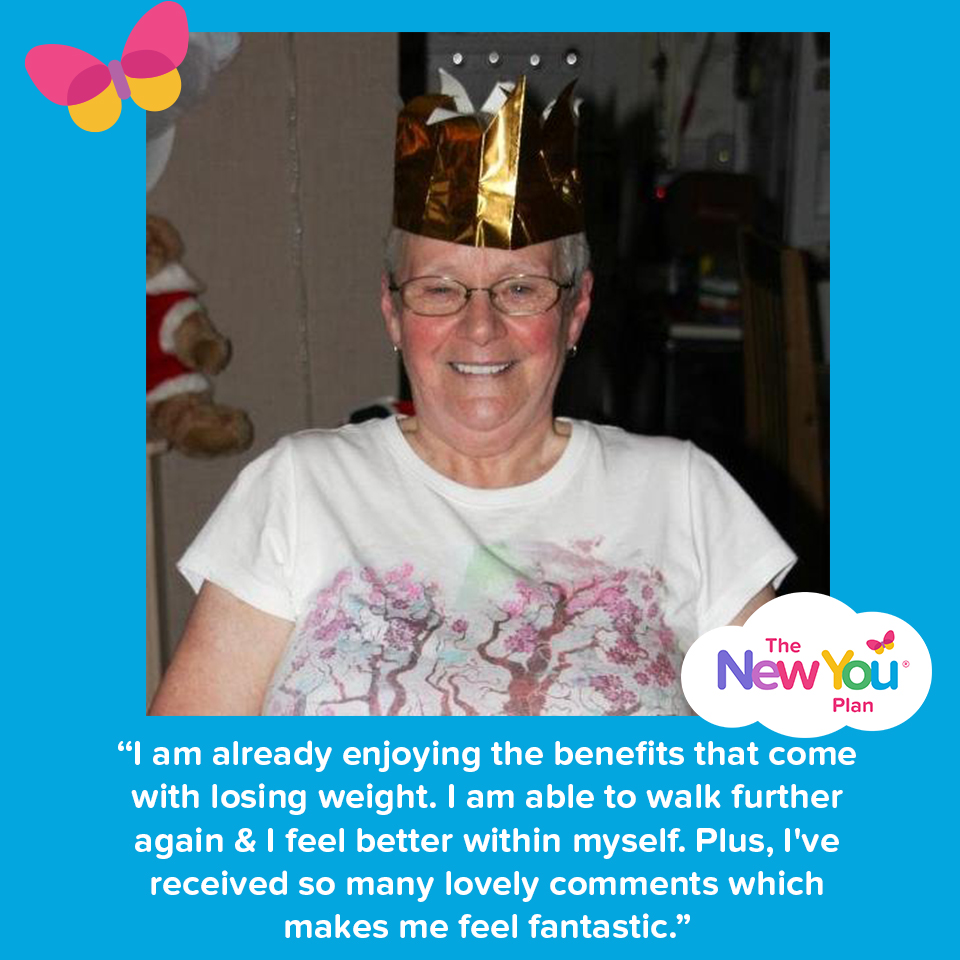 Currently, I weigh 8 stone 13lbs and although I'd like to lose another 10lbs, I am already enjoying the benefits that come with losing weight. I am able to walk further again and I feel better within myself. Plus, I've received so many lovely comments which makes me feel fantastic. One of the members on Secret Slimmers said I looked great, and years younger.
New You has taught me to be more thoughtful about what I eat. I know I will keep the weight off. My mantra throughout my journey was 'Keep Looking Forward'. It served me well!
For anyone thinking about joining New You, I say do it! This plan works, and if you fail, it's your own fault because there's so much support, you shouldn't fail!
Check out the results on Secret Slimmers – it's proof that this plan really does work. If this doesn't convince you, then you will never be ready.
Good luck, love

START YOUR OWN TRANSFORMATION TODAY
If you're just starting out on your journey, or coming back to the plan then we would recommend our 60 TFR bundle. This bundle will last you for 14 days. You'll be able to enjoy 4 meals per day and 2-3 snacks per week.
What's even BETTER is that with The New You Plan we're more than just a diet company. We are a total lifestyle change: meals, mindset, motivation and maintenance. With unrivalled customer service, a 100% money back guarantee and unlimited online support you'll be able to get in the zone and smash your goals in 14 days.
Benefits of this incredible bundle:

Over 35 Delicious Meals and Snacks to Chose From
All New Customers get Free Gifts Worth £190.95

All new customers can swap products and benefit from a 100% money back guarantee!
Access to our Exclusive Secret Slimmers Facebook Group
Free Shipping on orders over £50!