Challenges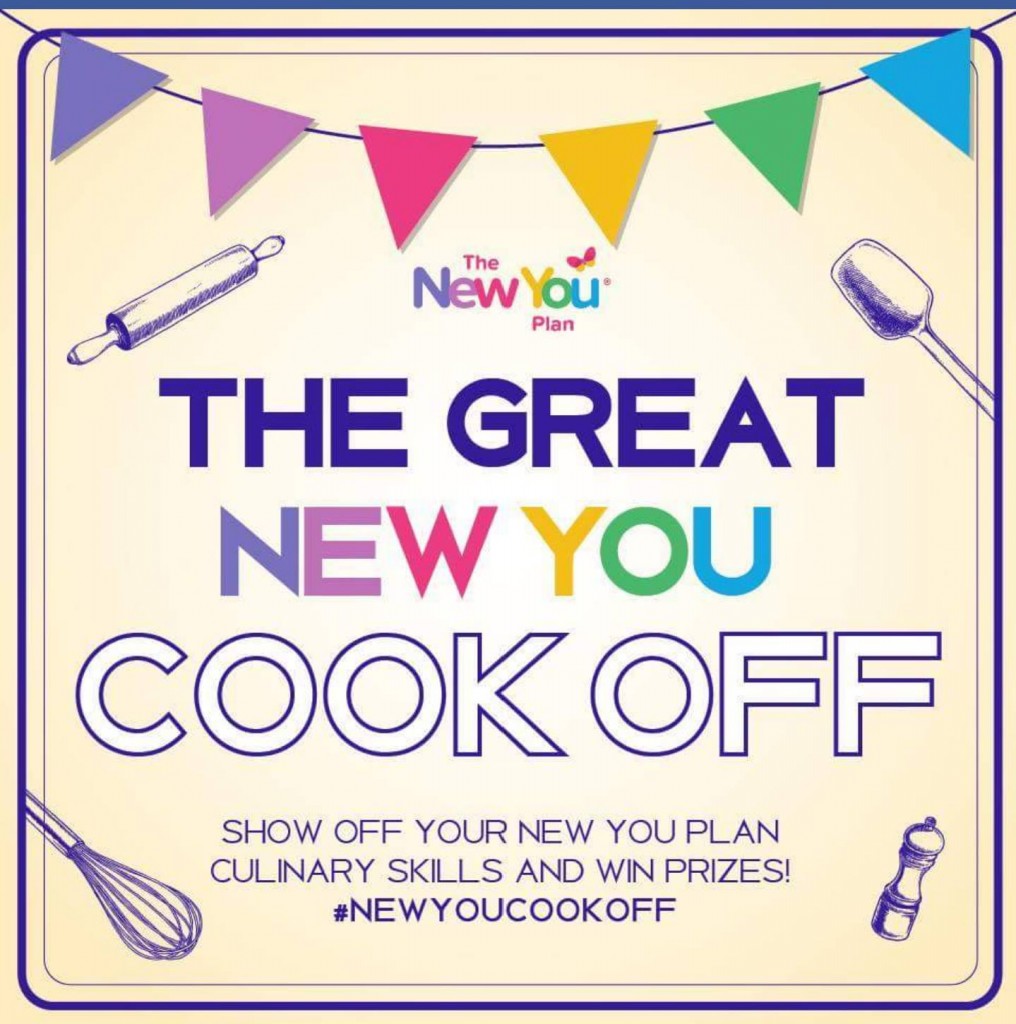 #NewYouCookOff Week 4 Winners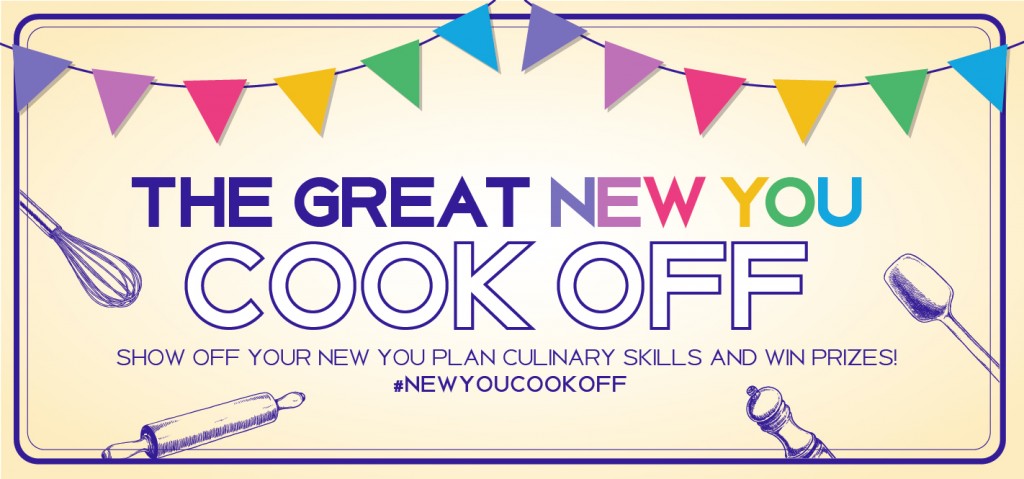 It's been another epic week at New You HQ as the fourth round of our #NewYouCookOff got underway. You would think that maybe after 4 weeks things would die down a little but we have to admit that this week was one of our favourites yet! New You cooks, we are super impressed with this week's offerings, with delights that would make The Great British Bake Off finalists blush!
So you've probably heard of The Great British Bake Off, but what's all this #NewYouCookOff stuff about?! Where have you been?! For the past 4 weeks, we have been inviting customers to show us what they've been cooking in the kitchen for their chance to WIN New You Cash Points!
So what's the point of all this? At The New You Plan, we firmly believe that you shouldn't have to miss out on the things you love in life, just because you are on a diet. Our #NewYouCookOff aims to showcase some of the amazing delights that can be created using our tantalising collection of Meals and Snacks. And we have to say, each week we've been bowled over by our customers' offerings.
Plus, we're more than just a diet meal company you know! This autumn our founder Julie-Ann launched our incredible #AutumnChallenge! The point of this? To keep you #motivated and in the right #mindset to smash your goals. As part of the challenge we've launched several ways for customers to really get on board and make this autumn count we approach our ultimate goal… to look and feel great this Christmas!
As part of this, our incredible #NewYouCookOff has been a great success with customers, eager to show us what they've been getting up to in the kitchen.
Because we fully encourage a healthy eating lifestyle after the plan, we got both our TFR customers and those following our Flexi-Focus Plan in on the action, by asking them to post photos of what healthy dinners they've been rumbling up in the kitchen.
But before we jump in and reveal this week's winner, we want YOU to get involved next week. Here's how…
🍳 #NewYouCookOff: Fancy WINNING £50 worth of New You Cash Points? 🍳
Do you love cooking up a storm in the kitchen? Whether you're a novice cook or wiz with a whisk, we want to see just how creative you can get in the kitchen with your New You Plan meals!
As part of our #NewYouCookOff, each week we'll be choosing our favourite, tantalising images, with spot cash prizes for those who have gone above and beyond!
If you fancy going Gordan in the kitchen & showing off your stunning creations, here are some guidelines to help you out…
Get creative. It's not just about the food – create the perfect scene.
Think outside the box – the more creative you get, the better.
To enter, post your photo on a social media platform of your choice (bonus points for publishing it on your own public social media account)
Use the hashtag: #NewYouCookOff
If you're maintaining, we want to see what healthy meals you're creating so share your photos in our Momentum Maintainers Facebook group
Wondering just what can be achieved with our New You Plan Meals and Snacks? Check out just a few of our favourite posts from this week…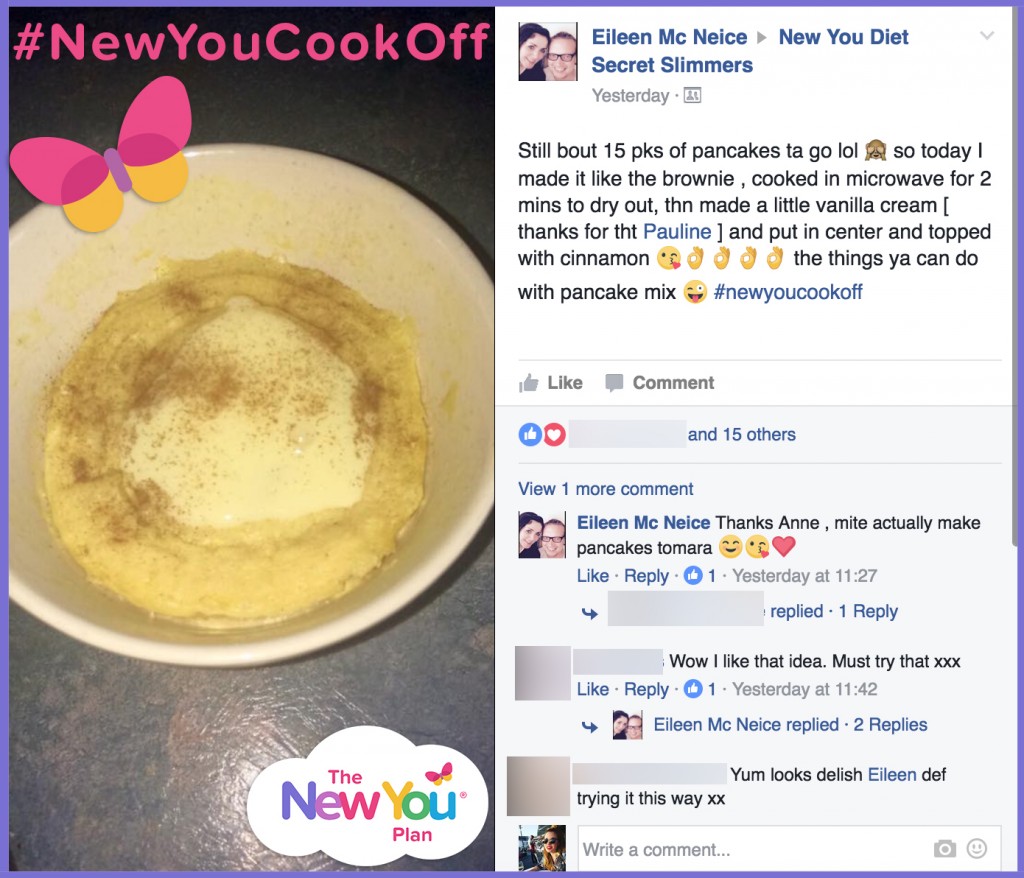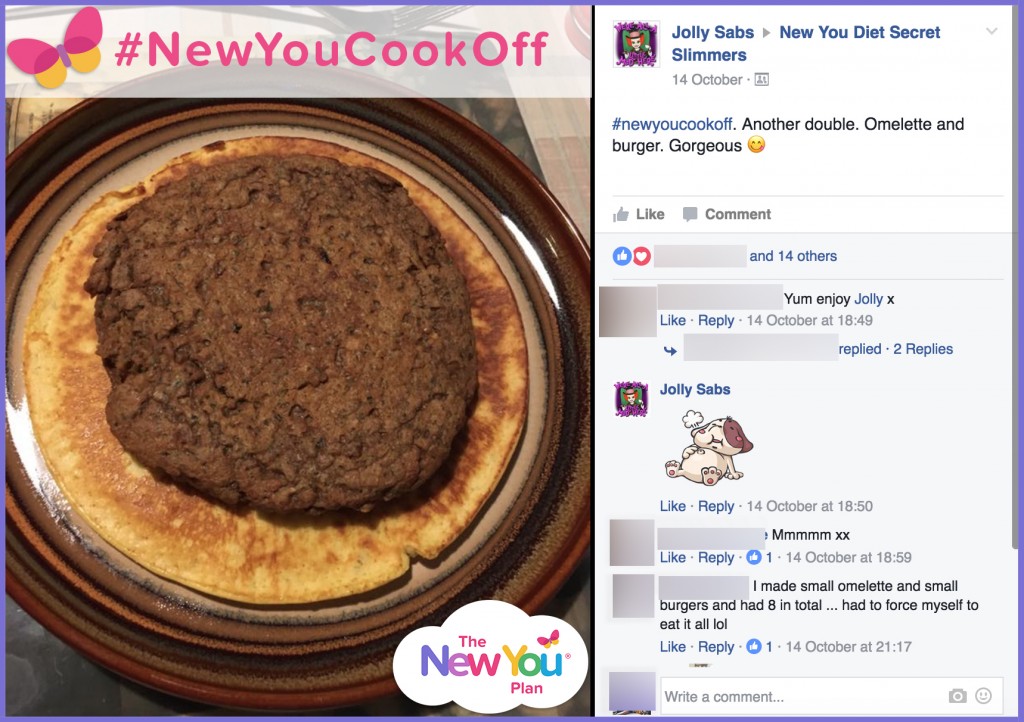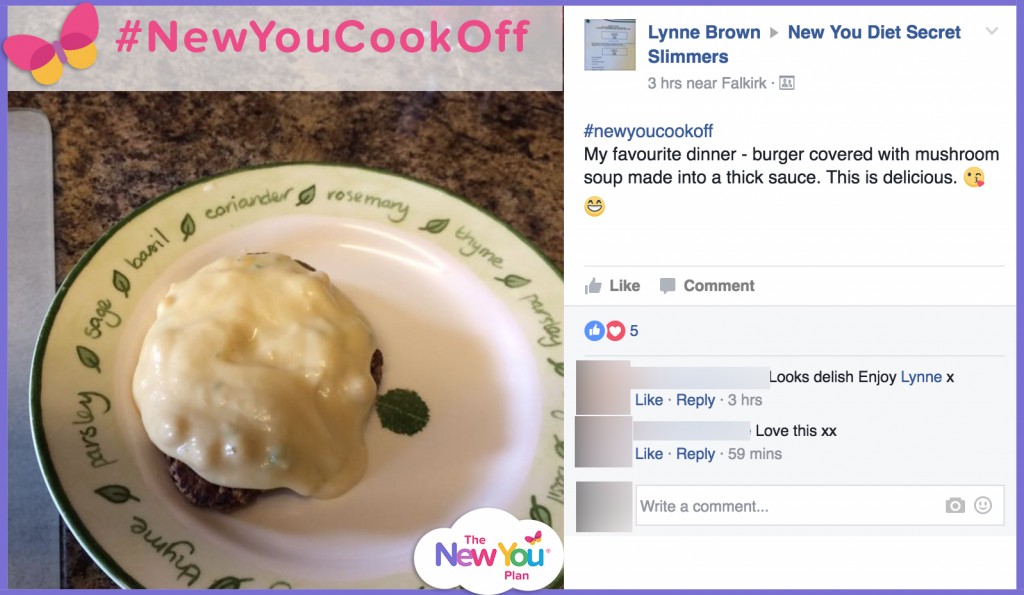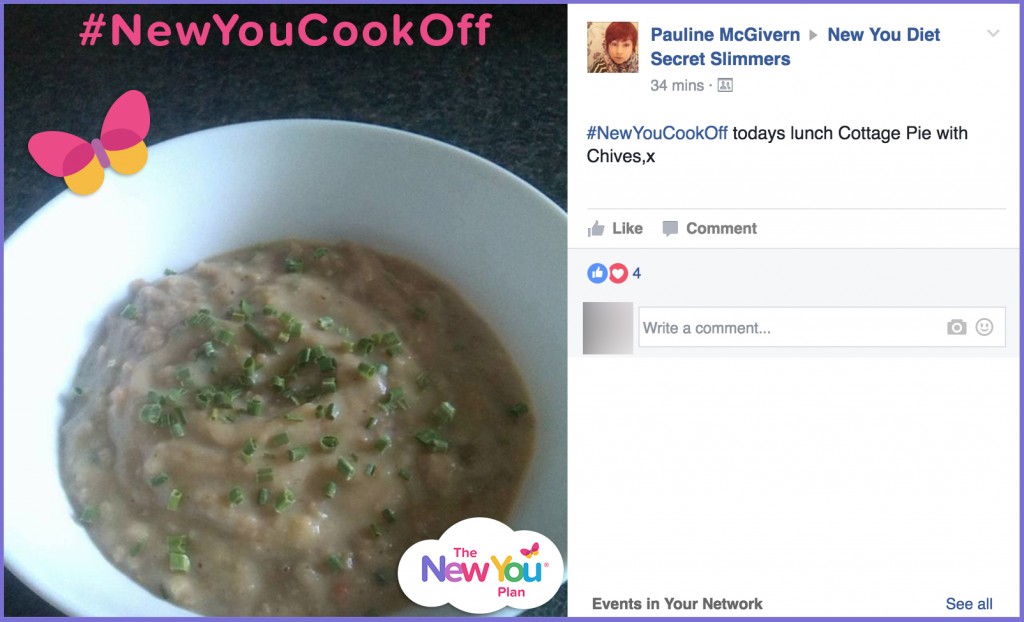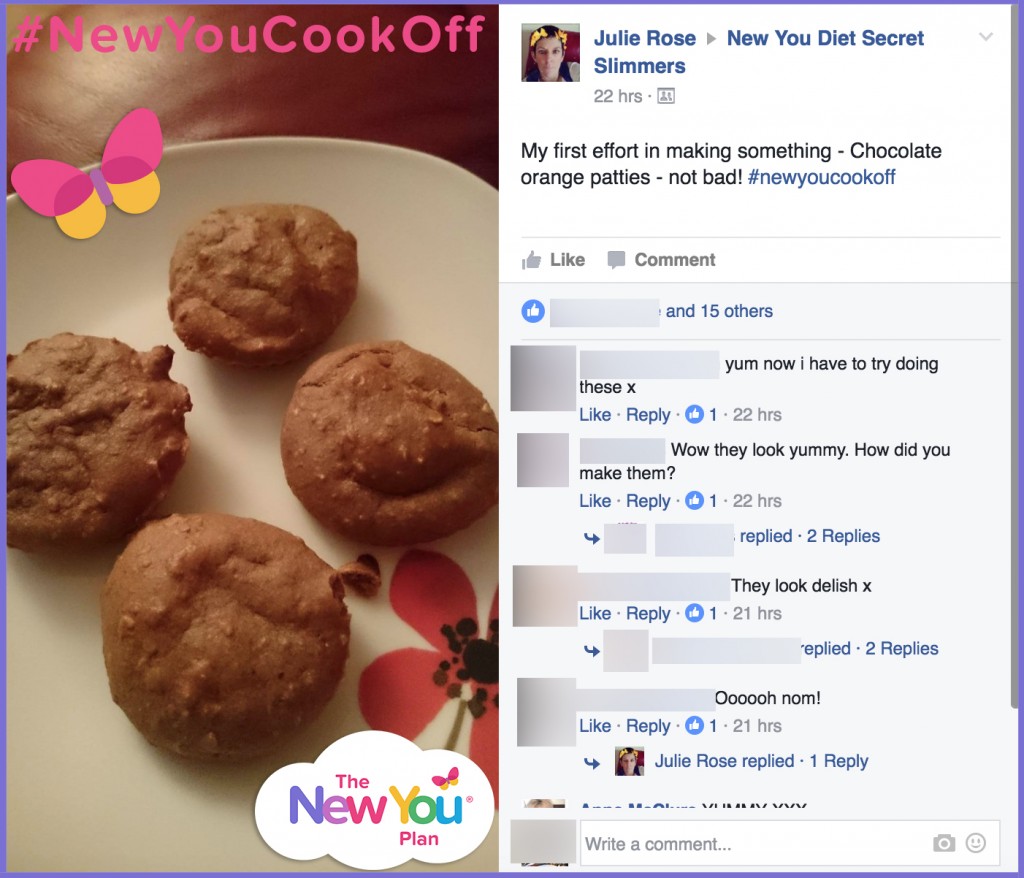 This week it was all about the desserts, and with two extraordinary delights, we couldn't pick just one winner!!
First up, a massive C O N G R A T U L A T I O N S to Eileen McNeice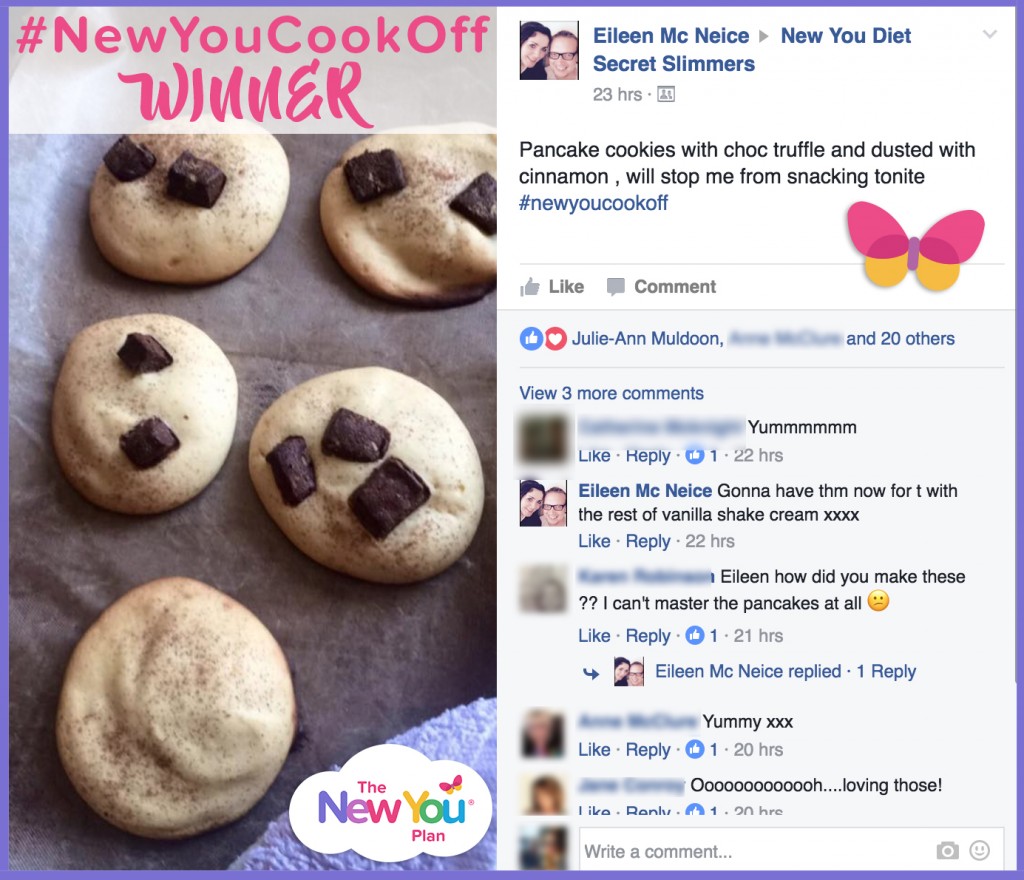 Think you can't enjoy cookies on a diet? Think again! Eileen has created amazing chocolate chip cookies by baking our Pancakes and adding our Chocolate Truffa Bar! We L O V E!!
CONGRATULATIONS to our second winner, Sarah Faughey!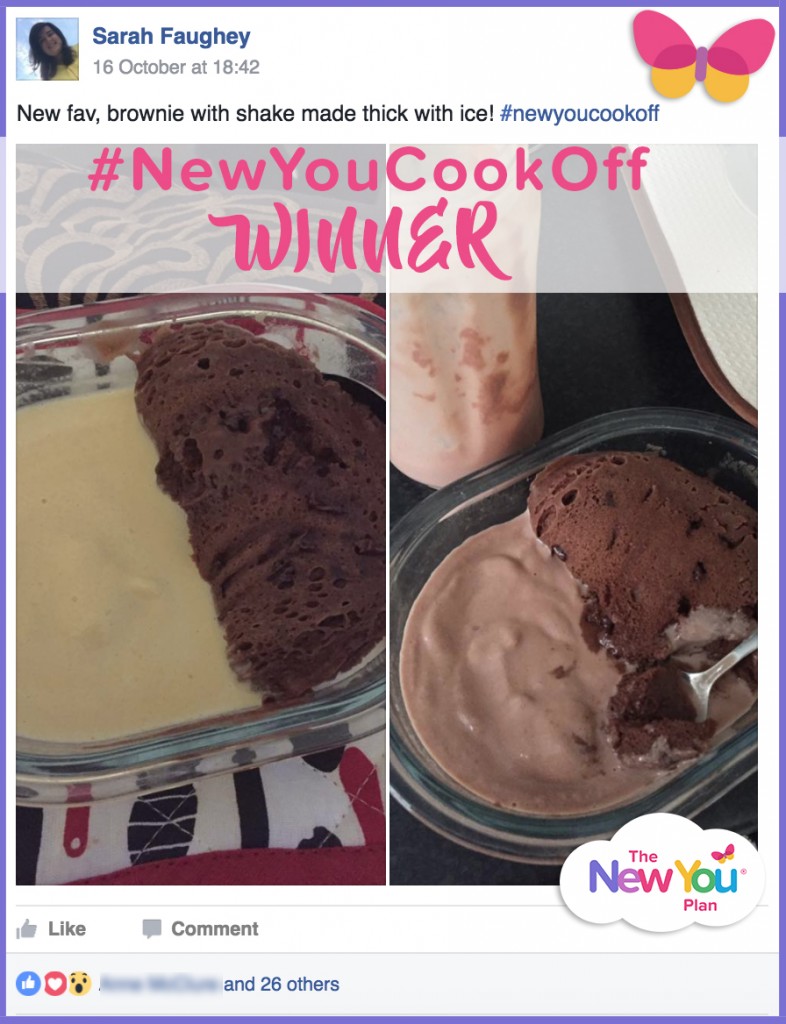 We couldn't believe Sarah's dessert! It looks like something from a restaurant! She has served her Chocolate Brownie with ice-cream, made from a Shake. WOW!
A massive congratulations, ladies! You have both won £50 worth of New You Cash Points, credited to your account.
Are you up to the challenge?
Next week, we really want you to up the ante. Show us what you're cooking in the kitchen – the more creative the better! Whether you're on TFR or following our Flexi-Focus Plan, get cooking and share those photos on social media with the hashtag: #NewYouCookOff! You might just see your photo here next week, or even better WIN £50 worth of New You Plan points!
Good luck!