New You Plan Blog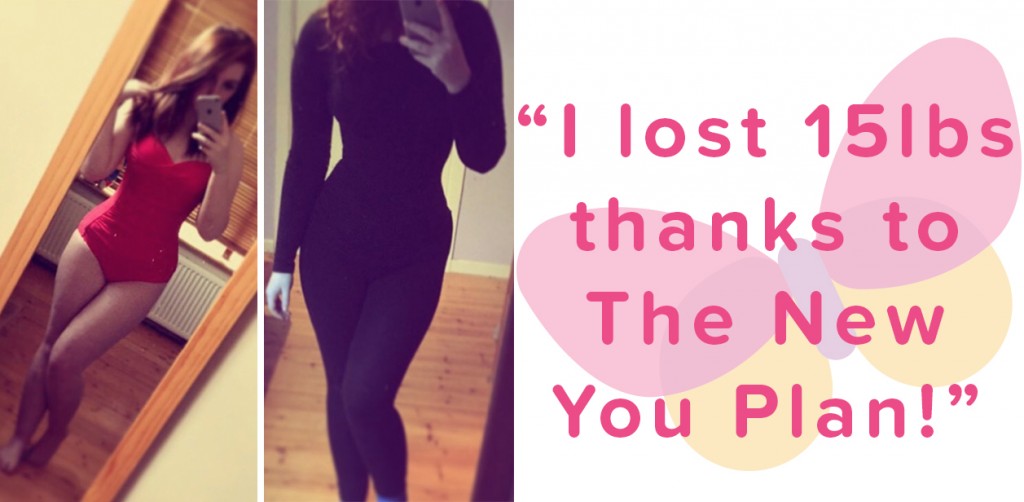 [Customer interview}: Kate lost 15lbs with New You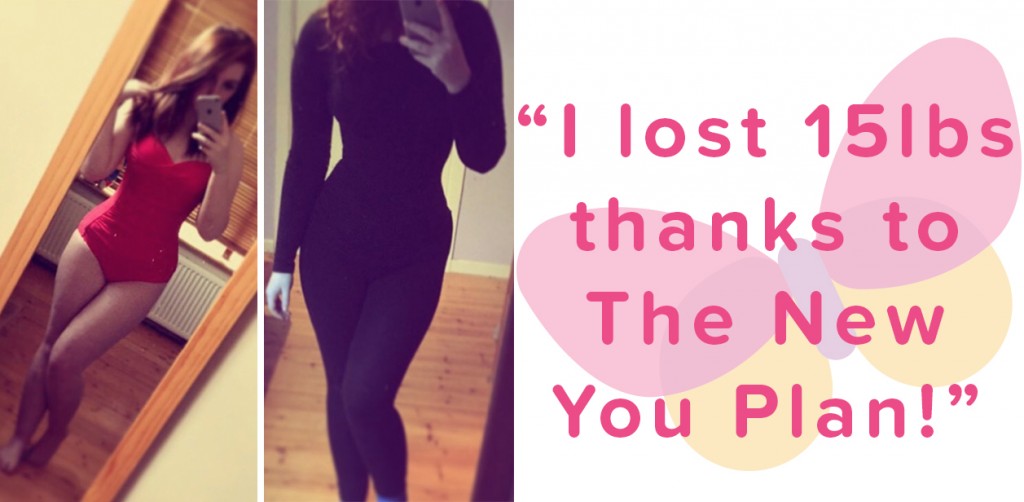 One word… WOW! We can't get over how amazing Kate looks! Following the birth of her child, Kate struggled to shift the rest of her baby weight and with a trip to Las Vegas coming up, she was determined to reach her goal.
And that she did! She lost 15lbs, which saw her BMI drop from 28.1 to 25.3. Plus, she dropped two dress sizes and lost 3 inches from her waist and 2 inches from her hips.
Like many customers, Kate is proof that when you hit that brick wall where you can't seem to lose any more weight, no matter what you try, there is a solution… The New You Plan.
Here, Kate shares details of her New You Plan weight loss results…
"I'm a 22 year old single mother to a 3 year old boy, currently studying for my Fetac Level 6 in Childcare. I would say I'm shy and introverted, spending a lot of time with my family and twin sister, June. I definitely feel after having my son and starting back at college has led to my struggle in trying to lose my last 15lbs. Everything was put on the back burner at that stage, while I made my son and college my main focus.
Before starting the plan I felt horrible! There were times when I didn't want to make the effort to leave the house to see friends. I would just stay at home and basically feel sorry for myself! I wanted to be able to take my son swimming and not feel self conscious about my body and just enjoy life.
Cue a trip to Las Vegas! This definitely gave me the motivation I needed to just say "You have got to stop letting your weight control what you do!" It was my mum her introduced me to The New You Plan! I was determined to get down to my goal weight for my trip and this sounded like the best way to do it.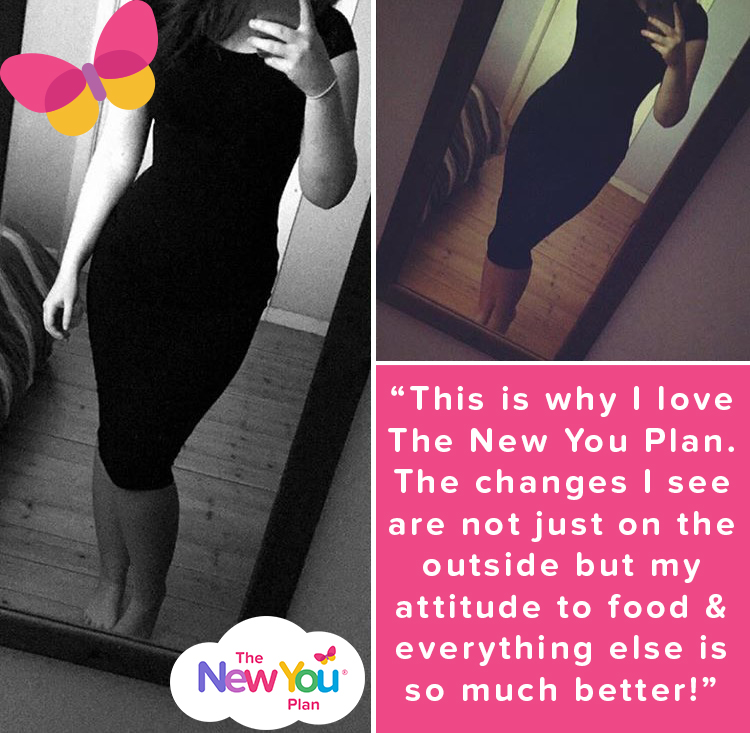 I have been on the plan on and off for the last few months. There were times when I would fall off the wagon and it does happen but you have to realise it is a lifestyle change and not a quick fix. This is why I love The New You Plan. The changes I see are not just on the outside but my attitude to food and everything else is so much better!
Right now I am currently 138lbs so I have lost over a stone. I am hoping to lose another 7lbs to reach the weight I was before having my son. I've dropped 2 dress sizes, from a size 12 to a size 8. Plus, I've lost 3 inches from my waist and 2 inches from my hips.
What I loved from the very beginning is the support from everyone one involved in the New You Plan! Their encouragement has really helped me stay on track.
What is also amazing about the plan is the fact that all the meals taste delicious! It did not feel like I was being restricted in anyway. When I started the plan my biggest fear was about feeling hungry and unsatisfied. Thankfully, that definitely wasn't the case! My daily menu consisted of 2 Shakes, a Meal and a Bar as a "treat" later in the evening. I absolutely love the Hazelnut Shakes! Yum yum!
I would absolutely recommend everyone who decides to join New You to be a part of the Secret Slimmers group! So many amazing weight loss journeys are posted on a weekly basis, which is the perfect motivation for believing that you can do this. Reading everyone's stories helped keep me motivated on days where I felt like giving up but I was reminded everyone goes through tough days too.
Right now I feel amazing! My confidence is back after years of feeling so down. I feel I have control back over my life! My hourglass figure is a lot more defined and I'm loving how I look, even more so than before I had my son!
My weight loss has impacted my whole outlook on how I perceive myself. I love my body for what it is, I am doing things I thought I would never dream of doing. I'm very shy so I recently joined a drama group to help with my confidence and I'm loving it! If I had been 153lbs I wouldn't have felt anyway comfortable!
The nicest compliment I received, definitely has been that I look like Jessica Rabbit! Haha.
My mindset has definitely changed since starting New You. I feel I can do anything once I put my mind to it. Also, my habits have changed regarding food. There's been times when I have wanted to have a blip but pulled myself back and had an extra New You product instead! It gets easier every time. I wore a swimsuit for the first time in three years since I started the New You Plan! My confidence has grown so much, I'm extremely thankful for New You. I never thought I would feel confident enough to wear one this summer.
New You has definitely changed my life and I know it can do the same for you!
Love,
Kate xx"
START YOUR OWN TRANSFORMATION TODAY
If you're just starting out on your journey, or coming back to the plan then we would recommend our 60 TFR bundle. This bundle will last you for 14 days. You'll be able to enjoy 4 meals per day and 2-3 snacks per week.
What's even BETTER is that with The New You Plan we're more than just a diet company. We are a total lifestyle change: meals, mindset, motivation and maintenance. With unrivalled customer service, a 100% money back guarantee and unlimited online support you'll be able to get in the zone and smash your goals in 14 days.
Benefits of this incredible bundle:

Over 35 Delicious Meals and Snacks to Chose From
All New Customers get Free Gifts Worth £190.95

All new customers can swap products and benefit from a 100% money back guarantee!
Access to our Exclusive Secret Slimmers Facebook Group
Free Shipping on orders over £50!