Before & Afters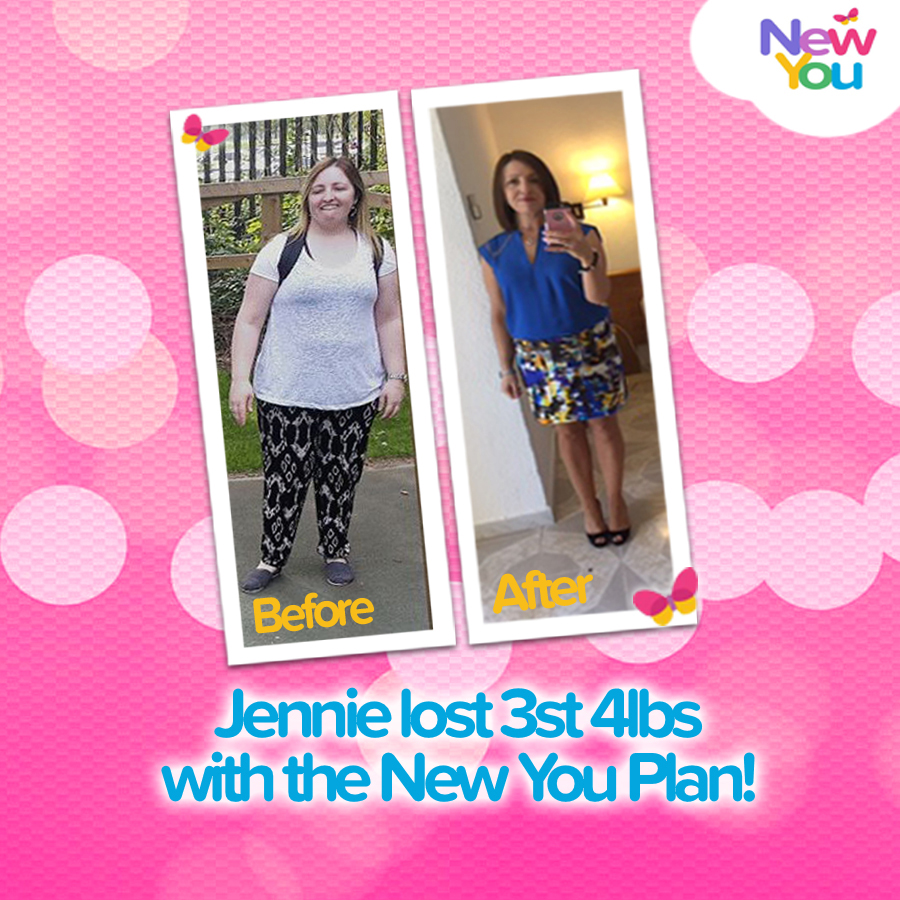 Customer Interview – Jennie lost 3st 4lbs and transformed her life with The New You Plan!*

Jennie has lost 3st, 4lbs and dropped an AMAZING 4 dress sizes on the New You Plan!
*Weight-loss results may vary, this is not a guarantee 
What an incredible transformation! We caught up with the beautiful, Jennie to find out more about her New You Plan journey. Jennie is a prime example of how much you can achieve with sheer determination and the perfect New You Diet Meal Plan. Since starting the plan in October she has lost an amazing 3st, 4lbs and an incredible 4 dress sizes! Her confidence is sky high and she has gained a new found outlook on life. Keep reading to find out more about how Jennie was empowered to make changes which have completely changed her life – for the better!
So Jennie tell us, how much weight have you lost?
Since I started the plan in October, I have lost 46lbs* – that's 3 stone and 4lbs*! I've gone from a large size 16 to a comfortable size 10 – sometimes even a size 8 depending on the shop! I haven't recorded my loss in inches but my waist size in jeans has dropped from 34 inches to 28 inches and my bra size has dropped from a 38 to a 34!
Tell us when you started the plan? What was it that finally led you to getting started?
I started the plan on the 25th of October 2014, I decided it was time to get started. I had finally hit rock bottom and was feeling quite depressed about my weight. My husband showed me a picture of me pushing our sons on the swing and I was shocked! That picture and trip to New York spurred me on to begin my journey. Three weeks later I had lost 22lbs and felt completely amazing.
What were you hoping to achieve from The New You Plan?
I was feeling so low about my weight and I just wanted to achieve a happy and healthy new me! And now I've achieved that it feels fantastic.
How has The New You Plan has changed your life?
The plan has completely changed my life for the better. I am happier and more out-going than I ever was before. I now make healthier and more informed decisions about my food – not only that but I am sleeping better too! My mantra is now: 'Nothing tastes as good as slim feels!'
Our customers love the support from Secret Slimmers. Have you got in on the action?
I am beginning to get more involved with Secret Slimmers. I log in everyday to see what has been going on. I have posted my progress a few times and have been spurred on by my good friends.
I hope you've found great support in our customer service team?
The customer support has been great! My delivery are always delivered next day and on the rare occasion that something isn't 100% it's sorted with the minimum of fuss!
Is there a particular of piece of clothing that you've been dying to wear?
I have been so excited to get into skinny jeans, I love them! I now own at least 10 pairs and live in them.
Tell us, what New You Plan meals and snacks can you not live without?
I love the bars – the Soo Yummy Strawberry Bar and the Chocolate Hazelnut Bar are my favourite. I also love having the Maple Syrup Pancakes. I also love having the occasional snack and the Salt and Vinegar Crisps are perfect to satisfy those cravings.
Have you tried any of our Water Flavourings? Which is your favourite?
I love the water flavourings. I've even tried every single one but my favourite is the Orange Lemon Zing!
Do you have any tips for staying on track? How did you stop yourself blipping?
Best tip from me is to keep drinking. It's so crucial to stay hydrated when on the plan. Also, I always remember my mantra as it keeps me motivated to remember why I started and how far I've come. Another good tip is to take progress photos, so even if I feel like I haven't lost as much as I hoped I can see the difference in myself.
We hear all the time about the amount of energy our customers have on the plan. Has this had an impact on your exercise?
I have boundless amounts of energy on the plan and I am able to do much more running around with my son. I have even bought a bike so we can go on family cycles – I never would have been able to do that at a size 16!
Tell us about your re-feed journey. How are you keeping that weight off?
I always follow the re-feed to the letter whenever I come off plan after 12 weeks and then I maintain my weight by using the 5:2 approach.
I'm sure there are loads of people reading this who just haven't taken that leap of faith yet. What advice would you give anyone considering starting their New You journey?
If you're thinking about trying the plan, just go for it! Try it for a week and the results will speak for themselves and you'll be hooked.
Has Jennie's transformation inspired you? Take action on that inspiration TODAY & you too could see your dress sizes drop!
If, like so many people, you started the year with the goal to get slim, fit and healthy but those good intentions never quite manifested into actions…don't panic! The good news is, that it ISN'T too late! 
How would you feel if you woke up on Christmas morning, pulled on that specially purchased Christmas day outfit in 3 dress sizes smaller and smiled as it zipped up with ease?
Julz is on a mission to help 2000 people drop up to 3 dress sizes by Christmas! Join Julz who is SMASHING her weight loss goals of getting to a slim size 8 by November with The New You Plan Christmas Countdown Bundles!
At The New You Plan, we are passionate about helping the nation lose weight and break down those barriers that so often our weight creates. You still have time to make this year YOUR YEAR, and see it out with a bang as you reveal a BRAND NEW YOU just in time for Christmas.
We realise that many people are on a tight budget at this time of year and so we have some incredible discounted bundles available, designed to help you drop up to 3 dress sizes in just 12 short weeks. Or, if you feel that you could do with a little extra coaching, to keep you on track and remain focused, take advantage of our once-in-a-lifetime Personal Coaching Bundles! Our very own Tasha & Grant have undergone Personal Coaching training with the UK's top celebrity life coach, Ali Campbell and are using this certification to ensure you get maximum support during your New You Plan journey! They are 100% committed to helping you reach your goals!
With our Pick Your Own, Popular Products & Personal Coaching bundles, available in 4, 6, 8 & 10 week options, we've got the bundle to suit your needs & make sure you're a cracker this Christmas!