Before & Afters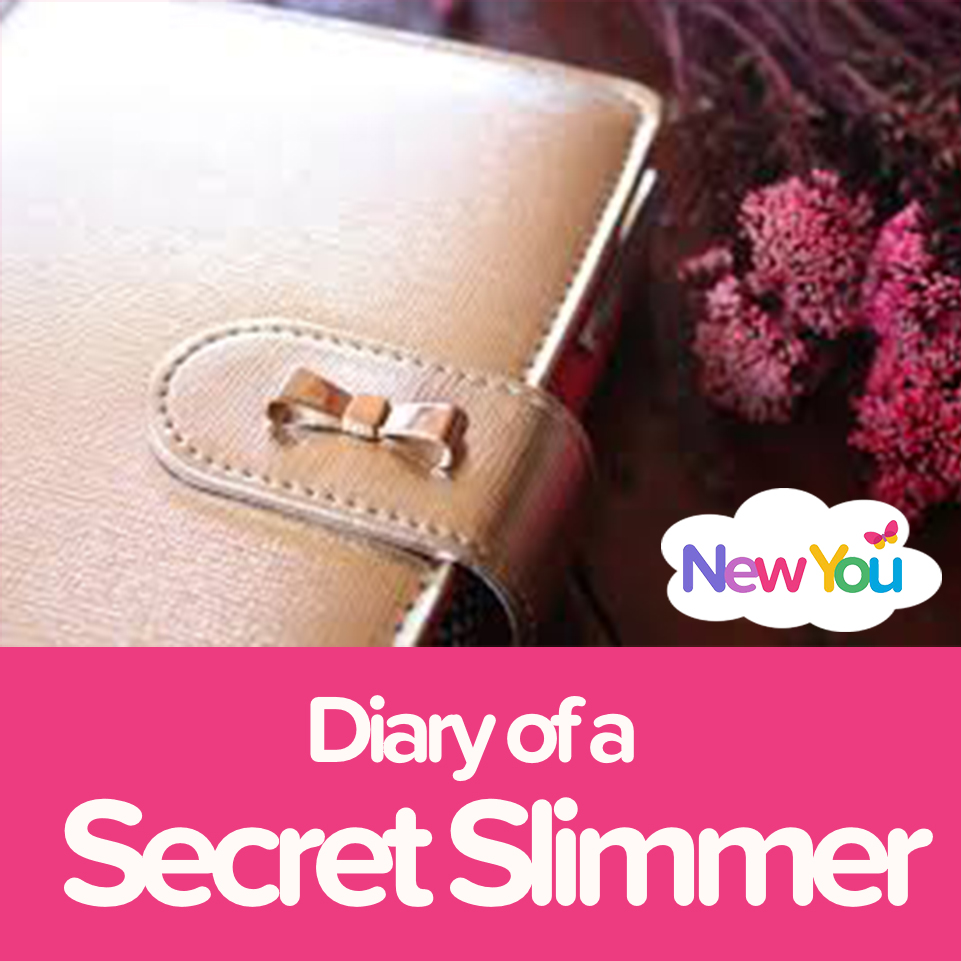 New You Plan Week 1 Review*

*Weight loss results may vary. This is not a guarantee.
At The New You Plan, we understand that as a new customer it can be hard to know what to expect from your first week on the plan. So with this in mind, one honest Secret Slimmer named Paula, has put together a diary, detailing the ups and downs of each day during her first week on plan.
DAY 1
Today is a bank holiday so no work to get up for. I weighed in at 12st 8lbs, and worked out my BMI at 34.4 by using the chart which came with my order.
I began the day with a Chocolate Shake for breakfast, which I found quite tasty and filling. Next, I began measuring out 4 litres of water into a jug and quickly realised that this put me off, so I decided to work with 50cl bottles instead. At 10.30am I had a Chocolate Hazelnut Bar, which I loved. Because I was on the go today, I knew the Shakes would be handy and so, at 1.00pm I had a Strawberry Shake. Again, I was pleasantly surprised by just how great tasting this was. I had a planned shopping trip in the afternoon which made it a little difficult to keep up my water intake (and find a loo). I was hungry when I arrived home and so prepared the Cottage Pie for dinner. I'll be the first to admit that I'm extremely fussy, but I did manage to eat a full bowl of this and it definitely satisfied my hunger. I also decided to give the Orange Zest Water Flavouring a go, which really helped to up my water intake and I loved its refreshing flavour.
At 10.00pm during my bedtime routine, I sorted my plan food for the rest of the week by putting each day's meals into food bags and labelling them. I received a text message from a friend inviting me to lunch on Friday and declined the offer, which is something I wouldn't have done with any other diet.
DAY 2
I had a great night's sleep last night and surprisingly I didn't have to get up despite the amount of water I drank. No hunger pangs felt during the night or when I woke up either, which is something I usually struggle with.
Back to work today so I was up at 7.15am. I cooked the Pancakes for breakfast, which were quick and easy to make and surprisingly very nice. I went to work armed with my lunch which easily fitted into my handbag. I also brought a 2ltr bottle of water with me so I could gauge how much I drank. At 10.00am tea break all the rest of the staff were amazed that I was content to eat my Luxurious Chocolate Truffa Bar and wasn't complaining about hunger. At 1.30pm lunch time, for the first time I wasn't first in the kitchen. I had a Strawberry Shake, realising these are a great option for work. They're so easy and quick to make, giving me time to read and relax during my break. Slight headache this afternoon, but not too serious, and no worse that my usual headaches. I did feel slightly hungry on the way home, but it's great that I know I will have something to eat within 5 minutes of getting in the door. I prepared Pasta Carbonara, which was quick and easy to make. I'm not a lover of pasta but I ate this no problem. Not too many temptations in front of me today and I was able to sit comfortably with the rest of the staff at break times. It's very strange that so far on this plan, I haven't craved food, the way I would if I was on any other diet. 
DAY 3
Today was just a little harder. I've been feeling a bit tired and had a headache this afternoon. Drank more water today than the other days and took paracetamol which seemed to help. I felt very hungry this evening but for some reason I don't get hunger pains, which I would normally suffer with when doing a 'diet'. Started the day with an Omelette for breakfast. This was extremely nice & I saw someone's tip in Secret Slimmers about adding pepper so I'll definitely do this next time. At break time I tried the new Soo Yummy Strawberry Bar, which was just that and at lunch time, I devoured a Chocolate Shake, which is quickly becoming a favourite and I finished the day off with Spicy Noodle Nosh.
I started this plan initially for one week to see how I would cope. Guess what? I have ordered my supplies for next week. I think that shows just how easy this diet is!
DAY 4
I had a bit of a yucky stomach this morning, plus the fact that I slept in and missed my bus to work wasn't a very good start to the day. I had no Shakes left, so it was a very rushed Omelette for breakfast (made even better with the addition of pepper). At teatime I enjoyed a Bar (which I now look forward to everyday) and decided on Chicken Soup for lunch. This was the first time I had the soup and I really enjoyed it. Slightly hungry at 4pm but this quickly passed and was satisfied with Cottage Pie for dinner.
I have been on Secret Slimmers quite a bit today, and I amazed at some people's stories and photos. A lot of talk about Mr. K. arriving, and I think he has landed. No headache and more energetic this evening which is great!
I have tried to "diet" in the past, and I felt hungry and missed and craved food all the time. This time it's so different. I cooked dinner this evening for my husband and I wasn't even tempted to steal a bit. At work we all have lunch together, and I haven't any problems joining them. I'm heading out tonight with some friends, and will be drinking water. I don't really mind, but in the past I would have avoided the temptation and not gone at all. Basically what I'm trying to say is, I honestly don't find this plan difficult and I'm really looking forward to Monday's weigh in.
DAY 5
Up early this morning after another good night's sleep. I had Pancakes for breakfast, which I really enjoyed, as I wasn't rushing to work. I headed to the hairdressers, armed with my bottle of water and Bar. Feeling very chirpy. Went shopping for bits and pieces for my newly decorated kitchen, and walked swiftly past all the food aisles. Home for lunch and had Vegetable Soup which was really nice and creamy. I always find between 4 and 5 o'clock a difficult time, and today was the same. I'm really enjoying the Omelettes so just about to prepare this for dinner now. Really looking forward to a wee treat this evening – the second half of my delicious Raspberry Wafer! So good that it feels like a proper treat!
DAY 6
Hectic day today. Decorators finished so had to clean and tidy all the house. Breakfast was a Chocolate Shake, Bar & water at "tea break", Chicken Soup for lunch and Spicy Noodle Nosh for dinner. I drank loads and loads of water with my dinner, but I think I may not have made my quota of 3 litres today. My treat tonight was my first cup of tea in the week and a bag of Crisps. I had a sneaky wee bite of Wafer after my dinner because I craved something sweet, so to make up for it, I didn't eat the full bag of crisps. 
I really did find it hard this evening. The first weekend must be the hardest, and as usual I was hungry between 4 and 5 o'clock. I've been on Facebook a lot today and got inspiration from the before and after photos. They were all amazing. I hope it won't be too long before I have the nerve to post mine. 
DAY 7
First weekend done on The New You Plan. Sunday is always a day associated with food for me. I have to admit I found it hard, but I managed. Shake for breakfast, Chocolate Cookie Bar late morning, Omelette for dinner, and Pancakes for supper. I managed to drink the 3 litres of water, so no headaches.
Looking forward to my weigh in tomorrow!
IN SUMMARY: 5.5lb weight loss! WOOHOO!
My first week on The New You Plan is now complete and I have lost 5.5 lbs. I am very pleased with this loss, particularly as I have health issues which effect my weight. This is the first time in years that I have achieved such a big loss in the first week of a diet.
How did I find it?
I can truthfully say the plan was a lot easier than I expected. The convenience of having all the food to hand is so much easier than working on a calorie controlled diet, when you're constantly thinking about food, how much you can eat, even to the extreme of having to weigh portion sizes. All is done for you, so all I had to do, was choose 4 different products every day. For someone who is out to work every day it's great. Once again all I had to do was take 2 products in my handbag and the Shaker Bottle, so no real planning required. The only downside for me, but not everybody,  were the savoury meal products. I admit I'm a very fussy eater so this isn't a fault of the plan. I joined the Secret Slimmers Facebook page, which is a great community to be involved with, and the majority of the people chatting loved these meals.
How do I feel?
Mentally I feel great and I feel slimmer and my clothes feel looser. I'm really chuffed that I did the first week 100% and despite  the fact that I was only going to do it for one week initially, I am preparing myself to do another week. Physically, it really was not hard. At times, yes, I did feel hungry, but it passed. 
Favourite meals
I really liked the Pancakes, Omelette, Vegetable and Chicken Soup, all the Shakes and Bars, and off course the snacks (particularly the Raspberry Wafer).
My motivation
My big motivation, was looking online at fashion – especially for holiday clothes. The two people who supported me the most were my lovely daughter Aideen, who didn't nag or dictate, just willed me on every day. The other one is my husband who really was so good and encouraged me every day. Finally, the Secret Slimmers group is amazing. The inspiration from everyone has been a fantastic help.
A big big thank you to everyone from The New You Plan. Each and everyone of you is brilliant.
Lots of love, Paula
**My Journey Update**
This week 1 blog post was written back in September & I am delighted to let you all know that I am now at my target weight. I came off the plan twice for refeed – once for going on holidays and secondly for Christmas. I found maintaining my weight during refeed was a breeze. In fact, I actually lost weight both times.
I am so happy that despite ongoing health problems and limited mobility and I lost a fantastic 3 stone. It was amazing seeing the figures going down on the scales each week and I feel so confident now! I will continue to use The New You Plan's meals & snacks to stick to my target weight.
A massive thank-you to the team at New You for helping me on my journey!
Get Started TODAY!
If, like Paula, you have tried other diets in the past and didn't succeed, get started today with the weight loss plan that actually works! Lose weight safely and rapidly, without experiencing hunger with The New You Plan.