Before & Afters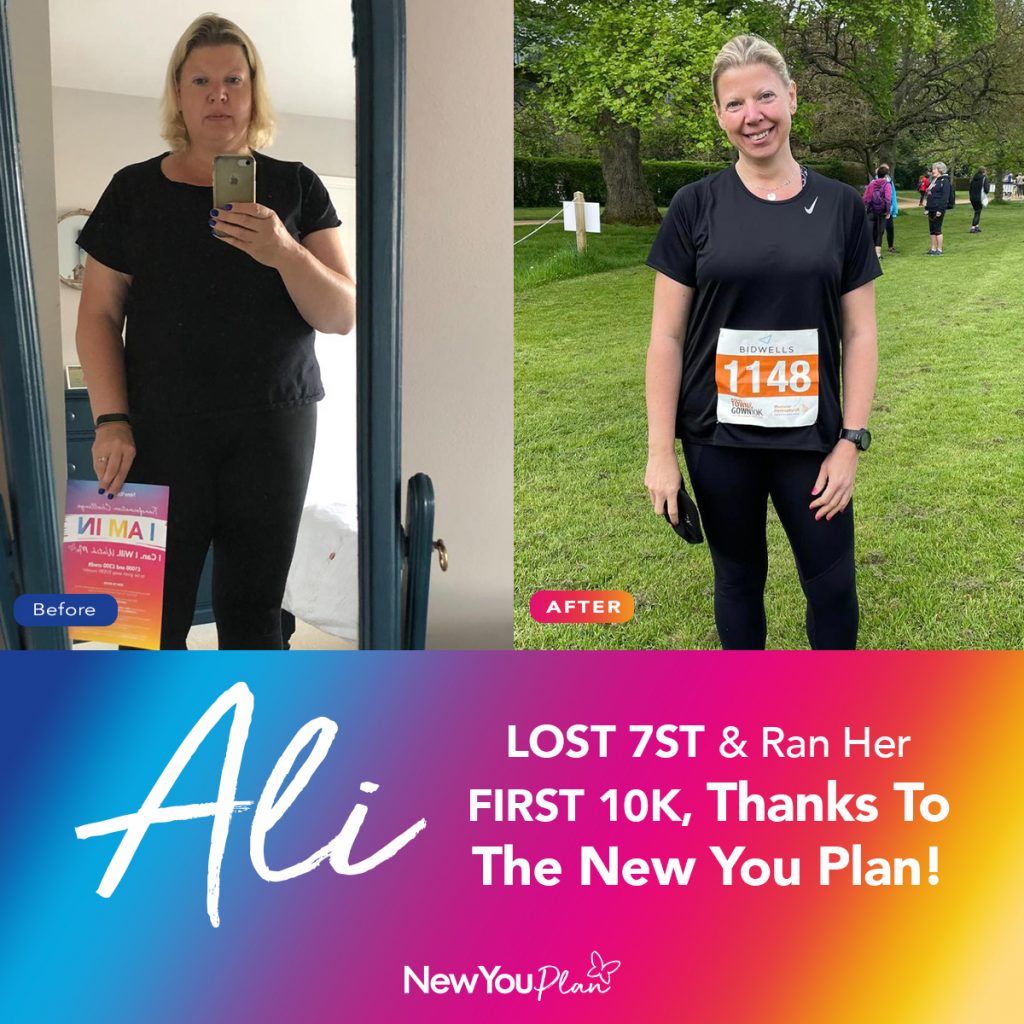 Ali Lost 7 Stone & Ran Her First 10K, Thanks To The New You Plan!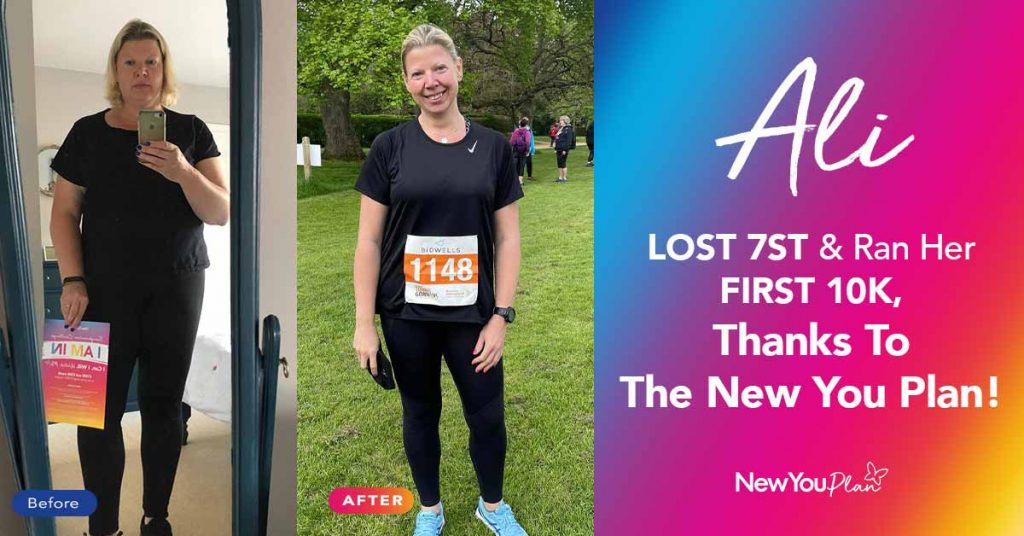 Ali lost a MASSIVE 7 stone on plan, which motivated her to run her first 10k! Here, she shares the amazing benefits The New You Plan has had on her health, why it will always be a part of her life, and words of encouragement for anyone thinking of starting it.
You will read about Non-Scale Victories (NSV) associated with the New You Plan and I wanted to take this time to share some of mine and to try and convey the importance and fantastic impact these can have on us. We often just focus on the numbers on the scales, and the numbers on our clothes labels but it is what these can then lead to that makes the difference, and has been life-changing for so many, including me!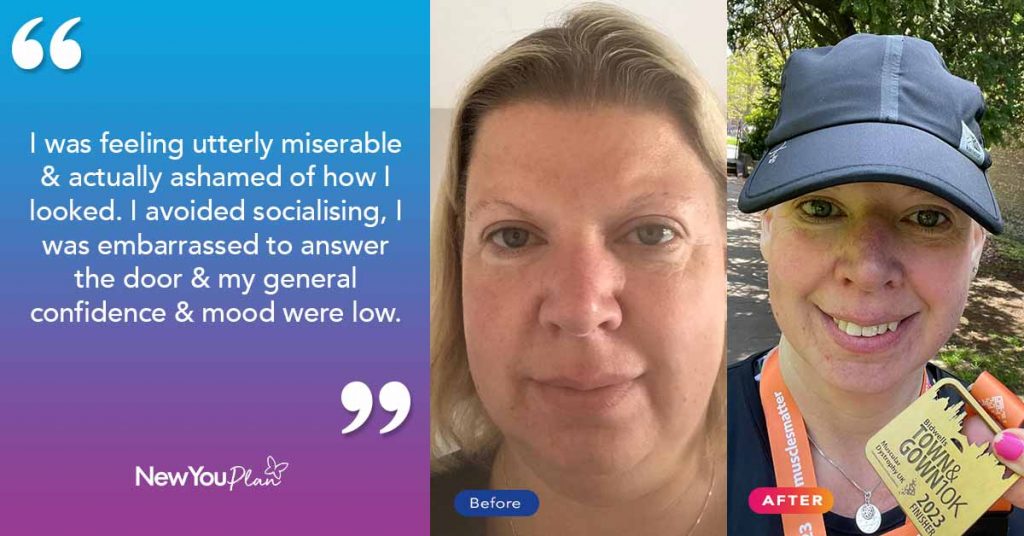 I started The New You Plan at the end of August 2021. I was feeling utterly miserable and actually ashamed of how I looked. I was at the point where I avoided socialising, I was embarrassed to answer the door and my general confidence and mood were low. I had looked at very low calorie diet (VLCD) options over the years and always thought they were too extreme, and, often too expensive for me to consider. However, I had reached a breaking point and thankfully, I came across The New You Plan online and just bit the bullet, placed an order, and marked the start date on our calendar. I talked it through with my husband and my son and they understood it is what I wanted and were brilliantly supportive from the outset.
Now, I need to share that I am ridiculously competitive and stubborn! So, if I say I am going to do something, then I do it. It was immediately clear that along with my stubborn streak, the instant reward of quick and regular losses was going to keep me on track. I set out to do 12 weeks TFR, re-feed over Christmas, and then another 12 weeks TFR to achieve a 7 stone loss. I loved editing the weight loss chart each Monday morning and then sharing that with the fantastic Secret Slimmers Facebook group. Not only was I seeing the changes in the numbers, but I knew I had the support and encouragement from the group and from my family and friends. As the numbers went down, the NSVs went up…to name a few:
Increased confidence
Increased space in wardrobe from getting rid of clothes that were now too big!
Increased love of clothes shopping (decrease in bank balance!)
Improved health (the nurse did a double take when she weighed me)
Increased fitness and motivation to do more sport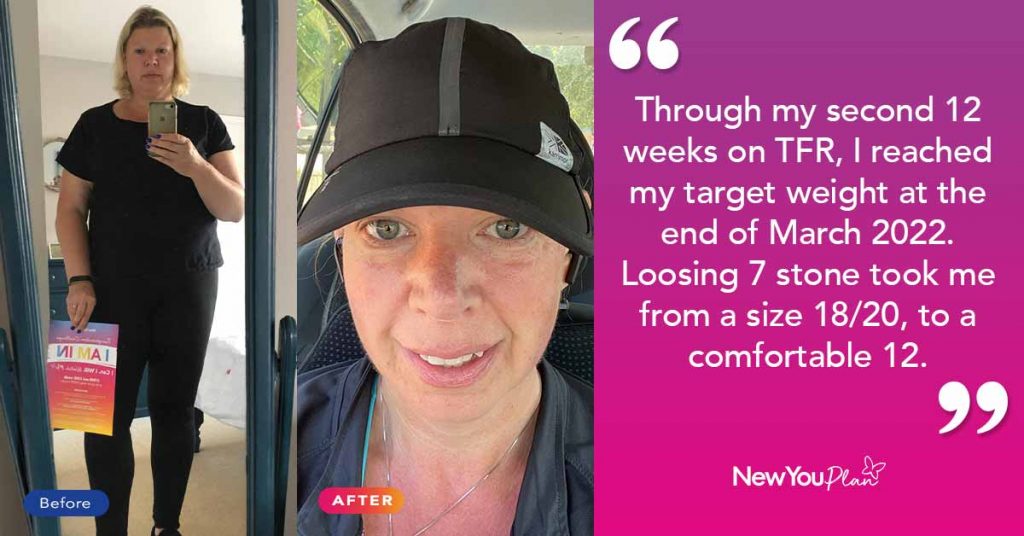 I have always enjoyed sport and had a treadmill, and prior to starting the plan I was running regularly. However, this was not consistent and lacked purpose. I therefore decided, after my first 12 weeks, having lost 3.5 stone, that I would train and build up to do my local 5K parkrun. This was a massive challenge, as exercising in public had become quite a dread. But, I wanted to push myself and set the date for my first one in February 2022 and, alongside a friend, I did it. I cannot describe the joy I got. It marked how far I had come with my weight loss and my fitness. Through my second 12 weeks on TFR, I reached my target weight at the end of March 2022. Loosing 7 stone took me from a size 18/20, to a comfortable 12.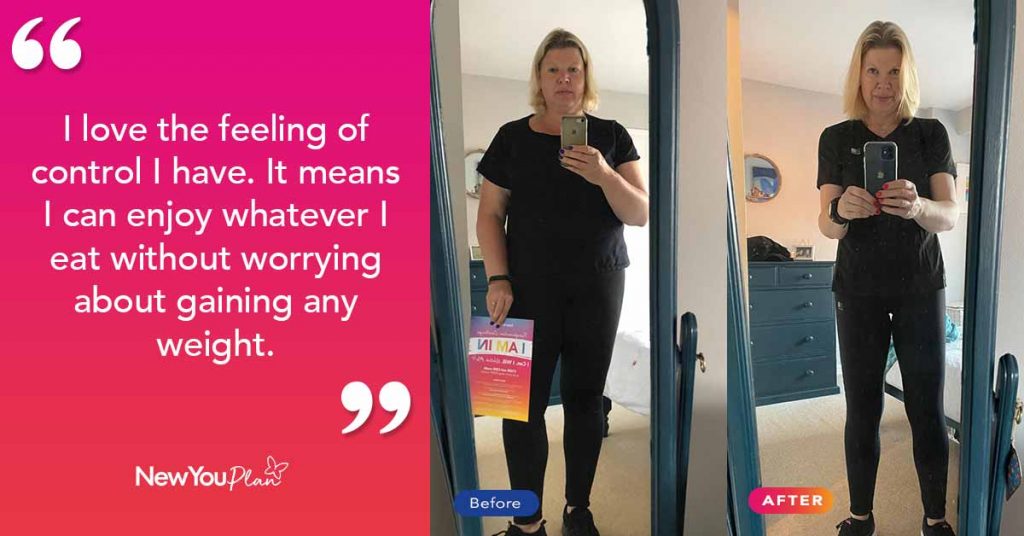 I have been maintaining that loss for over a year now, which I have done through the Switch version of the plan. I tend to do TFR Monday-Thursday and then nourish and occasion days Friday-Sunday. This works really well for me. I love the feeling of control I have. It means I can enjoy whatever I eat without worrying about gaining any weight. I think we all fear putting the weight back on, but by keeping the plan in my life, I know I can maintain.
This last Christmas, I decided I needed another challenge and so I began to train for a 10K. I have always lived and worked near Oxford and so I signed up for the Oxford 10K Town and Gown on 14th May.
I was nervous that I wouldn't manage this distance, but that stubborn and competitive streak kicked in. I enjoyed the process of building up distances and the pleasure of pushing myself and achieving new things. It gave me a focus and meant that I was motivated to exercise, even if I was tired and worn out after work.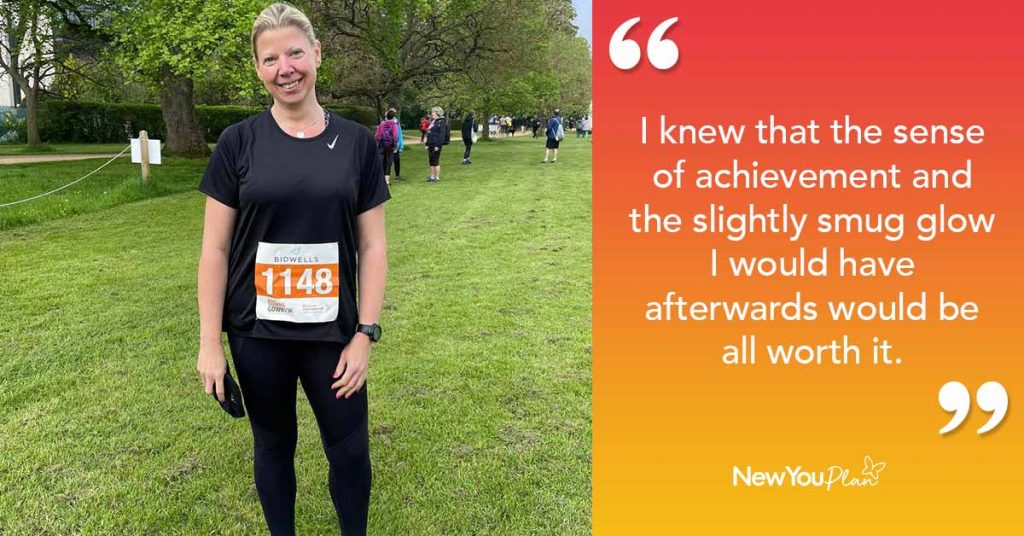 I must admit that the thought of being amongst 6000 runners was daunting, however, I knew that the sense of achievement and the slightly smug glow I would have afterwards would be all worth it. I was right. It was a lovely sunny and warm day and the buzz in the air was fab. There was such a supportive atmosphere, with everyone in it together. As we all made our way to the start the nerves were building but as soon as we set off and I got into the running, I absolutely loved it. Crossing the line and having my husband cheer me on was amazing. I have to admit I wore my medal for the rest of the day (and possibly the next too!).
I am already signed up for another 10K in October, as you really can't put a price on that buzz and sense of achievement. It means I have added motivation to keep up the good work, both with exercise, and with the plan.
For anyone at that point where they want to make a change but are nervous or unsure, all I can say is "do it". You won't look back. The plan works. You just need to remind yourself why you are doing it and then reap the rewards that come with those weekly losses. I am not aware of any other plan that offers the same support alongside the incredible results.
Thank you New You.
What Is Your Weight Holding You Back From Doing?
Ali is enjoying a newfound sense of freedom, thanks to her amazing weight loss with The New You Plan.
Whether you want to lose half a stone or 10 stone, have a slimmer figure, run a 10k or are just looking to get maximum nutrition in minimum time, then New You can make the perfect partner to get you to where you want to be.
Not sure? Try our 7-day bundle and see what you can achieve in a week. You'll be pleasantly surprised…
Want to get involved in our 2023 Transformation Challenge?

This year, we are on a mission to help as many men and women reach their goals for good. In 2023, you really could lose weight, win cash and diet for FREE, thanks to our MASSIVE £75K giveaway.
Get all the details in this dedicated blog post here.