Before & Afters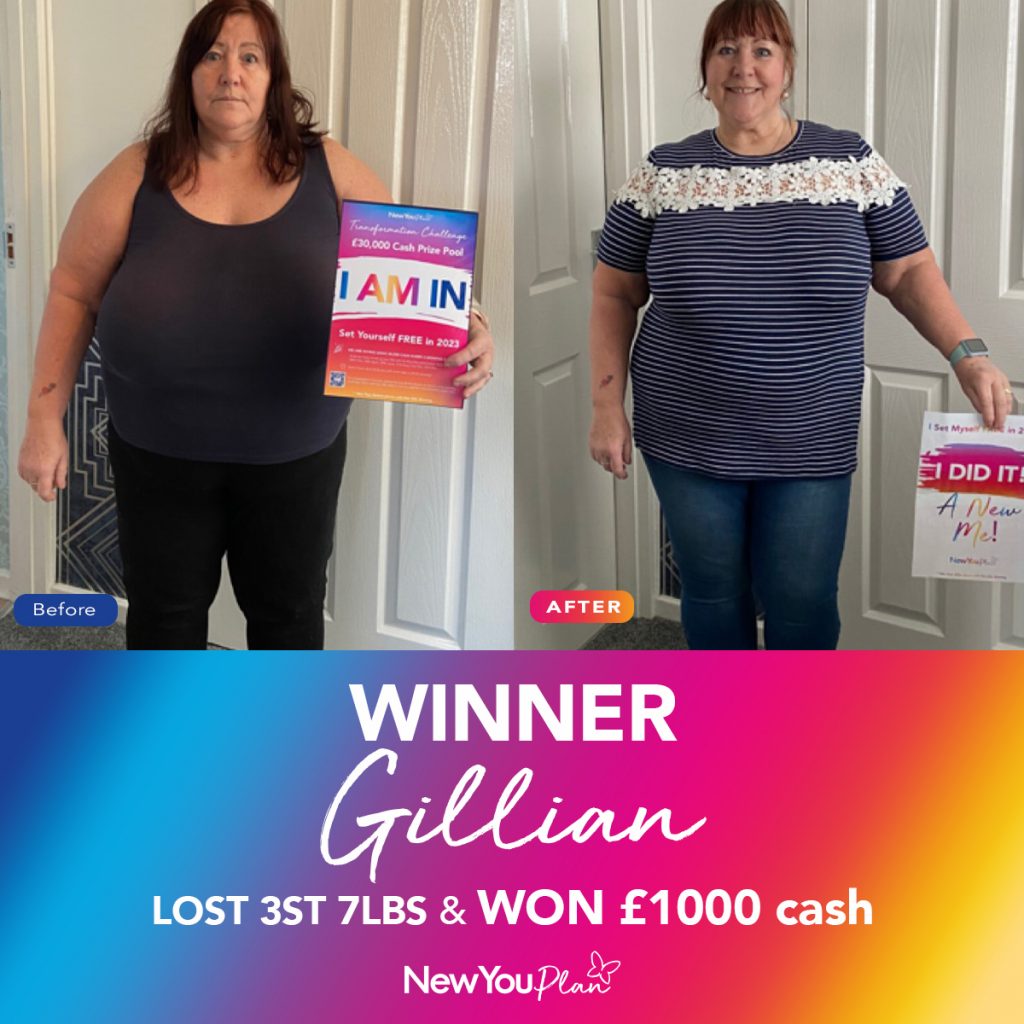 WINNER: Gillian Lost 3st 7lbs & WON £1000 Cash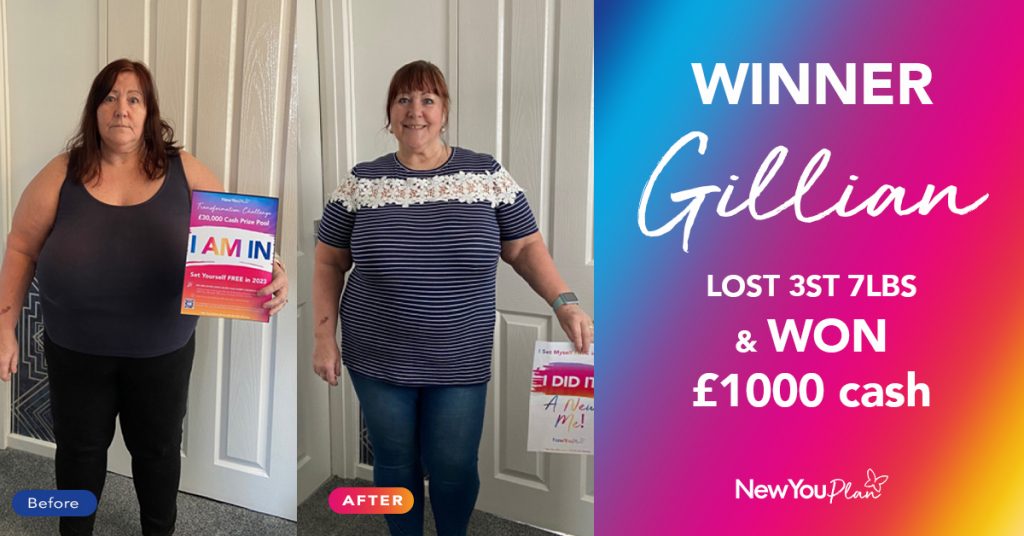 Customer Gillian has set herself a BIG target and she is already killing it! So far, she has lost 3st 7lbs, has already seen massive changes to her health & she WON £1000 cash in our Transformation Challenge!
WELL DONE GILLIAN!
New You: What was your biggest motivator for joining the challenge?
Gillian: I wanted an incentive to help me stick to the plan. I found the challenge really kept me focused and on track. My goal was to lose two stone in eight weeks, and I achieved that so it definitely worked.
New You: So tell us, how much weight have you lost?
Gillian: I've lost 3st 7lbs in 17 weeks. I'm delighted!
New You: We'd love to know how you heard about the plan!
Gillian: I'd seen people posting about it on Facebook and Instagram. I had tried other diets before and failed. The plan sounded different than anything else so I thought I would give it a try.
Getting Started…
New You: What led to you starting the plan?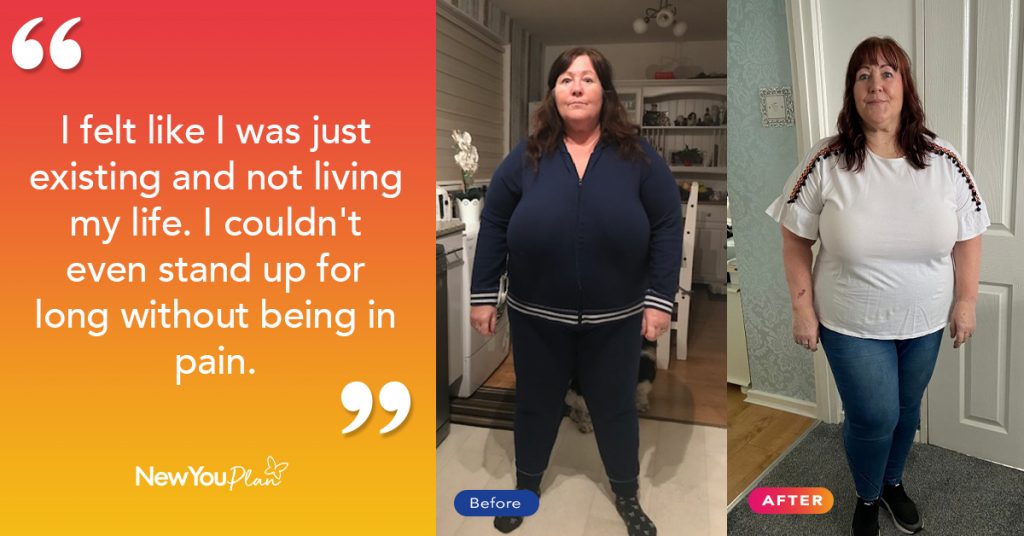 Gillian: I felt like I was just existing and not living my life. I couldn't even stand up for long without being in pain, which meant that I had to do simple tasks such as ironing sitting down. I just felt worthless. I have fibromyalgia and arthritis in all my joints, and I couldn't go out to places I enjoy.
New You: And tell us about that first week…
Gillian: I actually found the first week easy – I think it was because I was so determined to do it.
New You: What does a typical day on plan look like?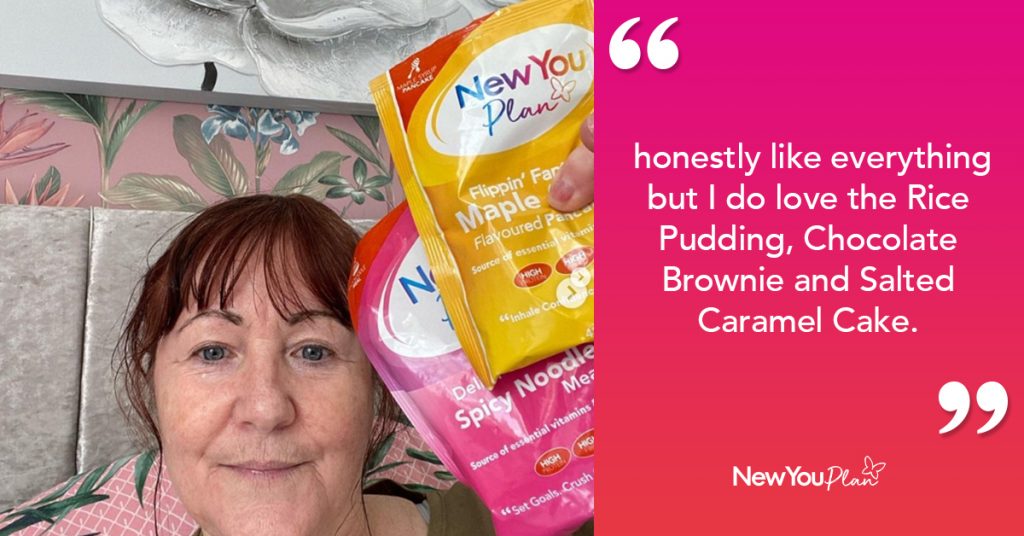 Gillian: I honestly like everything but I do love the Rice Pudding, Chocolate Brownie and Salted Caramel Cake. My favourite snacks have to be the Bacon and Barbecue Crisps. They're a great way to satisfy any cravings without the guilt. I never feel like I'm missing out.
New You: Any tips on how you stayed on track?
Gillian: I joined the Secret Slimmers group on Facebook. Seeing how much weight others have lost and how their lives have changed has been a massive inspiration. I also love the daily challenges in the group.
Life changing…
New You: What difference has the plan made to your life?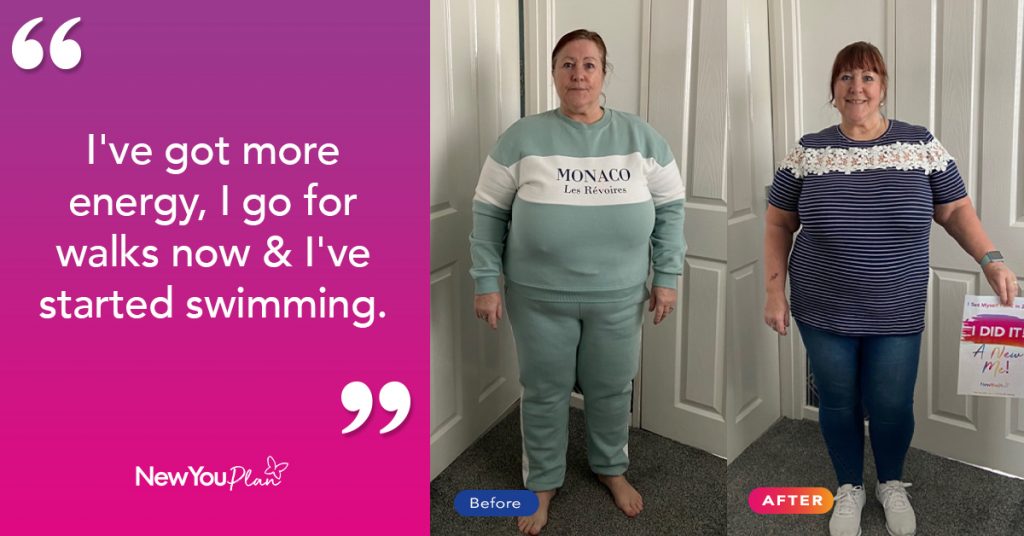 Gillian: I've got more energy. I go for walks now. I've started swimming, and I'm starting to get into some of my smaller clothes, which is great because the only thing I was wearing was leggings. Swimming is definitely a brilliant one, especially when you've got arthritis as well. It takes the pressure off all your joints so I'm delighted to be able to do this now. I can climb the stairs without getting out of breath, I can bend down to put my shoes on and I don't snore as much either.
New You: What is the nicest compliment you have received since losing weight?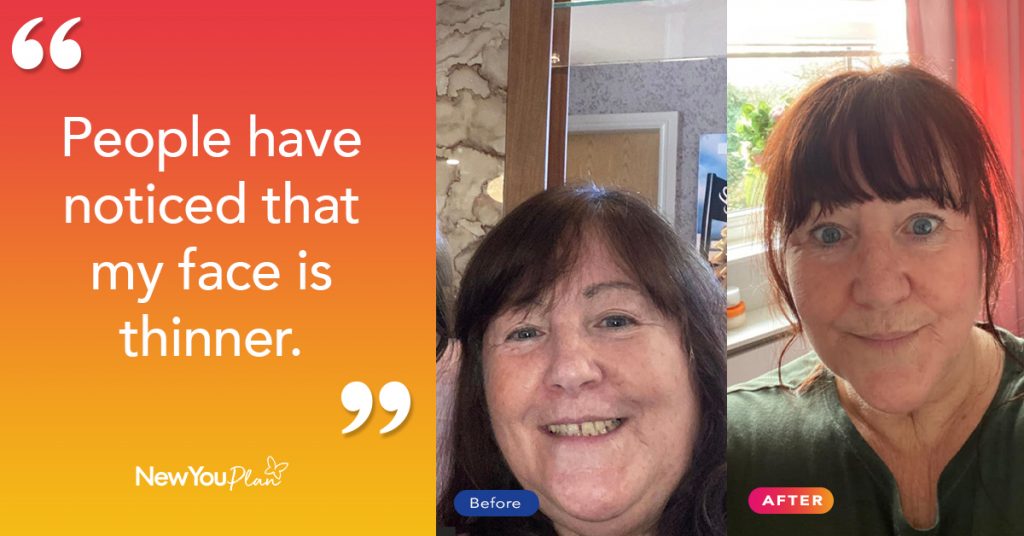 Gillian: People have noticed that my face is thinner and my double chin is disappearing. They've also said that I've got more confidence and that I'm smiling more.
New You: What would you say to someone thinking of starting the plan?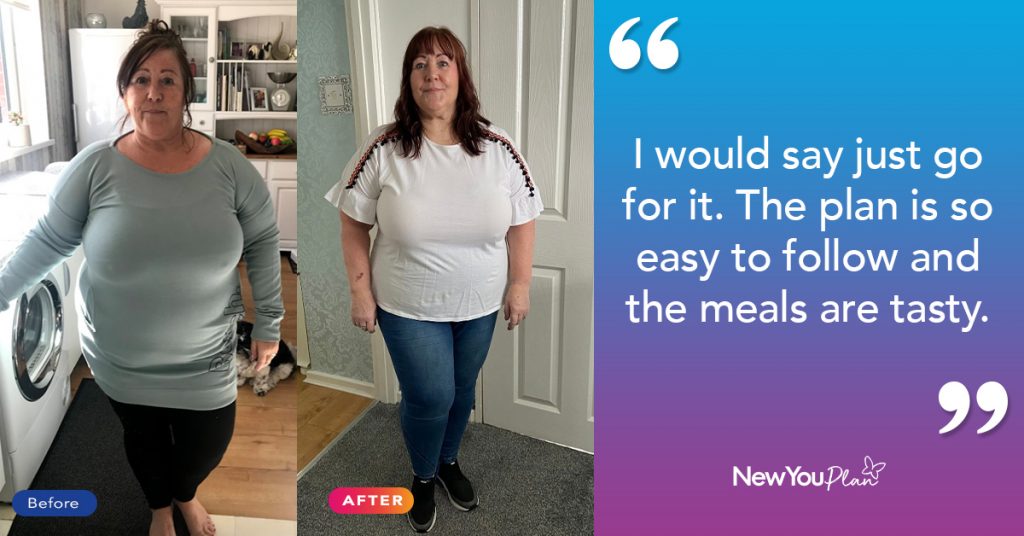 Gillian: I would say just go for it. The plan is so easy to follow and the meals are tasty. Also, definitely join Secret Slimmers because that really helps you to stay strong and focused.
New You: And then finally, what's next?
Gillian: I'm going to keep doing what I'm doing and lose seven stone. I would love to be able to get into my dresses for summer.
Want to join Gillian?
Gillian is proof that you can lose weight and change your health for the better!
Whether you want to lose half a stone or 10 stone, have a slimmer figure, or are just looking to get maximum nutrition in minimum time, then New You can make the perfect partner to get you to where you want to be.
Not sure? Try our 7-day bundle and see what you can achieve in a week. You'll be pleasantly surprised…
Want to get involved in our 2023 Transformation Challenge?

Gillian won £1000 cash and you could win too! This year, we are on a mission to help as many men and women reach their goals for good. In 2023, you really could lose weight, win cash and diet for FREE, thanks to our MASSIVE £75K giveaway.
Get all the details in this dedicated blog post here.