Week 36 of her New You Plan journey, Hele-Kai extended her little break from TFR and shares how she has been maintaining her weight loss before getting back on plan.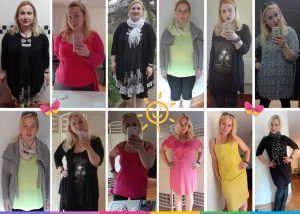 One more week has passed. It seems like time is flying when I'm doing these videos. However, at the same time when I struggle with my diet, it seems that every minute is an hour long.
I have a confession to make… I didn't go straight back on plan as I intended last week. I decided to enjoy the Halloween holidays with my children and friends. It was a decision that I had to make and in the end, I was happy with it.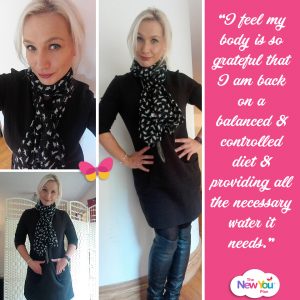 But I am back now 100% on plan and could't feel happier. One of the reasons is that I feel my body is so grateful that I am back on a balanced and controlled diet and providing all the necessary water it needs. It took me just a couple of days to feel so much better already. So many things can make us feel heavier, bloated and generally make us feel bad about ourselves. But now, going through the detox again, I feel so much better.
So I actually invite you all to listen to your body. If we leave all the guilt and other distractions aside, and listen to our body, then we realise that the moment you start with the diet, your body thanks you for that!
I have a new challenge coming this week – I am starting a new job. The main challenge is that I have been working from home this far, so being on a diet hasn't really been a problem for me. Planning my meals and time has been really easy.
But now I will have to face the situation where I can't really plan all my meals. I don't even know if the place I am going, has a microwave or a kettle, so fingers crossed now! And I will let you all know how I made it work, because I will – no matter what!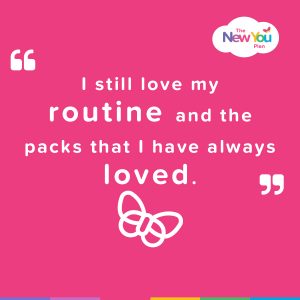 My meal plans haven't changed. I still love my routine and the packs that I have always loved. That is something that made me want to return to the plan quicker as well – the security, the trust in the plan and the system that I have created for myself.
So yes, I have loads to face this week, including the scales! I hope I haven't gained too much but we'll see. In a week's time I will let you know all about it!
Have a great week  and don't forget to sip your water and enjoy your packs!
Until next week!!

_____________________________________________________________________
Get started on the BEST TFR Plan TODAY!

Getting started is the first step in your journey to a brand New You! To help you understand fully how our plan works, our Get Started page with designed specifically for people new to the plan.
Head over to our site where you'll find tonnes of important information including how our plan works, the science behind it, loads of top tips, information on our meals, as well as real customer testimonials.
Click here to visit our Get Started page!
*Everyone is different, and we can't guarantee how much weight you will lose.  Check out our success stories to see what our customers have lost. 
Tags:
before and after
,
customer interview
,
Hele-Kai
,
tfr
,
TFR tips
,
weight loss maintenance
,
weight loss tips