Paul's Life Changing 2st 8lb Transformation!

Ahead of his 35th wedding anniversary, and with a celebratory holiday coming up, customer Paul committed 8 weeks to doing something about his weight. During this time, he lost a total of 2st 8lbs, looks like a completely different person and had to buy a whole new wardrobe. But what's more than this, he no longer feels unfit when playing with his grandchildren. Here is his story…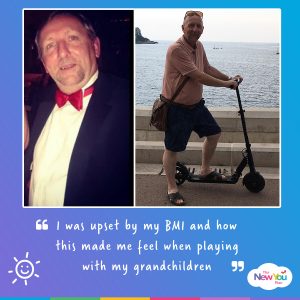 Paul, describe how you felt before you started the plan?
I was upset by my BMI and how this made me feel when playing with my grandchildren. More importantly, I was having trouble with pain in my knees which I suspected was due to my weight as I had previously been much fitter with never any knee problems.
How did you discover The New You Plan?
I was reviewing the available total food replacement diets and came across The New You Plan. I began by purchasing a starter bundle in order to see how I got on with it. Once I got into the plan and began re-planning my eating habits I went on to purchase additional New Your products as I could quickly see the impact that following the plan was having.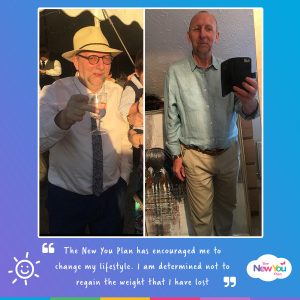 How has the plan changed your life?
The New You Plan has encouraged me to change my lifestyle. I am determined not to regain the weight that I have lost. This includes having just taken out a 12-month subscription at my local authority pool and gym. I plan to swim at least 3 times a week and to make use of the gym facilities. I feel healthier and also plan to continue to think more about what I eat throughout the day.
Following my weight loss, I had to buy a whole new wardrobe ahead of my holiday as I had gone from a 38 inch waist down to just below 34 inches. Also, I had previously never bought anything other than straight or bootcut trousers on the generous side. Now, I actually purchased straight and a few pairs of skinny trousers.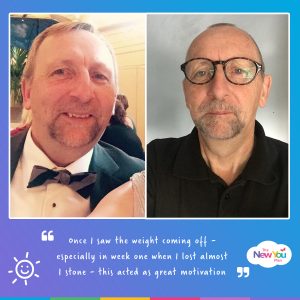 What was your biggest motivator in staying on track?
Once I saw the weight coming off, especially in week one when I lost almost 1 stone, this acted as great motivation. After week one, my knees became largely pain free and this also convinced me to press on with the New You Plan.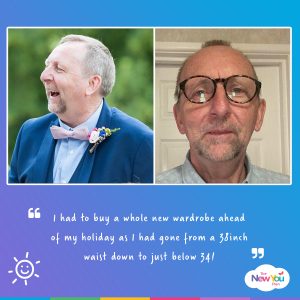 What's your biggest non-scale victory?
I no longer have the excess fat around my middle and have a much flatter stomach as a result. This makes it less embarrassing to venture onto the beach in swimming trunks.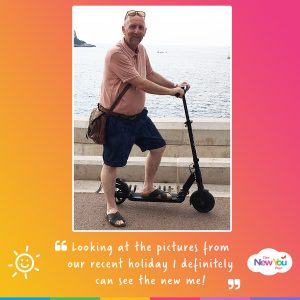 Since losing weight, what is your happiest memory / proudest moment?
Looking at the pictures from our recent holiday I definitely can see the new me… I used to shy away from having my photograph taken due to embarrassment about my middle age spread! This is no longer the case.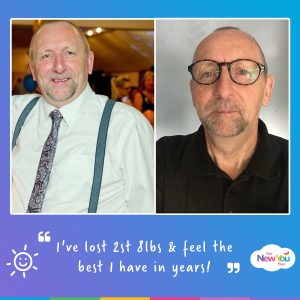 What is the nicest compliment you've received since losing weight.
Our neighbour made a point of coming up to me 2 weeks ago and asked if I have lost weight. She went on to say how well I looked.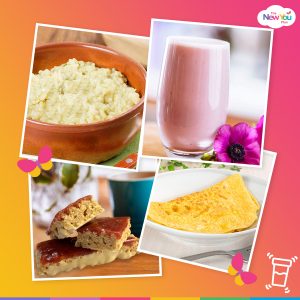 What are your favourite New You meals and snacks?
My favourite meals are the Vegetable Risotto and the Omelette. I also enjoy the shakes and the Strawberry Bar very much.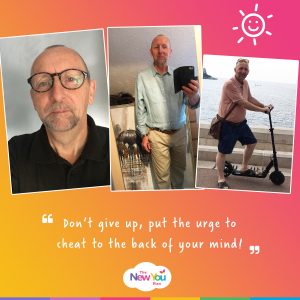 What advice would you offer anyone thinking of starting the plan?
Don't give up, put the urge to cheat to the back of your mind! Once you enter ketosis it will get easier. Pick a time of day to check your weight and check this every day, making a note of any weight gains or loses.
________________________________________________________________________________________________
Start Your TFR Journey Today!


Getting started is the first step in your journey to a brand New You! To help you understand fully how our plan works, our Get Started page with designed specifically for people new to the plan.
Head over to our site where you'll find tonnes of important information including how our plan works, the science behind it, loads of top tips, information on our meals, as well as real customer testimonials.
Click here to visit our Get Started page!