Before & Afters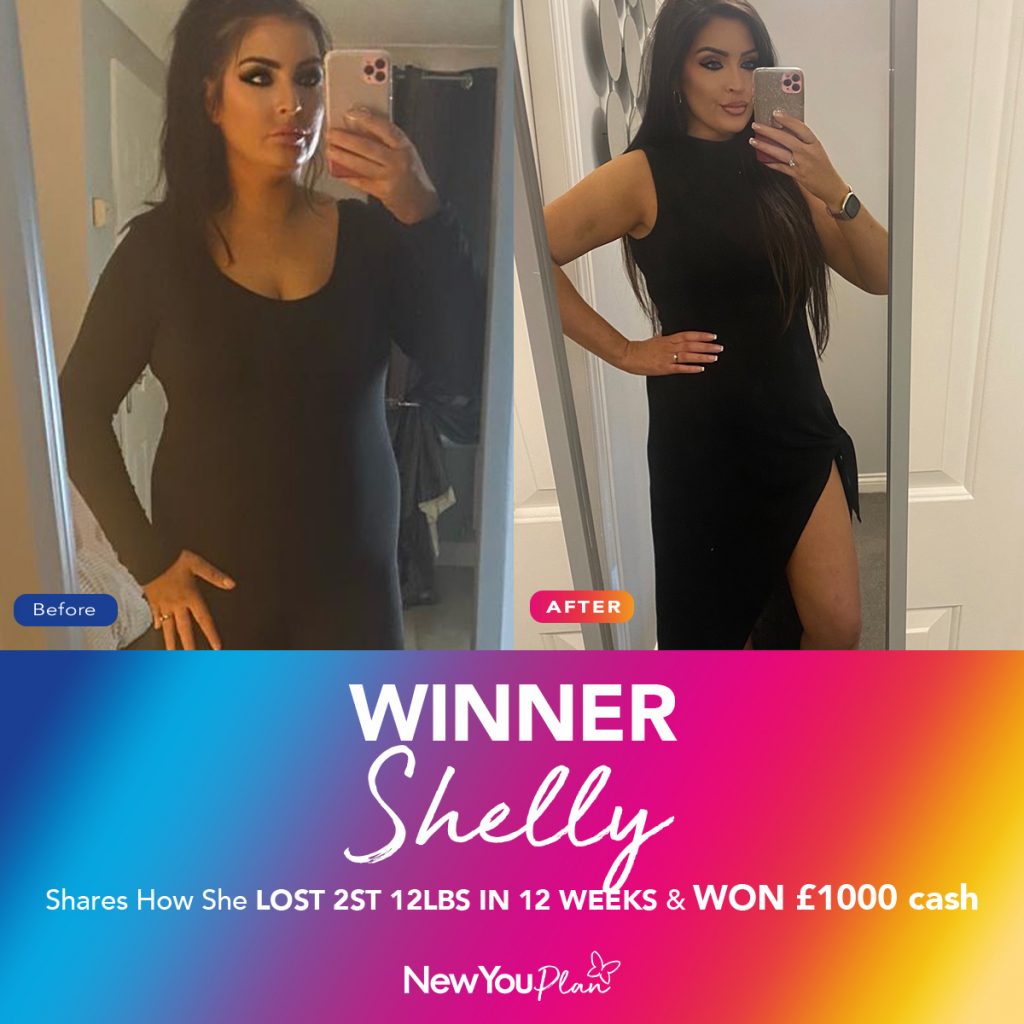 WINNER: Shelly Shares How She Lost 2st 12lbs in 12 Weeks & WON £1000 Cash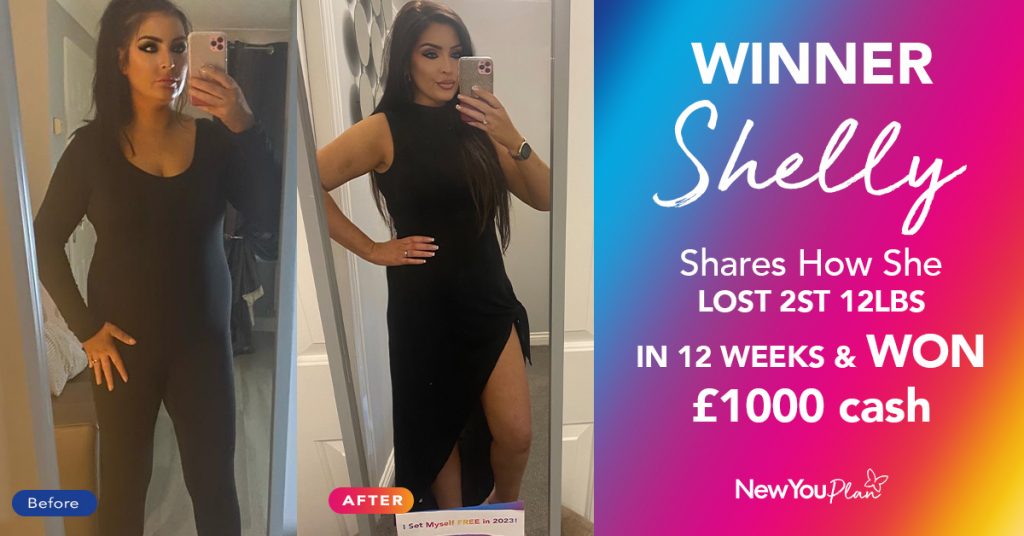 Shelly joined our challenge for no other reason than to make herself accountable. She didn't think she would win £1000 cash! Here, she shares how she lost 2st 12lbs, her BMI is now normal and she no longer needs anxiety medication.
A MASSIVE congratulations, Shelly!
New You: What was your biggest motivator for joining the challenge?
Shelly: It was a competition for myself and to keep myself accountable. I never had any intention of actually winning or anything. It entered purely because I wanted to. If I took my before photos and I've said that I'm going to do it and I've told people that I was going to enter and I was trying to lose this weight, I had to stick to it. I didn't want to be 12 weeks down the line and at square one, or even worse. It was purely a competition with myself.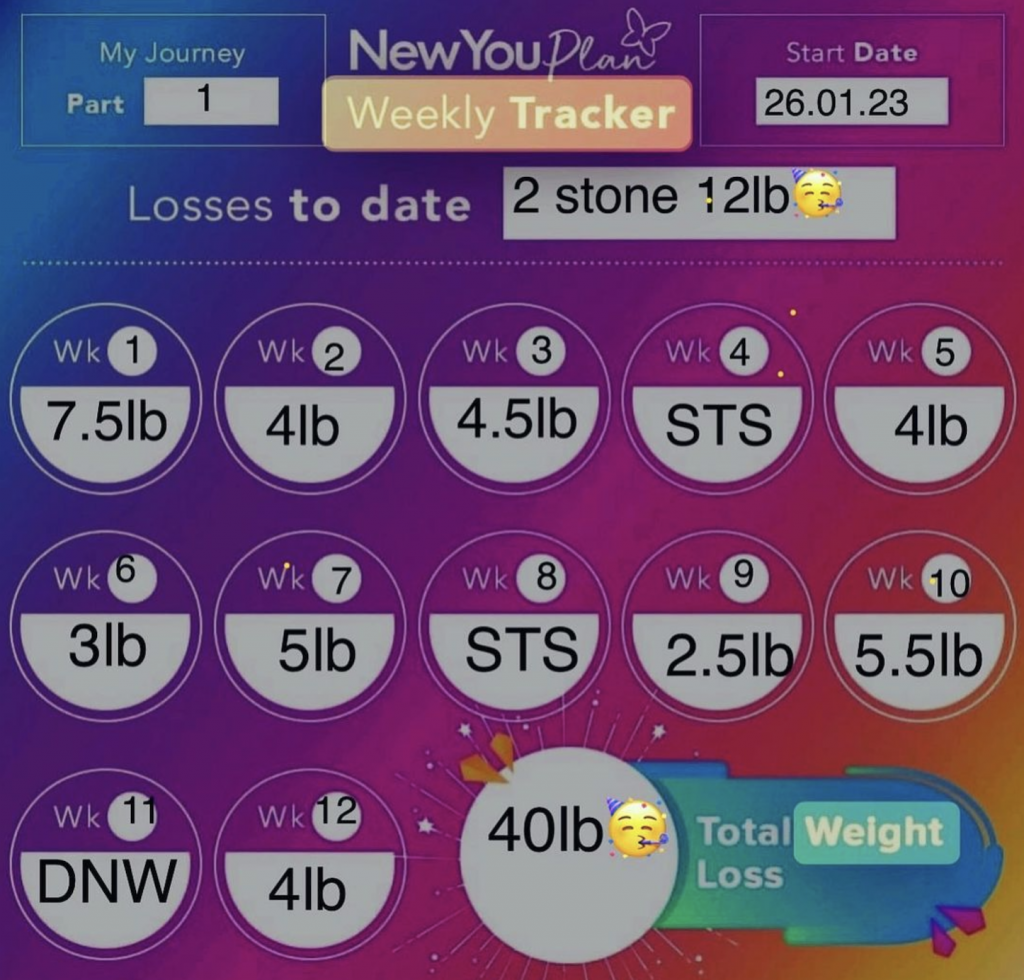 New You: So tell us, how much weight have you lost?
Shelly: So in 12 weeks, I lost 2st 12lbs. I started at 14 stone, and I ended up eleven stone two, and I'm five foot eight. My BMI was 29.7 and it was very close to the obese range and now I'm back into the healthy range.
New You: We'd love to know how you heard about the plan!
Shelly: I came across the plan on social media. I had dieted in the past and when I saw the plan, I began looking into it. I checked out the product range, read people's stories and I just thought, I want to give it a go.
The great product range was one of the big things for me. I liked the idea of a support page, and when I was reading other people's interviews, so many of them mentioned the support in Secret Slimmers. I liked that! And then when I saw the cash challenge, it won me over. I thought to myself, I'm going to enter, that. It made me determined to stick to the plan for 12 weeks. But it was more of a personal competition for me. It was a competition to prove to myself that I could do it and stick to it because I had become the heaviest that I've been for so long.
Getting Started…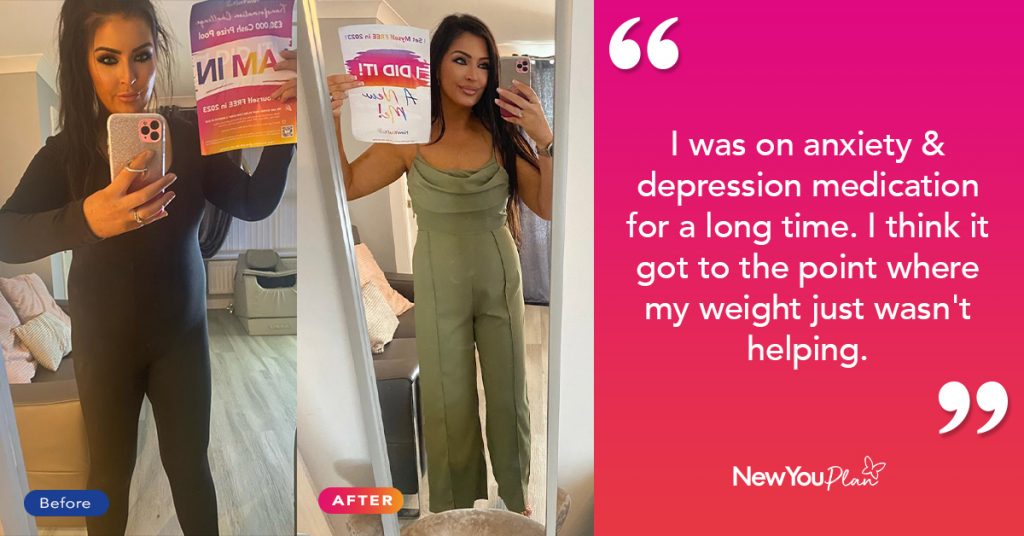 New You: What led to you starting the plan?
Shelly: I was on anxiety and depression medication for a long time, and I think it got to the point where my weight just wasn't helping. I didn't really want to go out. I was literally doing the school runs and then I'd come home. I didn't particularly want to see friends or anything, I was just trying to cover up and hide all the time. When I hit the scales and I saw I was 14 stone, which is actually what I weighed when I was nine months pregnant with my youngest son, I just thought enough is enough. I was making myself miserable. I had just got myself in a bit of a rut – it was a vicious cycle.
New You: And tell us about that first week…
Shelly: I knew a bit about the diet and so I joined the Facebook support group instantly, so if I had any queries, I was able to get them answered on there. I was aware that I could have my 4 products a day and about drinking plenty of water so I was fine on that side of things. The first day was okay – days 2-4 were my toughest, as I felt a bit hungry and tired. And then honestly, I woke up on day five with so much energy and I was bouncing and I couldn't believe that I felt like that. And then obviously I only had 2 days to go before my weigh in.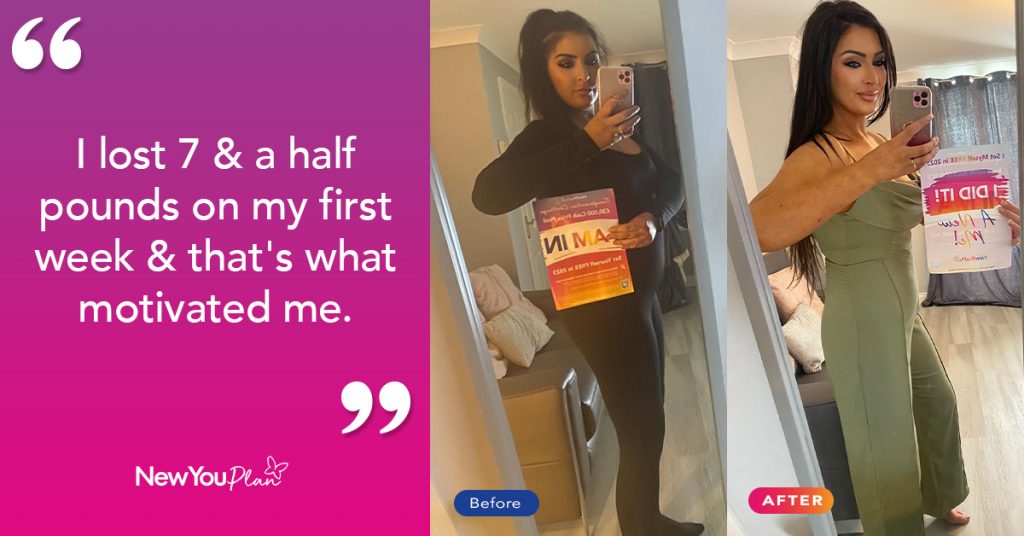 I lost 7 and a half pounds on my first week and that's what motivated me. I was already noticing the difference. With all the water that I was drinking, my skin already started to improve and I just couldn't believe the difference in that one week. I am completely off my anxiety medication now because I'm just feeling back to myself. I feel positive and happy!
New You: What does a typical day on plan look like?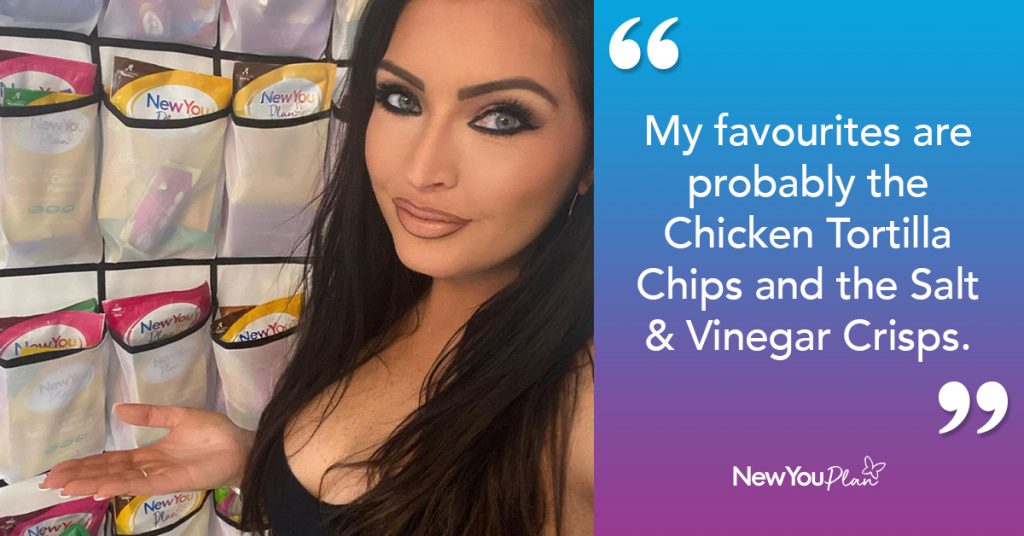 Shelly: You know what, I have had a snack every single day. People that don't have snacks take, I take my hat off to them because that is one of the things that made me stick to it. Knowing I could have a bag of crisps every day was massive for me. My favourites are probably the Chicken Tortilla Chips and the Salt & Vinegar Crisps. My favourite Shake is the Cafe Latte Shake with added coffee. For meals, the Mexican Tacos and Chocolate Brownie don't feel like they should be allowed on a diet plan!
New You: Any tips on how you stayed on track?
Shelly: I love my Wall Planner. That's definitely kept me on track. And I also started exercising, I joined the gym and after the first couple of weeks I started back into my jogging and I got a smart hula hoop thing. I was doing a minimum of 10,000 steps a day.
Life changing…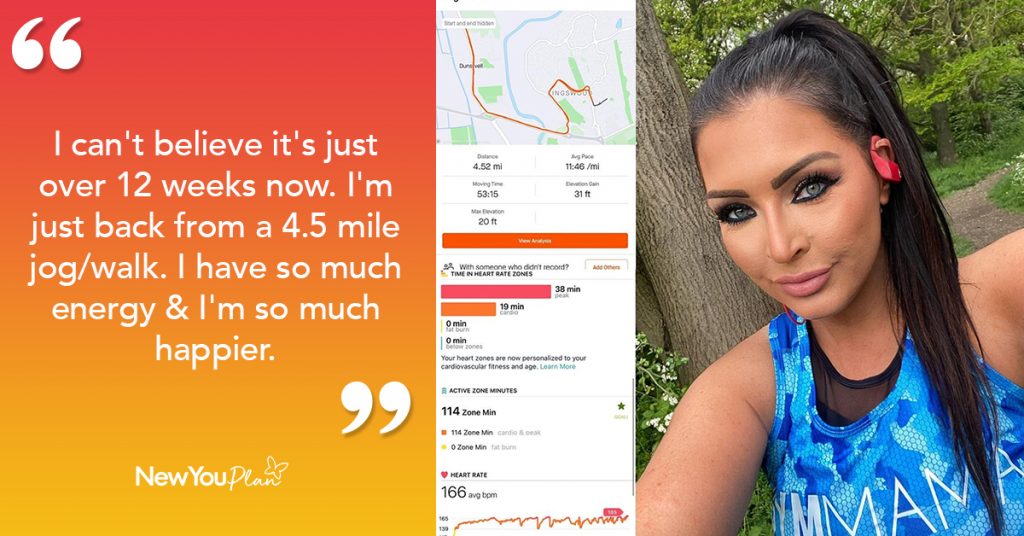 New You: What difference has the plan made to your life?
Shelly: It's completely changed it. I started feeling so low and my energy was low. I couldn't run up the stairs and I just did not feel myself. I am quite a positive, happy person by nature, but I just felt so down and so low and I can't believe it's just over 12 weeks now and I'm so happy. I'm just back from a four-and-a-half-mile jog/walk and I have so much energy and I'm so much happier. I mean, everybody has different stresses going on in their life and I am quite an emotional eater. I'd have a bad day and then I'd just think, "Oh, I'll have a glass of wine and something to eat". And then it would become a vicious circle. Whereas now I'm feeling so much happier and more positive that although there will be hard days, I can just deal with them better. I'm not relying on thinking I'll treat myself to a glass of wine to chill out at the end of the night.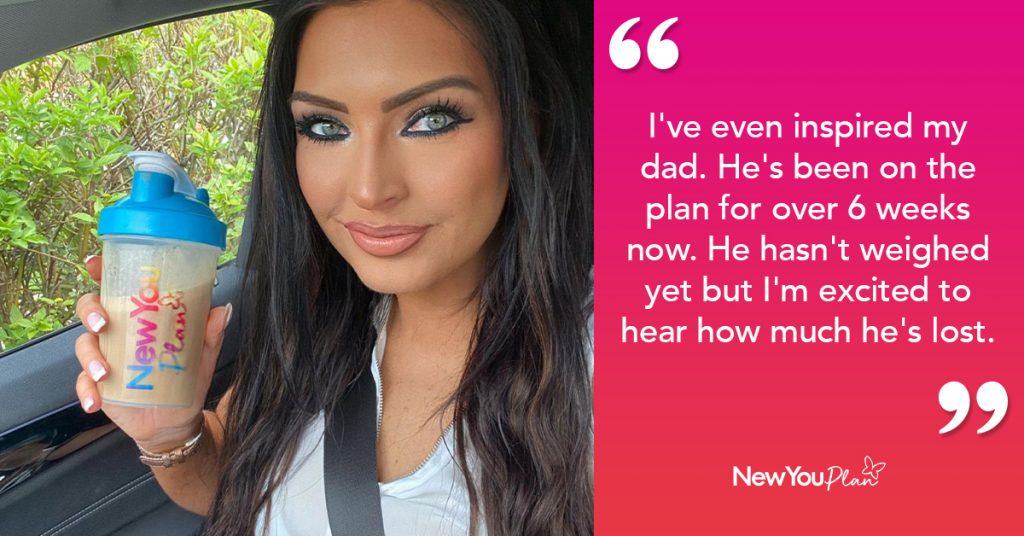 It's just completely changed my life so much. I've even inspired my dad. He's been on the plan for over 6 weeks now. He hasn't weighed yet but I'm excited to hear how much he's lost.
New You: What is the nicest compliment you have received since losing weight?
Shelly: When I go to my boys' school, some of the teachers have noticed and said I look brilliant. So that's been nice. I've had a few people just asking me what I've been doing and friends are always complimenting me. My mom's my biggest cheerleader. We text or call every day she's just been such a massive support for me. It's so nice to have somebody like that, though, to help keep you going. It really does help.
New You: What are you top tips for anyone thinking of starting the plan?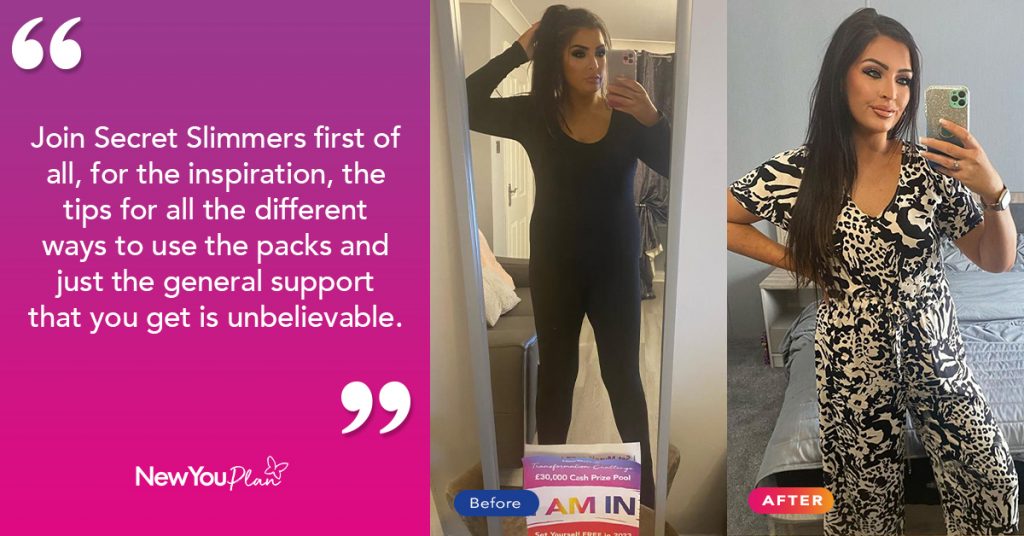 Shelly: I would tell them to join Secret Slimmers first of all, for the inspiration, the tips for all the different ways to use the packs and just the general support that you get is unbelievable. To know that the first week is often the toughest. It can be different for everybody, but it's once you get past that first few days, the feeling you get, that energy, it's just totally worth sticking to.
New You: And then finally, what's next? Do you have another goal set for yourself?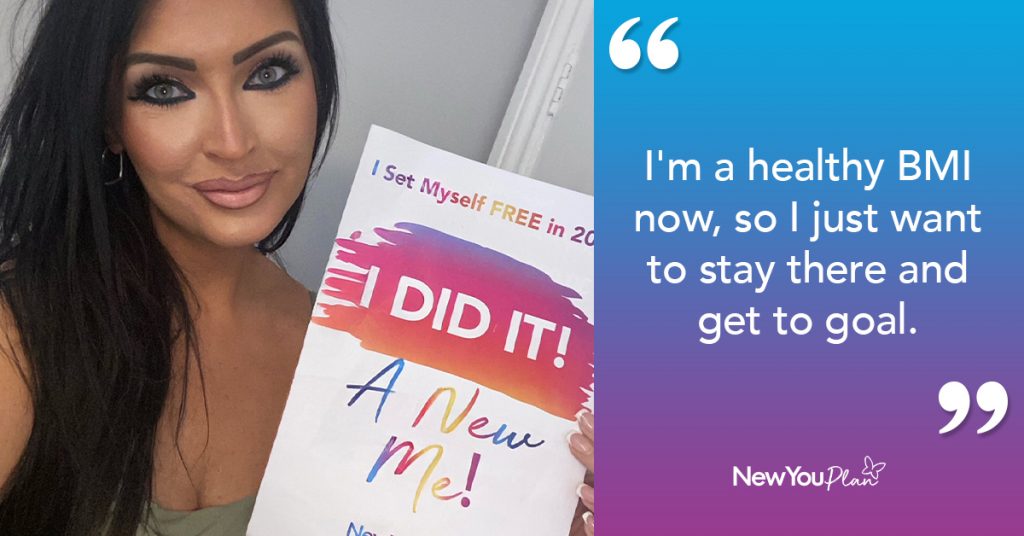 Shelly: I think I'd like to lose another stone. After half a stone, I might feel great, but I think I'm aiming to hopefully lose another stone. I'm a healthy BMI now, so I just want to stay there and get to goal. And then I will maintain with SWITCH, using the products and healthy meals because as I say, I really enjoy the meals. Those wafers… how are they allowed on plan? I've never been on a diet where you can eat Brownies. The snacks really do make all of the difference for people!
Want to join Shelly?
Shelly is proof that not only can you lose weight with our plan, but you can keep it off too!
Whether you want to lose half a stone or 10 stone, have a slimmer figure, or are just looking to get maximum nutrition in minimum time, then New You can make the perfect partner to get you to where you want to be.
Not sure? Try our 7-day bundle and see what you can achieve in a week. You'll be pleasantly surprised…
Want to get involved in our 2023 Transformation Challenge?

Shelly won £1000 cash and you could win too! This year, we are on a mission to help as many men and women reach their goals for good. In 2023, you really could lose weight, win cash and diet for FREE, thanks to our MASSIVE £75K giveaway.
Get all the details in this dedicated blog post here.