Before & Afters
WINNER: Becky Shares How She Lost 1st 12lbs in 6 Weeks & WON £1000 Cash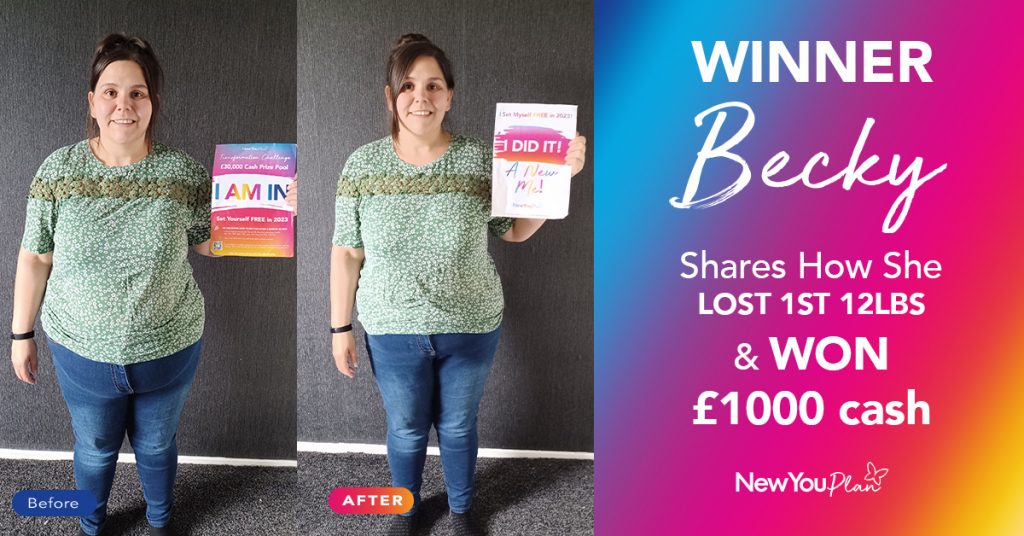 Becky is just 6 weeks into her journey & she's already seeing BIG changes. As well as losing 1st 12lbs in 6 weeks, she has more energy, isn't breathless and can run around with her kids. She almost didn't enter our Transformation Challenge. But she did and she won £1000 cash. Here, she shares her story so far…
Congratulations Becky!
New You: What was your biggest motivator for joining the challenge?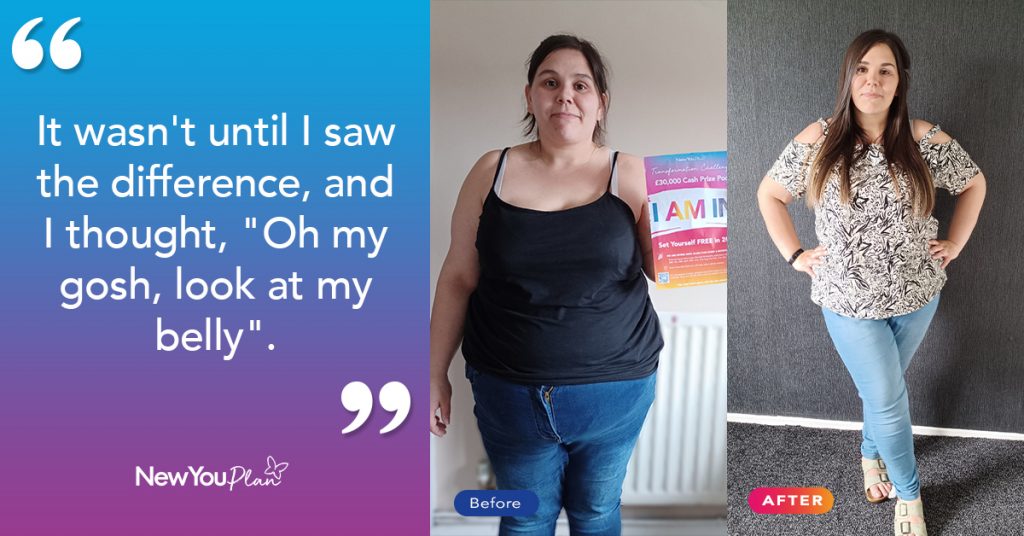 Becky: I took a photo when I started and another on deadline day. It wasn't until I saw the difference, and I thought, "Oh my gosh, look at my belly". I couldn't make my mind up whether to send it and in the end, I went for it.
New You: So tell us, how much weight have you lost?
Becky: I've lost 26 pounds in total, and that's in six weeks.
New You: We'd love to know how you heard about the plan!
Becky: I actually discovered it from Slim and Save. I got an email to say that they were closing down and then a few weeks later I got an email to say that New You were collaborating with them. I had a look at the New You website and that's how I got started.
Getting Started…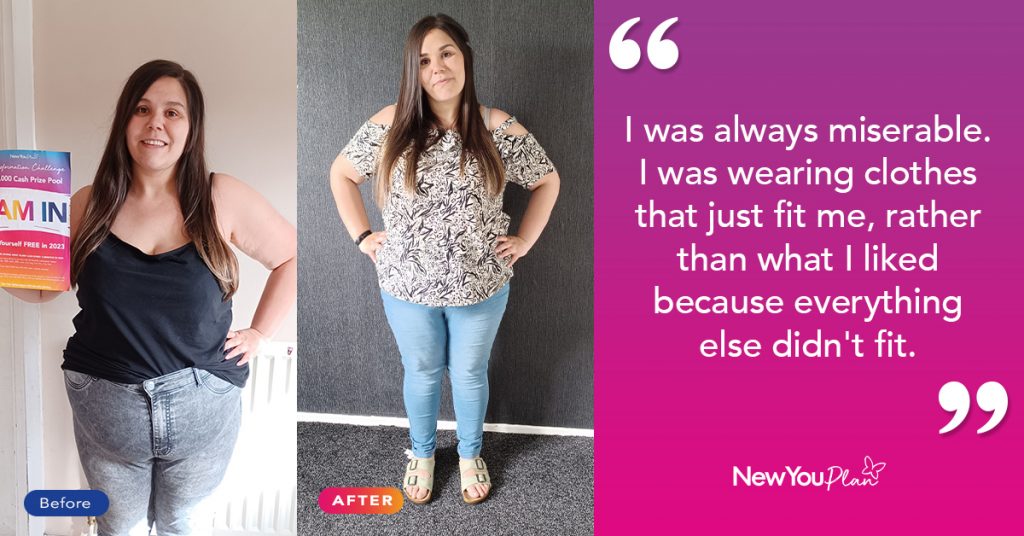 New You: What led to you starting the plan?
Becky: I was always miserable. I was wearing clothes that just fit me, rather than what I liked because everything else didn't fit me. They were all too small, and I was just fed up and knew I needed to change.
New You: Do you find following this type of plan easier?
Becky: Yes I found it much easier because I've got a family. I've got four children and my partner, and I cook for them. But then for myself, I struggle because I'll go back into the cupboards and I'll start picking at things. So I needed something where I didn't have to calorie count. It's all there for me. It just makes life a lot easier.
New You: And tell us about that first week…
Becky: I found the first day okay. I was really motivated to get started. When I was craving something sweet, I'd have a bar or sweet meal and that definitely helped. It takes a while to get into the swing of remembering to drink plenty of water.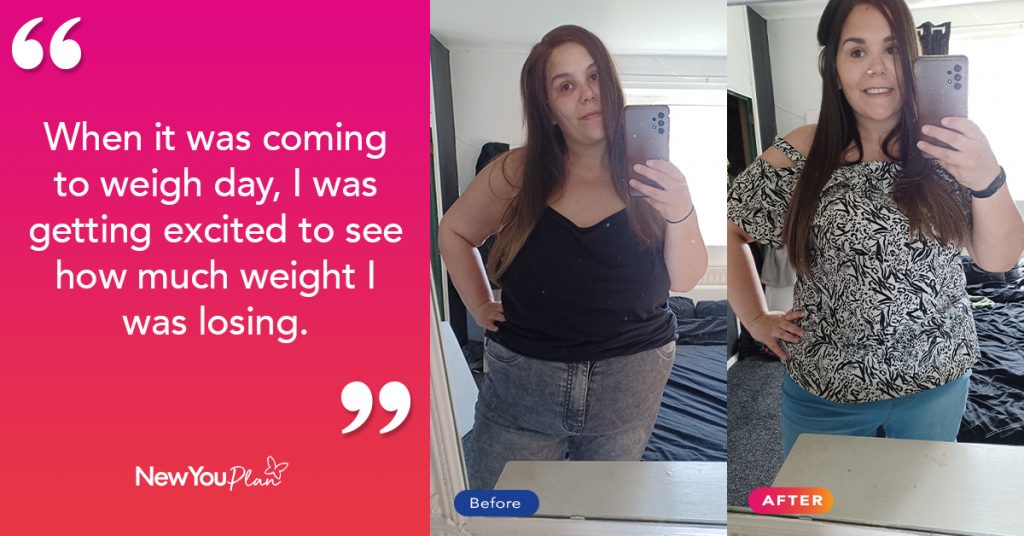 New You: When you started the plan, did you set yourself a goal?
Becky: I received a Wall Planner with my first order and I was taking off each day and it helped motivate me. But also, when it was coming to weigh day, I was getting excited to see how much weight I was losing, because it was coming off quickly.
New You: What milestone have you achieved so far?
Becky: I feel great. I can't really explain it. I mean, I know I'm not near my goal yet, but I feel so much better, if that makes sense. I even exercise now, and that's something I've never done. I do a lot of Grow with Joe workout, on Instagram. I still tried jogging the other day. It didn't go too well, but I'm going to try and keep going with that.
Life Changing Results…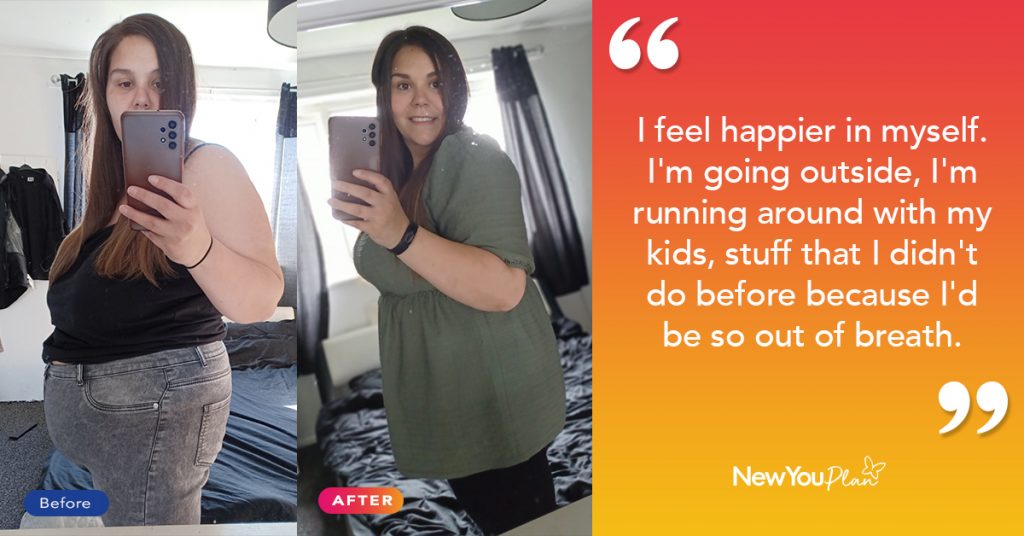 New You: What difference has the plan made to your life?
Becky: It's changed my life, by how it's made me feel. I feel happier in myself. I'm going outside, I'm running around with my kids, stuff that I didn't do before because I'd be so out of breath. I'm not wearing big coats. I just feel so much better myself, more energetic.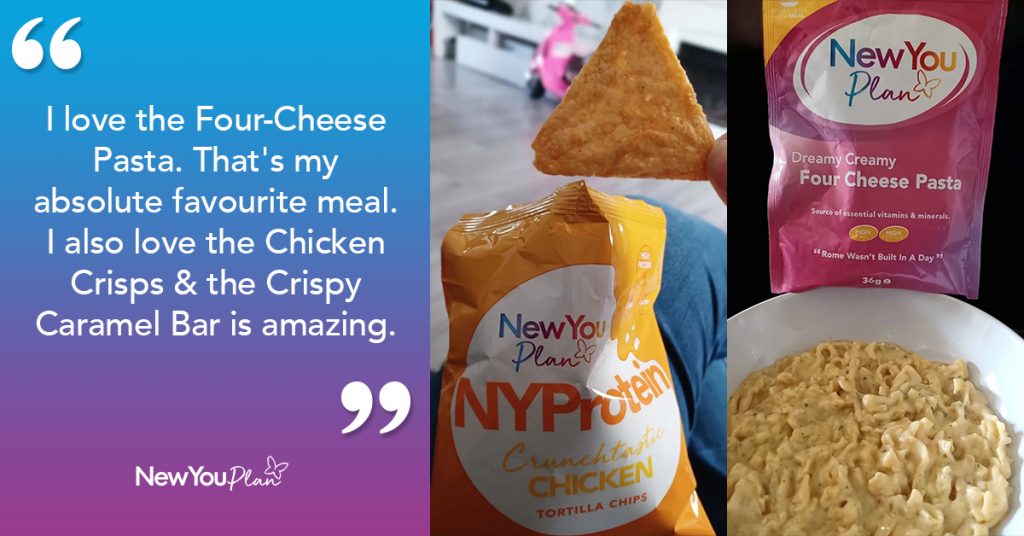 New You: What does a day on plan usually look like?
Becky: I love the Four-Cheese Pasta. That's my absolute favourite meal. It's really nice. I also love the Chicken Crisps. The Crispy Caramel Bar is amazing and it definitely cuts out any cravings. It's really good. It doesn't even taste like you're on a diet.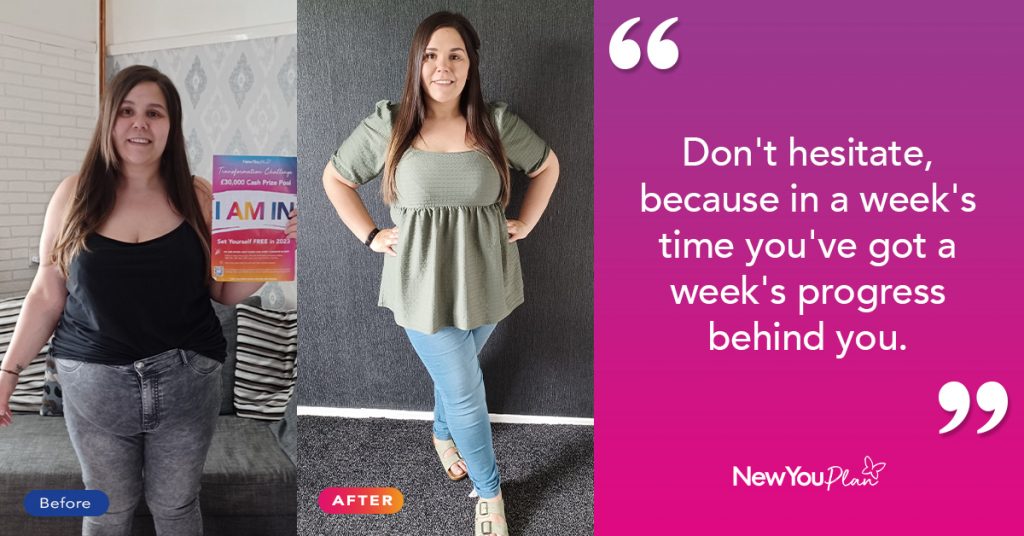 New You: What are you top tips for anyone thinking of starting the plan?
Becky: I'd tell them to do it! Don't hesitate, because in a week's time you've got a week's progress behind you, rather than feeling sad for the week and wondering whether to start or not. And also to make water your best friend!
New You: Finally, what's next?
Becky: I'd absolutely love to get down to ten stone. That would be amazing. That's my main goal. I just want a healthy BMI. At the moment it's quite high. When I get to that stage I'll go from there.
Want to join Becky?
Becky is proof that not only can you lose weight with our plan, but you can keep it off too!
Whether you want to lose half a stone or 10 stone, have a slimmer figure, or are just looking to get maximum nutrition in minimum time, then New You can make the perfect partner to get you to where you want to be.
Not sure? Try our 7-day bundle and see what you can achieve in a week. You'll be pleasantly surprised…
Want to get involved in our 2023 Transformation Challenge?

Becky won £1000 cash and you could win too! This year, we are on a mission to help as many men and women reach their goals for good. In 2023, you really could lose weight, win cash and diet for FREE, thanks to our MASSIVE £75K giveaway.
Get all the details in this dedicated blog post here.