Before & Afters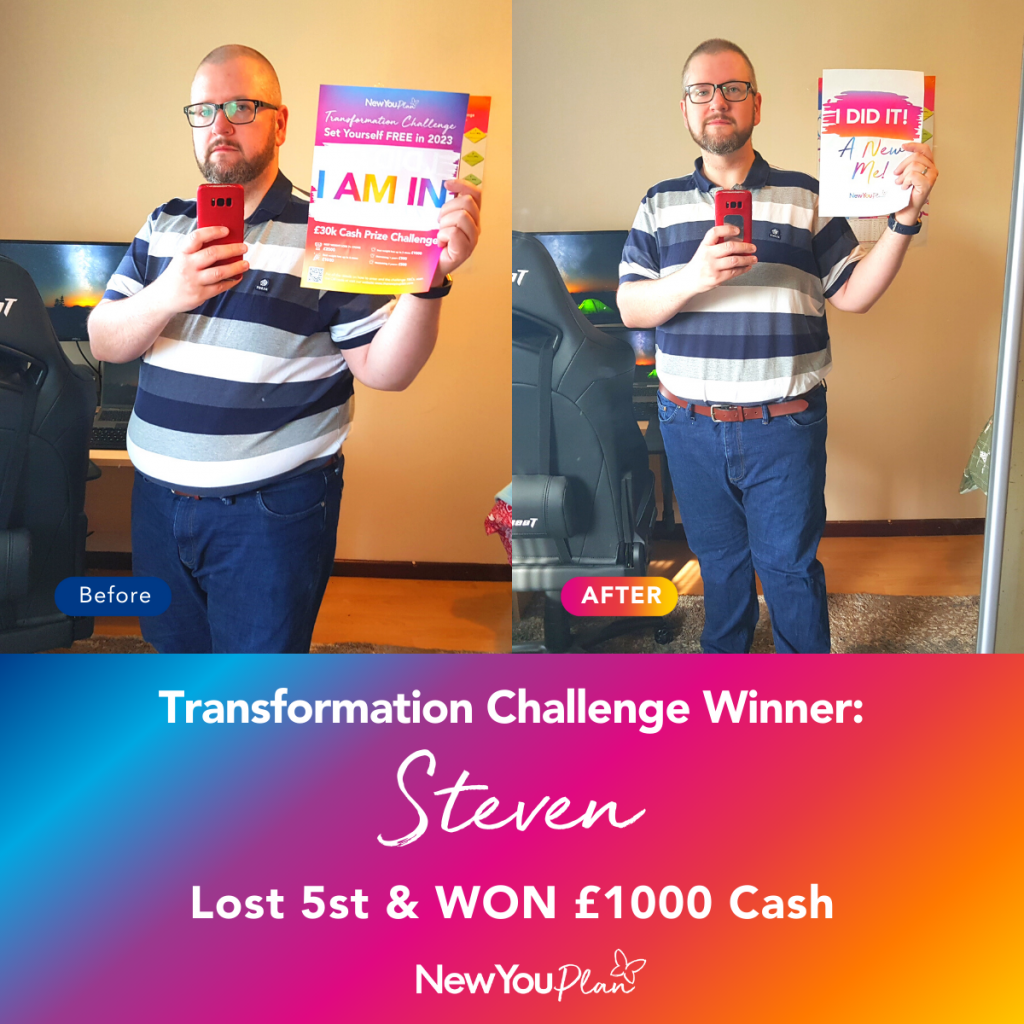 TRANSFORMATION CHALLENGE WINNER: Steven Lost 5 Stone & WON £1000 Cash!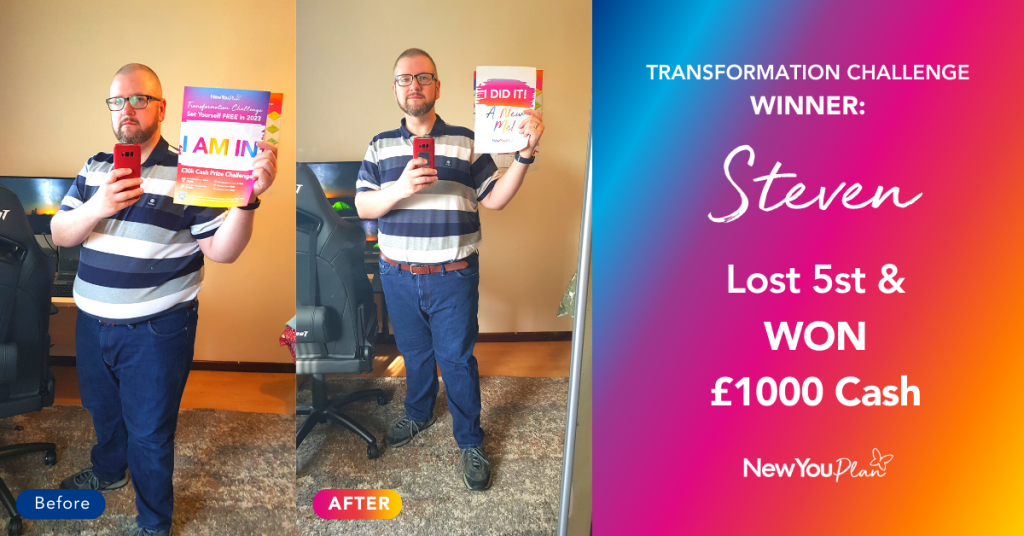 Steven is half way through his New You journey. So far, he has lost a MASSIVE 5 stone in 5 months. He is physically and mentally feeling much better, is enjoying being able to buy new clothes from the high street and the compliments about how well he is looking! Following being named a £1000 cash WINNER in our July/August Transformation Challenge, we caught up with Steven who fills us in on how he is feeling at this half-way point.
New You: Was there anything that helped you stay on-track while doing the challenge?
Steven: I set myself mini targets, not by stone, but by every 10 pounds because my scales were in pounds rather than stones. As well as that I created a spreadsheet to track each day on plan and record my measurements weekly. It was basically like a digital version of the 12-week wall chart that comes with your first pack. I find it was quite good visually. Ticking off another day complete was quite satisfying.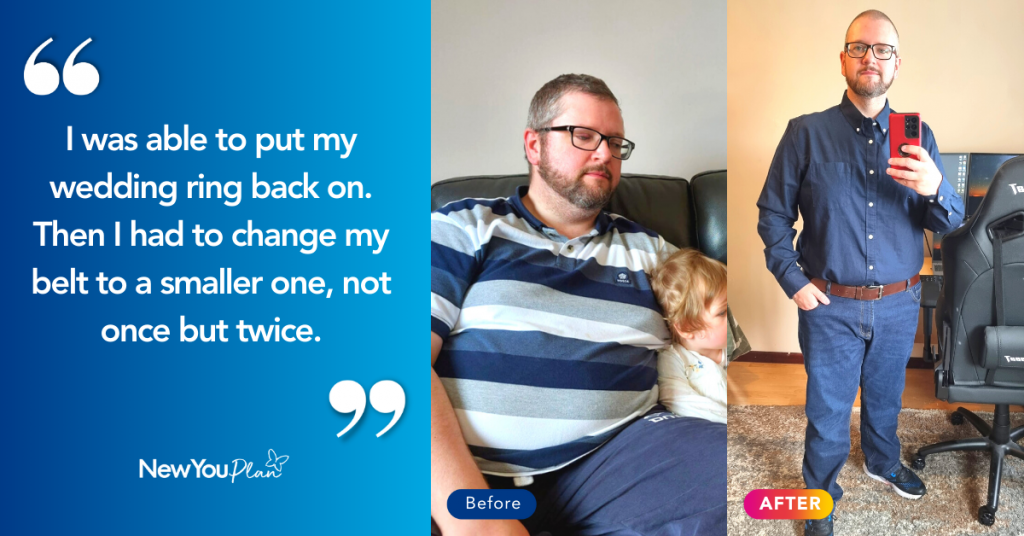 New You: Did you achieve any milestones during the transformation challenge?
Steven: Yes, I was able to put my wedding ring back on. After a few stone, I was able to get that on my hand again and I haven't really taken it off since. Then I had to change my belt to a smaller one, not once but twice. Probably the biggest non-scale victory was going to M&S on Monday night to pick up the shopping and new clothing. Previously, I was only able to shop online so being able to go into a high street shop and lift something off the shelf knowing that it would fit was great. I used to dread going shopping because I knew I couldn't buy anything in the stores.
New You: So tell us, how much weight have you lost?
Steven: I lost five stone more or less, to the pound today. That's taken me 20 weeks.
New You: We'd love to know how you heard about the plan!
Steven: It was actually through a friend. When he told me about it I looked it up myself and did my own research on it and I knew I wanted to do it.
I think the difference with New You is the variety of the meals compared to other low-calorie diets. I think Weight Watchers is easy to get lost on your own way, whereas The New You Plan is very regimented and I quite like that. You just choose any four packs you want. Having that structure has been good for me.
Getting started…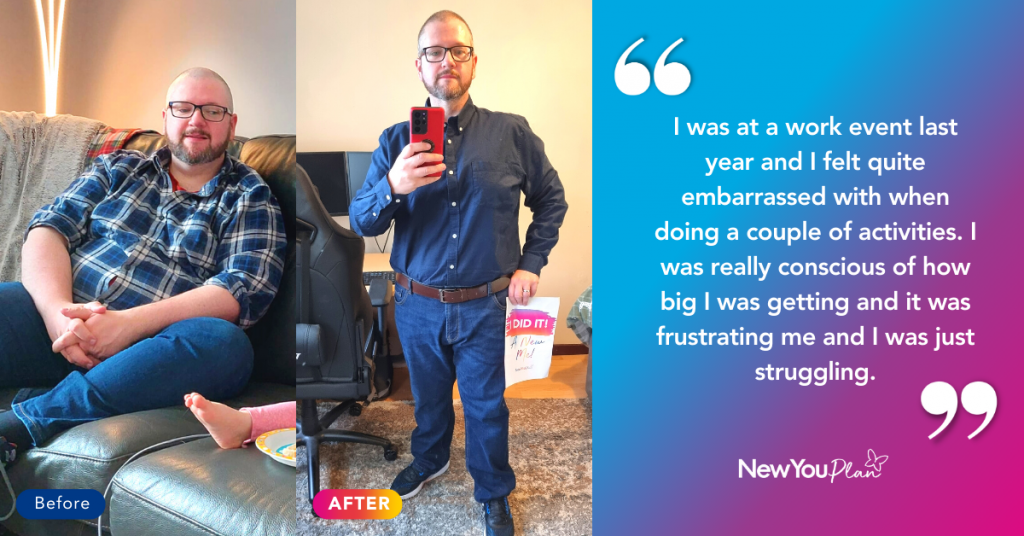 New You: What led to you starting the plan?
Steven: I started for a couple of reasons. My dad had a heart attack when he was relatively young in his early 40s. I'm in my late 30s so coming up to that age myself I'm quite conscious of my health. I was at a work event last year and I felt quite embarrassed with when doing a couple of activities. I was really conscious of how big I was getting and it was frustrating me and I was just struggling. When making dinner for the kids, it is so easy to pick up a bit of their leftovers so you're just fighting with adding on calories. So the structure of The New You Plan was very much what I needed.
New You: And tell us about that first week…
Steven: I wouldn't say it was easy. It is hard. You're totally changing every habit that you've had for years. And the best way to do it is to understand what you're getting into before you get into it. It's good to mentally set yourself up for it. Knowing why you're doing it is equally important. I used the tracker to list the reasons that I was doing the plan. I wrote down my kids' names. I think when you're doing something for your children, you're more motivated to do it.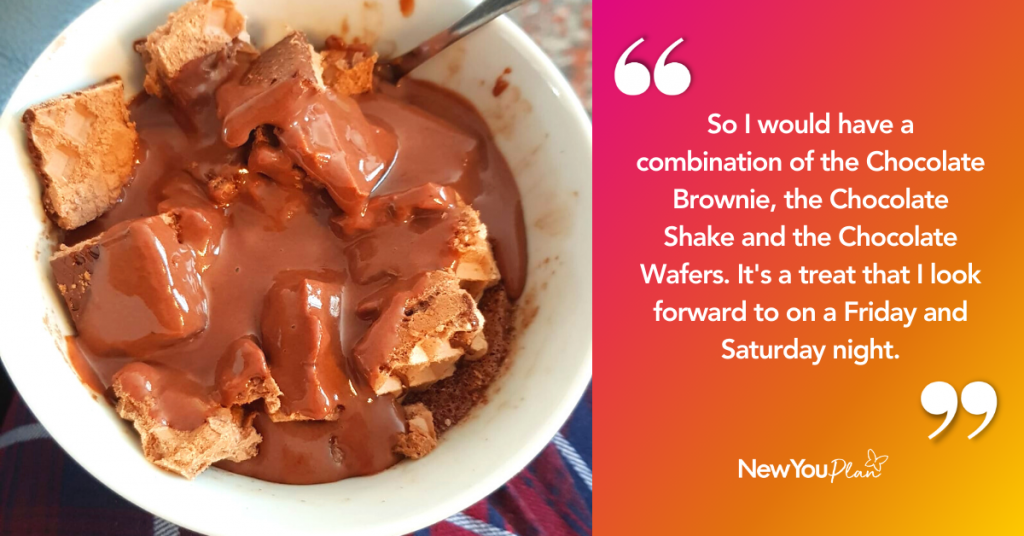 New You: What are your go-to meals & snacks?
Steven: I'd save up a few packs and have them on Friday and Saturday nights after the kids go to bed.
So I would have a combination of the Chocolate Brownie, the Chocolate Shake and the Chocolate Wafers. I put them in a bowl together and I make the shake quite thick and hot so it's like a hot sauce. I cut up the wafer into small pieces and put them up into the Brownie and make it with fizzy water, so it's a bit fluffier. It turns it into a dessert. It's a treat that I look forward to at the weekend.
Life changing…
New You: What difference has the plan made to your life?
Steven: I suppose starting on the more negative side is it can make socialising a little bit harder. Everything is very alcohol-orientated and going out with that pressure of friends asking, are you having a drink and saying no can make it more difficult. On the good side, I'm starting to become more self-conscious about my own appearance rather than just thinking I'm just a man. I've got my wife to pick me up moisturiser and anti-aging creams. It sounds very weird for me to even say that, but I'm starting to do a skincare routine for myself. I've got contact lenses in the last couple of weeks. I never thought of doing any of these things in the past. I don't mind how I look now and I'm trying to improve it in other ways rather than just my weight.
I'm not very active but it's a bit easier to play with the kids now. I suppose something I suffer from less is chest pain. It wasn't necessarily heart related, but I would have had an inflamed chest wall, so I would have a lot of pain in my chest at the time.
And then even something really simple, like getting up out of the chair quite easily rather than having to pull myself out of it.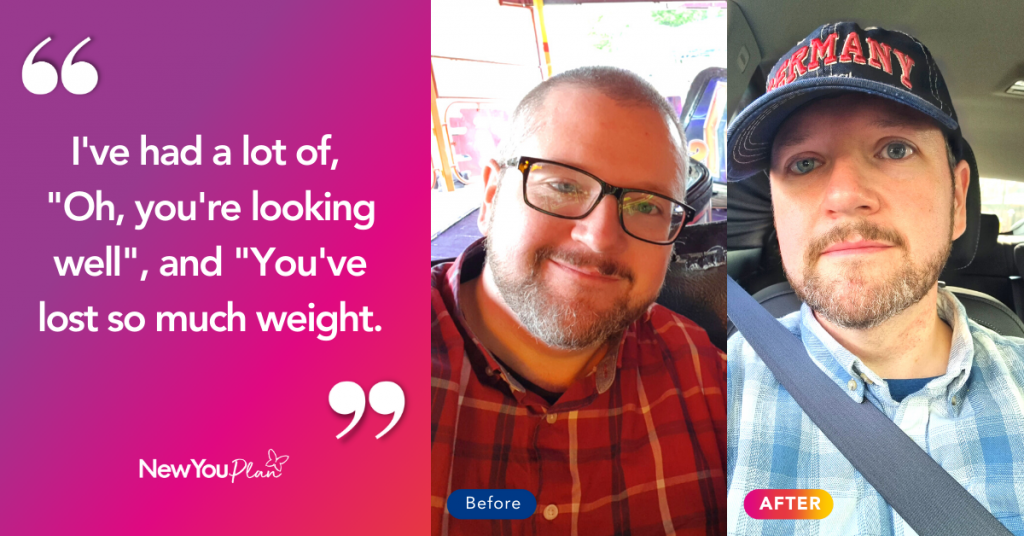 New You: What is the nicest compliment you have received since losing weight?
Steven: I've had a lot of, "Oh, you're looking well", and "you've lost so much weight". I've been getting indirect comments from people asking my wife if I've lost weight. She actually works in the same space as me, and her boss, her manager was having a call with her and commented that I'd lost weight and was looking well. So I guess it's more that people I don't usually interact with that much were noticing the loss.
New You: What would you say to someone thinking of starting the plan?
Steven: Do as much research as you can before buying anything. Understand what the calories and meals are, what it's going to do for you and how many you can have for your weight. It's not a short-term thing, it's a long-term change. If you do anything long term, you have to be mentally ready for that jump.
New You: And then finally, what's next?
Steven: I consider myself only halfway to where I want to be. I need to lose the same again in order to hit what's a healthy BMI for my height. So I'm still on plan and my next target is to hit 200 pounds. I'm forecasting myself to the middle of October. I'm taking it smaller steps rather than looking at the bigger picture.
Fancy Losing Weight & WINNING Cash?! End 2023 STRONG!
Steven is proof that you can lose weight and change your health for the better!
Whether you want to lose half a stone or 10 stone, have a slimmer figure, or are just looking to get maximum nutrition in minimum time, then New You can make the perfect partner to get you to where you want to be.
Join Our £30K Cash 2023 Transformation Challenge

Steven won £1000 cash and you could win too! This year, we are on a mission to help as many men and women reach their goals for good. In 2023, you really could lose weight, win cash and diet for FREE, thanks to our MASSIVE £75K giveaway. 
There are 2 more chances to enter:
31st October
31st December
We still have £10,000 cash to give away!
Get all the details in this dedicated blog post here.