Before & Afters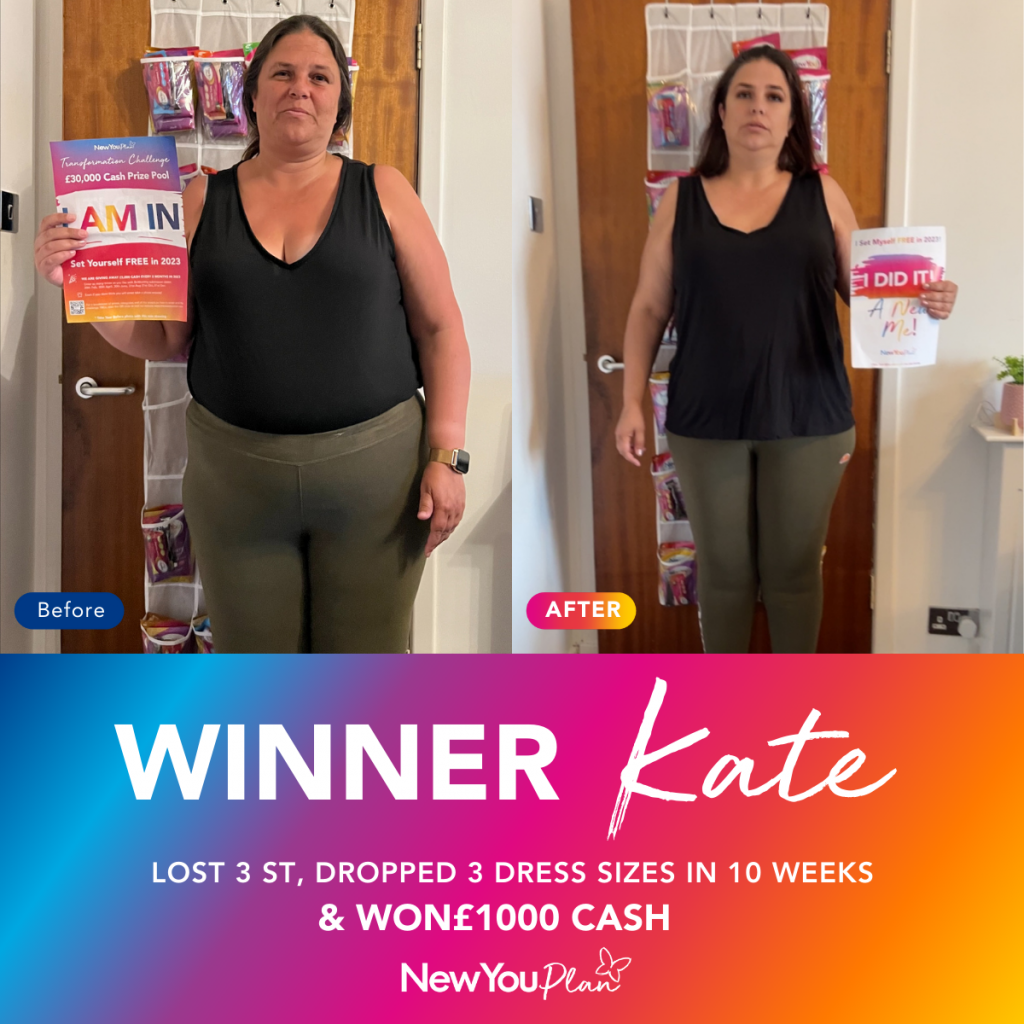 TRANSFORMATION CHALLENGE WINNER: Kate Lost 3 Stone, Dropped 3 Dress Sizes in 10 Weeks & WON £1000 Cash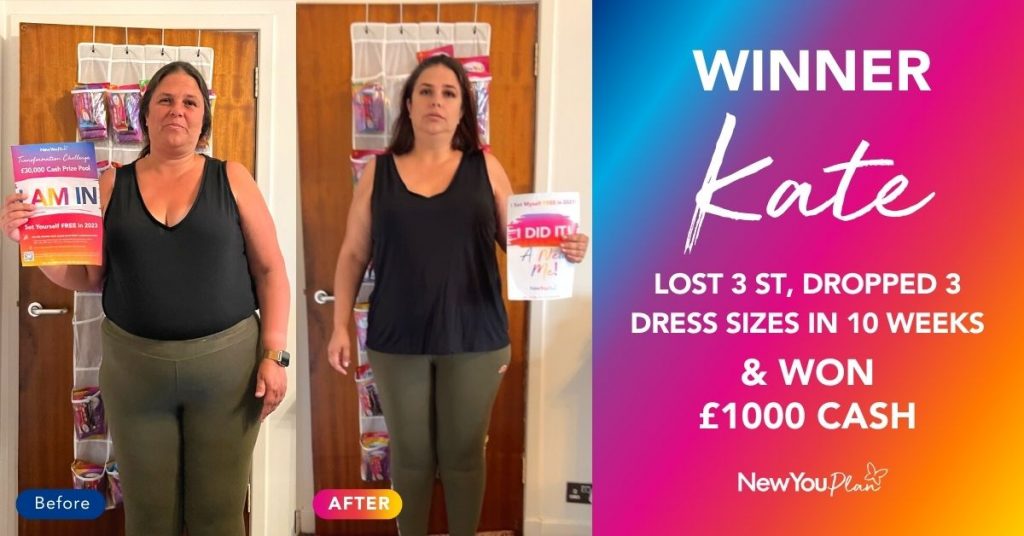 For Kate, The New You Plan has been life changing. In just 10 weeks, she lost 3 stone, dropped 3 dress sizes and won £1000 cash in our Transformation Challenge. She has already noticed massive changes to her health, no longer avoids mirrors and is enjoying taking pride in her appearance again.
New You: Kate, what was your biggest motivator for joining the challenge?
Kate: I wanted to be accountable. Since losing weight, I've built up my confidence and I didn't mind having my photo taken so much. So my son kept telling me how well I'd done and told me I'd lost more than a tonne in my first week. I think he was a bit confused between a stone and a tonne.
I honestly didn't think for a second I would win. I took the photos mainly because I looked in the mirror and I couldn't see the difference. And aside from my clothes being looser, I didn't notice how much I had actually lost until I saw the after photos my son had taken of me wearing the same clothes.
With each of my achievements, I treated myself. So the first time I went out and I got my hair cut and I treated myself to having my eyelashes done, and I bought makeup for the first time in a year. I made a real effort for the second photos whereas for the first one, I just shoved my hair back and grimaced at the camera.
New You: Was there anything that helped you stay on-track while doing the challenge?
Kate: I used the weight loss tracker that New You provide and also an app on my phone called My Weight, where I recorded my weight every week. I used the Secret Slimmers page and still follow it religiously. I post daily to be accountable to myself. The group have really boosted my confidence, and they were my cheerleaders. I have one of my closest friends doing the plan, too, and I've also made friends on the page, and one of them, I actually PM daily. And we give each other words of encouragement to try and keep us going, especially when we're feeling really down. My closest friend has been fantastic. She's been with me and cheered me.
New You: So tell us, how much weight have you lost?
Kate: I lost 3 stone in 10 weeks. So I lost 16lbs in the first week and was absolutely over the moon, then lost 7 in the second and 5 in the third. I just couldn't believe how quickly it was falling off me. I've gone from a size 24/26 to a size 20. It's amazing.
New You: We'd love to know how you heard about the plan!
Kate: I was buying a house and I met with my mortgage advisor twice, two months apart. I couldn't believe the difference in her weight in that time. She looked fantastic. She told me she was on New Year, and until then, I'd never heard of a very low calorie diet, so I did some research.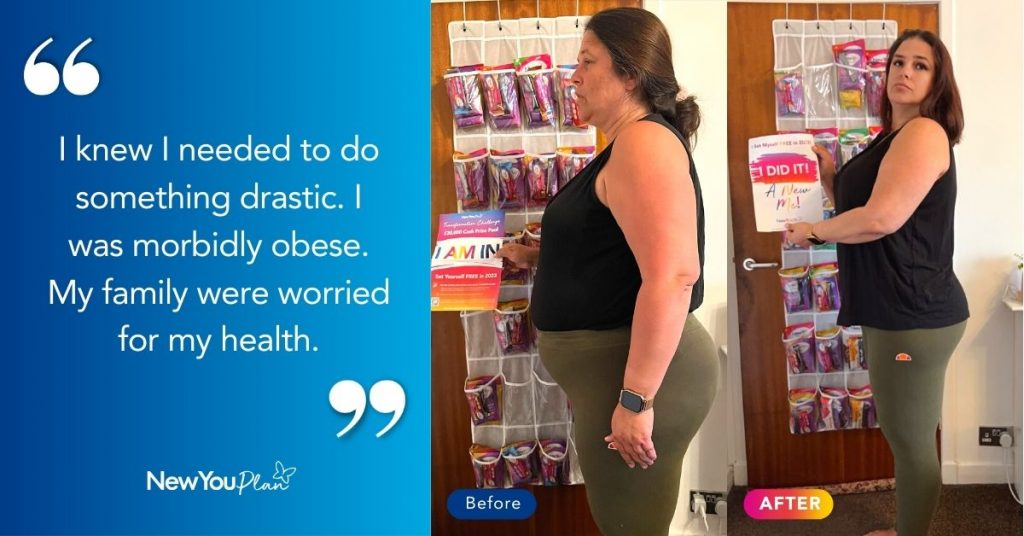 I knew I needed to do something drastic. I was morbidly obese. My family were worried for my health. I was inspired by all the stories and pictures on the website. There was a wide variety of meals, and they all looked really appealing. And it worked out cheaper than other diets I'd been on. I had tried and failed so many times before. New You just seemed so simple. I'm no chef so the meal plan is perfect for me because it's quick and easy to make. I still have to do my son's meals as well, so it's good that I can quickly make mine and eat it before starting to do his meals so I'm not hungry while cooking it. I have been on many other diets which have cost a fortune. I wasn't enjoying the meals. The weight just wasn't coming off. And I knew with the size of me, the best option was a very low calorie diet, especially as I have such a sedentary job.
Access to the Secret Slimmers page was also a bonus. I can't do meetings out of the house in the evenings because of my son so having this as an online support group was an added bonus.
Getting Started…
New You: What led to you starting the plan?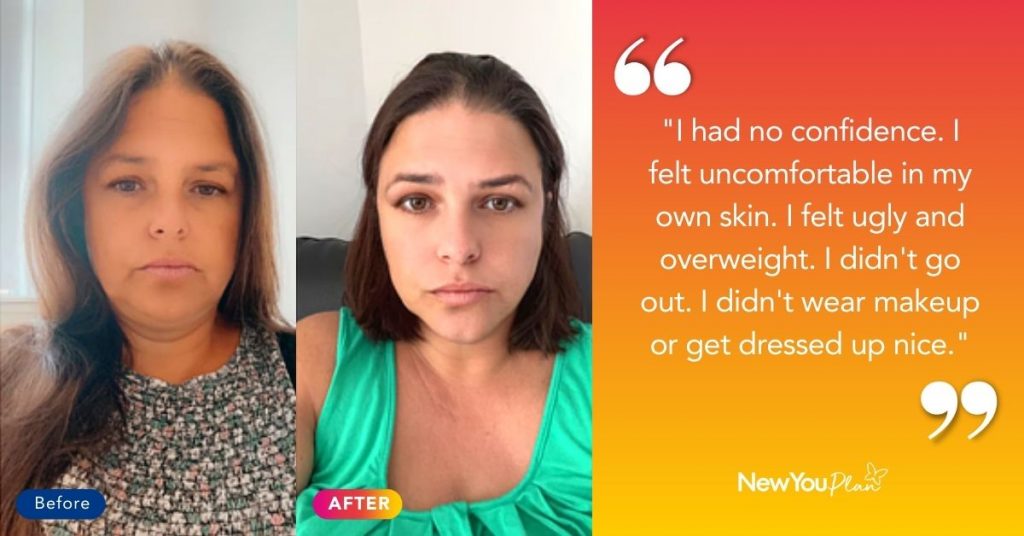 Kate: I had no confidence. I felt uncomfortable in my own skin. I felt ugly and overweight. I didn't go out. I didn't wear makeup or get dressed up nice. I hated clothes shopping and social occasions. I very rarely looked in the mirror. I wouldn't let people take my picture. It took a lot for me to take my I AM IN photos, but I wanted to be accountable and I wanted a reminder of how I felt and why I was doing this. I was horrified by the photo. I started gaining weight when I was on new medication, I put on over six stone, so I couldn't walk my dog for long before getting tired. I couldn't get up the stairs without being out of breath. If there was a lift, I would take it. Getting out of the bath was a struggle and even tying my shoelaces. And I wanted to be able to simple things like just going and picking my son up from school or going to sports day and not feeling embarrassed.
The medication that I take is for bipolar disorder, which is notorious for weight gain, but the doctors advised that I needed to lose weight. When you're bipolar, you're supposed to eat healthy, you're supposed to get plenty of sleep, you're supposed to watch what you eat and everything. But I wasn't eating sensibly, I was eating takeaways, I was drinking sugary drinks, I was not drinking a huge amount, but when I drank, I wasn't picking the low calorie options, I was eating chocolate and all sorts of things that I shouldn't really be eating. When I looked into the plan it was a real bonus that I knew it contained all the vitamins and minerals that my body needs.
My Parents also worried about my weight. I'm a single parent, so if anything was to happen to me, then I wouldn't want anything to happen with my son. I also had my friend's daughter's wedding coming up and I had to go. But the thought of going to a social occasion absolutely terrified me, as did the thought of having to wear a dress. So I thought, this is it. I have to do it, I have to do it for my health now. No backing out. And I was determined and I knew this time it was going to work.
New You: And tell us about that first week…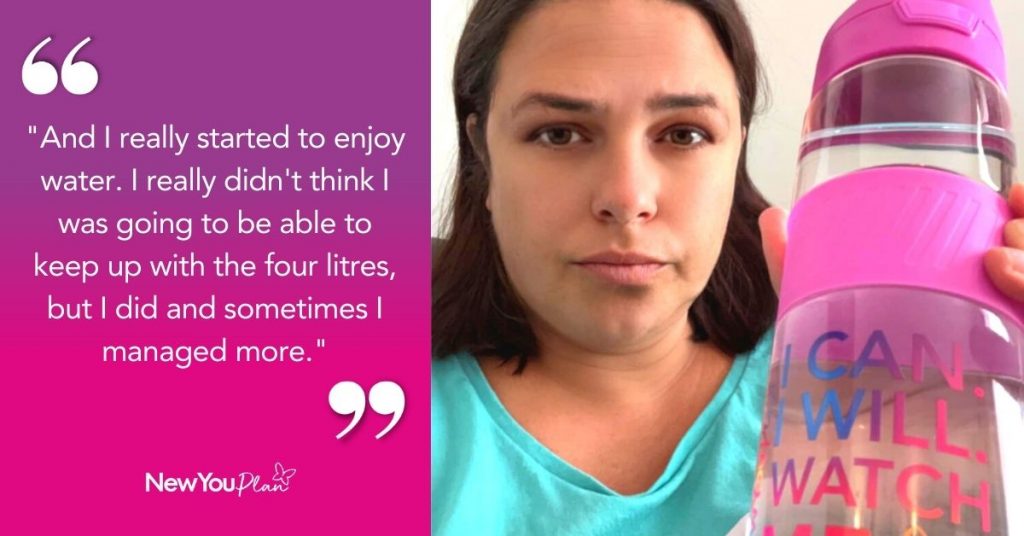 Kate: My first week was actually easy. I had no headaches like some people get. I got a tremendous energy boost and started waking up really early, whereas before I actually had to drag myself out of bed in the morning and I was tired all the time and that was gone. It helped a lot. I'd just started a new job, so it was like a new start all round. I went from drinking no water and lots of sugary drinks to four litres of water a day. And I really started to enjoy water. I really didn't think I was going to be able to keep up with the four litres, but I did and sometimes I managed more.
I would say that the weekends are the toughest purely because I don't really have huge amount on at weekend, so emotionally, they were definitely the toughest. I've had a few ups and downs, but I would say that I think when I first started, I was so determined and my mindset was so much there so it made the first week so much easier because I was feeling so ill before it anyway. As soon as my body started getting some healthy food, I felt better!
New You: What are your go-to meals & snacks?
Kate: Well, I like to start off with the Asparagus Soup, followed by Noodle Nosh with added Coriander and Salt and Vinegar Crisps, and finish the meal with a Chocolate Brownie. I usually have a Shake in the morning and a Bar for lunch. My favourite snack is a Chocolate Wafer and I have that with a can of Dr Pepper Zero.
Life Changing…
New You: What difference has the plan made to your life?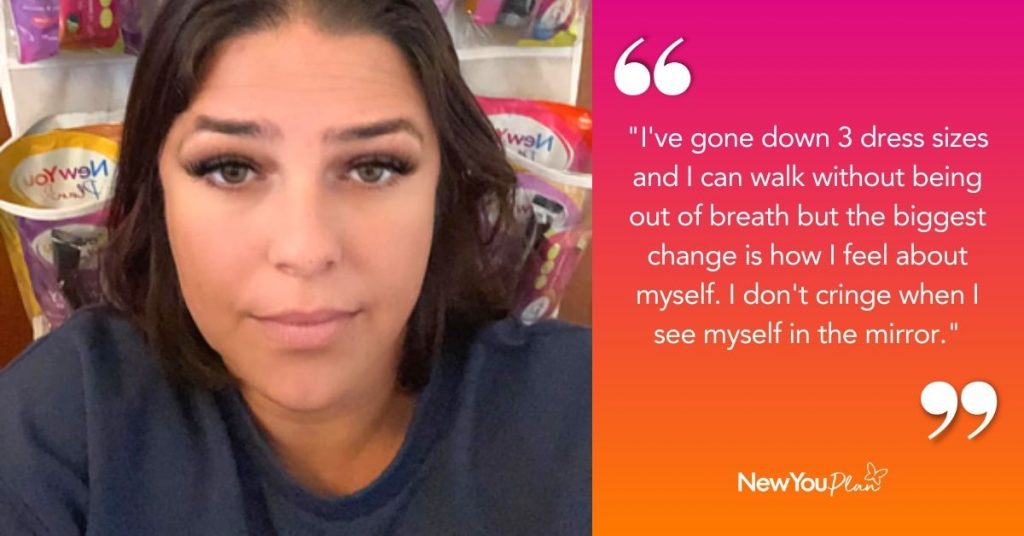 Kate: I've gone down 3 dress sizes and I can walk without being out of breath but the biggest change is how I feel about myself. I don't cringe when I see myself in the mirror. I don't mind having my picture taken. I take more pride in my appearance, and I've spent money on how I look. I go out for walks daily, and I really enjoy them, and I enjoy spending time with my son as it's not so exhausting now. I have a long way to go yet as I've still got another 5 stone to lose but when I started this, it was because my family were worried about me, my son was worried about me. But now I feel that I'm worth it again and I'm doing this not just for my family, but for me, too.
New You: What is the nicest compliment you have received since losing weight?
Kate: It was actually my dad. He's never really commented on how I looked in 46 years and he told me that I looked nice and that was a lot for him. For most people, that doesn't come across as a big compliment, but for him, that was the ultimate compliment I could have had. And I don't think he realised how much that made a difference. That really made my day.
My biggest cheerleader is my son. He's always saying how well I'm doing. If I'm tempted to blip, then he stops me and he tells me off if I go anywhere near anything in the supermarket. He's my biggest cheerleader.
New You: What would you say to someone thinking of starting the plan?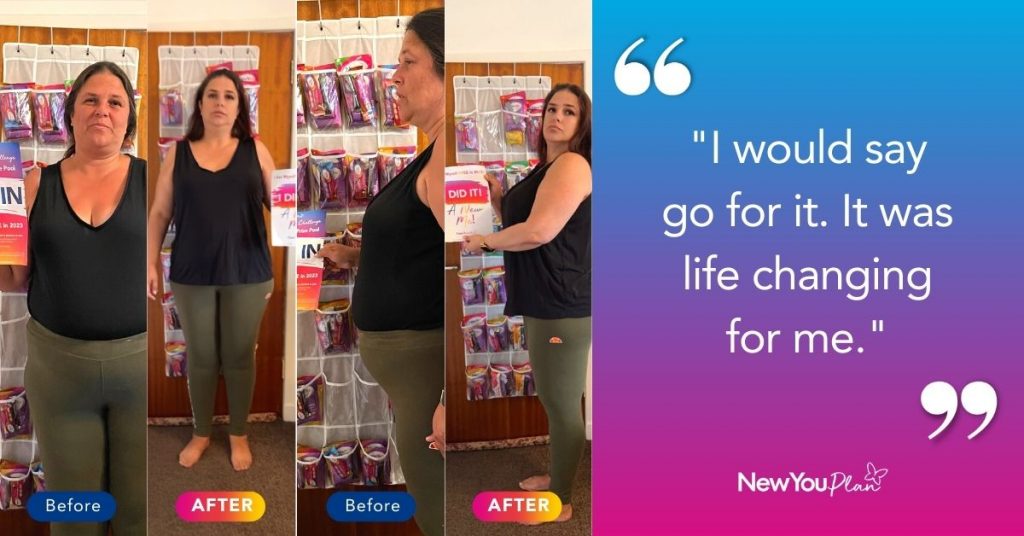 Kate: I would say go for it. It was life changing for me. I think you have to make sure you're in the right mindset. I think if you start it and you're not quite there, then it's not going to work. You have to be 100% determined. Go on the Secret Simmers page every day, everyone is there to support you and drink your water. To be honest with you, the rest is just so easy. It's such a simple plan to follow. I would also check back at your starting photo. Remind yourself when it's getting hard, remind yourself why you're doing absolutely, definitely perfect.
New You: And then finally, what's next?
Kate: I've got another five stone left to reach my ultimate goal. So I'm currently on my refeed at the moment to coincide with my holiday. I've missed the simplicity of the plan, not having to think about how many calories are in certain foods that I'm eating. It's going to be good just to pick up a pack, have that, and not have to worry about the calorie counting again. I think, obviously, I've had years and years of just eating mindlessly. I think the plan is now starting to teach me how to eat and what to eat, but I'm just still just a toddler at the moment, working it out, so I need to kind of get back to being shown the way, which is what New You does. And then once I've been on it and I've got to my ultimate goal, then I can go on to Switch and that will teach me even more.
Want To Join Kate?
Kate is proof that you can lose weight and change your health for the better!
Whether you want to lose half a stone or 10 stone, have a slimmer figure, or are just looking to get maximum nutrition in minimum time, then New You can make the perfect partner to get you to where you want to be.
Not sure? Try our 7-day bundle and see what you can achieve in a week. You'll be pleasantly surprised…
Want to get involved in our 2023 Transformation Challenge?

Kate won £1000 cash and you could win too! This year, we are on a mission to help as many men and women reach their goals for good. In 2023, you really could lose weight, win cash and diet for FREE, thanks to our MASSIVE £75K giveaway.
Get all the details in this dedicated blog post here.