Before & Afters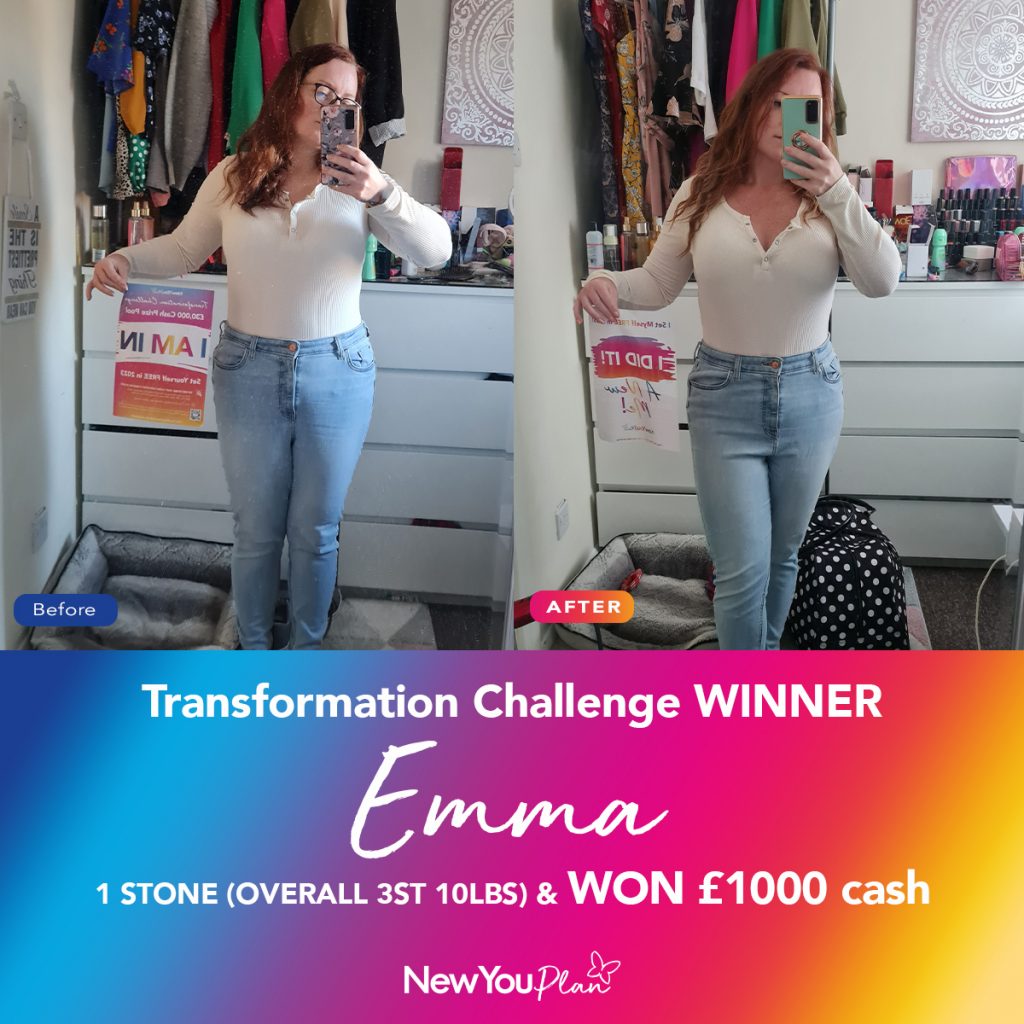 TRANSFORMATION CHALLENGE WINNER: Emma Lost 1 Stone (Overall 3st 10lbs) & WON £1000 Cash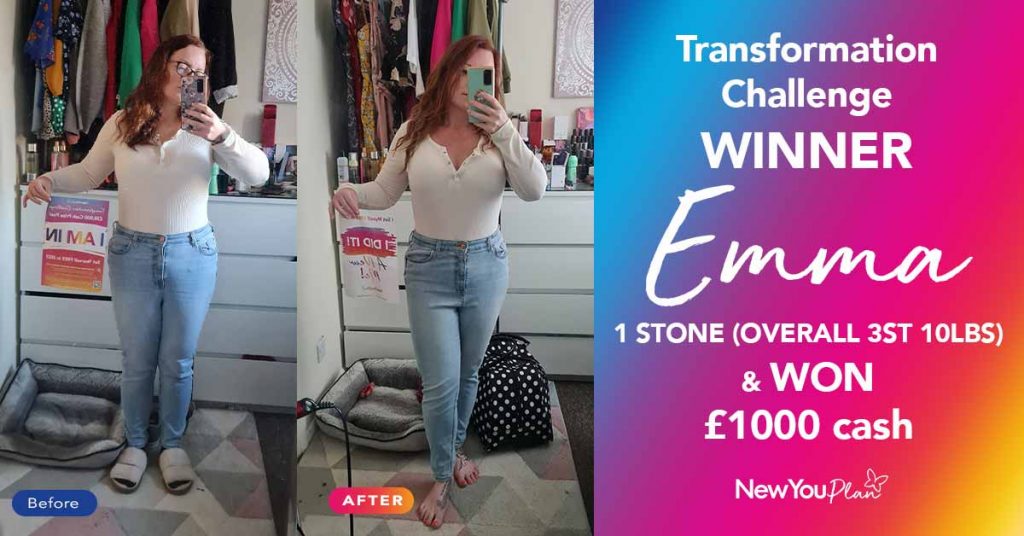 Last year, Emma lost almost 3 stone with our plan. She joined our Transformation Challenge, losing another stone, bringing her loss to almost 4 stone and her winnings to £1000. Here, she shares how her mindset has completely changed and why maintaining her weight loss is just as important as losing it.
New You: Emma, what was your biggest motivator for joining the challenge?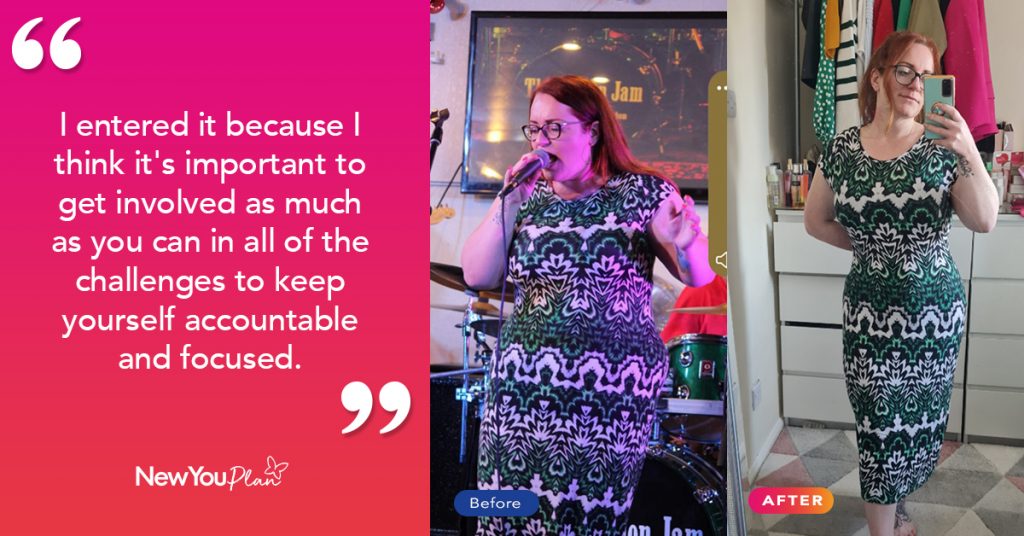 Emma: I think being part of the community. Being part of Secret Slimmers is what keeps you accountable. So getting involved in all the challenges – whether it's the Transformation Challenge or any of the smaller, daily challenges – keeps your mind focused on what you are doing. When I read about the Transformation Challenge, I thought it would be good to see the difference in my before and after photos.
I was going to wait until my ultimate goal, which I'm really close to but then I thought, why not?! And if nothing happens, nothing happens. I'll go for it in August again. So I entered it because I think it's important to get involved as much as you can in all of the challenges to keep yourself accountable and focused. And this was just another challenge and tool to keep me focused and motivated to get to where I wanted to be.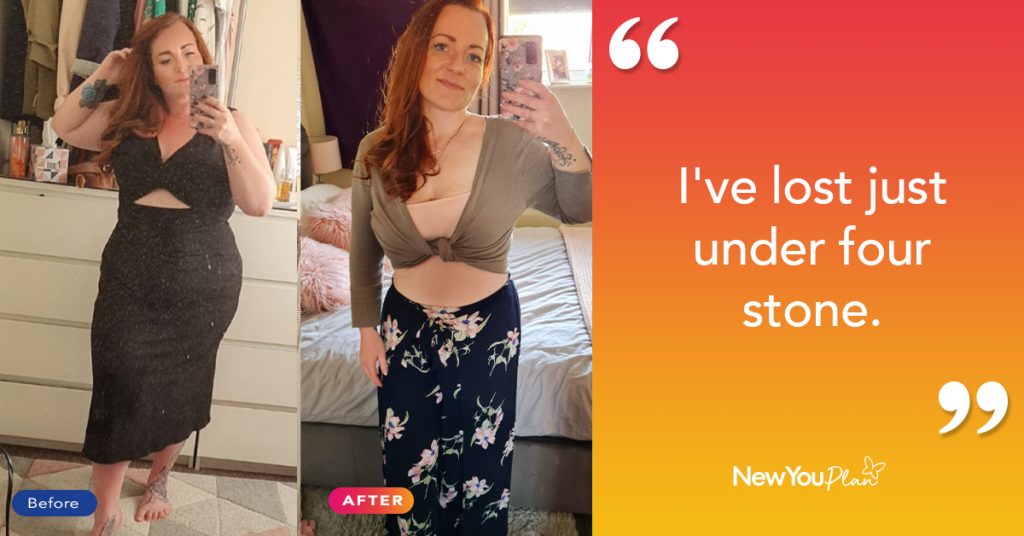 New You: So tell us, how much weight have you lost?
Emma: I've lost just under four stone. So the bulk of my loss was last year. In about three or four months, I lost three stone and then this year has another 12lbs, but I've got about seven or eight pounds to get to my ultimate goal, which I'm hoping to do by the August 1st. I started on that date last year so It feels nice, like it'll be sort of bunched up in a big bow.
New You: We'd love to know how you heard about the plan!
Emma: It must have either been Facebook or Instagram. An algorithm threw it up because I had been looking at a similar diet. I looked at it and the price difference was so vast compared to what the other plan was going to cost me. It was about £400 a month which is really expensive. And comparatively, the New You plan was going to be half that. So I looked obviously at the price first and then I looked at the products. The selection was just so big that I thought, well, at least it's not just shakes because I hate milkshake. I hate the texture, I hate the smell. I don't like milkshake at all. And I knew I couldn't diet like that. But obviously New You Plan has so many different options, not just shakes.
Getting Started…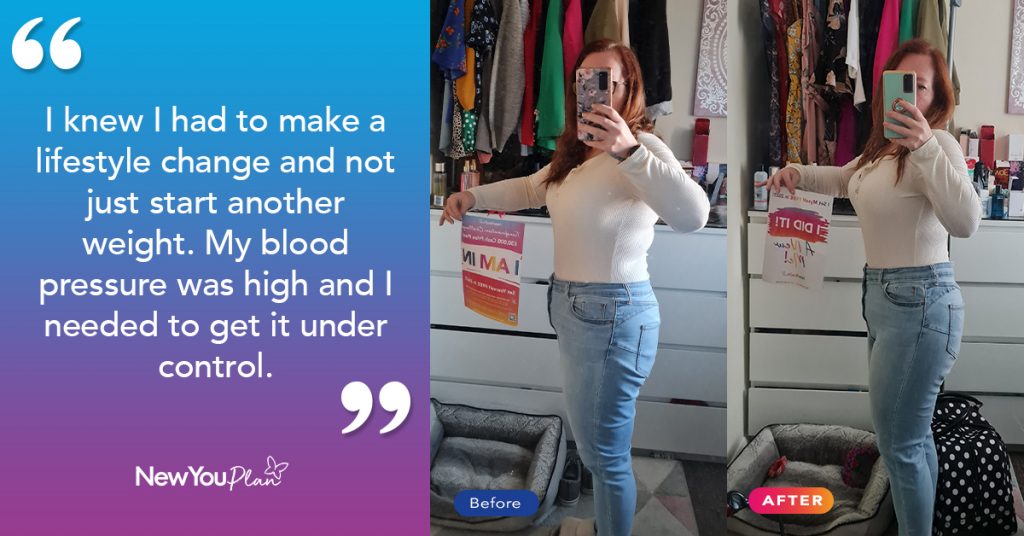 New You: What led to you starting the plan?
Emma: I've dieted since I was 17 and I'm 39 next month. So for a lot of my years, like half of my life, I have been on various different diets. Not consistently, but I've done various different ones. I knew I had to make a lifestyle change and not just start another weight. My blood pressure was high and I needed to get it under control.
I've lost weight in the past but when I've taken a break for a birthday or a holiday and I would put on about a stone, which was going to take me forever to get off. And so I'd lose motivation and fall off the wagon.
New You: And tell us about that first week…
So I set up an Instagram account a week before I started the diet because I wanted something to keep myself accountable. When I've done diets before, I've kept a diary and literally written down everything that I'd eaten, how many calories in it, what exercise I've done, how I was feeling about the day. I found that really helpful. So I thought having it on a social media platform where I could just take photos, not have to write down, do a little video or whatever of how I'm feeling, would keep me motivated.
The first week was very difficult. I remember being horrified, to be honest, at the portion sizes of some of the meals going from eating way more than the recommended portion size to the very restricted, teeny tiny portion size.
I remember thinking, this is not for the faint hearted. This is really bloody difficult. I was really hungry, but I did not give in. So I was absolutely determined that I was going to give it my all and not give myself any way out. I wanted to give myself the best chance for the best loss in the first week. And because I was following other TFR accounts online, I could see the results people would get if they stuck to it. And I thought, I am not going to not stick to it. I've invested mentally into it, I've invested financially into it, and I want to give it my all.
I struggled with some textures and flavours, but I was determined, so I pushed through and within two or three weeks, things taste completely different. I experimented with the amount of water I added to meals to find what consistency I liked. I was so sure I wouldn't like the Shakes so I was shocked to learn that I actually really liked them when I made them a bit thicker.
Initially, I didn't like the Cottage Pie and the Irish stew, but I tried them again and now they're my favourites.
What you like and what you end up craving changes throughout your time on plan so play about with stuff. I remember adding the Pineapple Boost to the Coconut Shake and Oh, my God it's literally amazing. It's like a pina colada. It's one of my favourite things to do now when the weather's nice.
New You: What are your go-to meals & snacks?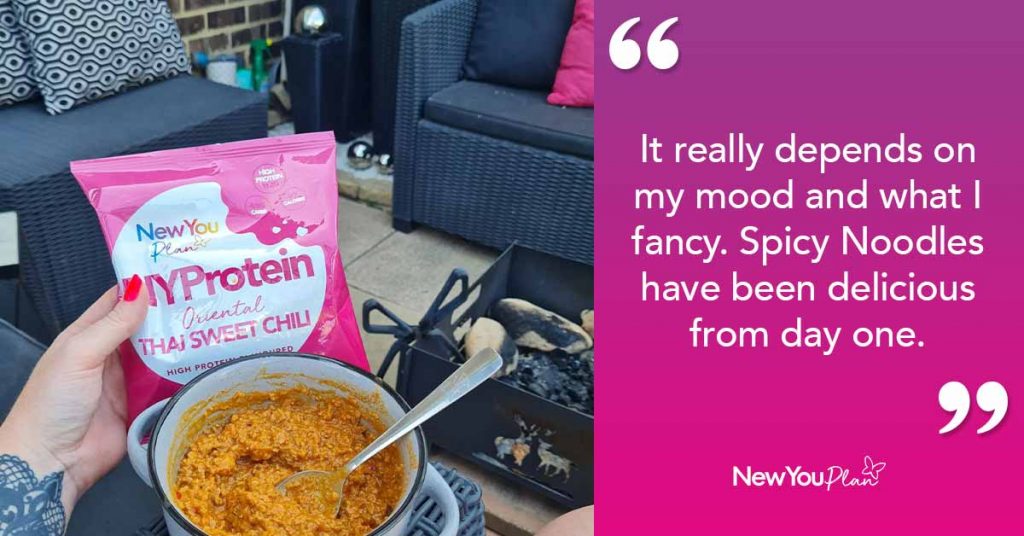 Emma: So I've always loved the Wafers and I see so many people raving about them in Secret Slimmers and they are amazing. I've got a sweet tooth, so they are perfect for me.
It really depends on my mood and what I fancy. Spicy Noodles have been delicious from day one. I also really like a lot of the shakes, which blows my mind, because it was the one thing I was mainly concerned about having shakes in the diet. I absolutely adore the Chocolate Brownie as well.
Life Changing…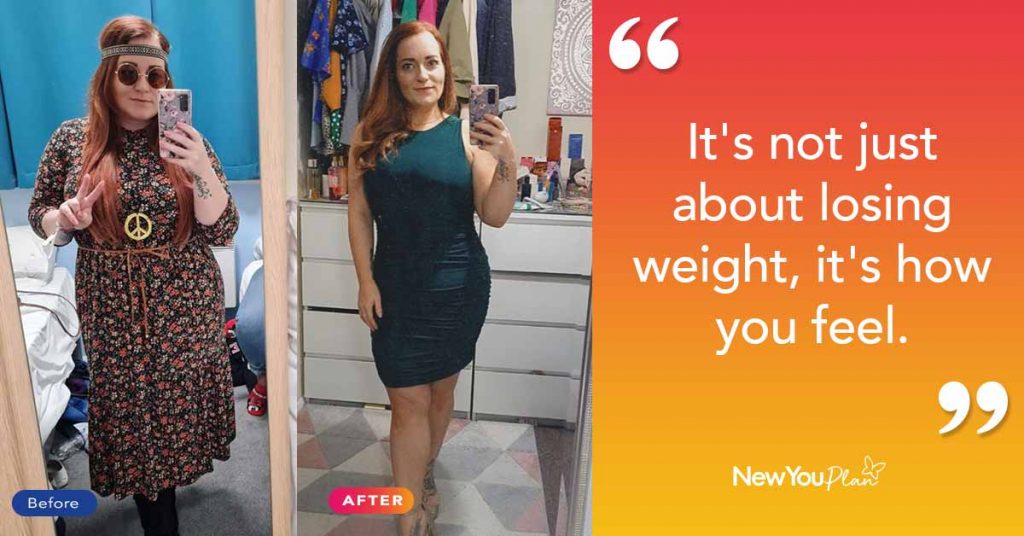 New You: What difference has the plan made to your life?
Emma: So, obviously, I am now just a couple of pounds off a four stone loss, which is the most I've lost ever, so that's a big thing. I climbed up a mountain this week, which I would never have been able to do. I wore a bikini on holiday this year, which I haven't since I was 18. The milestones that I've hit are not just weight loss changes, it's mindset changes. It's what I'm able to do now, or the things I will push myself to do, because my mindset has changed. I think I'm more confident in my ability to be able to do things if I really put my mind to it. My blood pressure has come down to a normal level. Obviously my shape has changed and I feel more comfortable in different types of clothes now. It's not just about losing weight, it's how you feel.
New You: What is the nicest compliment you have received since losing weight?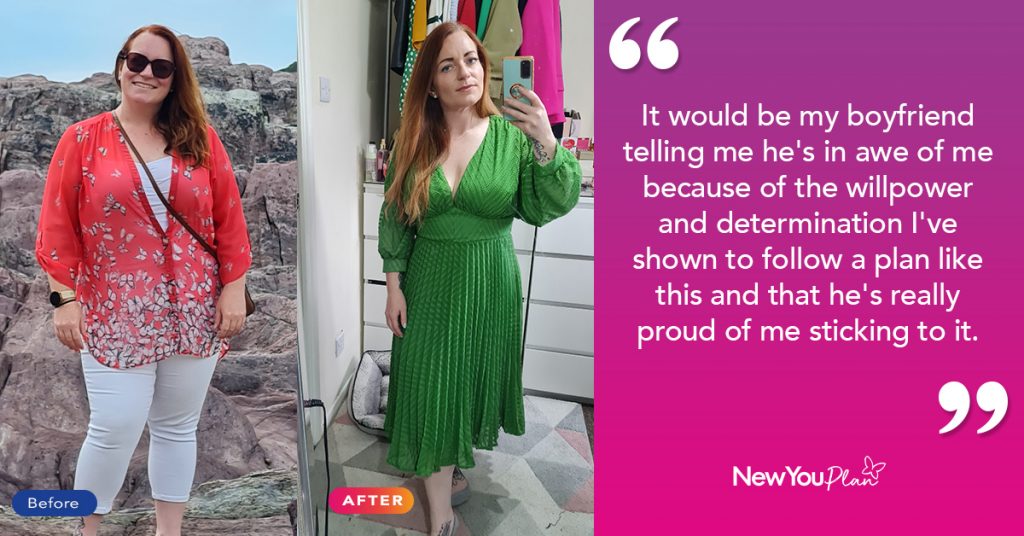 Emma: It would be my boyfriend telling me he's in awe of me because of the willpower and determination I've shown to follow a plan like this and that he's really proud of me sticking to it. I mean, I've been with him for four years, he's seen me do about three different diets in that time and lose a stone and then put a stone on, then lose a stone and a half and then put on two stone. He's seen me yoyo, even in that short time.
New You: What would you say to someone thinking of starting the plan?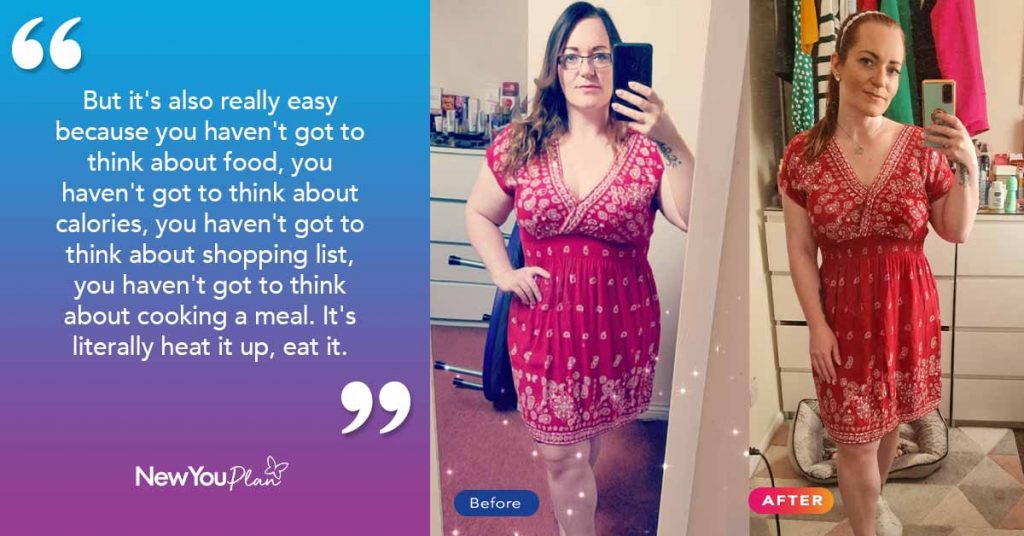 Emma: One of my friends did join, actually, to lose weight for her wedding. She lost three stone in three months.
She saw my products in a box and asked what it was. I explained about the plan, how it's difficult in one sense because it's such a drastic change from being able to eat normal food. But it's also really easy because you haven't got to think about food, you haven't got to think about calories, you haven't got to think about shopping list, you haven't got to think about cooking a meal. It's literally heat it up, eat it.
To anyone new I would say try everything, then try it again, then leave it a while and try it again because it tastes change. Experiment with the packs to keep it interesting and stick with it!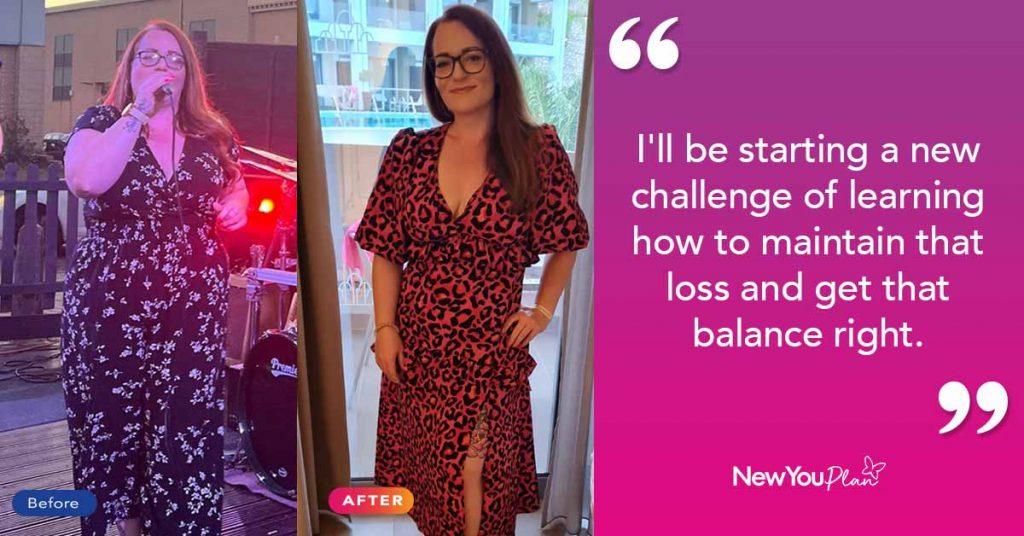 New You: And then finally, what's next?
Emma: By 1st August, I want to be at my goal. I've got about half a stone to lose to get there and then long term, I want to maintain.
I don't want to yoyo like in the past. My weight is going to go up as things are going to happen, there's going to be holidays, Christmas etc. But I know I just need to keep it in check. I think that's something else that has changed with my mindset and what I remind people of when they get frustrated at their losses. What are you rushing for? If you want to lose a stone, or two or three and you think you're not losing it quickly enough, ask yourself why you're rushing. Because once you get to your goal weight, it's not like you can go back to the way you were eating before. If you're eating more calories than you need, then you're going to put weight on. So for me, there's no end when I reach my target. I'll be starting a new challenge of learning how to maintain that loss and get that balance right.
Want to join Emma?
Emma is proof that you can lose weight and change your health for the better!
Whether you want to lose half a stone or 10 stone, have a slimmer figure, or are just looking to get maximum nutrition in minimum time, then New You can make the perfect partner to get you to where you want to be.
Not sure? Try our 7-day bundle and see what you can achieve in a week. You'll be pleasantly surprised…
Want to get involved in our 2023 Transformation Challenge?

Emma won £1000 cash and you could win too! This year, we are on a mission to help as many men and women reach their goals for good. In 2023, you really could lose weight, win cash and diet for FREE, thanks to our MASSIVE £75K giveaway.
Get all the details in this dedicated blog post here.