Before & Afters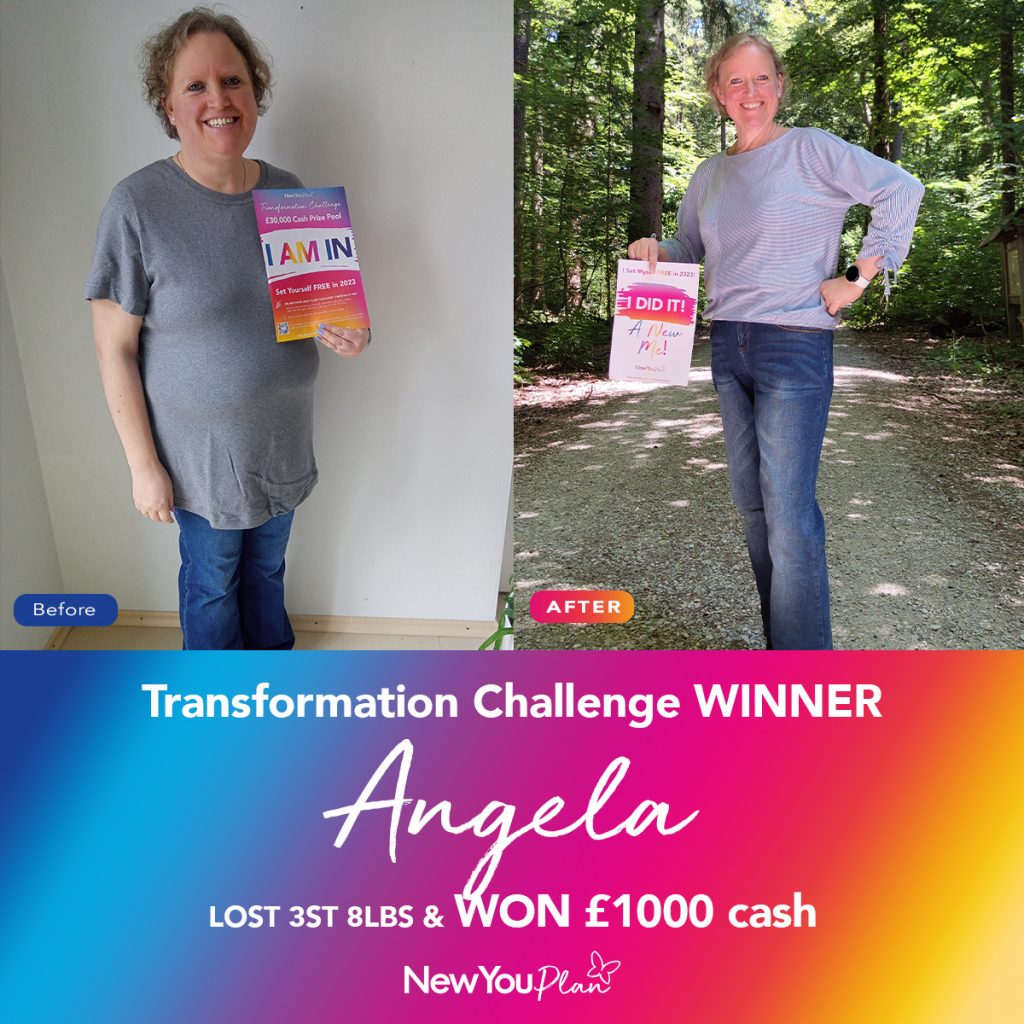 TRANSFORMATION CHALLENGE WINNER: Angela Lost 3st 8lbs & WON £1000 Cash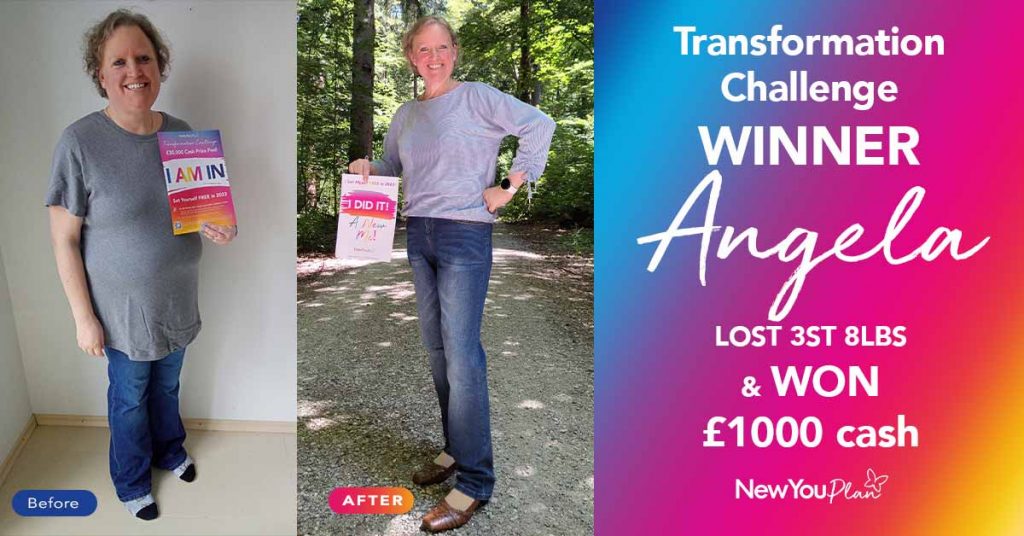 Customer Angela is truly inspiring! After being told by her doctor that she needed to lose weight, she found New You. Not only has she lost 3st 8lbs and won £1000 cash in our Transformation Challenge, she has reversed her diabetes and no longer has fatty liver. Here, she shares how her health and life have changed for the better.
New You: Angela, what was your biggest motivator for joining the challenge?
Angela: Initially I thought I would never do it because I was so unsure about my before picture. But then I had a doctor's appointment on June 26th, just before the end of this challenge period, and he was shocked and he could not believe what I have achieved. He told me my diabetes was gone so I could get rid of my medication and that my liver recovered. He also did another ultrasound and told me that the fat on my liver was gone. And I knew then that I'd reached my main goal. I did it, I really did it. I hoped that maybe my transformation would encourage others to stick to it and to see it's really possible to do that.
New You: Was there anything that helped you stay on-track while doing the challenge?
Angela: Yeah, I always had my goal in mind. I always remembered what I was doing it for. That helped a lot. But I did struggle. It's not always that easy, but I have a family that is a great support. My husband and daughter are amazing, and always telling me how great I'm doing. And I'm just lucky. When I struggled, I also reach out in Secret Slimmers. Writing it there just seems to help. We're all on the same mission so there's always someone to just reach out to and have kind words for you.
New You: So tell us, how much weight have you lost?
Angela: Okay. I started my journey on January 24th this year and my weight was 14.3 stone. And until now, I've lost 3.6 stone in 22 weeks. And I'm now at a weight at 10.7 stone, which is amazing for me.
New You: We'd love to know how you heard about the plan!
Angela: In December 2022 I had a doctor's appointment and he told me that I had to lose weight. I did lose weight but I got stuck. I couldn't get any lower. So I did some research also regarding my health issues, and came across the Newcastle University website and there was your company on it, along with others. I looked them up and decided to go with New You because your products just convinced me.
Getting Started…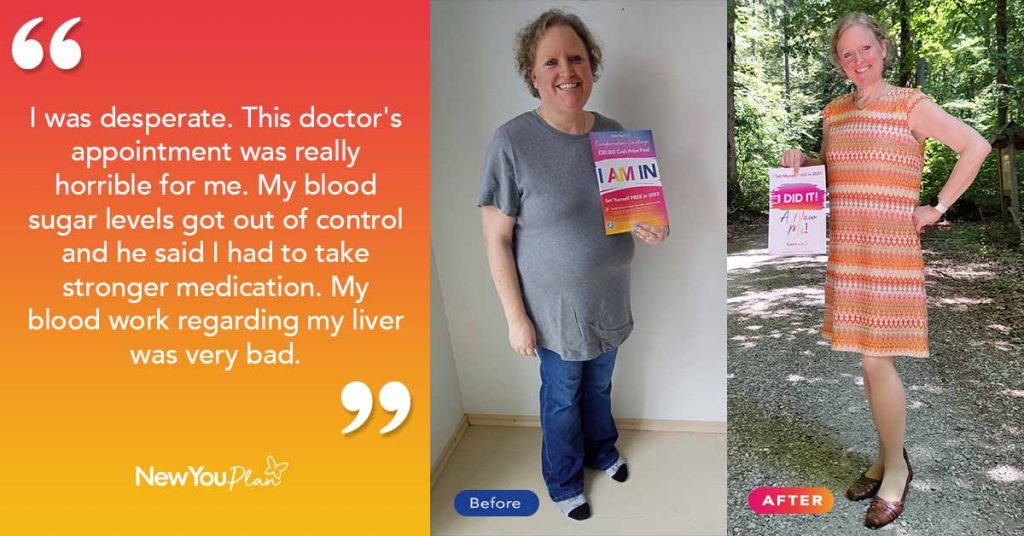 New You: What led to you starting the plan?
Angela: I was desperate. This doctor's appointment was really horrible for me. My blood sugar levels got out of control and he said I had to take stronger medication. My blood work regarding my liver was very bad. And he also did an ultrasound and found out that I had a fatty liver and I was really desperate. There was a professor I heard of – Roy Taylor – and he had a connection about fatty liver and the type two diabetes. I read this book and then went to the New You homepage, found your products, and ordered just a six week bundle because I thought, I need to fix it, I need to do something.
And five days later, I bought another six week bundle because I was convinced and I knew I would stick to it.
New You: And tell us about that first week…
Angela: The first day was easy because I was so excited and everything was tasting so good. I remember I had the Vanilla Shake for my first meal and I thought, whoa, it's so creamy and delicious. But then the second day, it was hard because I felt hungry and somehow my mind realised then that I had a long way to go. And it was difficult, but I knew I was on a mission to get healthier and stick to it. And then on the fifth day was I was struggling because I had a headache and I felt like I had a fever. When I went onto the Secret Slimmers Facebook, I quickly realised that this was all because my body was going through a massive detox. Knowing this definitely helped me perserver. And also I have my family that was always there for me and encouraged me.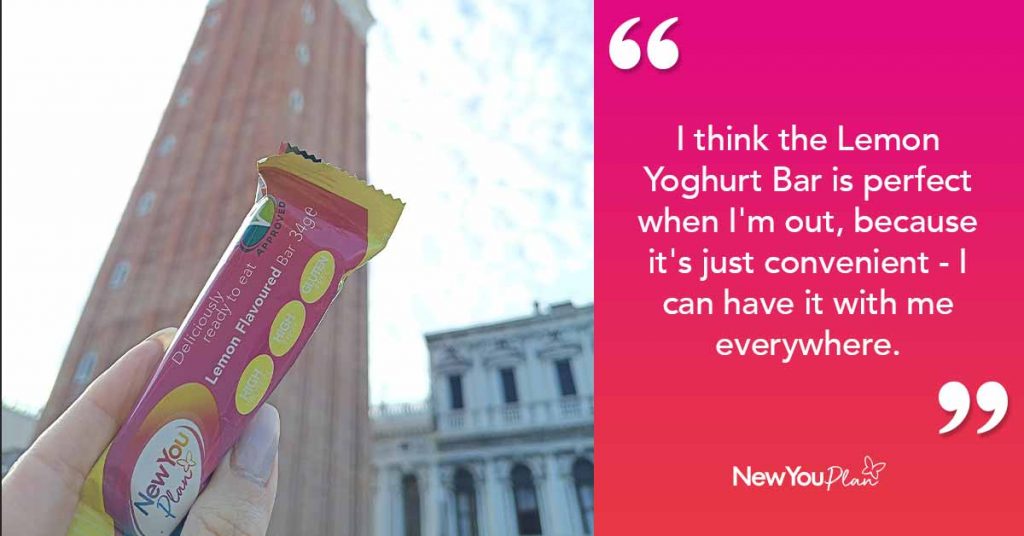 New You: What are your go-to meals & snacks?
Angela: That is a really tough one, because I like so many. I think the Lemon Yoghurt Bar is perfect when I'm out, because it's just convenient – I can have it with me everywhere. I have Bars in all my bags so that I'm always prepared. And when I'm at home, it's the Tomato Soup, because I love tomato soup and yours is so delicious. But there's so many others. I like the Latte Shake and the Salted Caramel Cake because they feel like such a treat. And also the Barbecue and Bacon Crisps. They feel like they shouldn't be allowed on a diet! And what I also like is that you can combine some of the products to create new meals. The people in Secret Slimmers are so creative. I love that. So it's never boring. There's such a big range already and then because you can mix and match you have even more options.
Life Changing…
New You: What difference has the plan made to your life?
Angela: The biggest change has been to my health. I do more sports now and I can stick to them better. I can get through workouts without breaking up or pausing. And I even bought a bike! I haven't been on a bike in years and now I'm riding a bike again and it's just amazing. I was shopping with my husband recently and I saw the dress that I'm wearing in the photo. I tried on the size bigger and it was too big! When I tried on the smaller size and it fitted, the tears welled up. I was so overwhelmed. That was incredible.
New You: What is the nicest compliment you have received since losing weight?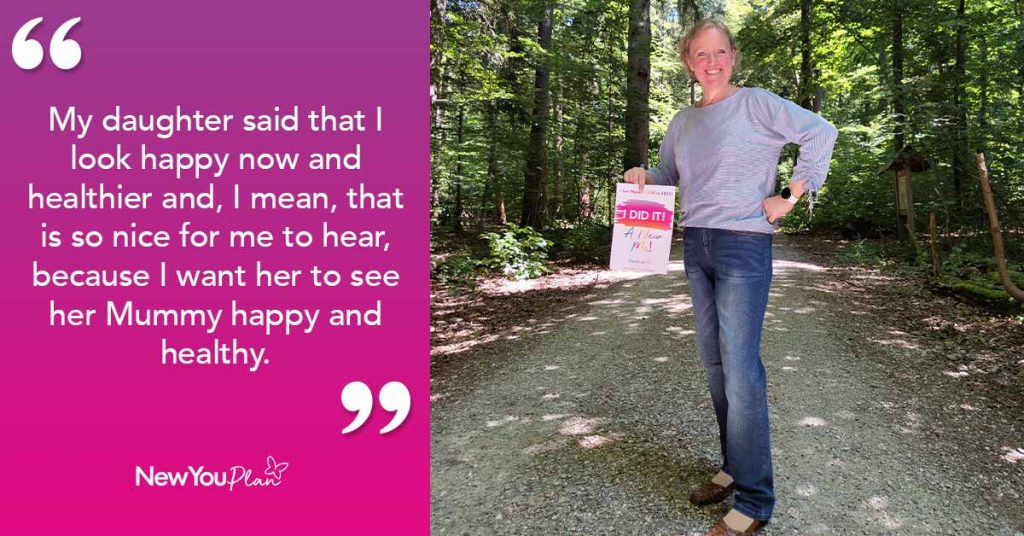 Angela: Yeah, I got many compliments last weeks, but the most important one came from my daughter. She said that I look happy now and healthier and, I mean, that is so nice for me to hear, because I want her to see her Mummy happy and healthy. And that was just great when she said that.
New You: What would you say to someone thinking of starting the plan?
Angela: I would tell them do it and stick to it, because it's totally worth it. And what is really important, is not to compare your journey to others. Everyone has their own journey and some are losing slower, some are losing quicker. Take it step-by-step and be kind to yourself. And another important thing is look out for people that really support you and reach out for support in Secret Slimmers as well, because they can help you. They know what you're going through.
New You: And then finally, what's next?
Angela: I still have some weight to lose. I want to get a bit further down, and I will stick to the plan. And in two weeks, I will go into re-feed. After that, I will decide if I will go back to total food replacement. It depends on how far I get by then or if I change to the Switch version of the plan. Because I really have the feeling that with that, I can maintain. Then the next biggest goal is to enter the challenge a year from now to tell you I maintained!
Want to join Angela?
Angela is proof that you can lose weight and change your health for the better!
Whether you want to lose half a stone or 10 stone, have a slimmer figure, or are just looking to get maximum nutrition in minimum time, then New You can make the perfect partner to get you to where you want to be.
Not sure? Try our 7-day bundle and see what you can achieve in a week. You'll be pleasantly surprised…
Want to get involved in our 2023 Transformation Challenge?

Angelawon £1000 cash and you could win too! This year, we are on a mission to help as many men and women reach their goals for good. In 2023, you really could lose weight, win cash and diet for FREE, thanks to our MASSIVE £75K giveaway.
Get all the details in this dedicated blog post here.