Before & Afters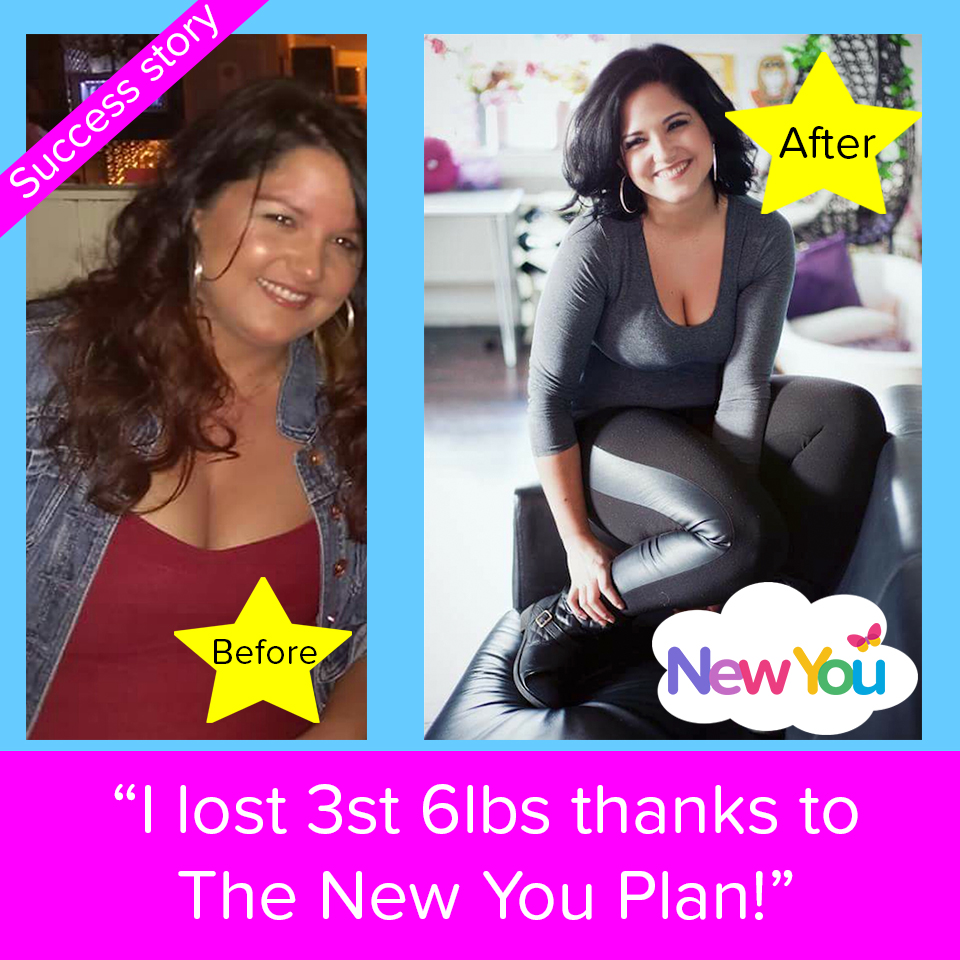 Customer interview: Clem loses 3st 6lbs and drops 3 dress sizes with The New You Plan*
*Results may vary. This is not a guarantee
We just love the confidence that Clem has achieved with her New You Plan weight loss! After dropping an amazing 3 dress sizes and a whopping 3 stone 6 lbs, we were delighted to catch up with Clem who shares her journey below!
Clem, tell us when you started the plan? What was it that finally led you to getting started?
I started the plan in September 2013. I had gained weight over time due to being unhappy as well as a thyroid issue … I finally had enough and needed a change in my life and thankfully The New You Plan has done that for me. Not only am I at a healthy weight (with just a little more to lose) but I am a very happy and bubbly person – the person I used to be when I was younger.
What were you hoping to achieve from The New You Plan?
I wanted to loose weight and gain confidence, both of which I've definitely achieved!
How has The New You Plan has changed your life?
I achieved the weight loss I wanted and gained confidence. I am just a very happy person. I'm extremely happy in my life. The New You Plan also made me want to live a healthier life. I now like to go to the gym, and I try to surround myself with people who are into fitness and healthy eating – it's a very different crowd which I feel will have a great impact on my life.
Is there a particular of piece of clothing that you've been dying to wear?
I have been buying and wearing a lot more short dresses. I love wearing anything tight to show off how much weight I have lost!
Our customers love the support from Secret Slimmers. Have you got in on the action?
Very much so! I love the group on Facebook. I think it makes all the difference. I am on it all the time and it has obviously helped me stay on track and reach my goals. I like playing an active role on it. I feel it helps keep me and other people remain focused!
I hope you've found great support in our customer service team?
Absolutely! I've never had an issue. The team is very responsive and helpful at all times!
Tell us, what New You Plan meals and snacks you can't live without?
Ohhhh! When it comes to snacks, I LOVE the crisps and wafers!
For hot meals, I'm a HUGE fan of the new Pasta Carbonara. I could just eat that for the rest of my life. The Vegetable Chili is also amazing and so filling. I love to start the day with the Porridge. It helps me feel normal and I can have it in the office – no questions asked!
I love how all the meals and snacks can be combined to make brand new dishes! I bake the Porridge in the over with a little of the Vanilla Shake and a tiny bit of one of the Chocolate Bars to make mini-cupcakes! The ultimate guilt-free snack! YUM!
Have you tried any of our Water Flavourings? Which is your favourite?
I'm all about the Pineapple Fat Burners! I love the kick of energy they give you. I'm a big fan!
Do you have any tips for staying on track? How did you stop yourself blipping?
I will be honest, I do blip from time to time. What works best for me is following the plan intensely and staying 100 percent on track for weeks – normally 2 months. I  then slow it down and go back into healthy eating to teach myself how to. But while on the plan, if I feel like blipping I'd choose an extra meal or snack to keep me on track.
We hear all the time about the amount of energy our customers have on the plan. Has this had an impact on your exercise?
I love that after day 4 your body is in ketosis and then the high energy levels kick in. It greatly helps with working out and the extra energy at work is super as it keeps me focused. I love that feeling!
When it comes to exercise, I have changed my routine. I used to be very much into cardio but now I tend to focus on weights, squats, and a bit of Pilates, which is amazing on my core!
I'm sure there are loads of people listening who just haven't taken that leap of faith yet. What advice would you give anyone considering starting their New You journey?
Make sure you have a clear goal in mind – it will keep you focused and on track!
Once you take that leap of faith, use the Facebook group and take inspiration from people on the plan. They have a lot of knowledge and are very inspirational – that helps a lot!
If like Clem, you would like to achieve your weight loss goals safely and rapidly, shop our special offer bundles here.