Before & Afters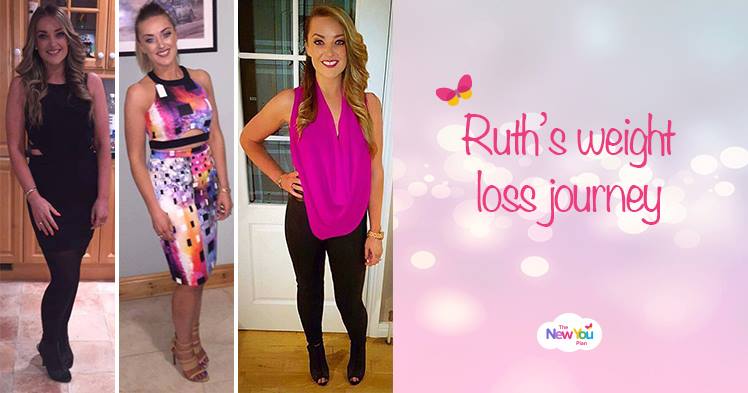 Ruth's New You Plan Total Food Replacement Weight Loss Results*
*Weight loss results may vary. This is not a guarantee.
[GUEST BLOG, RUTH: "I lost 4 stone and changed my life, thanks to The New You Plan!"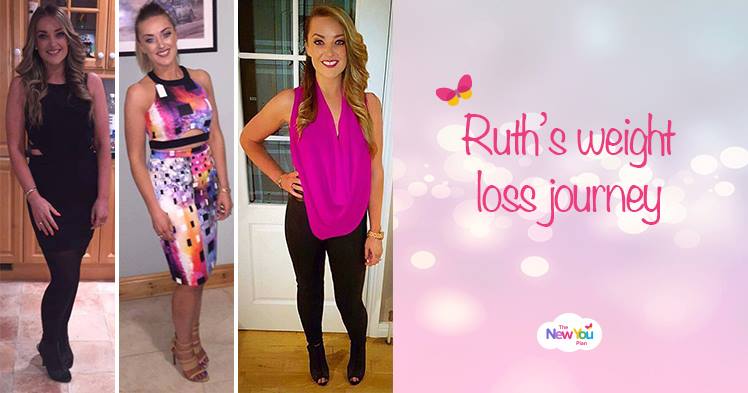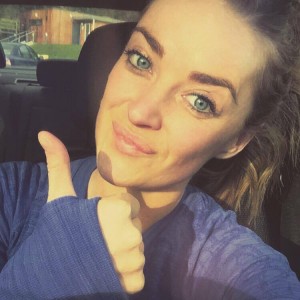 Hi my name is Ruth,
 I want to share with you my weight loss results and how The New You Plan has changed my life.
I am 29 and I am currently having the best years of my life. Why? Because I took a decision to start The New You Plan.
In my teen years my weight changed and dramatically started to increase. I was no longer as active as I was in my earlier years. I finished school and being a typical teenager, I stopped being active and started working, which provided me with my own income and money to spend as I wished. For me this was indulging in food, especially the wrong types of food.
By the time I was 21 I was a size 20 plus. I wasn't the bubbly out going teenager that I used to be. I was in my early twenties and hiding behind a smile that was covering how I really felt, which was sad, down and uncomfortable with my body and the negative impact that it had on my life. I did not want to go out and socialise as I did not feel comfortable being so over weight.
I could only shop in shops that provided clothing to ladies who were overweight. The clothing these places offered tended to be black oversized tops and skirts which didn't exactly fit in with the trends of my friends who were in their early twenties. How did I deal with this? By hiding and not going to family events, not going out with friends and instead sitting in and feeling sorry for myself and not taking action to change this.
Enough was enough and one morning I woke up and told myself to stop feeling sorry and DO something about it. I started by cutting back on fatty foods and when I was sad I didn't go to the nearest takeaway and try to make myself feel better by comfort eating. The impact on this was slow weight loss. It was painfully slow and I was battling with my mind on a daily basis to try and stay in control.
I found The New You Plan as I was friends with a local photographer who reached out and asked me to do a photoshoot for a weight loss company. They wanted a normal, down to earth person for a photoshoot. I reluctantly said yes and took myself out of my comfort zone, and gosh I am thankful everyday that I did.
I turned up at the shoot and was introduced to Julie-Ann the founder of the company. Julie-Ann put me at ease straight away and explained how the plan worked. I sampled some products and to my amazement could not get over how good they tasted. In the back of my mind I was saying HOW can these products taste sooo good and help you lose weight?? As the day went on and with support from Julie-Ann who told me I was beautiful and provided me with the confidence to let go of all my negative feelings about myself, I shined in front of the camera after years of hiding behind it.
After the shoot I decided I wanted to give this a go. If I have the support from The New You Team I know I can do this and I did it.
I have lost 4 stone through the plan and can't believe just how amazing my journey has been. The products are amazing and the range has something to suit everyone: sweet, savoury and chocolate, oh my, chocolate! A diet that you can lose weight by not substituting with bland, tasteless products.
Here I am now working for the company that has changed my life, my mind set and my health.
I myself continue to use The New You Plan products to stay in control. My journey started by doing total food replacement which was 4 products a day. The weight and inches have melted away. I then decided to move onto the 5:2 version and the results continued to be amazing. By ensuring I was eating 1200 calories on my 5 non-fasting days and 4 total food replacement products, 2 days a week the inches kept falling.
For the last few months I have taken up exercise and I use everything and anything that I can just to add a weight so I can tone my body up as I achieved such an AMAZING weight loss!! As you can see in my video I am using my 18lb nephew to help lol – he was loving it look at the little smile on his face ??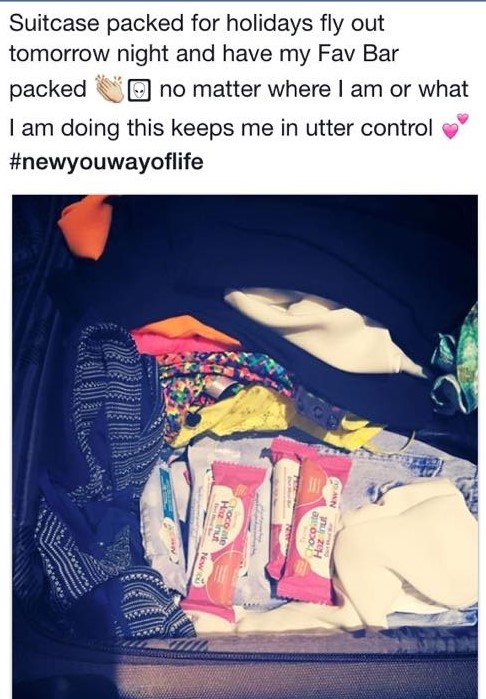 I ordered  a swimming suit I ordered of E bay for £5 and tried it on and for the first real time in my life I am going away on a girls holiday for my 30th birthday feelinglike I don't have to hide away inside and pretend like I don't like the sun and need the air-con , I am sharing this swimming suit shot with you all to show you anything is possible when you want it so much… I always come armed with my favourite New You Bars and Snacks so that I am in complete control at all times! This includes my Summer Holidays and any weekends away I am never without The New You Products.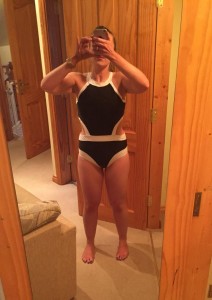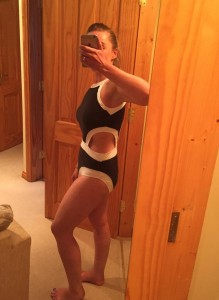 I have completed The Plan for 7 Days to allow myself a boost before I go on Holidays and I was amazed again at the results. I started at 10 Stone 4 3/4 Pounds. Day 7 I am was down to 9 Stone 2 3/4 Pounds thats an amazing 1 Stone 2 Pounds weight loss by providing my body with total food replacement and kick starting my metabolism into action to get fast results.
I am no longer feeling like I am drowning inside and can't find my way out.. I am no longer dreading weekends out.. Dreading family events hiding away!! I am now the first person to enter a room with pride and excitement for what my future holds!
I control my weight through the products taking them as I need instead of soup I have a cups soup from the plan. Mornings I have The New You Plan Pancakes and then I eat healthy food low in carbs. I can honestly say maintaining my weight has been easy because I have never lost control.. The control the new you new you plan provides!! The secret slimmers group seeing you all post daily!! Life is here for living and I am going into my 30s living it like never before Yes I have stretch marks yes my cleavage is not as firm as it used to be, however I am so happy with myself inside and out.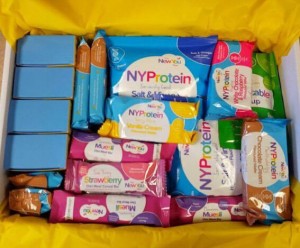 I myself always wondered when I started the Plan can I keep the weight off? How can I make sure I do not go back to my old ways? The New You Plan promotes Healthy eating through a private group on Facebook called The Momentum Maintainers group. Daily people post Healthy Meals and also update each other with new healthy foods that can help you maintain your weight. Its amazing seeing so many people who before did not have an understanding of healthy eating and now are standing in the kitchen whipping up beautiful tasty healthy meals.
The support through The New You Plan has had a major impact on my journey. The Secret Slimmers group is so inspiring and seeing everyone's daily posts and weight loss results along with support for anyone who is having a hard day is incredible. The in-house team are so dedicated to creating an amazing journey – the WOW moments are never ending. From the moment I got my box with the beautiful branding, motivational stickers and personal handwritten cards and support documents, I have never experienced a company who will go that extra mile like The New You Plan.
My Journey has been incredible and I would not be the person I am now from my Body Mind and Soul without finding The New You Plan.
If I can change my health, mindset and body so can this is your chance to experience something special!
Love,
Ruthie xoxoxo
---
 Make the next 21 days count!!!
Save up to 59% with our 21 day bundles 🙂