Before & Afters
Our March/April Transformation Challenge Winners- x5 £1000 Cash Prizes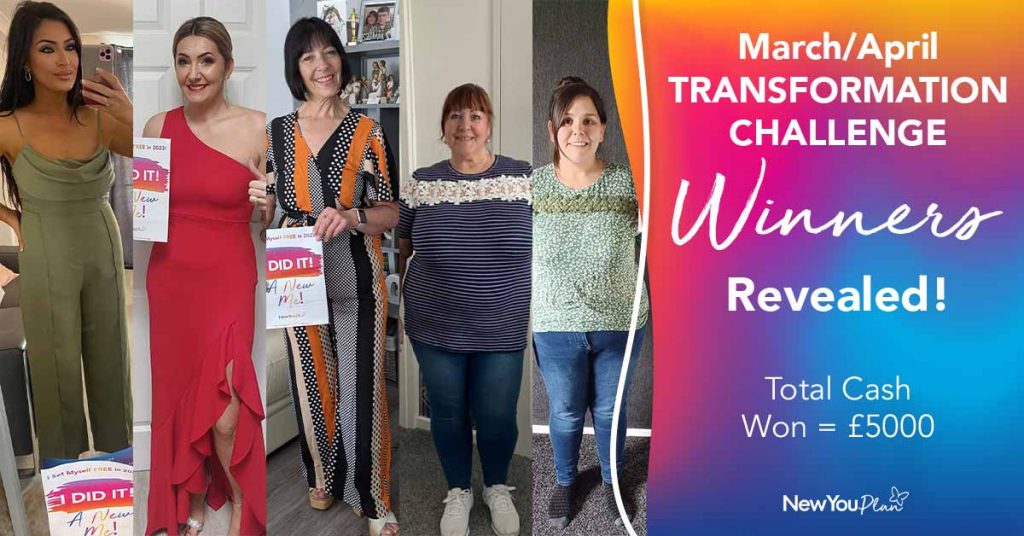 We are so excited to announce the WINNERS of our March/April Transformation Challenge. Check out the fab results of these 4 amazing ladies…
This year, we decided to get things started with a BANG! Instead of our usual quarterly challenges, we launched one MASSIVE year long Transformation Challenge, with winners announced every 2 months. In total, we will be giving away a HUGE £30K in cash prizes (£5000 every 2 months) and we are delighted to reveal that the second set of winners have been chosen.
We had an amazing response to our Jan/Feb giveaway and we were blown away (and delighted) to see even more of you joining! This time, we have 5 worthy winners, all deserved of £1000 cash each.
So, we won't keep you waiting any longer! Let us introduce you to our WINNERS…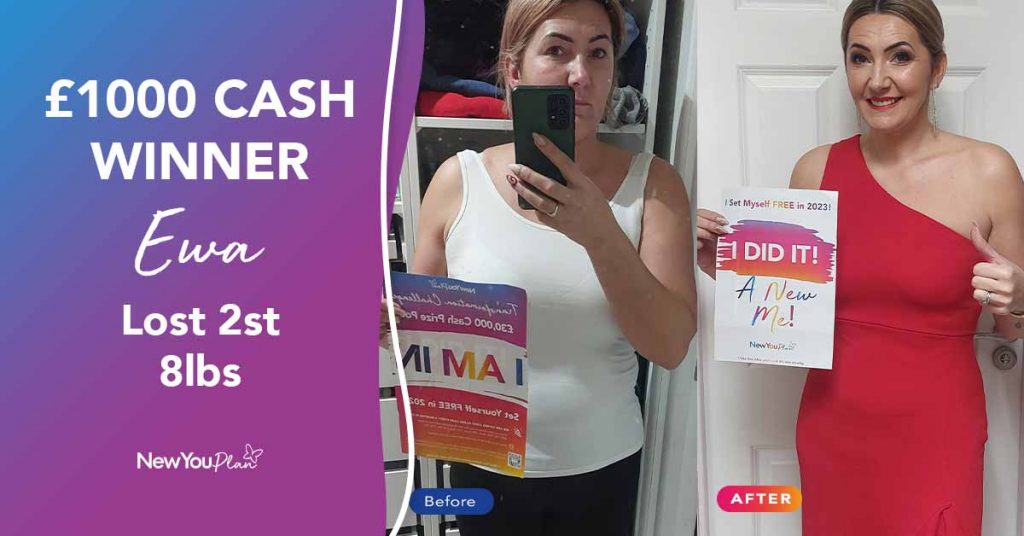 Ewa Lost 2st 8lbs & WON £1000 Cash!
How stunning does Ewa look?! She lost 2st 8lbs and is definitely a worthy winner of £1000 cash. Ewa said: "How little did I know then how New You would change my life. I've been sleeping better and seeing changes to my body. My mindset and everything around me seems to be brighter and happier. I am looking at things differently, making good /better choices. But most of all I am happy. My journey isn't over yet, but this time I am confident to continue with the support of The New You team and of course the Secret Slimmers group on Facebook."
Well done Ewa! We'll be sharing more about her transformation soon!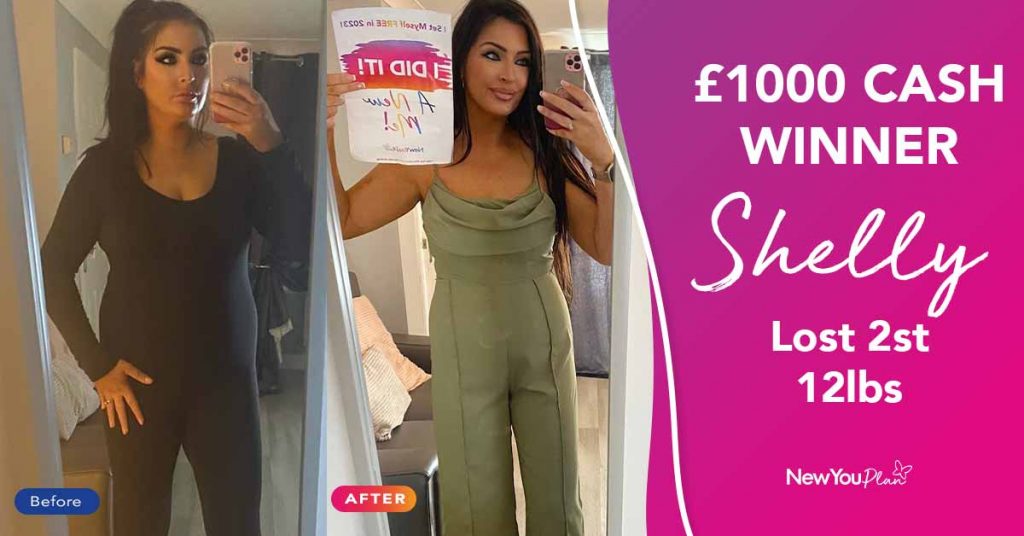 Shelly Lost 2st 12lbs & WON £1000 Cash
While it's clear to see that Shelly has lost 2st 12lbs, it's amazing to see just how happy she looks in her after photo. Losing weight has helped Shelly turn her mental health around: "I've had my final 12 week weigh in & I'm down to 11 stone 2lb with a healthy BMI of 23.7. I'm off my anxiety medication completely & feel back to my happy positive self!"
What a girl! We're so proud of you! Don't miss Shelly's interview coming soon!
Becky Lost 1st 9lbs & WON £1000 Cash
LOVE, LOVE, LOVE this before and after photo! It's clear to see that Becky has lost 1st 9lbs and she is totally motivated to reach her goal. She said: "I'm dieting for my children, I'm dieting to become confident and happy, and lastly I'm dieting in the hope to help my endometriosis. I find my photographs absolutely embarrassing, however I am proud of the larger me for trying and getting this far. I can see my belly getting smaller, I feel so much happier. I still have a long, long way to go, but already I feel great."
Well done Becky!
Gillian Lost 3st 7lbs & WON £1000 Cash
Gillian started her weight loss transformation this way and is killing it with 3st 7lbs lost so far. Her health has massively improved and she is determined to keep going! "This is the diet I've stuck to the longest. My mindset is different and with the support of the Secret Slimmers, it as helped me so much, it is my second family. I can't believe in such a short time I've achieved so much. I can now go for walks as before, I couldn't even stand up without being in pain, I had to do my ironing sitting down. I also go swimming. My energy as improved so much and I'm starting to feel so much better in my clothes. My mood is so much better too."
Woohoo! We know Gillian will reach her goal and we can't wait to see her transformation.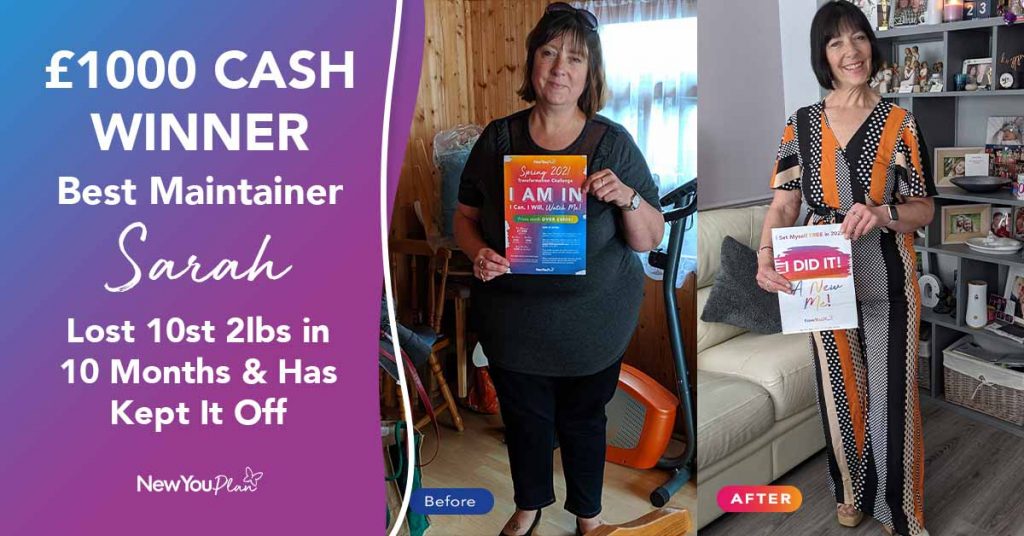 Sarah Maintained Her 10st 2lbs Weight Loss & WON £1000 Cash
Sarah started The New You Plan in May 2021 and lost 10stone 2lbs in 10 months. She has been maintaining her incredible weight loss since. She said: "So since finding New You and losing all the weight, my life has totally changed, I have to pinch myself every day to check it's real. I am living the best life, and have so much more energy, confidence and zest for life!!"
A MASSIVE congratulations to Sarah! We can't wait to share her interview with you.
CONGRATULATIONS EVERYONE!
Fancy seeing your photos here & WINNING cash?! You still have 4 more chances to enter…

Our next deadlines are:
30th June 2023
31st August 2023
Remember, you don't have to be at your goal. You can enter every challenge if you wish. So if you've already entered and haven't won, please keep submitting your photos. If you don't want to enter until you reach your goal, that is absolutely fine too. Just remember to take your "I AM IN" photo now so that you will have amazing before and after photos.
Get all the details in this dedicated blog post here.