Candida's Blog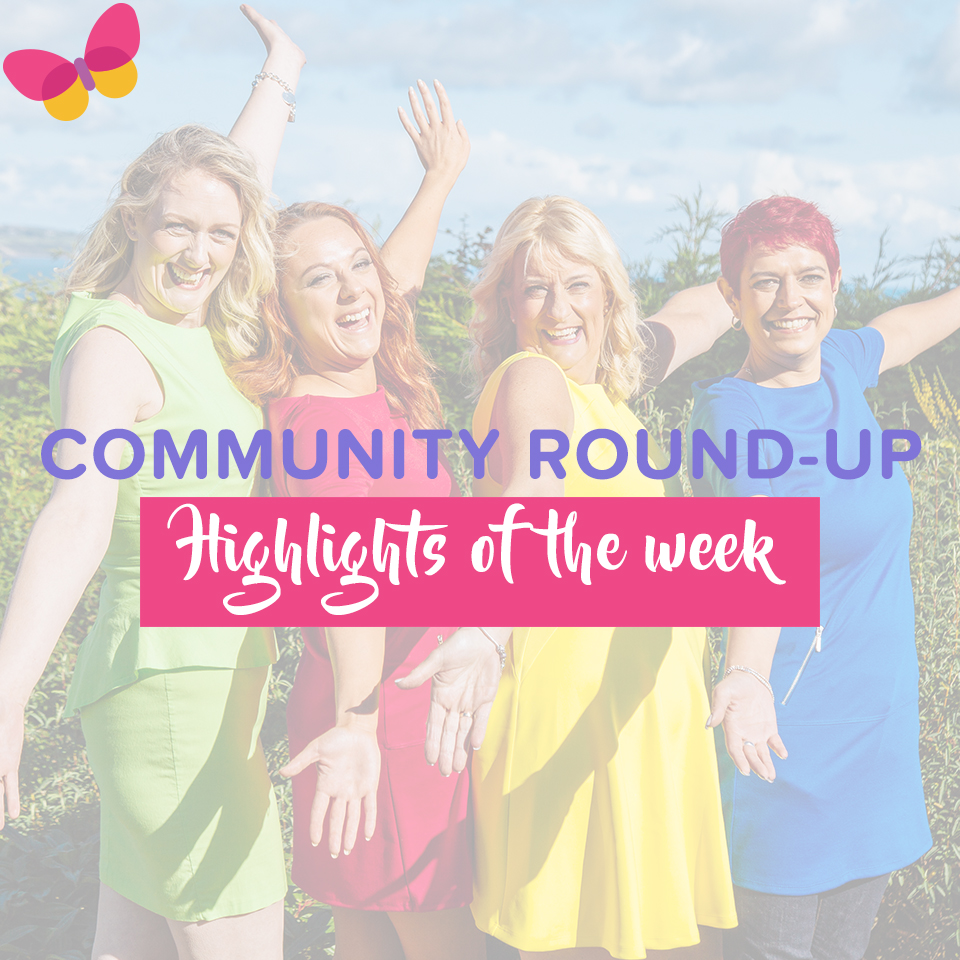 New You Plan highlights of the week!

Hi everyone, it's Candida here with your New You Plan highlights of the week!
Spring is upon us and this week sees the beginning of March Madness at New You as we lovingly leave behind Love Your Body Month. This week has been as busy as ever on both Secret Slimmers and Momentum Maintainers with an abundance of fabulous achievements.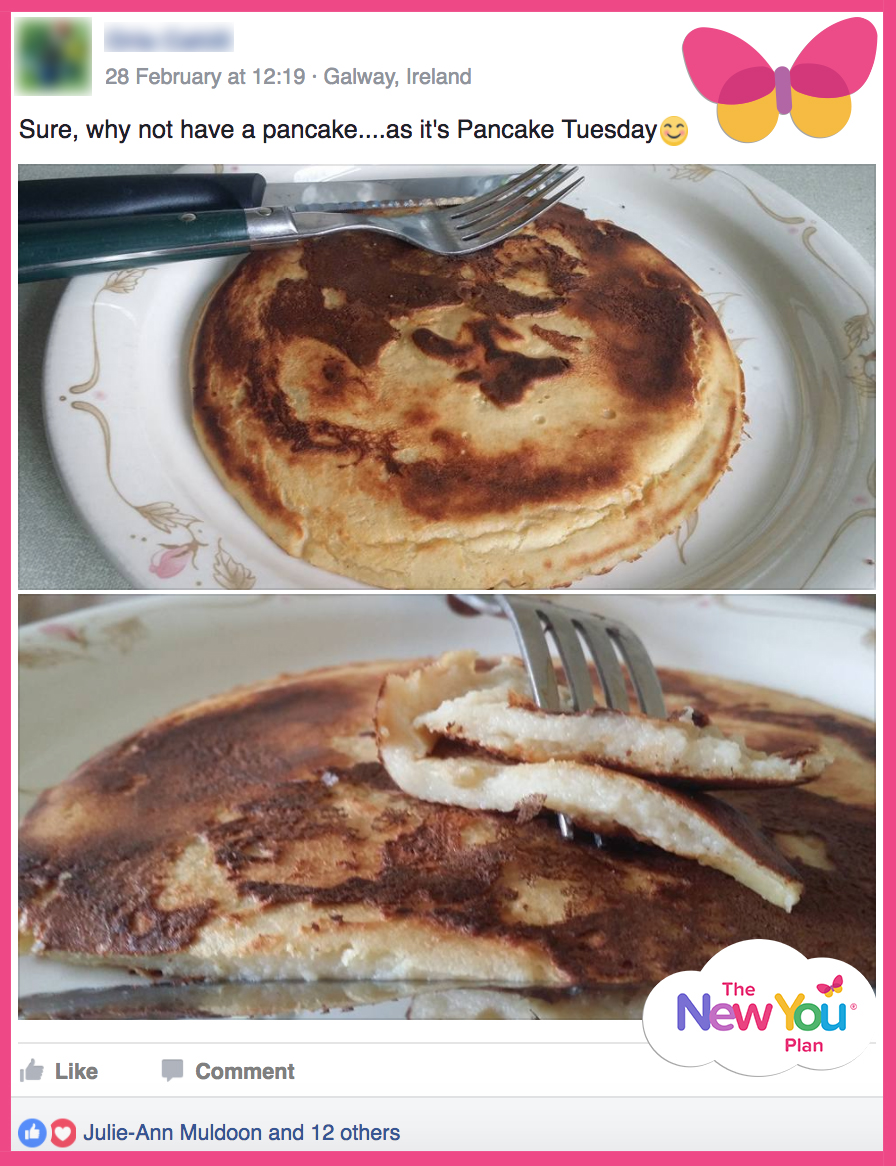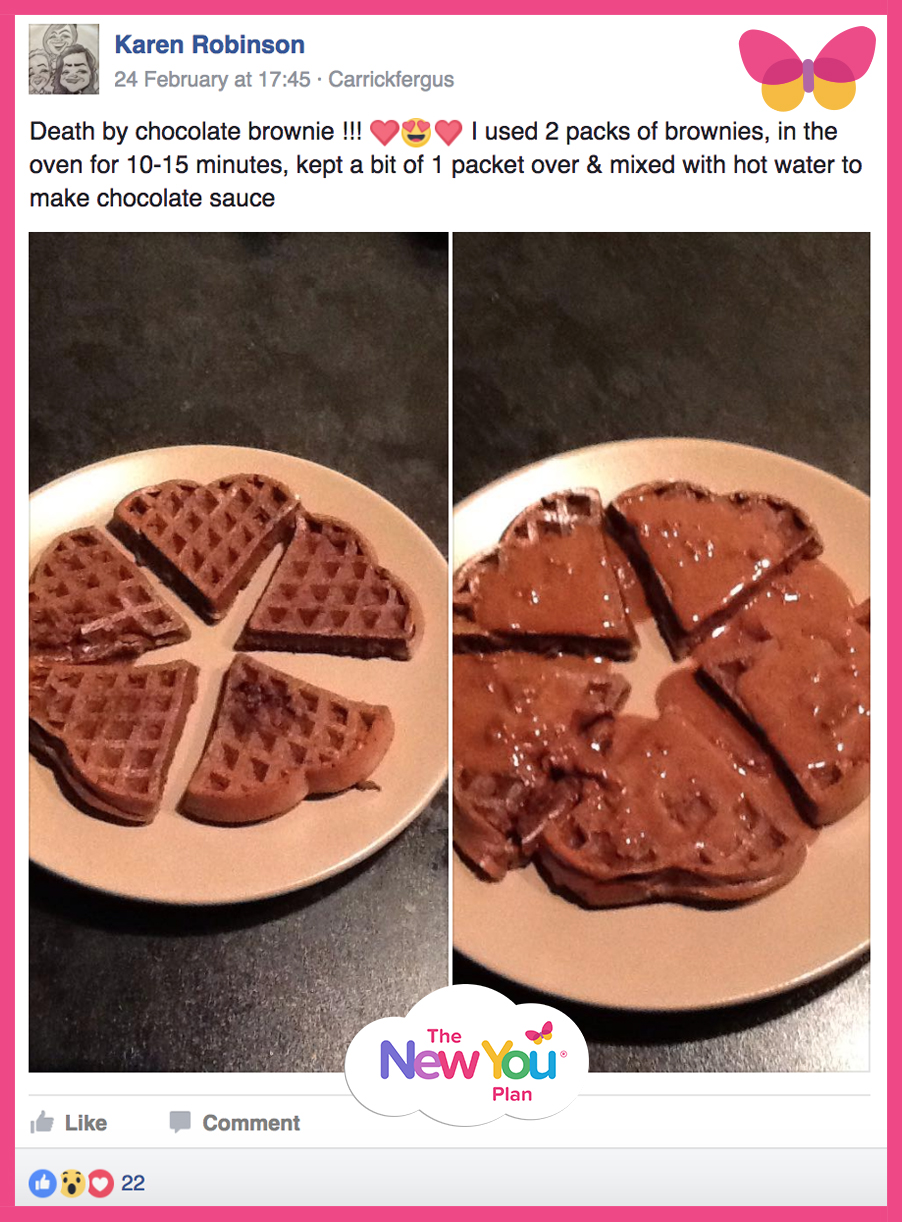 New You founder Julie-Ann inspired many this Pancake Tuesday with her helpful step by step guide to making New You Pancakes, including Orla Cahill and Maureen Dowling who created some delicious looking pancakes. Karen Robinson's culinary skills did not go unnoticed either with her Death By Chocolate Brownie Waffles, which looked almost too good to eat.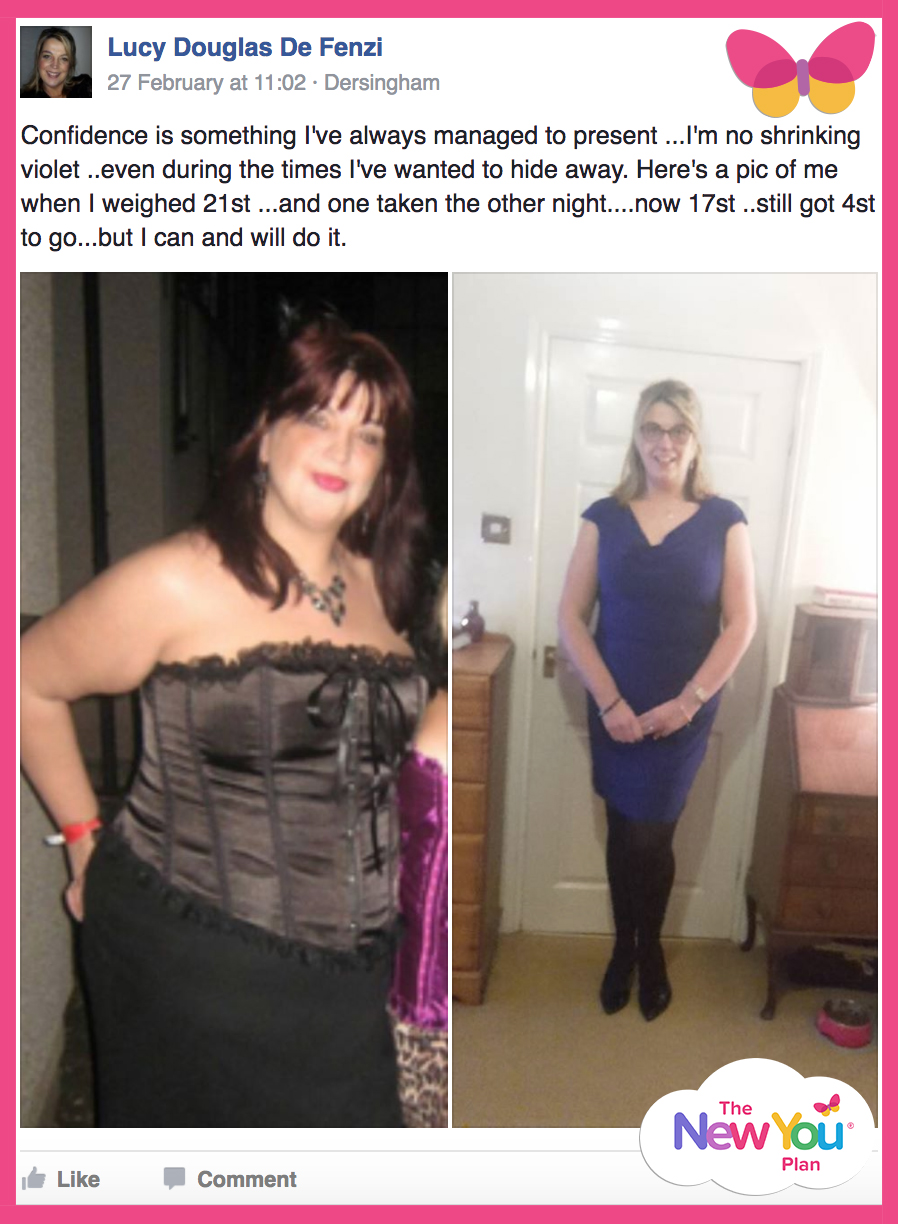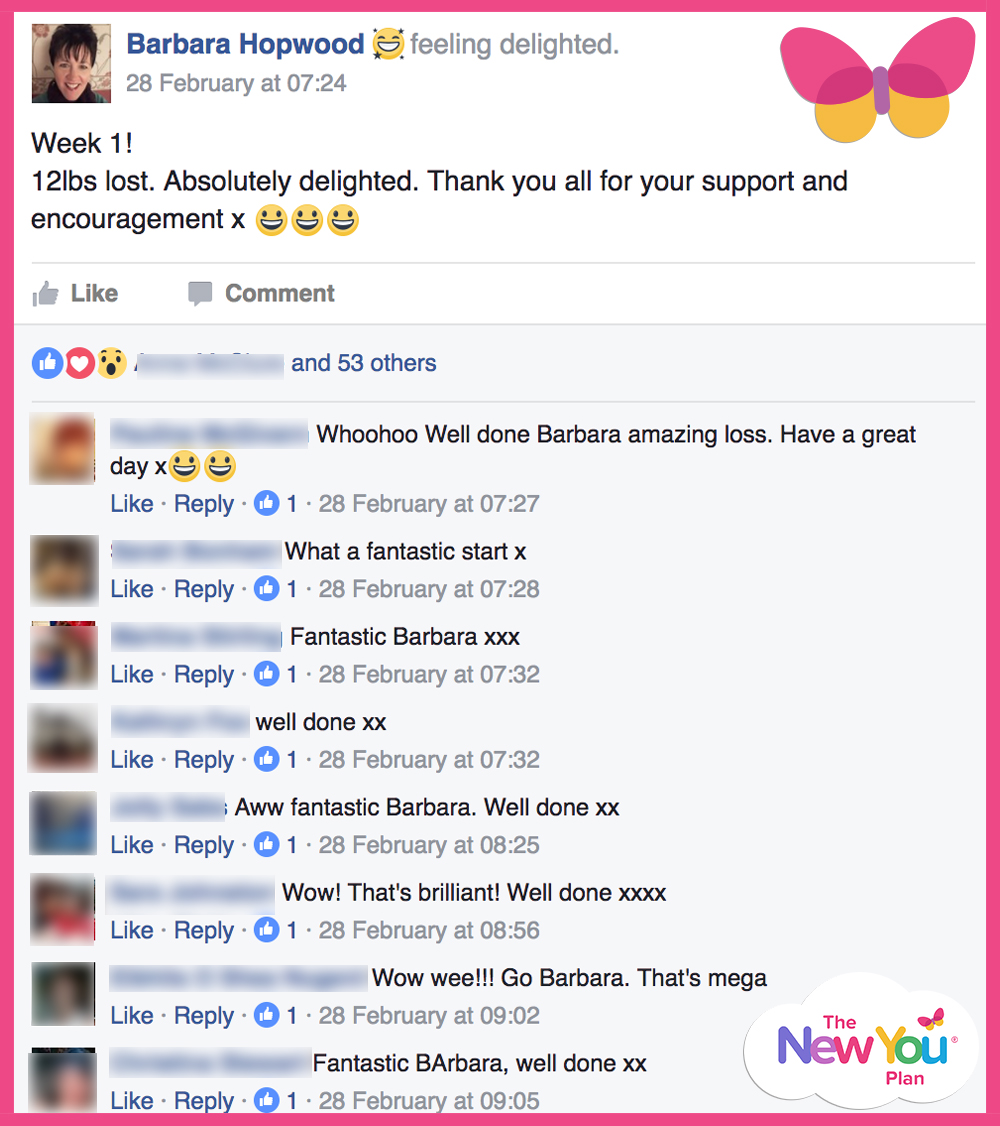 The level of commitment to the plan this week has proven to be outstanding with some wonderful losses. Whether you are on week one or week 24, we love to hear how much you have lost and celebrate your achievement. Well done to Barbara Hopwood who has not only completed her first week on plan but lost a whopping 12Ibs* whilst the gorgeous Lucy Douglas De Fenzi is feeling confident and over the moon having gone from 21 stone to 17 stone*, confident that she'll lose a further 4 stone and reach her goal. Eileen Hamilton who began the plan 7 weeks ago using TFR initially then Family Focus, had a goal of losing 1 stone and 3Ibs*, proclaiming: "I am happy to announce I have achieved this and I am over the moon." Absolutely fabulous!
Momentum Maintainers is flourishing, now with over 1109 members. Woohoo! I have been up to my usual tricks in Candida's kitchen inventing new low carb dishes. I would like to make the point that if you move over to Momentum Maintainers, you can still remain in Secret Slimmers – a question that has arisen a lot frequently. We are a fab bunch over on MM and you will get the same wonderful support as you do on SS.
The Love Your Body step challenge was a great success with the grand prize of a Bodyblade being won by Karen Wilcock and two runners up prizes of £50 New You Plan points went to Clare Neilson and Caroline Foley. Well done to all of you and to everyone who took part. We hope the challenge is the start of something wonderful and the perfect motivation to keep your steps up!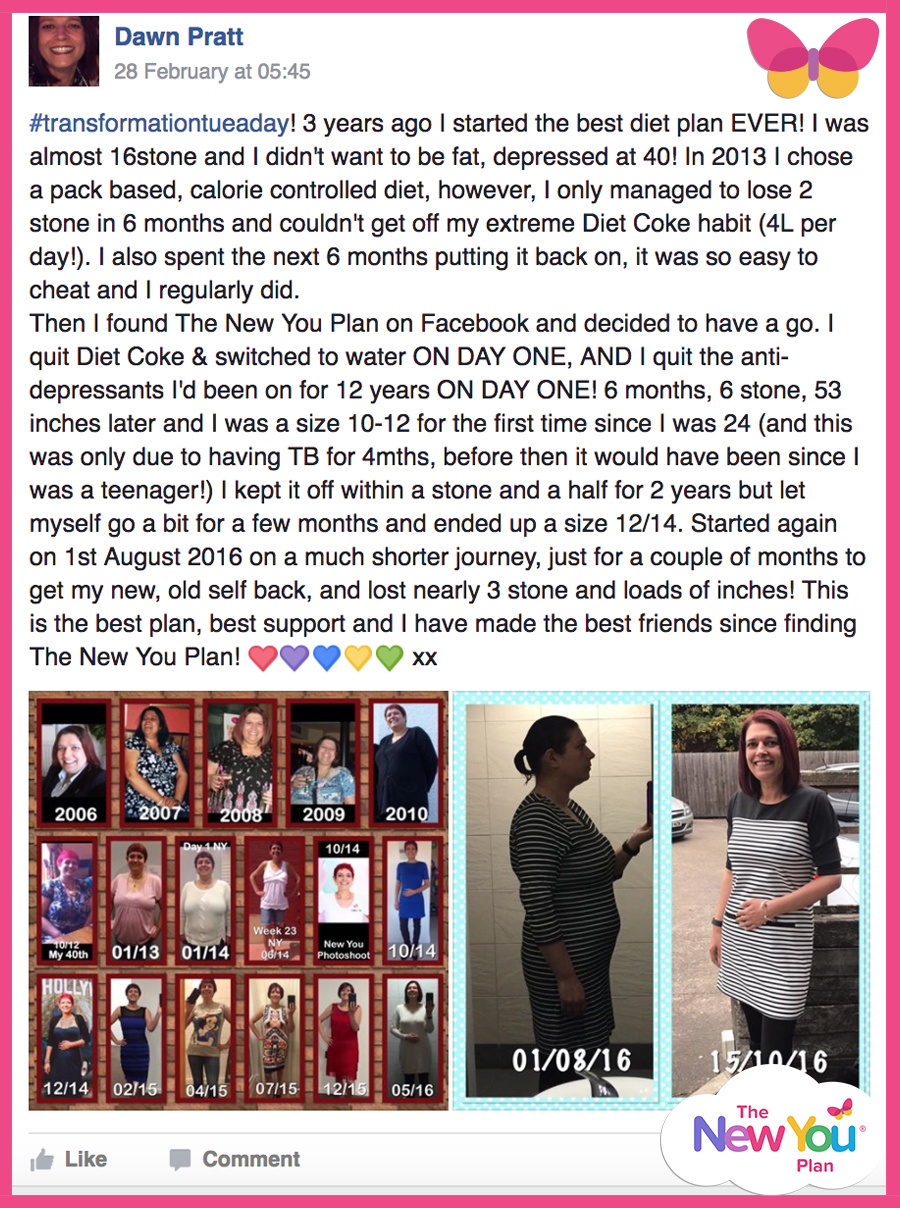 I thought it would be rather lovely for you to meet one of your incredible Cheerleaders every week, so this week I would like to introduce you to Dawn Pratt. As you can see from her pictures she has lost a stupendous amount of weight. Dawn is also a member of the admin team and has been for several years. Not only was she a great support to me whilst I was on plan and indeed a very good friend, her devotion to New You and to you is insurmountable. Dawn is also a bit of a culinary genius when it comes to getting creative with the packs. You will find her recipes under files on the Secret Slimmers page.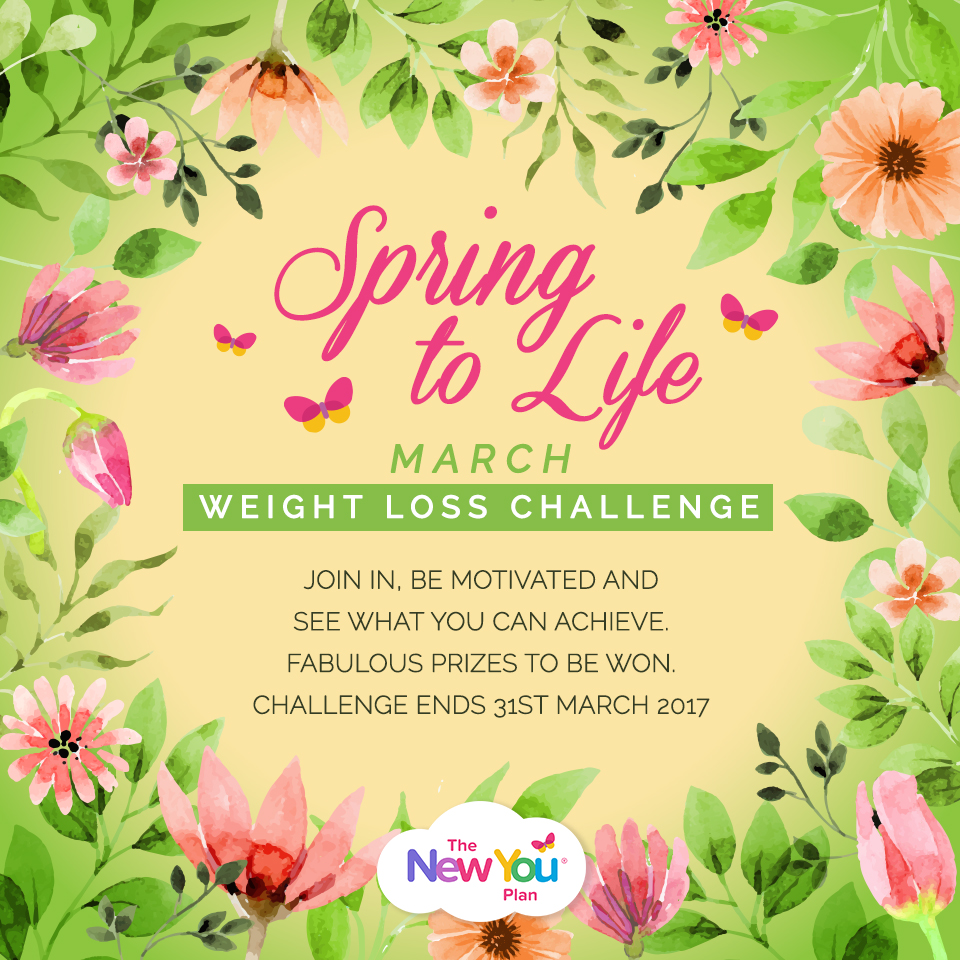 March brings with it a brand new Spring To Life Weight Loss Challenge with already over 115 people joining in.
If you would like to make March your month and really get it off to a great start, you could be in with a chance of winning £100 voucher for Jo Malone, so join in with the challenge and see what you can achieve.
The closing date is the 5th March if you wish to be included in the prize draw. Look out for spot daily prizes too!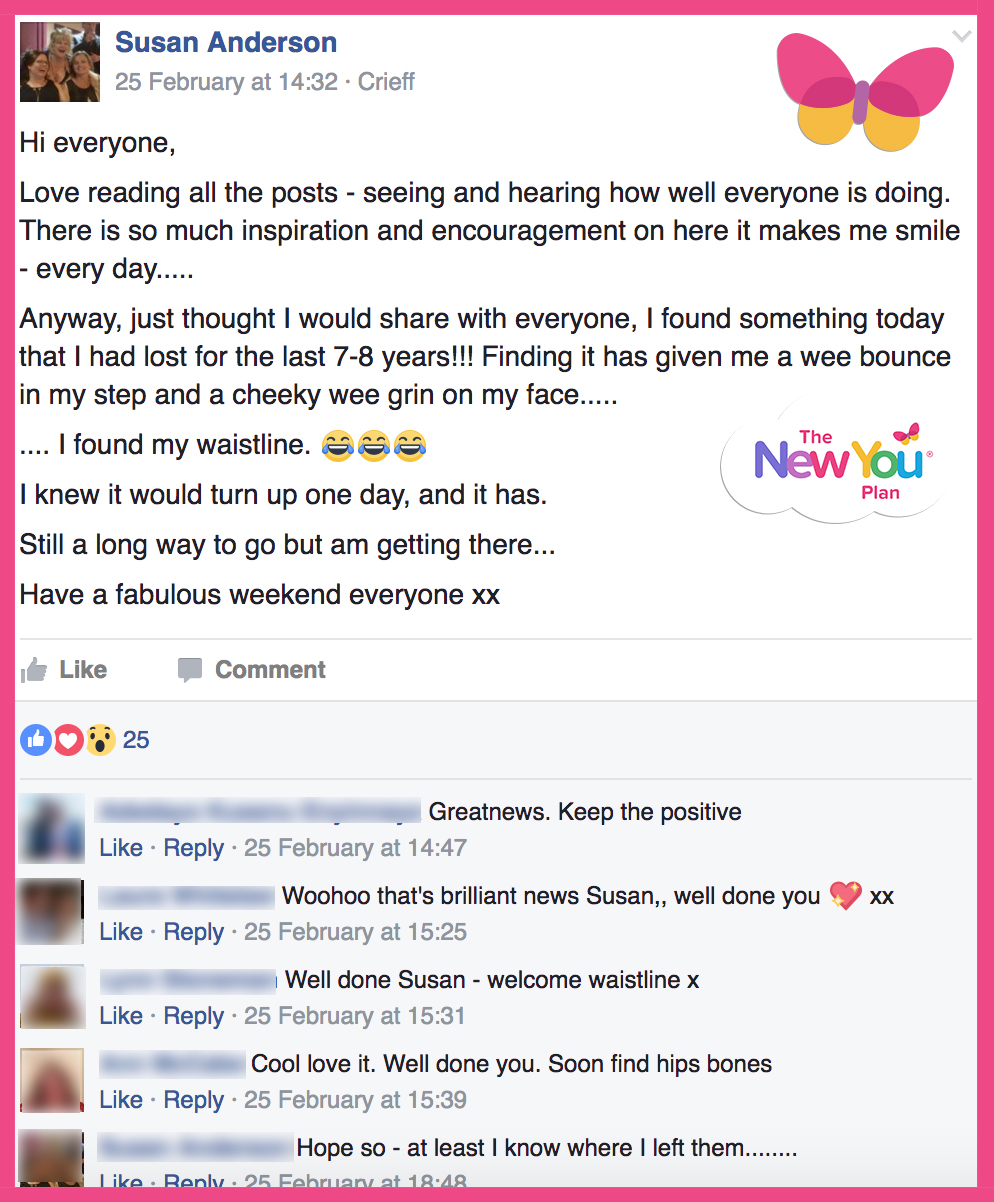 Finally, all of us at Team New You would like to congratulate Debbie Howgego on her engagement and well done to Susan Anderson who has found her waist after 8 years! The New You Plan is incredible and so are all of you. You bring smiles and laughter, tears and sometimes sadness but as a community, we are all there for the good days and the bad days.
Take it all one day at a time and enjoy the journey. Have a brilliant week!

*Weight loss results may vary. This is not a guarantee.
_________________________________________________________________________________

March Madness Offer: Let's Make March Matter Together!
With the arrival of spring comes a hard and fast reminder that summer is just around the corner. Does panic set in when you think about this? Is it the thought of donning swimwear on that summer holiday? Or fear of ditching the layers as the weather heats up? Or perhaps a special event in your calendar?
Whatever you have coming up, we're here to help make March magical!
This spring, we want to help as many people as possible start their New You Plan journey, rediscovering who they are in the process! So, we sat down and thought about how we could do this and we've come up with two amazing bundles.
If you need a quick fix, and would like to lose a little weight, our 4 Week March Madness Bundle is perfect. Or, if you're fully committed and determined to give the next couple of months your all, our 8 Week March Madness Bundle is the one for you. Both of these fab offers end on March 31st.
As always, we've slashed the price to help you get more bang for your buck. PLUS… because we REALLY want to ENHANCE your weight loss journey, allowing you to get the most out of it, we've included some amazing FREEBIES!
Here comes the details…
4 Week March Madness Bundle: ONLY £155.99 / €201.23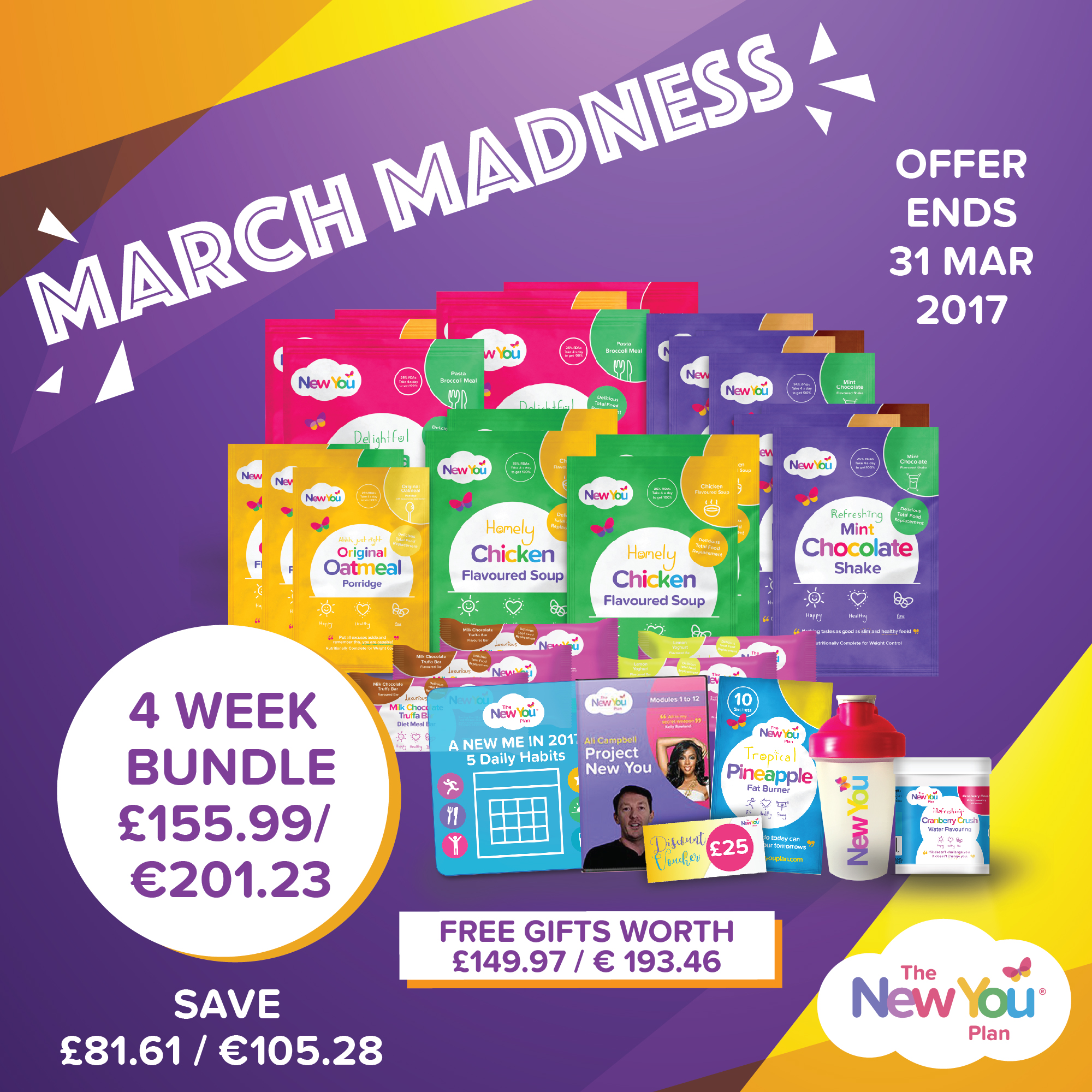 As well as your choice of 4 weeks of TFR Meals, you'll receive the following goodies worth a mega £149.97 / €193.46 FREE:
10 Pineapple Fat Burners worth £12.00

1 Cranberry Crush Water Flavouring worth £6.99

1 Blender Bottle Pink Lid worth £3.99

1 New You Wall Chart worth £4.99

Full Ali Campbell Project New You worth £97.00

£25 Off Voucher to be used in next order*
*£25 voucher is valid on order orders over £50 (does NOT include bundles) and is valid to 30/04/2017.
8 Week March Madness Bundle: ONLY £299.99 / €386.99
As well as your choice of 8 weeks of TFR Meals, you'll receive the following goodies worth an AMAZING £191.45 / €246.97 absolutely FREE:
20 Pineapple Fat Burners worth £24.00

1 Orange Water Flavouring worth £6.99

1 Blender Bottle Purple Lid worth £3.99

1 Drop a Jean Size Journal worth £14.99

1 Set of New You Earphones worth £4.50

1 New You Wall Chart worth £4.99

Full Ali Campbell Project New You worth £97.00

£25 Off Voucher to be used in next order*

1 Stretch for a New You DVD worth £9.99**
*£25 voucher is valid on order orders over £50 (does NOT include bundles) and is valid to 30/04/2017
**First 80 orders get a 'Stretch for a New You' yoga DVD