Before & Afters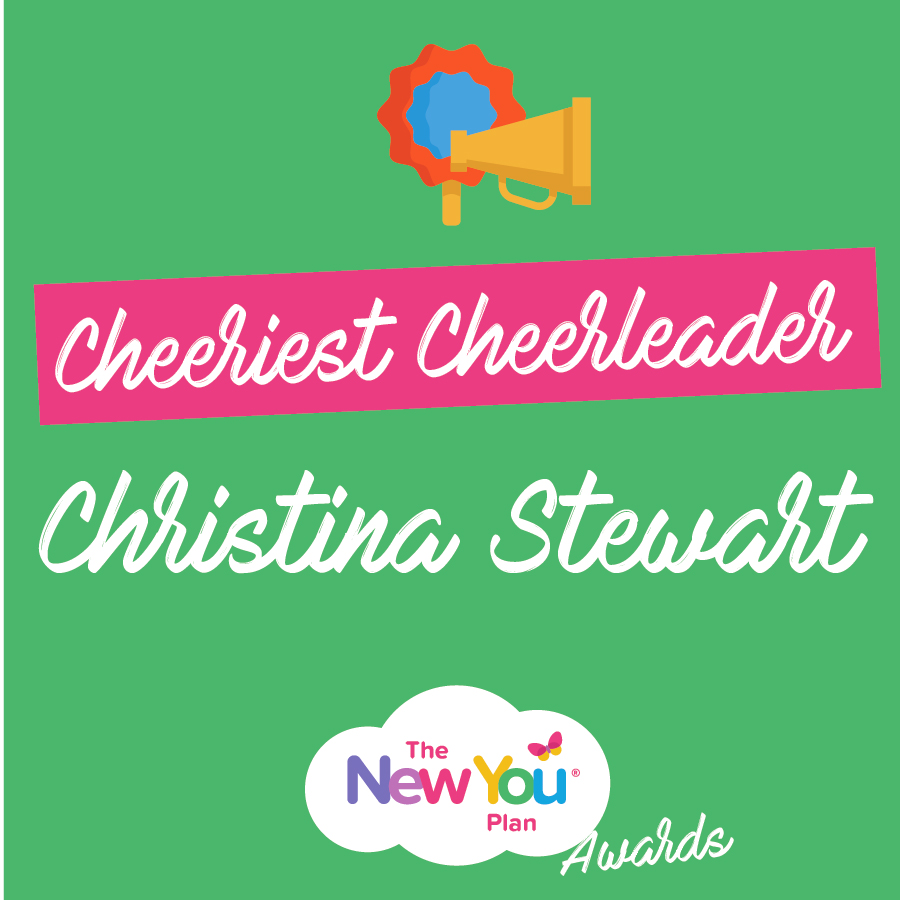 New You Awards 2016 – Cheeriest Cheerleader Award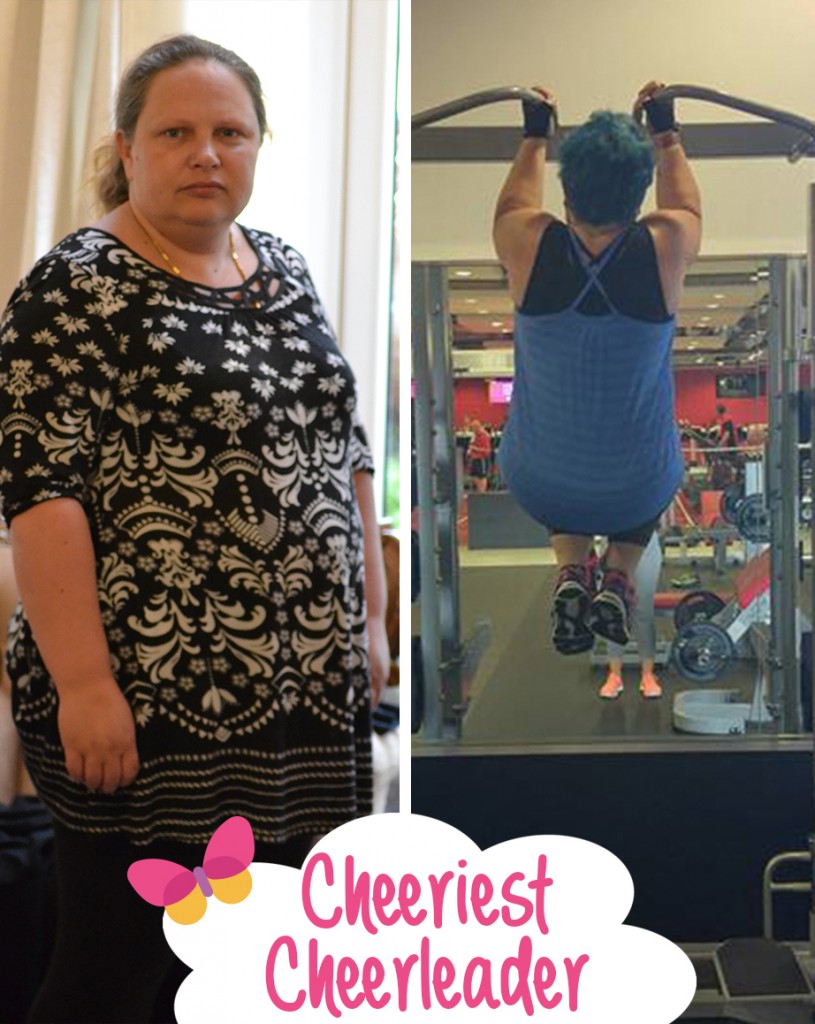 NEW YOU AWARDS 2016
---
Christina Stewart
Start weight: 18st 7lbs
Lost: 4st 8lbs*
Current weight: 13st 13lbs
Awarded Cheeriest Cheerleader
---
*Weight loss results may vary. This is not a guarantee.
2016 saw the launch of our 'Cheerleaders' in Secret Slimmers. Our customers truly are the heart of our community and with so many inspirational ladies leading the way, we felt it was only right to officially call them our 'Cheerleaders'. This fantastic group of people play an active role in Secret Slimmers, offering inspiration, motivation and words of encouragement by the bucketload!
Although it has only been in place a few months, the feedback has been unbelievable. And one Secret Slimmer who totally took to the role is the eternally positive, Christina Stewart. This lady is always on hand with her cheery demeanour to liven up even the darkest of moods.
So when compiling our New You Award Winners of 2016 (see full list here), it was only right that Christina should win the title of 'Cheeriest Cheerleader' – she definitely earned it!
Speaking about how she felt when she received her award, Christina said: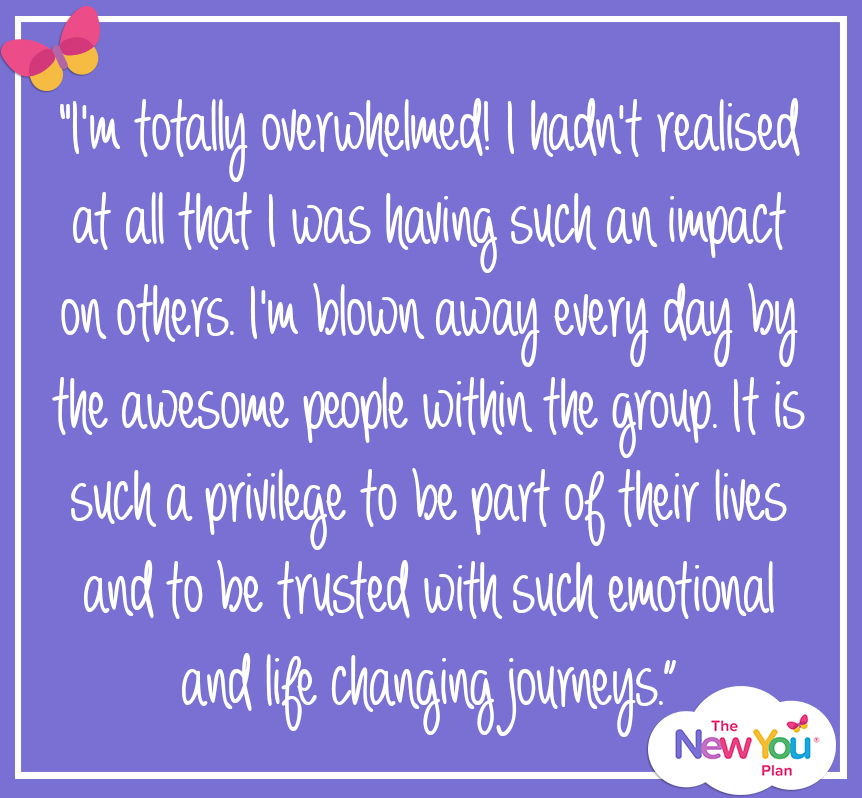 "I'm totally overwhelmed! I hadn't realised at all that I was having such an impact on others. I'm blown away every day by the awesome people within the group. It is such a privilege to be part of their lives and to be trusted with such emotional and life changing journeys. I was totally humbled at being nominated and voted for.
"My life is transformed thanks to New You. I am confident, fun, energetic, I go to the gym, I am learning everyday and growing as a person. I never thought I could feel this great. I have learned to find time for me and not feel guilty for it. On top of that I am inspiring others and cheering them on. I get tremendous satisfaction from watching the success stories on the page, and from helping people pick themselves back up from a wobble or a life event. My life is absolutely packed full of things I want to be doing. My friends and colleagues are always asking me where I get the time from but I just do. I guess because I have found the true me, I have no trouble fitting in all the things that really make me happy."
Not only is she cheery, Christina is a true inspiration. Last year saw her cycle 270 miles in just 4 days! She firmly believes that if it hadn't been for The New You Plan, she wouldn't have achieved it.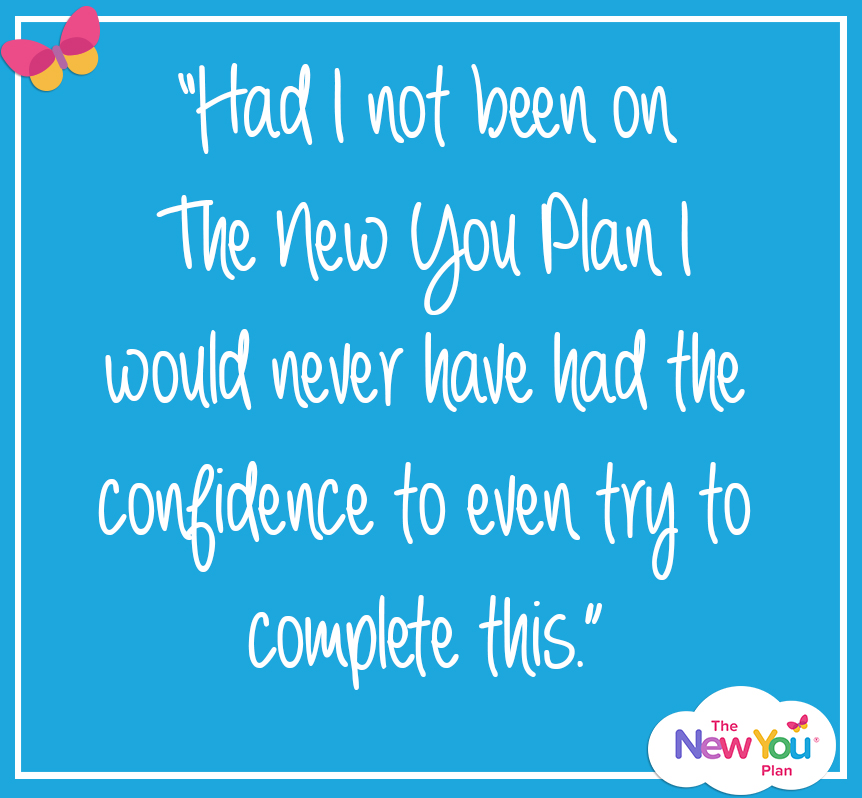 She said: "This cycle was a hugely emotional journey for me. It was probably the biggest challenge I have ever attempted. It was both physically and mentally challenging. It would have been so easy to give up but I really wanted to complete it and finish proud. Had I not been on The New You Plan I would never have had the confidence to even try to complete this. When I offered to help, I meant to be in the background sorting the admin; I never intended to actually do the ride. But, as my journey with the plan progressed I started to believe that amazing things happen when you push yourself outside your comfort zone. I was slowly gaining confidence and realising that I could actually do something really worthwhile by raising money for people less fortunate than myself. Here I was, in my mid forties, suddenly finding out that anything is possible!"
And as well as helping others on their New You journeys, Christina has embarked on her own weight loss transformation. Starting at a size 20/22, and weighing 18 stone 7 pounds, Christina is proof that this plan works. Struggling with depression, her weight quickly spiralled out of control. Now, she has lost an impressive 63lbs (4 and a half stone) and three dress sizes.
This is what she had to say about her own New You Plan journey:
"I have been overweight most of my adult life although having my children led to a significant increase in my weight. I have always been a confident person at work – I know what I am doing, I set high standards and know how to get what I need. However, outside of work I am a totally different person. I have never ever felt confident in myself and have always felt fat. I have two stunning skinny younger sisters and I always felt like the fat one.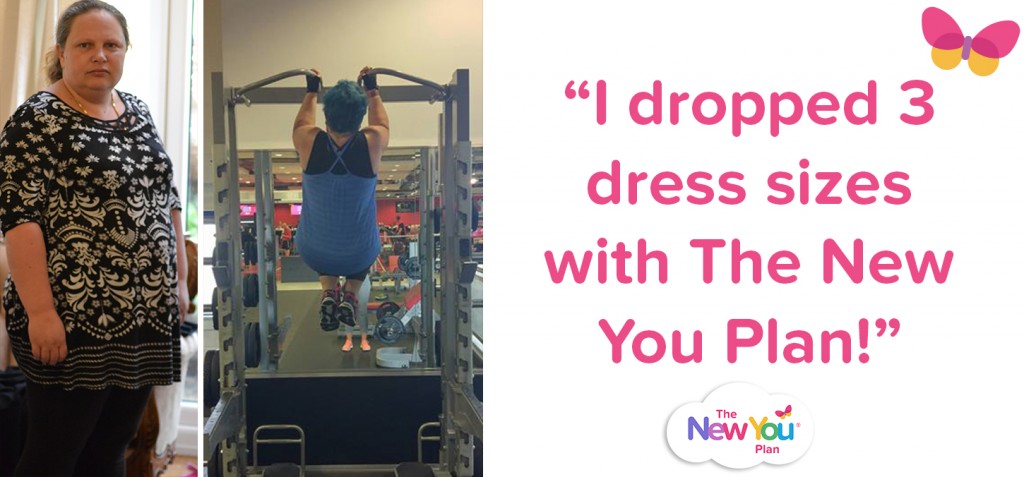 My first daughter was born prematurely and I was ill and in hospital for a few weeks. I suffered from postnatal depression and did not adjust to being a parent at all well. I am such a control freak you see, and of course there is no control possible with how life goes with children! My daughter is very well now and my second birth had no complications but I simply ate and ate for 8 years. I never looked in the mirror and have never had a photo taken, which sadly means there are very few photos of me with my children as babies.
I was so unhappy and fed up with myself before starting the plan. I knew I needed to do something. I'd been trying the entire 8 years but nothing ever really worked. I felt I had so much weight to lose and every time I lost momentum, mostly because it just took so long. I also found I had lost interest in going out. I was ashamed and embarrassed and my days consisted of getting up, sorting the girls out, going to work, going home, sorting the girls out and eating! There was nothing else to my life at all. If I was invited out I found an excuse and I never went anywhere with my husband either. As an older mother, my youngest was born when I was 41, and so I was starting to worry a little about being around for my girls when they were older.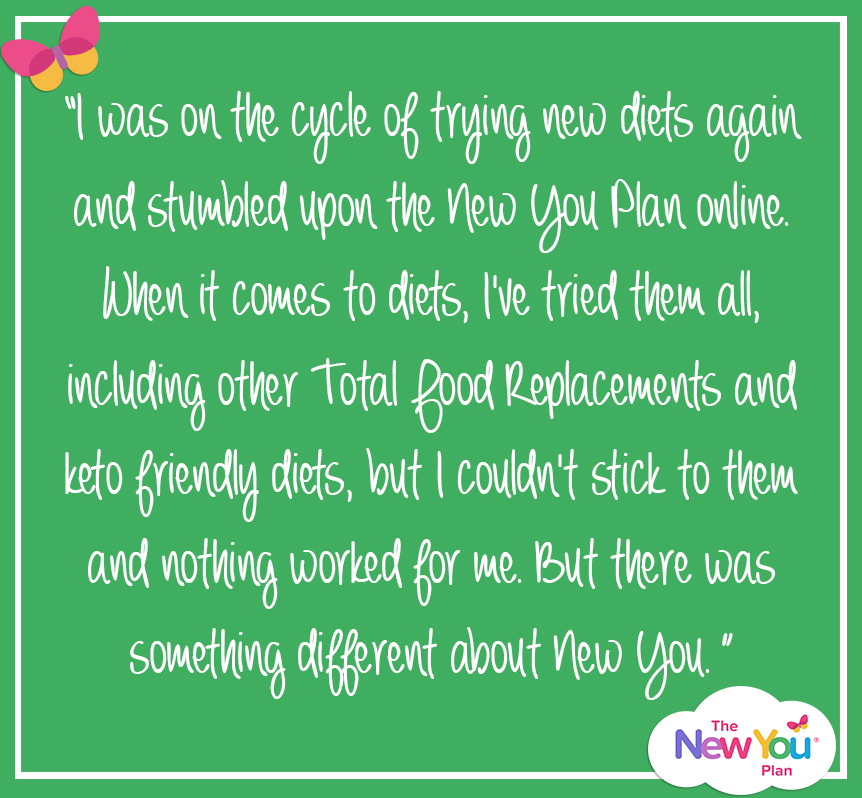 I was on the cycle of trying new diets again and stumbled upon The New You Plan online. When it comes to diets, I've tried them all, including other total food replacements and keto friendly diets, but I couldn't stick to them and nothing worked for me. But there was something different about New You. I loved the way the website was designed. It seemed really friendly and I loved the fact that it was based in Ireland. I was born in Northern Ireland myself and have a very soft spot for Irish people. I had a bad experience with the Facebook page of another TFR company where kindness and support to one another was not promoted and I thought the environment with the Irish might be more caring. So, I placed an order.
I opted for the total food replacement option because I knew I needed the discipline of a strict 4 packs and 4 litres per day. I could not trust myself at the beginning to stick to Fresh or Family Focus. Thankfully now, with a change in mindset, I follow Fresh and Family Focus at times of holidays and social events.
I've been on and off plan for 2 years. This sounds like a long time but actually I see The New You Plan as part of my daily life. We all have events and challenges to deal with, life events that knock us off course and test our commitment to ourselves. The first 12 weeks I was lucky – nothing got in my way, but then life happens. There are birthdays, and holidays, and events that are not so much fun to deal with. I have worked hard on my mindset throughout my journey, on allowing myself to be off plan to focus on other priorities but it's a rollercoaster.
Everyday is a challenge. However, my strength and commitment to myself has grown little by little over the past 2 years and I believe this is me now until I achieve my goal. The New You Plan will be a part of my life though for the rest of my life. I have made lifelong friends and I love the products so much! I know I will have something from their vast selection every day after I achieve my goal.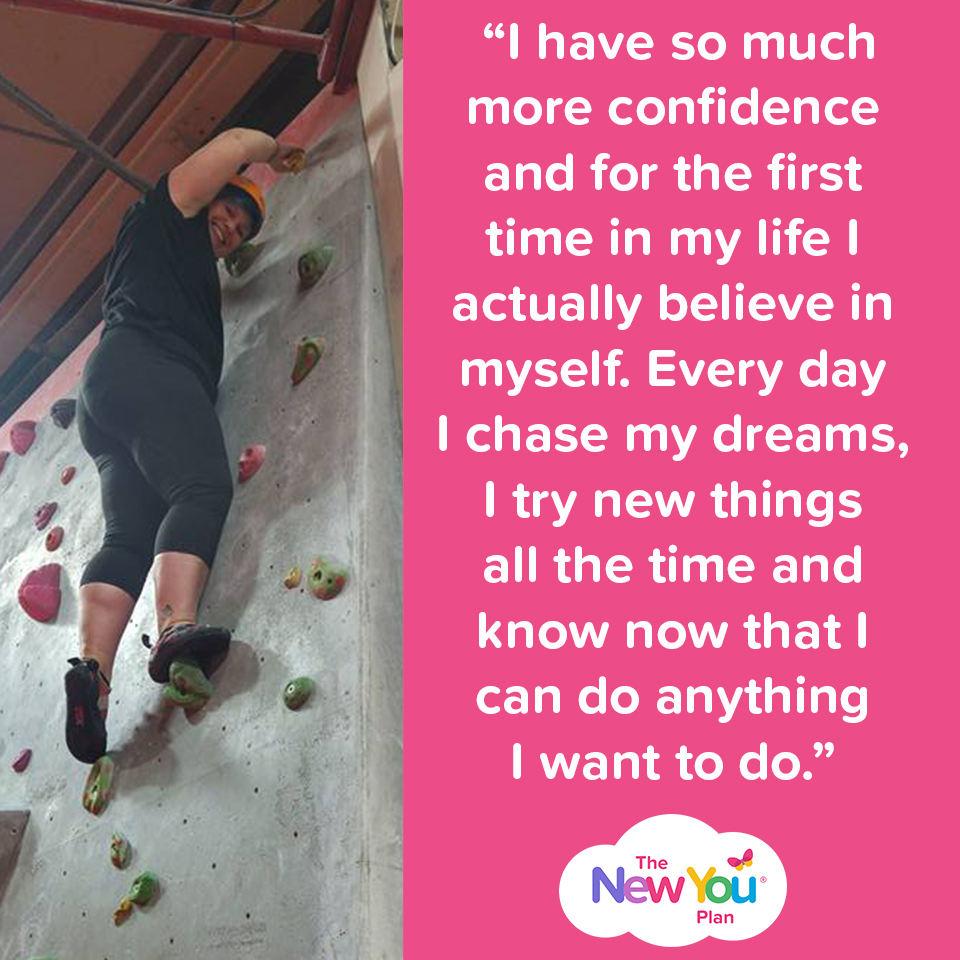 I've lost a total of 4 stone 8 lbs, which is 4 dress sizes. I couldn't be more proud! I have so much more confidence and for the first time in my life I actually believe in myself. Every day I chase my dreams, I try new things all the time and know now that I can do anything I want to do.
The biggest change for me has been self belief and self care. Since starting The New You Plan I have cycled a 270 charity bike ride, I go to the gym 4/5 times a week, I am fit and healthy and setting a good example for my children, I have started a masters degree that I have wanted to do for years, I believe I can do anything I put my mind to and I do not feel guilty for setting aside time for me. If I am not happy then I can't help those around me to be happy. I spend more time with my husband and girls and the time we spend together is fun, because I have more energy and want to do fun things. I now appreciate the importance of making memories and spending time doing the things that are important to me.
One of the things I love the most is that I am now in a position of inspiring others. I can barely believe it. In fact, recently one of the personal trainers at the gym actually randomly posted on Facebook one day about how I inspire him. I felt very honoured indeed and I would never be going to the gym without the love and support I have received from everyone within The New You Plan.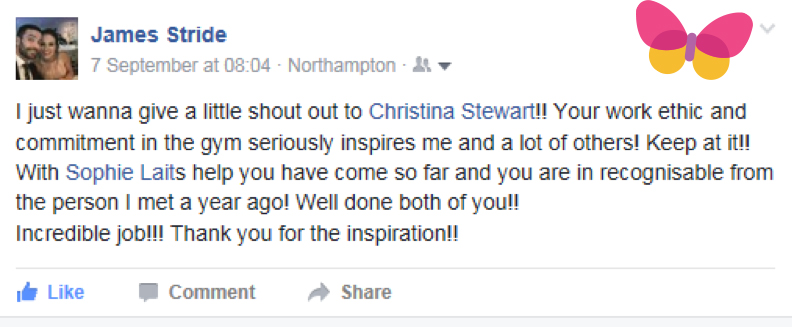 What I'm also loving is the shift in my mindset, in terms of my positive attitude towards everything I do. In addition, I have learned how important it is that I look after myself and allow myself time to be kind to me. I try to talk to myself now in the way I talk to and treat the ones I love. It has taken me a long time to realise the importance of this but I think finally I have got it!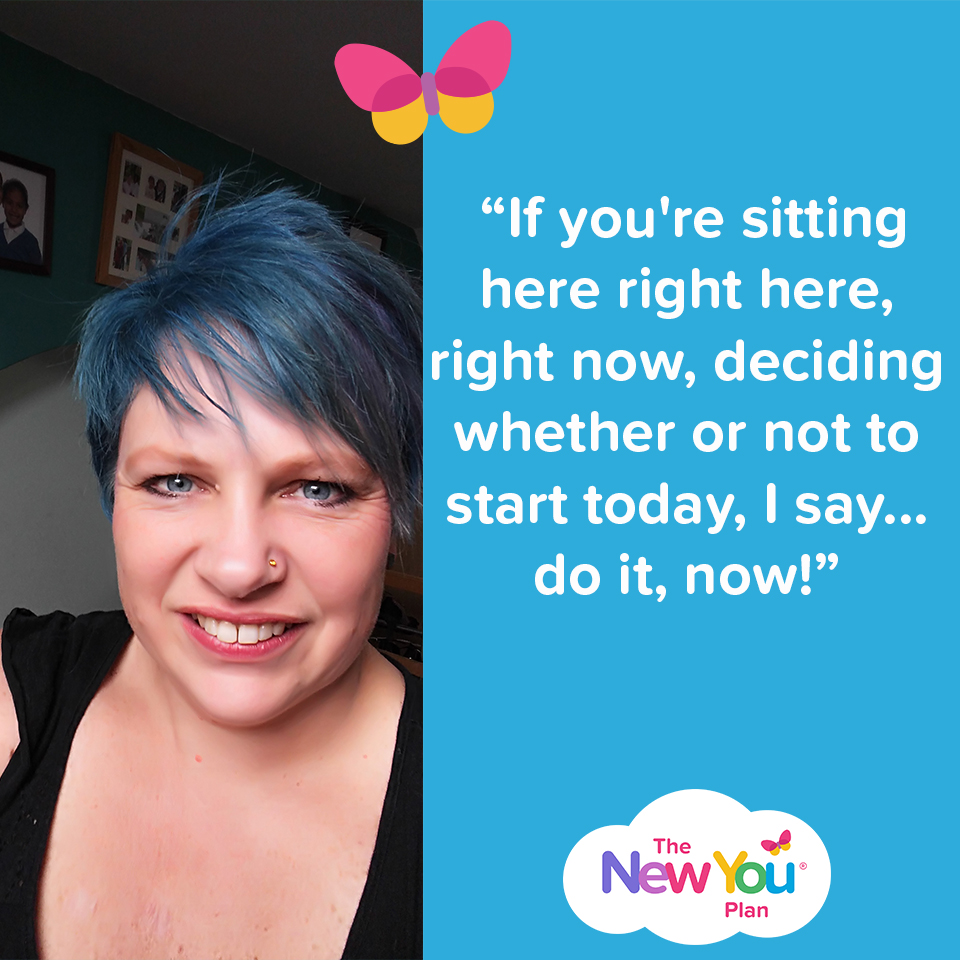 If you're sitting here right here, right now, deciding whether or not to start today, I say… do it, now! There is no one giant step that does it –  it's a lot of little steps. You will never regret taking positive action.
Every morning you have two choices, continue to sleep with your dreams or wake up and chase your dreams – the choice is yours!
Love,
Christina xx
Congratulations Christina! You are a true inspiration, a wonderful asset to our community and a totally deserved candidate of 'Cheeriest Cheerleader' in our New You Plan Awards. 
______________________________________________________________________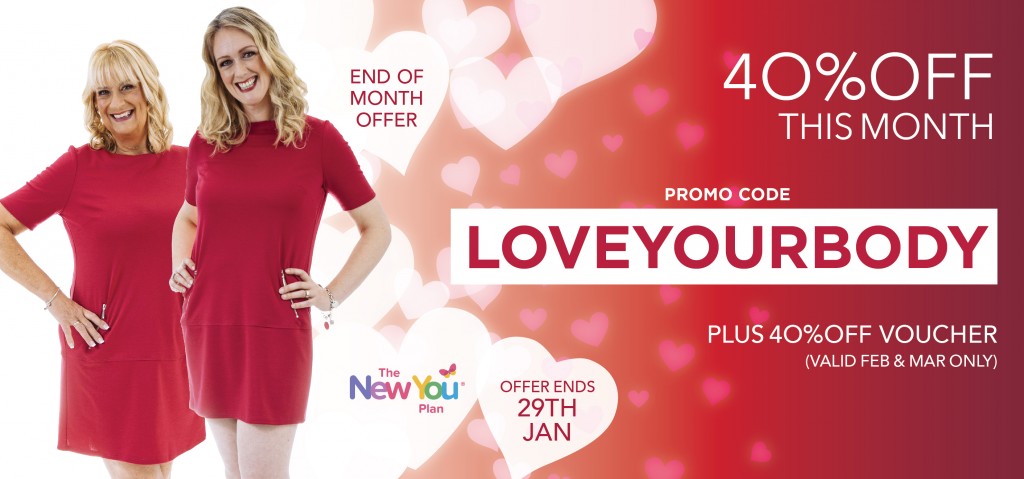 INSPIRED BY CHRISTINA'S STORY? START YOUR TRANSFORMATION TODAY
We have just launched an incredible new offer to end January with a bang!! We are offering 40% off all individual products with promo code: LOVEYOURBODY.
This is the perfect opportunity to stock up on all your favourite New You meals and snacks to ensure you have everything you need to keep strong throughout the next few weeks. PLUS, you will also receive an exclusive 40% off voucher in your parcel to use in February or March.