New You Plan Blog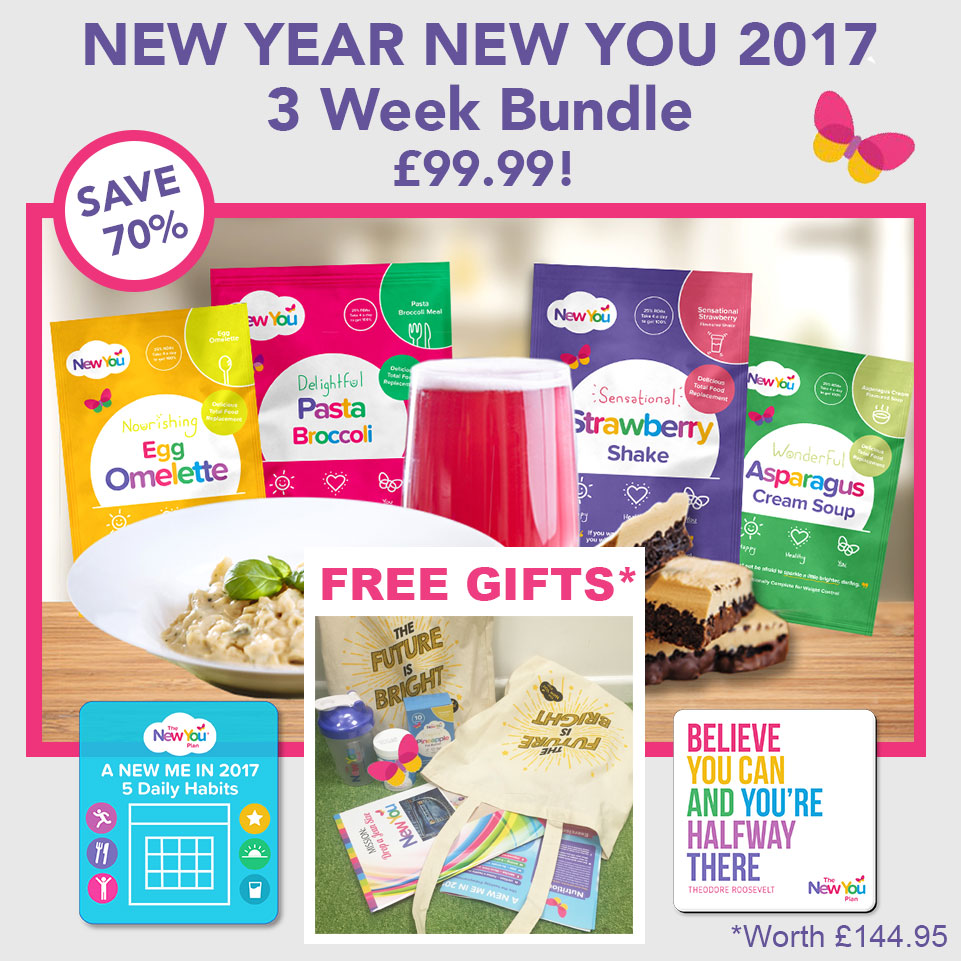 New Year New You 2017 – 3 Week Bundle!
Our New Year New You 6 week Bundle has been an all round success since it launch after Christmas. With fantastic free gifts, amazing savings and the opportunity to create your own personalised meal plan we wanted to make sure we provided you the best opportunity to hit the ground running and make 2017 your best year yet.
To make January even more impressive we have now launched our 2nd New Year Meal and Gift Bundle but this time it is for 3 weeks! This is another brilliant opportunity to benefit from great savings and even more free gifts!!
A lot can happen in 3 weeks, previous customers have managed to drop a dress size. Need to put that into perspective? If you start today by Valentine's Day you could be:
Size 22 Now? Size 20 by Valentine's Day
Size 20 Now? Size 18 by Valentine's Day
Size 18 Now? Size 16 by Valentine's Day
Size 16 Now? Size 14 by Valentine's Day
Size 14 Now? Size 12 by Valentine's Day
Size 12 Now? Size 10 by Valentine's Day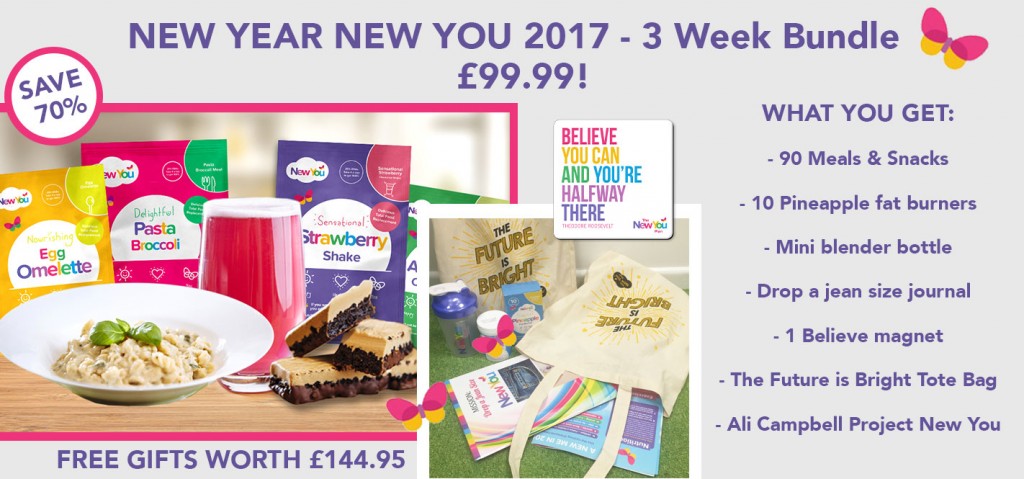 The 3 week Bundle contains:
– 90 TFR meals and snacks of your choice. Personalise your own meal plan to fit your taste buds.
Free gifts :
– 10 pineapple fat burners. Perfect hot or cold. These metabolism boosters are the perfect way to start your morning strong and alert for the day ahead. (RRP £12.00)
– 1 mini blender bottle (purple) (RRP £3.99)
– Drop a jean size journal. The first 21 days on any weight loss journey are so important. This beautifully coloured book is the perfect way to track your progress and update your thoughts and feeling each step of the way. (RRP £14.99)
– 2017 New Year Wall Chart. Focus on the 5 pillars of a healthy New You (Nutrition, Exercise, Water, Morning and Empowered) and set yourself new mini goals each week to work towards. (RRP £4.99)
– 1 'Believe you can' Magnet. The perfect morning reminder to keep you motivated on the task in hand.  (RRP £2.99)
– The Future is Bright Tote Bag. This beautifully designed 100% cotton tote bag is a daily reminder that the future is bright and you can achieve anything! (RRP £8.99)
– Ali Campbell Project New You. 12 online coaching modules that contain videos and downloads. These cover the biggest issues our 30,000 customers have faced on their weight loss and maintenance journey. Created by New You owner Julie Ann Muldoon and Celebrity Life Coach to the Stars, Ali Campbell. (RRP £97.00)
FREE GIFTS WORTH £144.95!
SAVE an incredible 70% with this bundle, on SALE today for £99.99!!
The new 3 week bundle is perfect to get you started on your new weight loss journey or as a top up to your current New You products. Step into February feeling strong and on track to reaching your goals.