Before & Afters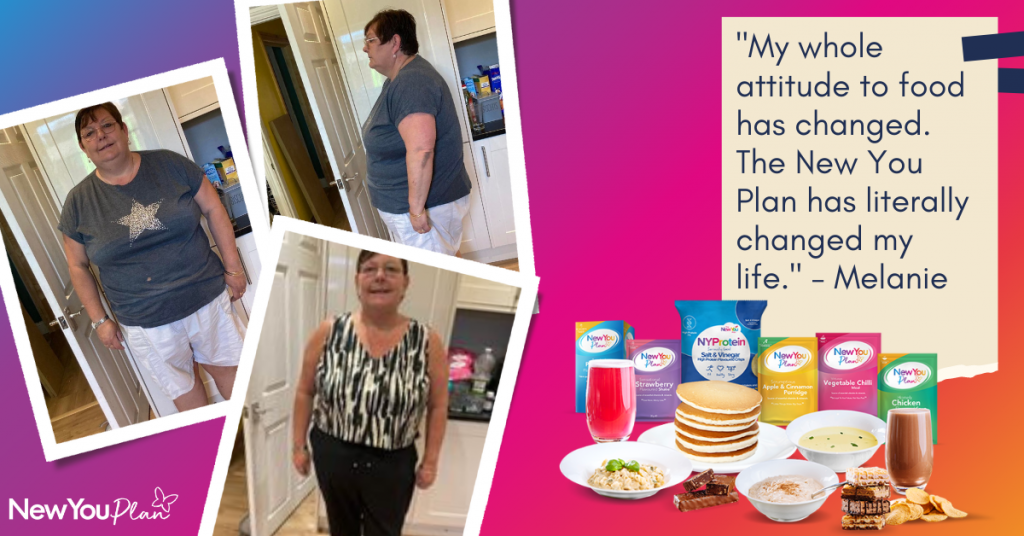 Melanie Was Excited to Learn That She Lost 4 Stone in 3 Months
When Melanie started the New You Plan, she had no idea she would lose so much weight so quickly! To have lost 4 stone in 3 months is impressive, so we wanted to find out exactly how she did it and if she could offer anyone starting the plan some advice. Continue reading to find out exactly what she's been up to!
New You: Hi Melanie, can you tell us how much weight you've lost with the New You Plan, and how long did it take you?
Melanie: In total, I've lost 4 stone and I started on the 21st of June this year (2022).
New You: You only started in June? Wow! So You've lost 4 stone in 3 months?
Melanie: Yeah, I hadn't even thought of it like that!
New You: That's incredible! 
Melanie: Isn't it?! I'm one of these people that has tried all the diets and this one fits perfectly into my life. I'm in it to lose weight – so I'm sticking to it!
Taking Action
New You: So how did you discover New You?
Melanie: Through a Facebook ad. 
New You: What made you click that ad? How were you feeling at the time?
Melanie: I've been overweight all my life. I've tried every single diet on the planet but I'm an emotional eater. Every time something happened to me I turned to food – well chocolate, for comfort. I realised one day, as I sat on the sofa that I looked like I was pregnant. When I commented to my husband, although he didn't agree, he did admit that he was worried about how my weight might be affecting my health. For me, that was the signal that I needed to do something about my weight. That night in bed I was scrolling on my phone, saw New You's ad and immediately ordered the starter bundle.  
I have to admit that I've always been overweight, I've always been very fit. But I did feel that my legs were achy, I was more tired and generally felt rubbish. And to try and make myself feel better I would buy chocolate and eat it when my kids went to bed (as I didn't want them to see me bingeing on junk). It was my pacifier for my low mood. I was feeding that lowness with what I loved – chocolate. You get into that cycle where you feel low so you have a bar of chocolate to feel better, but actually, it wasn't doing me any good. Not just because of my weight, I used to suffer every night with heartburn, I should have bought shares in Rennie! I was in a bad place.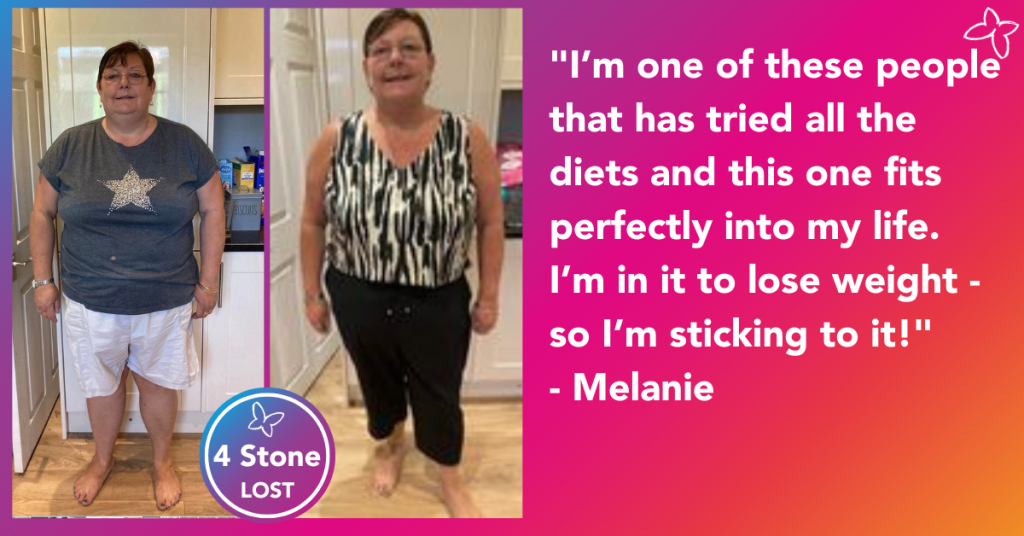 Getting Through Week 1
New You: Lots of our customers come to us because they want to get out of a comfort eating cycle. Tell us, once you received your bundle, what was your first week like on the Plan?
Melanie: I will be honest, the first day was a nightmare! I'd set myself up for it really, as I went from eating what I wanted to suddenly being very religious about what passed my lips. I think mentally because you can only have certain things, you naturally want more. So you have to stop yourself. And the way I stopped myself was with a photograph of me at my heaviest. I put it on my door and every time I thought I wanted something I shouldn't, I would look at the photo and remember that I didn't want to be like that anymore and have a glass of water or go and do something to distract myself.
That first day, I just kept myself busy. On the second day, I remember saying to myself 'oh I can do this!' On the third day, I did have some headaches, which I expected and I just took some painkillers and they went away. By day four I was in heaven because I felt better already, I didn't need the Rennie. Suddenly something clicked and I became more focused and knew nothing was stopping me from losing weight!
I think one big thing that we don't talk about enough, and is a massive deal, is when you have to cook for your family. As a mum and a wife having to cook and then watch your family eat your favourite meal – it's hard.  I was lucky in that my husband was supportive and in tune with my feelings, and if I were to comment on how lucky they were to eat that meal, he would say 'this is horrible now, I don't know what you've done to it, but you wouldn't enjoy it!' Even though I know he was joking, it made me feel better! My point is, that the first week isn't just about you eating differently, it's about you, as a woman carrying on regardless. 
Variety is Key
New You: Yes it can be tough when you have a family to look after too. I'm sure many of our customers can relate. 
Melanie: I think that the variety that New You offers helped me get past this. I would match my packs with what I was cooking for the family. So if I made them curry, I would have New You's dahl. If I was making cottage pie, I would have New You's cottage pie. Being able to have the same meals helped me cope so much better.
New You: That is such a great tip! Speaking of meals, what is your favourite?
Melanie: My favourite is the Mexican tacos, it's absolutely delicious. I also love the vegetable chilli. My absolute favourite at the moment is the pasta carbonara. It's funny because, in the beginning, I didn't like it! I've noticed that being on the Plan changes your tastes. You have to give yourself time on the Plan because it changes you!
My favourite crisps are the cream and onion – oh my gosh they're delicious! I absolutely love them and the bacon ones – they taste like bacon Frazzles – my family always wants them! 
Another favourite of mine, which shocked me as I've never been a porridge person, is the original porridge  – it tastes like Ready Brek! It doesn't feel like you're on a diet when you eat that – it's gorgeous!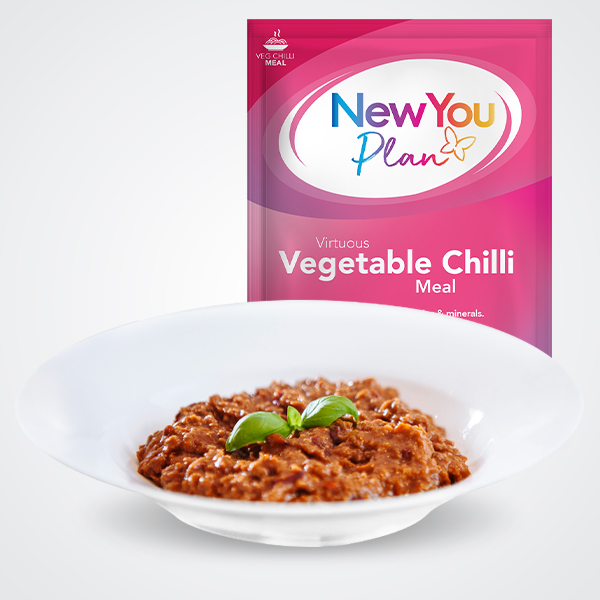 New You Days
New You: We love the crisps too here at HQ! So, what does a typical day look like for you?
Melanie: I work in a school. I have my breakfast after about nine o'clock and then lunch midday, a bar at about four and then double up on packs at about six. 
New You: We know that you've lost 4 stone in 3 months, but can you tell us about your non-scale victories?
Melanie: My mindset has drastically changed. I no longer buy a coffee and a snack every time I get petrol. I don't snack when I'm preparing snacks at school for kids. Even when I prepare the family meal and I bite the pasta to see if it's cooked, I spit it out instead of swallowing it! I'm just so focused now, it really is a lifestyle change. I don't want to carry that weight anymore and I'm 100% committed to putting my health first.
I'm 50 in January and I'm determined to be a skinny 50! My husband is also 50 next year and we're going to renew our wedding vows. I was overweight at my wedding so it's time for a do-over! My plan is to fit into my mum's wedding dress and she was a skinny Minnie! I'm sure I can lose another 4 stone by Christmas!
Keeping On, Keeping On
New You: That's great news! Make sure you send us some pics! What would you say is the biggest motivator to keep you on Plan?
Melanie: It would have to be the comments and encouragement from my family. It's massive to me. And what other people say, who've not seen me in a while and tell me I look so different.
New You: How has the Plan changed your life?
Melanie: My health has improved 100%. I'm not on Rennies anymore. I was already quite fit but I find when I'm at work with the kids, I'm skipping around more, joining in, which I didn't have the inclination to do before. I probably would have done it but not with the enthusiasm I have now! I'm so much happier, energetic and full of life. The New You Plan has made me realise that I don't need the chocolate bars to feel good anymore. My whole attitude to food has changed. The New You Plan has literally changed my life. 
New You: We love hearing that because that's all we want for our customers. Do you have a happiest memory since you lost 4 stone in 3 months?
Melanie: Do you know, because it's been so quick, it's hard to pinpoint, but I suppose the time I put on my favourite top and it was too big. Yes, I was a bit sad because it was my favourite, but how fantastic at the same time? My go-to top is now too big! I've gone from a size 28 top to a size 22!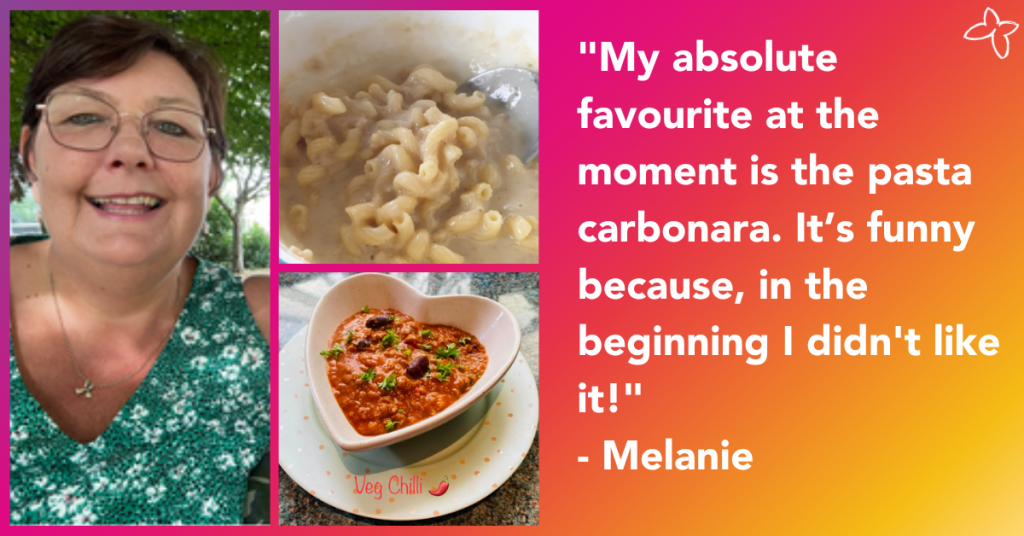 Taking Compliments
New You: If you could pick one, what would you say is the nicest compliment you've had since losing weight?
Melanie: My husband now ramping up the compliments has to be the favourite thing I hear! My weight loss has strengthened our relationship.
New You: That's so nice! So what advice would you give to anyone thinking about starting the New You Plan?
Melanie: Number one to take each day as it comes. Number two, lay all your daily packs out the night before, it's been quite a big thing for me. I lay it out in a little line. Before New You, I used to make the wrong food choices, so this reinforces that I've made the right choices. If you don't like tap water, try fizzy water, that's really helped me keep my fluid levels up. I put my bottles out with my packs so I know exactly what I'm having. Thirdly, always have a New You snack in your bag! If you're running late, stuck in traffic and find yourself hungry, you're covered. Fourthly, get your family involved, husband, kids, whoever – it's made such a difference to me.  Lastly, after dinner, get your family to scrape leftovers in the bin themselves to prevent you from finishing off that pizza!
I lost 4 stone in 3 months and if I can lose weight, then anyone can – just try it!
We absolutely loved interviewing Melanie as she has so much passion for the products and support that New You provide. We hope that some of that excitement has passed on to you. And although Melanie's weight loss of 4 stone in 3 months is incredible, we don't want you to feel disheartened if you don't achieve the same. Your journey is individual to you, so try not to compare yourself to someone else's. What we do know is that if you do your best and make use of the products, tools and support that New You offer, you will achieve your transformation and be proud once you're there.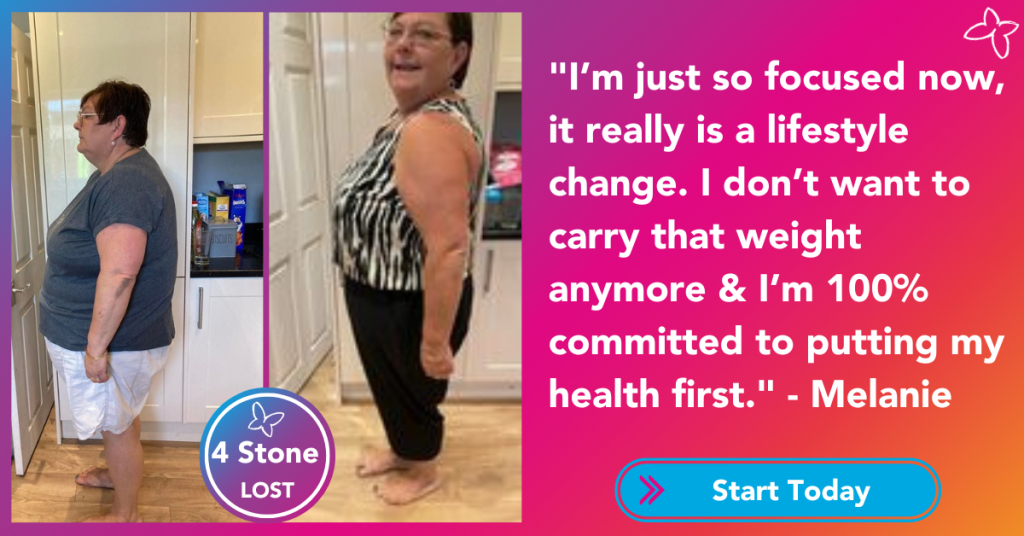 Feel Inspired?
Melanie has been excited by the fast results she has achieved, having lost 4 stone in 3 months, and wants to tell everyone that they can do it too!
Whether you want to lose half a stone or 10 stone, have a slimmer figure or are just looking to get maximum nutrition in minimum time, then New You can make the perfect partner to get you to where you want to be.
Not sure? Try our 7-day bundle and see what you can achieve in a week. You'll be pleasantly surprised.