Before & Afters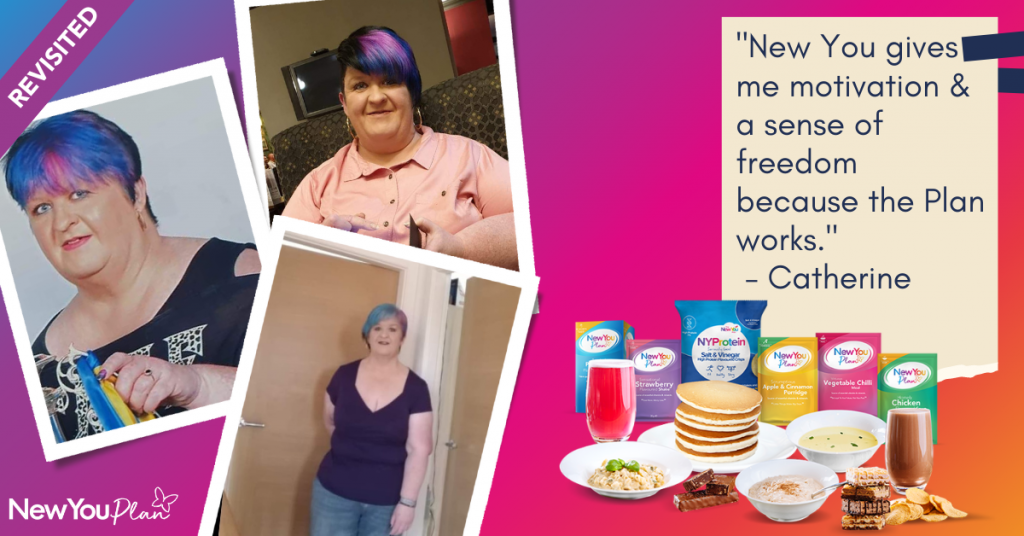 Catherine Lost 15 Stone & Still Smashing it With New You!
Catherine first appeared on New You's radar when she entered the summer 2021 transformation challenge. Having lost 10 stone, she took home a runner-up prize. Most recently she won our £3000 cash prize back in May having lost 15 15 stone in total.
She's a regular in the Secret Slimmers community, but if you don't know her back story, then you can discover more about her in this blog post.
New You: Hi Catherine, how are you? Can you tell us how much weight you've lost so far?
Catherine: I'm great! In total, I've lost 15 stone and 10 lbs. Before I found New You, I was 31 stone. I'd managed to lose 10lb of that but it took me over a year! I'd lose a lb and then put 2 on, my weight was up and down. By the time I started the Plan, I was actually 31 stone 4lbs. But now, thanks to New You, I've lost half my body weight!
Mind the Scales
New You: That's incredible! What is your diet like now? Are you still using New You products as a total food replacement?
Catherine: Yes, mostly. But sometimes I have a Switch day or come off Plan completely if I go out. I'm not as strict these days, even though I've got at least another 4 stone to lose, I find I'm not worried about being on the Plan all of the time. Because no matter how long it takes me to get there, I'm gonna get there! I'm just taking each day as it comes now.
I find it painful when I'm in Secret Slimmers and people are worried because they've only lost 1 or 2 lbs. Because that's 1 or 2 lbs! If you find something that weighs that much, it's heavier than you think! Community members get upset when they look at the scales and they haven't lost as much as someone else and I'm thinking to myself 'please don't. Don't be upset, don't obsess over what the scales say.'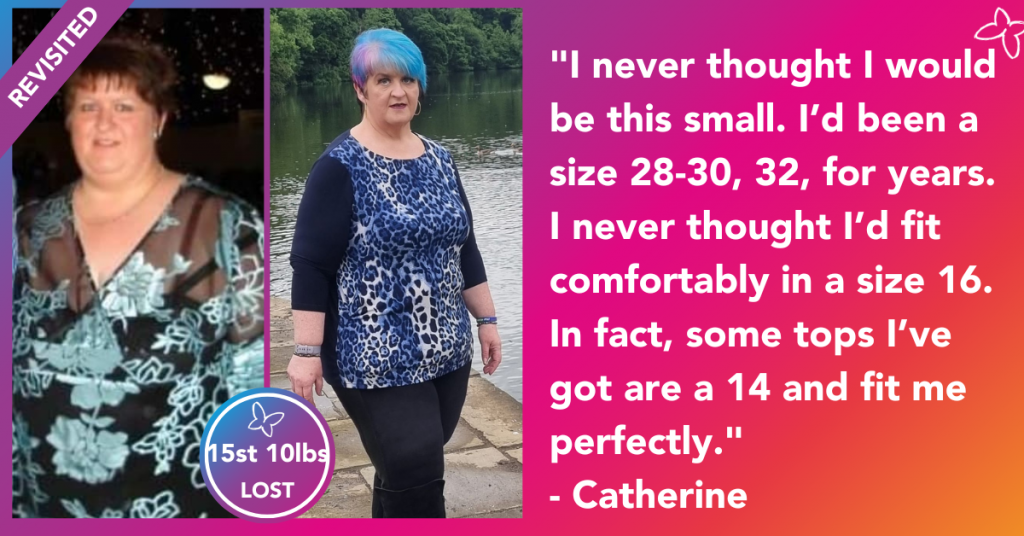 A Day in the Life…
New You: It's so hard not to fixate on those numbers. Everyone is different and it can feel frustrating if you naturally lose weight slowly – but everyone gets there eventually. What does a typical day look like for you on Plan?
Catherine: First thing in the morning, I put the kettle on and have a cup of black coffee and a glass of water. Every time I have a coffee during the day, I fill up my water bottle at the same time. That way I know that I'm getting the right amount of fluid each day. At about 1 pm I have a meal bar, soup or a shake. I don't have a snack every day, only if I feel I need one, and that would be around 4 pm. I tend to choose New You crisps or the strawberry bar. Then at around 7 pm, when I'm making tea for my partner, I will have double packs. I like to mix the Irish stew and finish it off in the air fryer for a nice crispy top! Later in the evening, I might have a shake.
If I'm out at the weekend, I will take a bar with me and have the rest of my packs when I get home. I try to listen to when my body is hungry, and feed it!
Life Changing Results
New You: That's a good habit to get into. We know that your original goal for losing weight was to not need a seatbelt extension on the aeroplane for your upcoming holiday – which you succeeded in; how else has losing weight changed your life?
Catherine: Yes, that's right, I didn't need an extension when we went to Iceland and America in January. I got on the plane and I felt so good not having to ask for that extension! 
I know I've always been confident but I feel even more confident now I've lost 15 stone. Things definitely have changed. When we were in New York, we walked and walked all day and I didn't have to stop to get my breath. I didn't have to stop due to being tired either. I could walk into shops and buy clothes I liked rather than what 'fits'. I'd always wanted to wear long boots that come up to my knees and now I can – they would never fit before. I've so much choice now when it comes to clothes and shoes.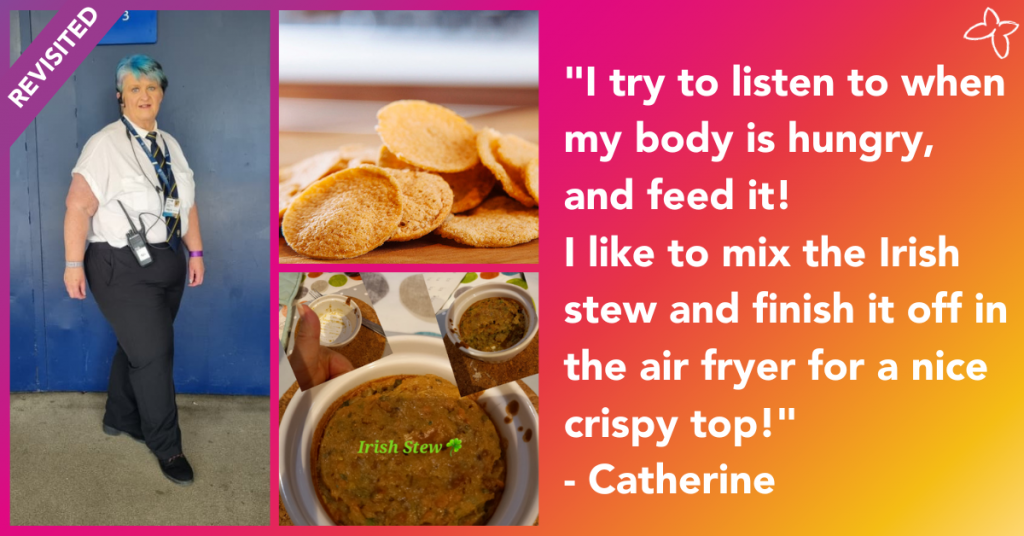 The Journey
New You: What has your journey been like up until this point?
Catherine:  Unbelievable! Before New You, I had enquired about bariatric surgery and the surgeon told me I had to lose at least three stone before he'd even consider the operation. It was going to cost me £10K, and there was the chance I could've died on the operating table. As you can imagine, I came out of there in tears. I was like, 'What am I gonna do?' I couldn't afford that and I couldn't get it done on the NHS either. 
That's when I decided to find a diet that would work for me, and I discovered New You. I knew I had nothing to lose by trying it. I ordered my first box and I said to myself 'let's do this!' I'd tried a low-calorie diet before and there wasn't much choice. So when I stopped, I just put my weight back on. I was surprised by the amount of choice there was and is with New You. Plus when I go on holiday and come off Plan, then start the Plan when I get back, I lose anything that I've put on straight away. 
I don't have to worry whilst on holiday. It gives me motivation and a sense of freedom because the Plan works. New You is always going to be part of my life. It's not just a quick fix – it can be, but the support you get, and the community, make it long-term or for life.
Although my weight loss hasn't been fast, it's been quicker than what it took to put all my weight on. Rome wasn't built in a day, and I didn't put the weight on overnight so why would I think I'd lose it overnight?
Expectations & Advice
New You: Did you ever think you'd be where you are now before you started the Plan?
Catherine: No, never. I never thought I would be this small. I'd been a size 28-30, 32 for years. I never thought I'd fit comfortably in a size 16. In fact, some tops I've got are a 14 and fit me perfectly. Having lost 15 stone, I've basically lost what amounts to my sister in weight! I've even been able to fit into some of her clothes which I never dreamed would happen! 
New You: So, final question, do you have any tips or advice for anyone who is on the Plan or thinking about starting the New You Plan?
Catherine: When you order, try everything! Then try them again, because you just never know what you're going to like and your tastes will change over time.
It's hard, but don't punish yourself by comparing your journey to others. We're all different. Forget what the scales say – they aren't your friend! It can mess with your mindset because they change daily.
Remember why you want to, or have started. Do it for yourself. Don't listen to what others say in respect of how you go about it.
Be positive, if you fall off the wagon, it's not the end of the world, it's what you do going forward that matters. 
Remember that everyone will have an opinion no matter what you do and there will always be that person that puts you down. Don't let them in your head.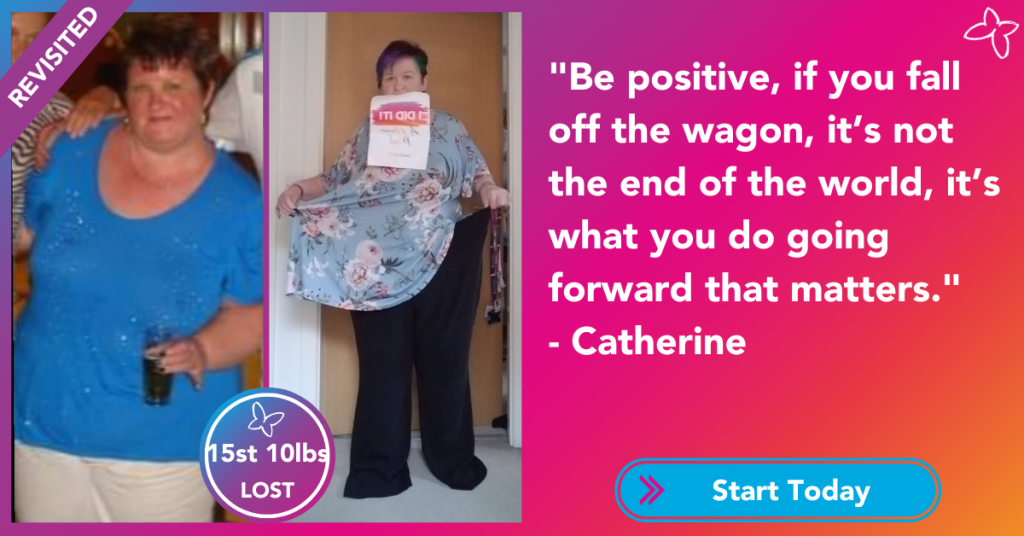 Some very wise words there from Catherine. Having lost 15 stone 10lbs, Catherine's life has improved and we couldn't be more pleased. And she's still got the motivation to continue toward her end goal. She believes she will get there and so do we!
Feel Inspired?
Catherine lost 15 stone 10lbs and hopes that by sharing her story, you will feel inspired to take your own weight loss journey.
Whether you want to lose half a stone or 15 stone, have a slimmer figure or are just looking to get maximum nutrition in minimum time, then New You can make the perfect partner to get you to where you want to be.
Not sure? Try our 7-day bundle and see what you can achieve in a week. You'll be pleasantly surprised.