Before & Afters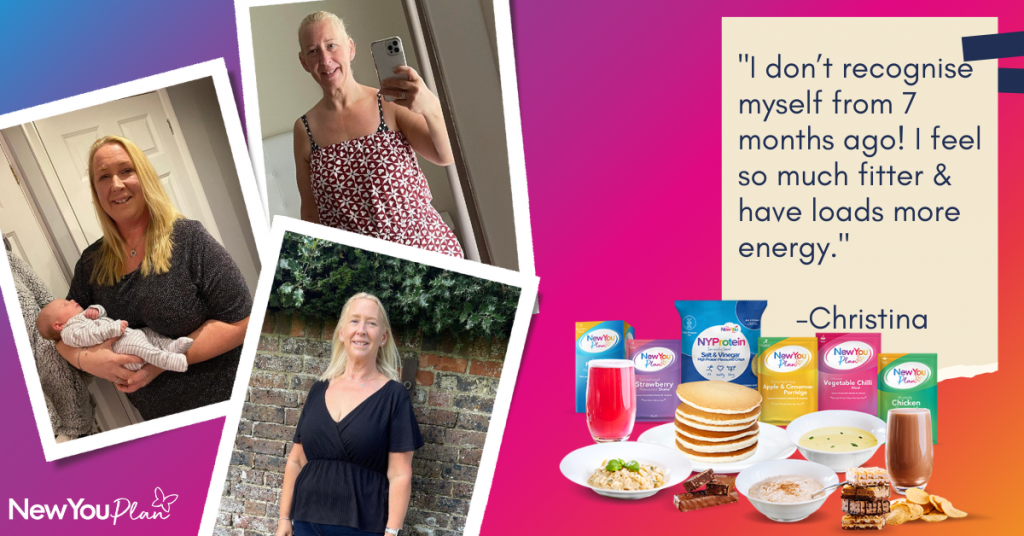 Christina's Lost 6 ½ Stone & Life's No Longer A Struggle!
Christina admitted that she wasn't in the right frame of mind when she first started the New You Plan in 2021. But after a bit of yo-yo dieting, she turned back to New You. The inspirational stories that she discovered shifted her mind into gear and she's happy to share her own journey having now lost 6 ½ stone.
New You: How much have you lost and how long did it take you?
Christina: I've lost 6 ½ stone. I did it in stages. I lost 10lbs in 3 weeks in November 2021, then went on Plan again on the 12th of February 2022 and lost the rest.
New You: It's definitely a journey rather than a race! How did you discover the New You Plan?
Christina: A friend introduced me to the New You Plan several years ago. I started a few times back then but didn't have the motivation and wasn't in the frame of mind. So after failing miserably on other plans over the years I thought I'd re-look into the New You Plan and was inspired by the weight loss others had achieved.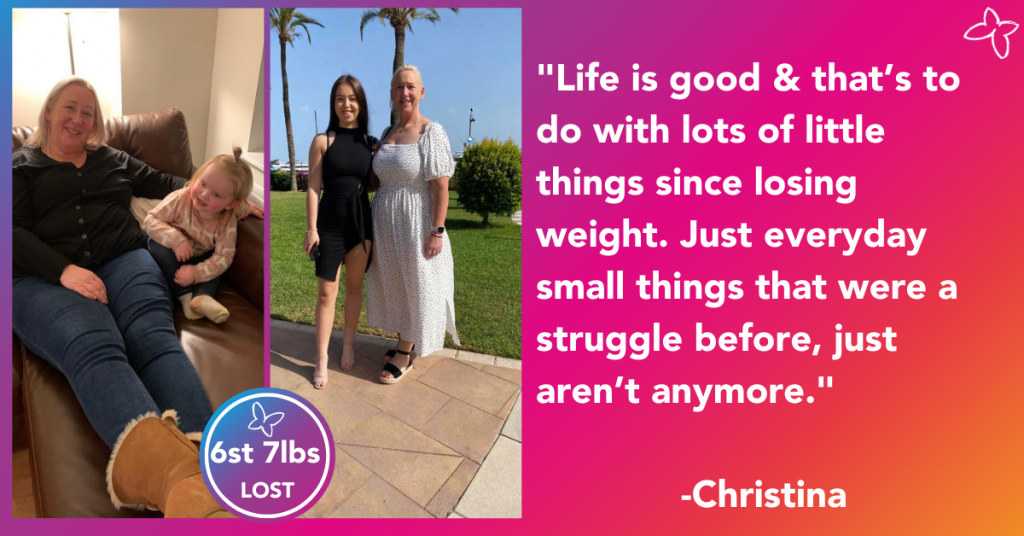 Before New You
New You: Describe how you felt before starting the Plan.
Christina: My self-esteem was at an all-time low, I had no confidence and would avoid going out as I never felt comfortable.
I'm a nurse and working long shifts was becoming more of a struggle. The knee pain from my weight got worse to the point I was having to take prescription painkillers to get through the day!
New You: What was your first week like?
Christina: My first week on the Plan was actually ok. I got organised and planned out my days so I knew what I was having and when. I kept myself busy, especially in the first few days and made sure I kept my fluid intake up.
If I had any weak moments I would keep my eye on the prize and remember why I started the plan in the first place.
New You: Everyone's why is a great motivator! So, what are your favourite meals and snacks? And can you tell us what a normal day looks like for you on Plan?
Christina: My favourite meals are the chocolate caramel muesli, banana and strawberry shake, mushroom soup, oh and I love the meal bars. The chocolate brownie is always great as it feels like you're having something naughty! I also like the porridge and love the peanut snack bar!
A typical day for me would be muesli for breakfast, a shake or soup and crisps for lunch, a meal bar as an afternoon snack and porridge for dinner. The selection of meals is good, with the veg chilli or Mexican taco particularly being enjoyable instead of porridge on occasions.
Non-Scale Victories
New You: So we know you lost 6 ½ stone, but can you tell us about your non-scale victories?
Christina: I've had so many non-scale victories! Being able to get up and down from the floor with ease when playing with my grandchild. Going into normal high street clothes shops and buying anything off the rail. I've had so many comments from friends, family, and colleagues telling me how amazing I look and what an inspiration I am!
New You: That's incredible! I'm sure everyone would love to know what your biggest motivator for staying on Plan has been.
Christina: My motivation was to stay on Plan for my health and happiness and for my children and grandchildren.
New You: Those are powerful reasons. Are you able to tell us how the Plan changed your life?
Christina: Well, I don't recognize myself from 7 months ago! I feel so much fitter and have loads more energy. I look forward to going out and socializing again, and just living life.
I go to the gym and swim regularly and actually enjoy it now. It's not a chore like it used to feel. I've been on holiday and for the first time in years, I don't feel like a beached whale! I've also been to a concert too and standing for long periods wasn't a problem!
New You: So does that mean your health has improved?
Christina: Oh yes! My health is great now. Before I started the plan my blood pressure was on the high side of normal. Now it is completely normal. And my knee pain has gone! No more painkillers and I can get through a day at work and still have energy at the end of the day.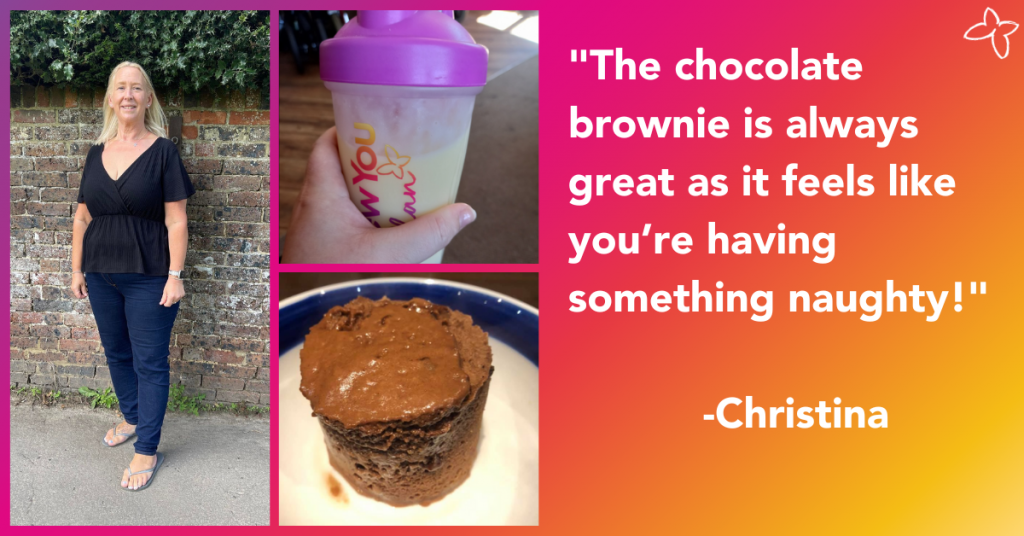 Happy Memories
New You: Since losing weight, what is your happiest memory?
Christina: I don't have any specific one thing, not yet anyway! But life is good and that's to do with lots of little things since losing weight. Just everyday small things that were a struggle before, just aren't anymore.
As I write this I'm sitting on a plane for another holiday and I fit easily in the seat. The seatbelt does up with loads of room to spare. In the past, I would have had to ask for a seatbelt extension which was hugely embarrassing! So that's a win!
New You: Well we hope you have a great holiday! But before you jet off, what is the nicest compliment you have received since losing weight?
Christina: Seeing people I haven't seen since starting the Plan and they no longer recognise me. I love the reaction on their faces!
New You: And finally, Christina, what advice would you give to someone thinking of starting the Plan?
Christina: Do it! Follow the plan – it works. Just keep focused and keep your eyes on the prize. Take one day at a time. One day soon becomes one week then one month. And then like me, 7 months later and you're living a whole new life! I'm excited to see where this next chapter of my life takes me!
Sometimes the timing isn't right when you first start on the Plan, just like in Christina's case. But further down the line, when she was in the right head space the New You Plan gave her the results she was looking for. Her health and happiness are all the better for it too! Well done Christina – you smashed it! You lost 6 ½ stone and you should be proud!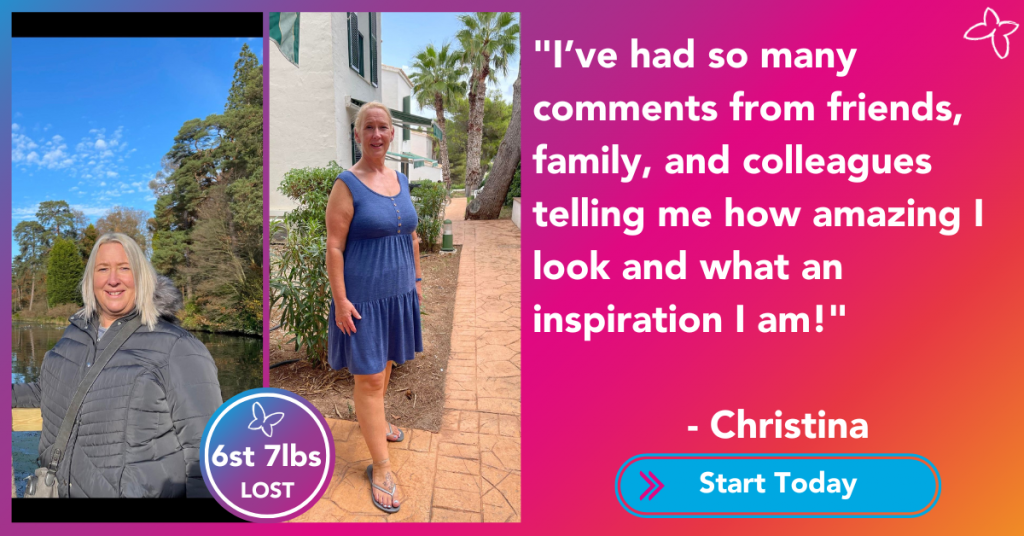 Inspired Like Christina Was?
If you're inspired by Christina's story of how she lost 6 ½ stone, then like she says, just do it! With our 7-day kickstarter bundle, you can try the New You Plan from just £27. No commitment and nothing to lose – except for weight! Head on over to our website and start discovering the new you, today.
Got Your Own Story?
Already loving the Plan? Want to share your story to inspire others? We'd love to hear from you! Just email our friendly customer service team or DM us on social media. We can't wait to hear from you!