Challenges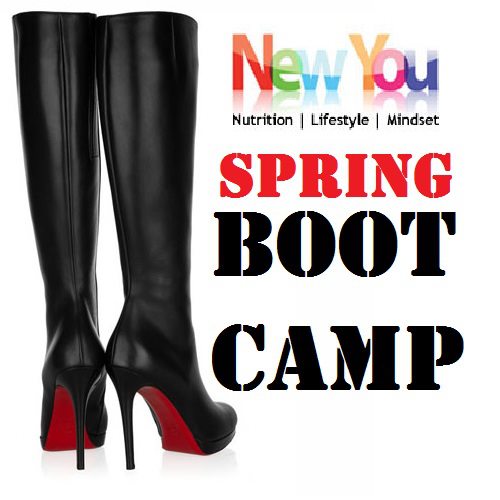 March Weight Loss Challenge – REGISTRATION!*
Get Ready for Spring with New You Diet Plan Bootcamp 
*Weight loss results may vary. This is not a guarantee
[box type="tick" size="large" style="rounded" border="full"]
EVERYONE WHO REGISTERS FOR THE MARCH WEIGHT LOSS CHALLENGE WILL GET FREE ACCESS TO THE BOOTCAMP MEETINGS – YOU DO NOT HAVE TO TAKE PART IN THE BOOTCAMP MEETINGS BUT THEY ARE GOING TO BE SO MUCH FUN AND THEY ARE AN OPTION IF YOU WANT TO TAKE PART.
IF YOU JUST WANT TO DO THE WEIGHT LOSS CHALLENGE THAT IS FINE JUST PUT YOUR NAME BELOW AND YOU DONT HAVE TO TAKE PART IN THE FUN BOOTCAMP!
[/box]
It is time to get ready for Spring!! Spring arrives on March 20th 2012, and that means the clock is ticking for us to get in shape before the sun comes out and we have to shake off the winter blues.
If you feel you wish you had a personal trainer to help you get ready for Spring, do not despair as the new you diet plan Get Ready for Spring Bootcamp will give you all the motivation you need, and you can be based ANYWHERE to take part, all you need are your New You Diet Meal Replacements (which we can post next day delivery to anywhere in the UK & Ireland) and if you have access to the internet then you will be able to join us for LIVE meetings and calls to motivate you to Get ready for Spring!
We are taking you LIVE to Get Ready for Spring – for the FULL INTERACTIVE EXPERIENCE, with live calls, motivational sesssions, tasks and much more!  
You really will not feel alone, you will be doing this bootcamp as part of a team. You can be based ANYWHERE, as all the meetings are ONLINE you can access the live meetings from your computer, it is REALLY EASY.  
This will give you a quick overview of what we have in store for you to help you Get Ready for Spring!
Regular LIVE Online Meetings ~ you will not feel alone
LIVE Motivational Webinars ~ to make you feel unstoppable
LIVE Question & Answer Group Calls ~ Call in & Ask Questions!
LIVE Weekly Weigh In Calls ~ Share your weigh in results weekly
Inches Lost Reports ~ Share how many inches you loss in the month
Leaderboard on our Blog ~ Keep yourself on track with public accountability!
Spring Beauty Regime ~ Shake off the winter blues & get beautified!
Spring Wardrobe Regime ~ Sort out your wardrobe for Spring!
Weekly Bootcamp Tasks ~ We will be keeping you on your toes!
Workout Commitments ~ Time to tone up & get moving!
Daily Kick A$$ Emails ~ Drill Sergeant will be checking in with you!
Refeed Webinar & Healthy Eating Webinar ~ KEEP the weight off!
Free Gifts to the BEST BOOTCAMPERS ~ Fun gifts for shining stars!
Plus LOTS more!

Phew! 🙂
WE ARE PUTTING THIS 30 DAY GET READY FOR SPRING BOOTCAMP ON FOR FREE!!!
It will cost you NADA, ZILCH, ZERO, to take part in the online meetings, the weekly tasks, and all the LIVE meetings we have online!  All you need to do is 
get your products
 and get ready for a 30 DAY BOOTCAMP that will kick you into gear to live a healthy slim life!
[box type="info" size="large" style="rounded" border="full"]If you have ordered, or if you are ordering today then STATE YOUR NAME AND WEIGHT LOSS TARGET below to ENROL into the GET READY FOR SPRING NEW YOU DIET PLAN BOOTCAMP!  Once you have left your name you will get a personal invite to get access to our LIVE meeting room for the month of March!!![/box]
List of enrolled bootcampers:-
Julz – 16 pounds
Louise – 15 pounds
Shiv – 14 pounds
Laura – 14 pounds
Alison – 14 pounds
Jean – 14 pounds
Lisa P – 21 pounds
Pearl – 28 pounds
Lisa B – 12 pounds
Make Up Lover – 11 pounds
Claire – 14 pounds
Lou – 16 pounds
Ruthann – 14 pounds
Lisa30 – 14 pounds
Clare – 21 pounds
Add your name!!
You can still join in!
Enter your name and goal in the comments below to get your name here.