Before & Afters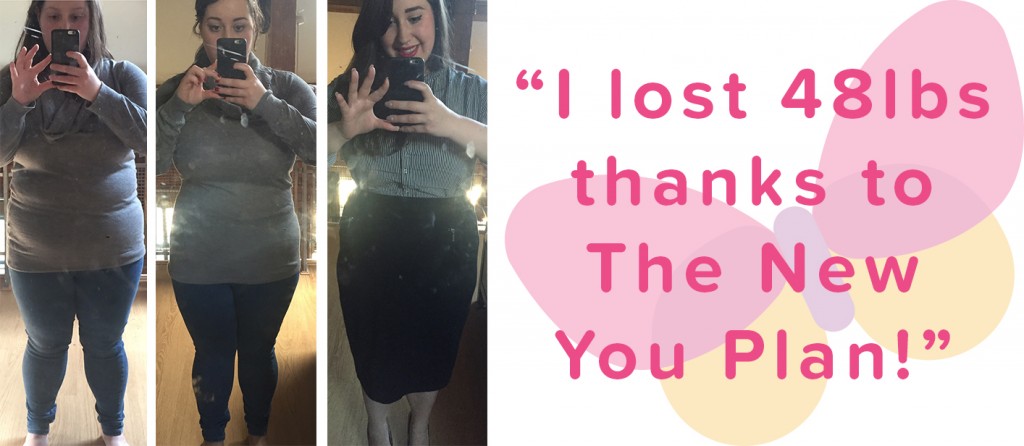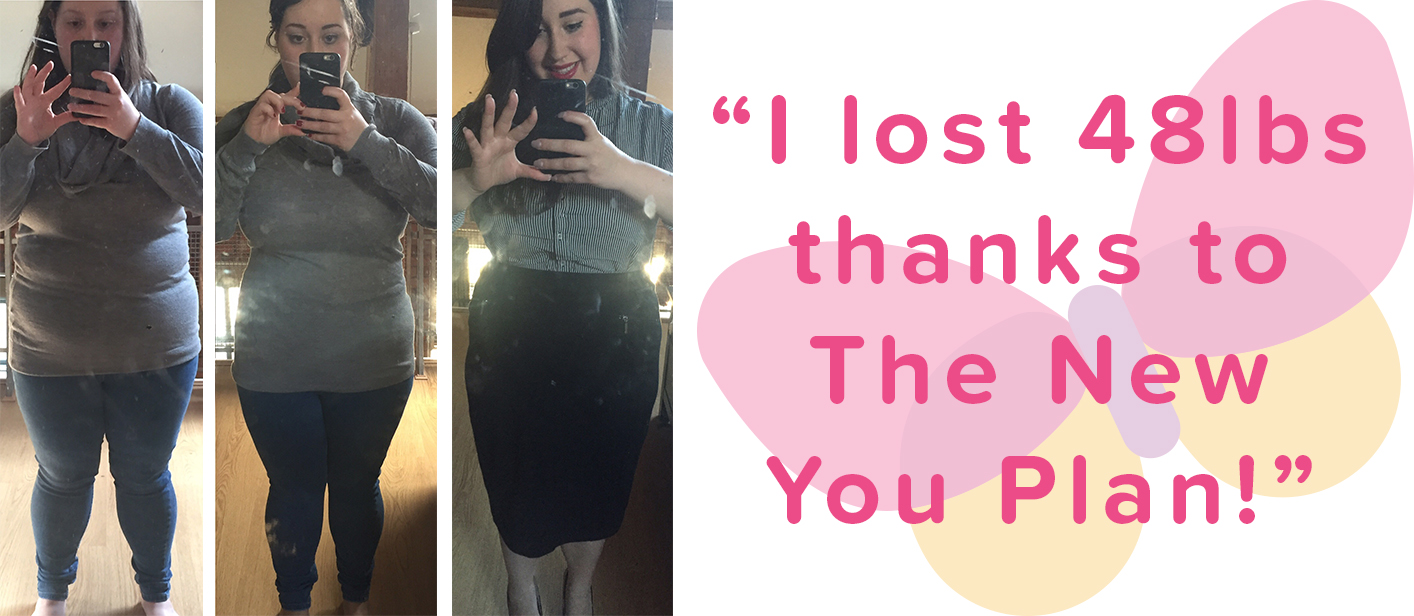 [Customer interview] Lydia loses 48lbs* with New You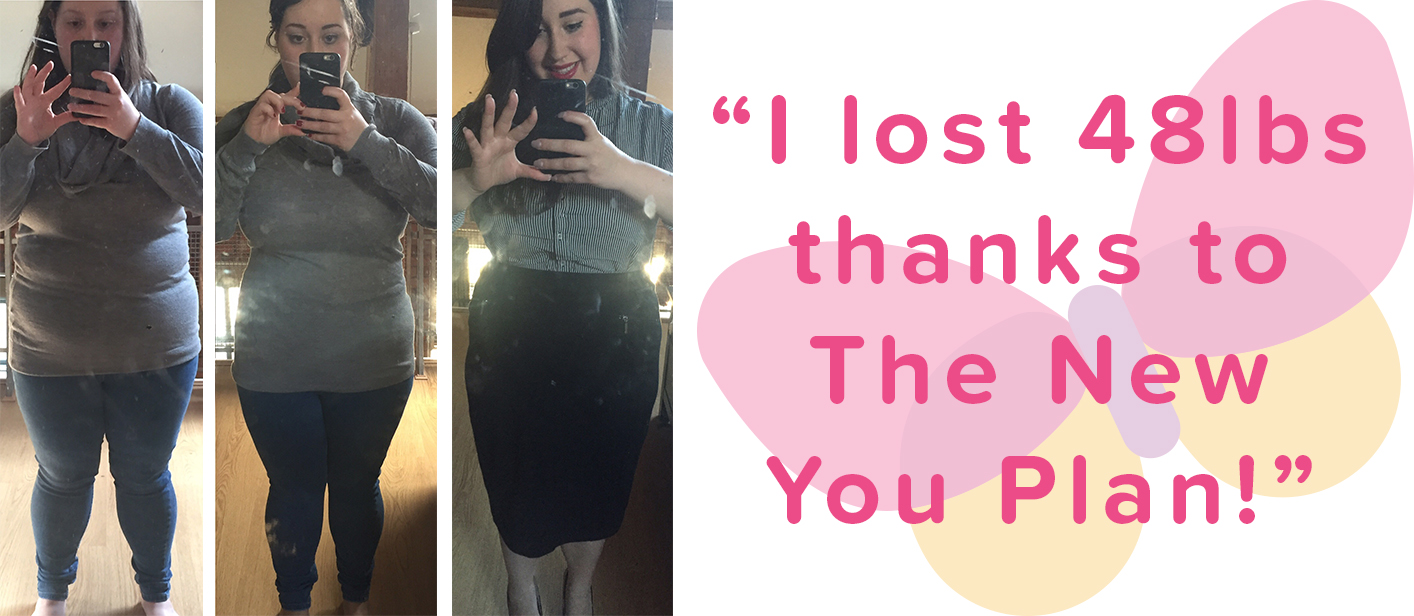 *Weight loss results may vary and are different for each individual.
Starting New You was the best thing I have ever done and would recommend it to anyone looking to lose weight and change their life!
One of the things that we loved the most when chatting to Lydia was her drive to inspire others! After struggling with her weight, and trying various other diets over the years, a friend recommended she try New You. Since May she has lost a staggering 3 stone 6 pounds* and her confidence and radiance just shines through. In a bid to encourage others to give The New You Plan a go, she has openly shared details of her weight loss journey, revealing how dropped an incredible 4 dress sizes, going from a size 18 to a size 14! Her transformation photos really say it all! 
Watch Lydia's video diary, in which she bravely gets in front of the camera to share some words of wisdom for anyone thinking about taking that leap of faith! Plus, she has plenty of tips and tricks to really get the most out of your time on plan. This is what she had to say…
Keep reading, for more advice from Lydia…
"I am a very busy person, which is part of the reason why my diet suffered so badly. I have a job which requires me to sit at a computer from 9am to 6pm; Monday to Friday. I never tended to bring lunch and would grab something stodgy or fried to help me get through the day, which resulted in me piling on the weight, even more once I had left university. That paired with a lack of exercise really affected me.
Outside of work I love hosting dinner parties as my boyfriend is a chef and as I come from a large Italian family, food is in my blood. I also tend to be very sociable, going for drinks and eating out around two to four times a week.
 My starting weight back in May 2016 was 14 stone 8 pounds. I had started university at 9 stone 5 pounds and could fit into a size 10. I was now a size 18, and I hated going shopping or seeing my huge bulk in the mirror. It was a real wake up call when May came around that I would be posing for graduation photos at the end of June and would be embarrassed to have my photos, in the cap and gown I had worked so hard for, up in the house for everyone to see. I knew I had to do something about it.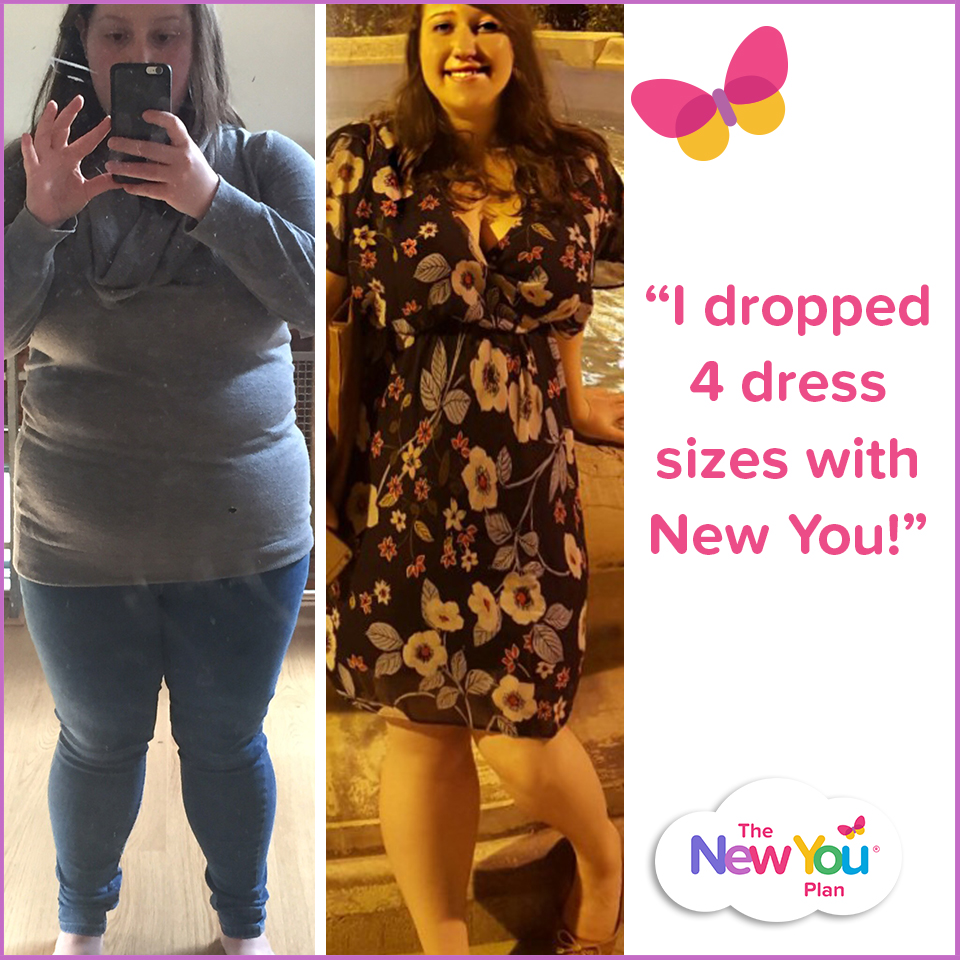 I heard about New You through a friend who was doing the two week TFR bundle to lose weight for her wedding day. Seeing her fantastic progress in those two short weeks was amazing and I knew I had to give this diet a try, as after all I had tired so many others.
The fact that on New You you could eat was a revelation to me, and seemed a lot more doable than previous diets I had attempted, which mainly consisted of shakes and me feeling empty and starving by the end of the day, resulting in binging and regretting it.
When I first started I went all in and kickstarted on the 4 week TFR bundle. Knowing I wouldn't have to worry about doing any food shopping, or cooking and all I had to do was open one of the packets and dig into some really delicious food was a great feeling!
What I instantly love about New You, and which I knew would be a massive help is the epic support you get from both the customer support team and the amazing guys and gals on the Secret Slimmers Facebook page, who are always happy to help and support you on both your high and low days by commenting on your photos and giving you the boost that you need to keep going. I knew that this, combined with great tasting meals was going to be a recipe for success!
My favourite meals are the Hazelnut Shake for breakfast, the Mushroom Soup for lunch, the Chocolate Truffa Bar for a mid afternoon snack and the Burger for dinner, plus my favourite snack are the Cheese and Onion Crisps, which are my little treat mid-week. Imagine… a diet you can actually eat 4 times a day and enjoy snacks!! I'd definitely recommend sticking to the 4×4 formula… x4 packs per day and x4 litres of water per day! The water element is so important and being organised is even more important. Knowing what you will be eating throughout the day means that you aren't tempted to blip or fall off track and the water helps not only with keeping you full but your complexion will thank you for it!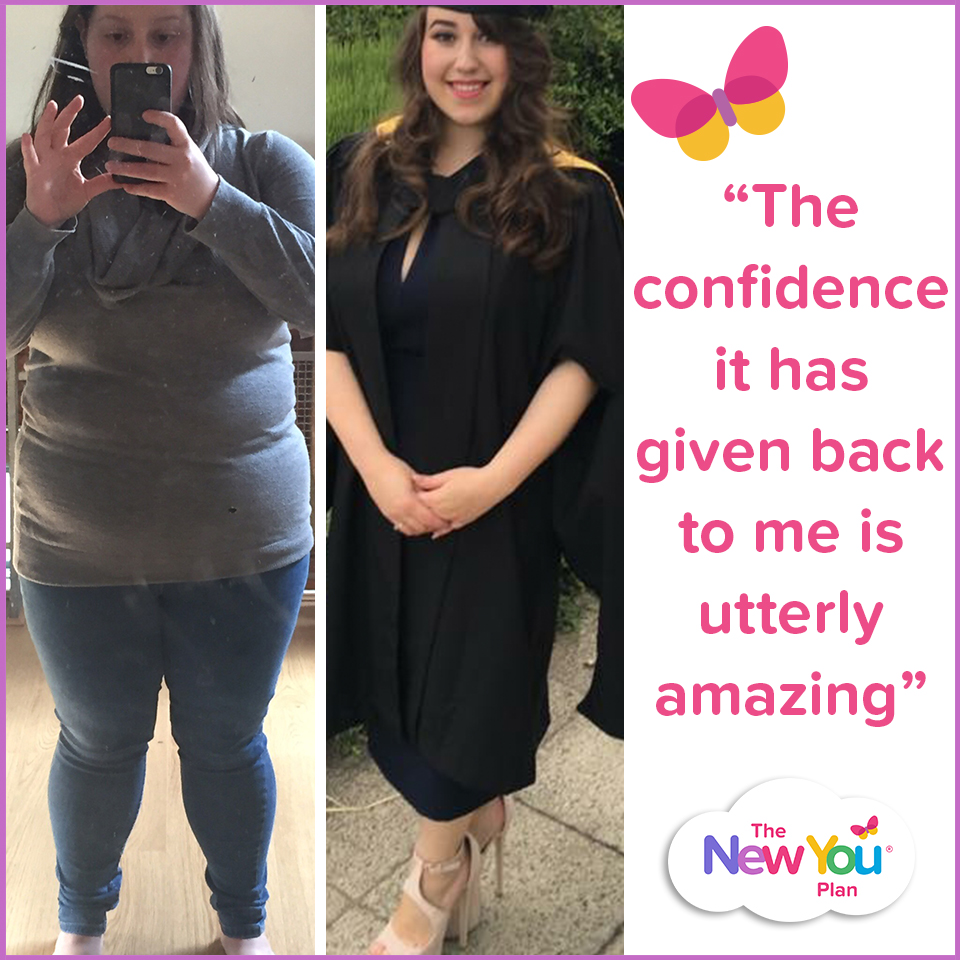 I've been doing the plan now for a little over five months and I have not looked back! In my first week I lost 8 pounds*, which I was over the moon about. Then the second week I lost 5 pounds*, followed by 3 pounds* in the third week, which became my average weekly loss for the next while. In total I've lost 3 stone 6 pounds!!!* I'm so much happier and I've gone from a size 18 to a size 14!!!
Even through I am not at the end of my journey, I still have another 2 stone to lose to get to my goal weight, I am so much happier. The confidence it has given back to me is utterly amazing and I now love going shopping, much to the horror of my bank account! So now I weigh 11 stone 2 pounds and can easily wiggle into a size 14 and I'm back into a few of my old items of clothing.
The weight I have lost has already made the little things, like walking to work or buying a new shirt so much more pleasant and I can't wait to get to the end of my goal and see the new me!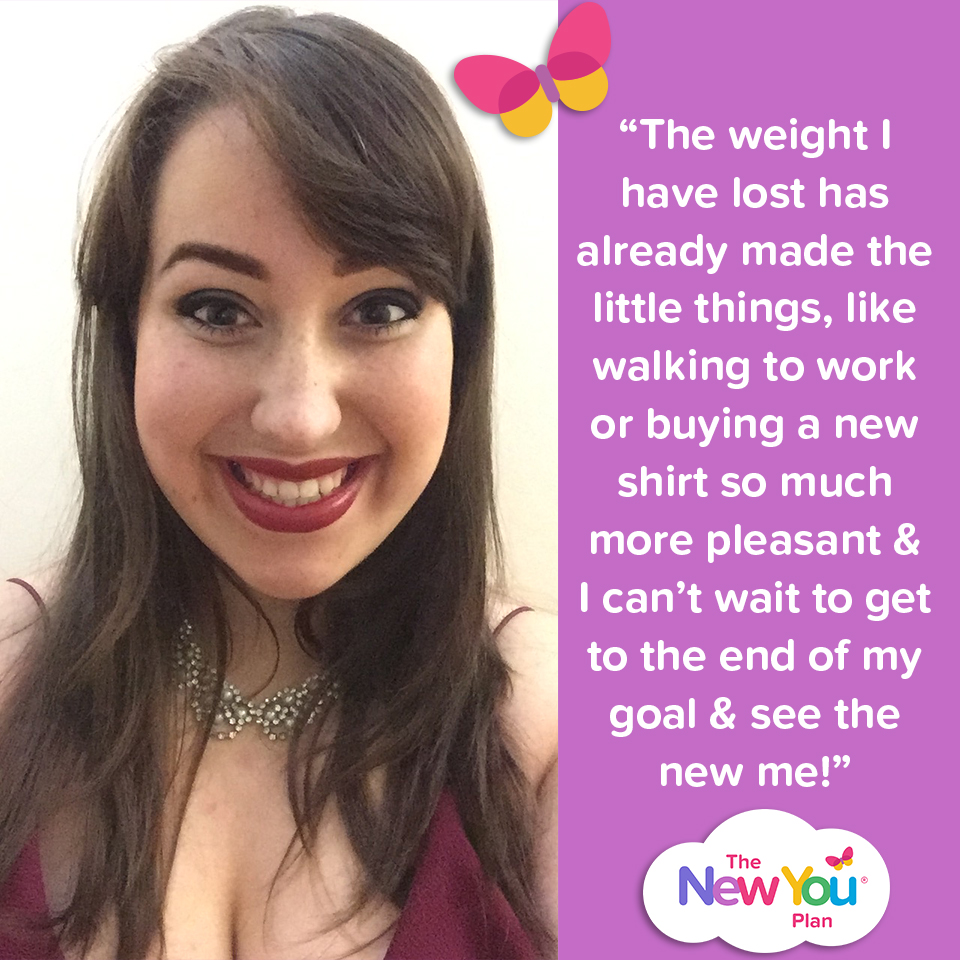 It's great to get little compliments as you go on your journey, like being told you 'look like you've lost weight' is such a boost! The whole plan has changed my mindset about food too. I no longer need to seek the comfort of a blip to help pick myself up. Now all I need is to post something on the Secret Slimmers page and watch the support come flooding in. Also I've educated myself more about food, and now feel more in control of my food intake and aware of my body getting full a lot quicker and not needing to carry on eating when there is still food left on my plate.
For anyone thinking about started, I would definitely recommend joining The New You Plan. It allows you to eat and be supported by an amazing network of people who don't judge or scorn, but who pick you up and keep you motivated. They have inspired me to keep going, even when I've had a really tough day at work and all I want to do is blip or give up, they are there for me and really help me see that there is light at the end and it is worth it to keep going!
 As part of your journey, my advice would be to go all in! It really does help getting involved in all the Facebook challenges and 'selfie Saturdays' which show everyone your progress and the fantastic comments that everyone gives are amazing. I also think it's great to have a goal in mind to inspire you and keep you working towards something. For me it was my graduation photo shoot in July, which I managed to lose a stone and a half for. I felt like a million dollars in my dress, which showed off my curves and the weight I had lost. Setting yourself goals, however small is important. My next goal will be christmas when I will be fitting into a new little black dress I've bought in a size 10. I cant wait!!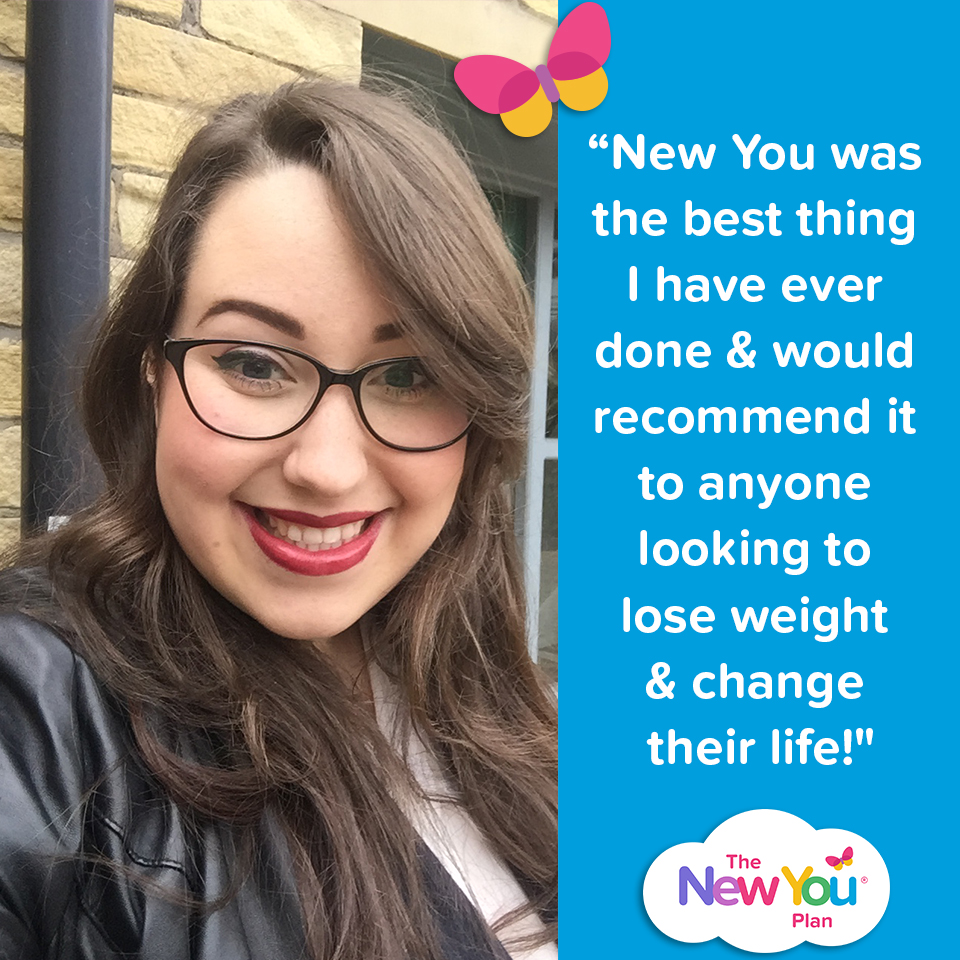 Starting New You was the best thing I have ever done and would recommend it to anyone looking to lose weight and change their life!"
Lydia, xx
START YOUR TRANSFORMATION TODAY
If you're just starting out on your journey, or coming back to the plan then we would recommend our 60 TFR bundle. This bundle will last you for 14 days. You'll be able to enjoy 4 meals per day and 2-3 snacks per week.
What's even BETTER is that with The New You Plan we're more than just a diet company. We are a total lifestyle change: meals, mindset, motivation and maintenance. With unrivalled customer service, a 100% money back guarantee and unlimited online support you'll be able to get in the zone and smash your goals in 14 days.
Benefits of this incredible bundle:
Over 35 Delicious Meals and Snacks to Chose From
All New Customers get Free Gifts Worth £190.95
All new customers can swap products and benefit from a 100% money back guarantee!
Access to our Exclusive Secret Slimmers Facebook Group
Free Shipping on orders over £50!