Before & Afters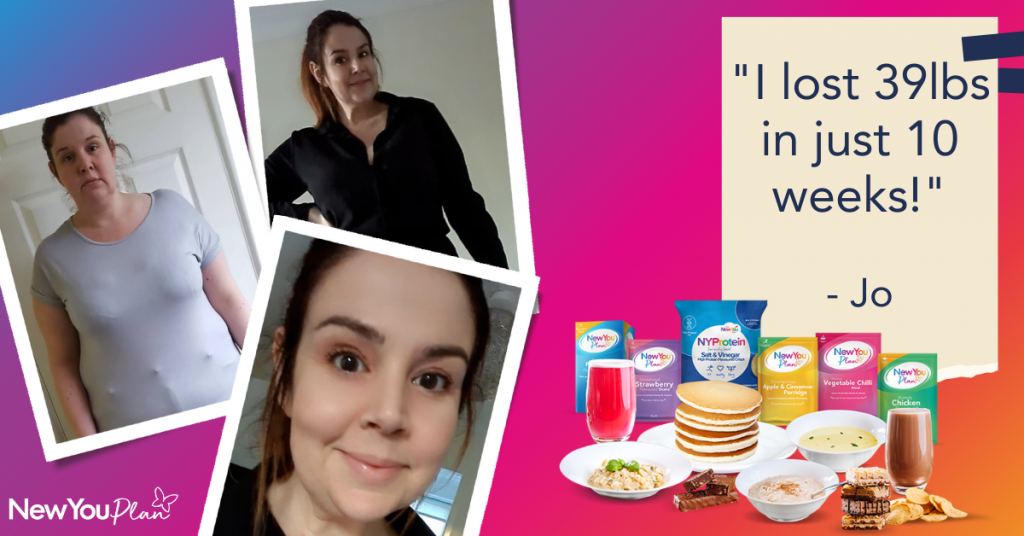 Jo Lost 39lbs in 10 Weeks and is Just Buzzing!
This week, Secret Slimmer Jo, couldn't wait to share her journey with you all. Having lost 39lbs, she wanted to inspire you all with her story and tell you about the amazing benefits of weight loss.
New You: Hi Jo, how much weight have you lost and how long did it take you?
Jo: I've lost 39lbs in just 10 weeks and I'm hoping for 3 more lbs to make it 3 stone in 11 weeks!
New You: That's a great result! So, how did you discover the New You Plan?
Jo: I saw an advert for New You on social media.
New You: A lot of customers discover us that way. Can you describe how you felt before starting the Plan?
Jo: Hopeless! I felt I had done everything but nothing was working as I'd lose a lb then gain 2lbs. It was one step forward and 2 steps back all of the time. I knew I needed something with quick results that was very convenient because as a single mum, I don't have much time.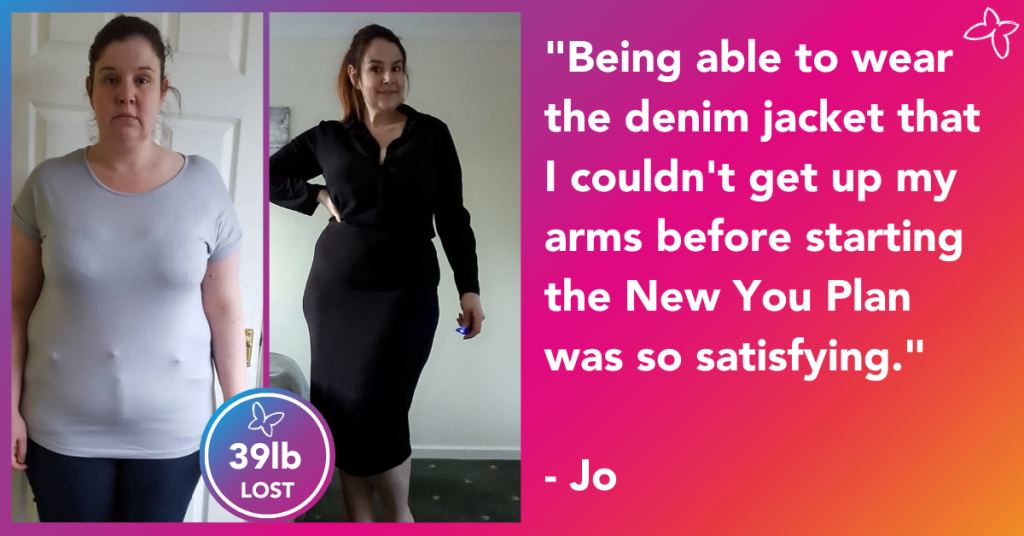 First Week Feelings
New You: What was your first week like?
Jo: The first couple of days were tough. I developed a headache and I was tired, but the Facebook group was AMAZING for inspiring stories and support. I just made sure I kept my water with me at all times and went to bed early. After day four or five I started to feel so much better. Then after stepping on the scales on day seven and seeing I'd lost a stone, I was completely hooked.
New You: A lot of people get those symptoms, to begin with, but they soon go. And as you've seen, the results are worth it! Do you have any favourite meals or snacks? And what does a normal day look like on Plan for you?
Jo: I absolutely love the spicy noodle nosh and sour cream and onion crisps. I pretty much have them every day!
When I'm at work I have a cafe latte shake at about 8 am and I blend it with ice in my Nutribullet to make it thick and creamy. At lunchtime I have my crisps then when I get home at about 5 pm I have the spicy noodle nosh or egg omelette cooked in my waffle maker. It works so well! After that, I may have a crispy peanut bar for pudding then when the kids are in bed I either have another shake or a chocolate brownie pudding. They are soooo good!
Weekends are similar but I would probably have an omelette or pancakes for breakfast as I have more time to prepare them.
Celebrating Non-Scale Victories
New You: We know what the scales have told you, but what has been your biggest non-scale victory?
Jo: I've got so many! People's reaction when they see me after a while is priceless. Being able to wear the denim jacket that I couldn't get up my arms before starting the New You Plan was so satisfying. Clothes shopping and picking figure-hugging clothes rather than baggy shapeless clothes and walking up the stairs and not being out of breath…. the list goes on!
New You: Wow, that's incredible! To get to where you are now, what was your biggest motivator for staying on Plan?
Jo: The weight and inch loss! Seeing the numbers drop keeps me on track as well as feeling so much better in my own skin.
New You: How has the plan changed your life?
Jo: I've had a massive confidence boost! I'm not hiding in the house in baggy clothes or hiding from people I know when shopping because I don't want them to see me. I'm now the complete opposite and I'm not even at goal yet!
New You: Having confidence really is a life changer. So, how has your health improved?
Jo: I'm less out of breath, I have more energy, I sleep better and my skin is clearer.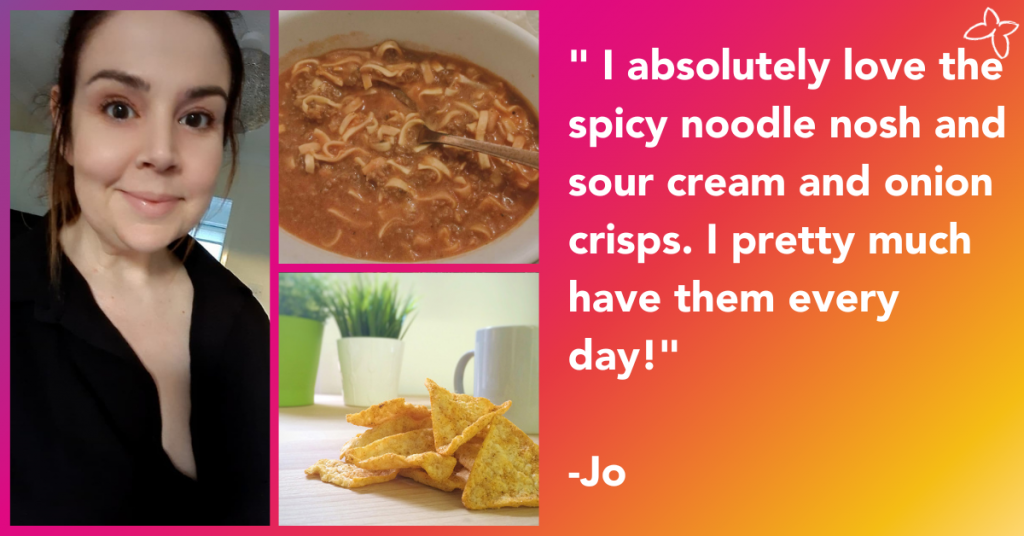 Happy Times
New You: You've had so many changes since you lost 39lbs Jo, can you recall your happiest memory throughout your journey?
Jo: Being asked out on a date, not just once but twice by different men! I'm so much more outgoing and confident now and I think it shows.
New You: We'd love to know if you accepted those dates! But apart from that, what has been the nicest compliment you've received since losing weight?
Jo: That I was glowing! I've obviously had a lot of compliments about how much weight I've lost but someone said how I just looked so happy and I was glowing!
New You: You definitely sound happy! So, finally, what advice would you give to someone considering starting the New You Plan?
Jo: DO IT!
I couldn't recommend this Plan more highly. Delicious meals, huge choices, amazing support, inspiration, and fantastic results! I've lost 39lbs already and it was so easy!
You can feel the energy from Jo as you read her story and we feel it's contagious. Having lost 39lbs in 10 weeks has been a life-changing achievement for Jo and not just because of the scales. Her non-scale victories have had the biggest impact on her life, from the confidence she now exudes to the thrill of shopping.
Inspired?
If you're inspired by Jo's story, then like she says, just do it! With our 7-day kickstarter bundle, you can try the New You Plan from just £27. No commitment and nothing to lose – except for weight! Head on over to our website and start discovering the new you, today.
Got Your Own Story?
Already loving the Plan? Want to share your story to inspire others? We'd love to hear from you! Just email our friendly customer service team or DM us on social media. We can't wait to hear from you!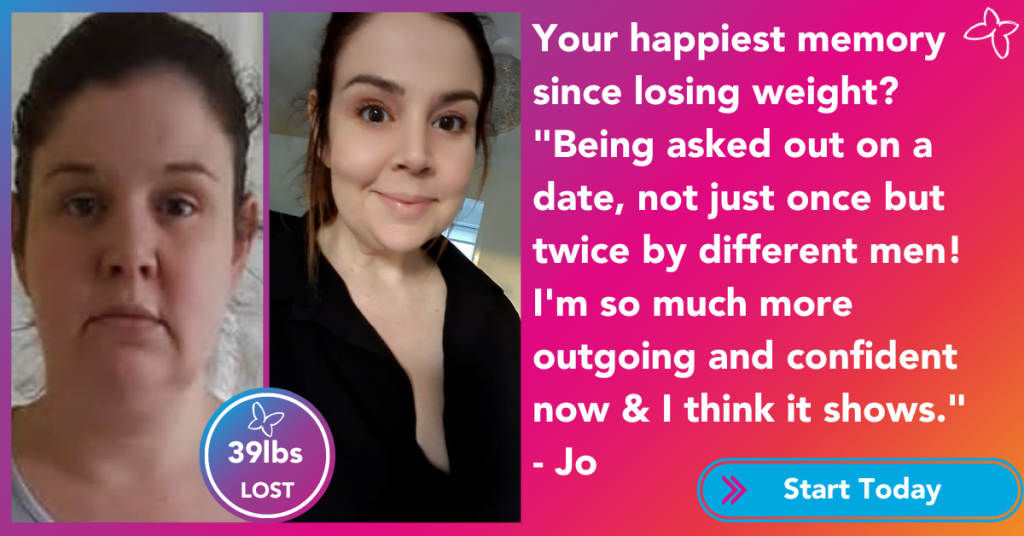 Feel Inspired?
Laura was someone who was inspired by the results of others on the Plan and now her own story has been shared in the hopes it will do the same.
Whether you want to lose half a stone or 10 stone, have a slimmer figure or are just looking to get maximum nutrition in minimum time, then New You can make the perfect partner to get you to where you want to be.
Not sure? Try our 7-day bundle and see what you can achieve in a week. You'll be pleasantly surprised.