Candida's Blog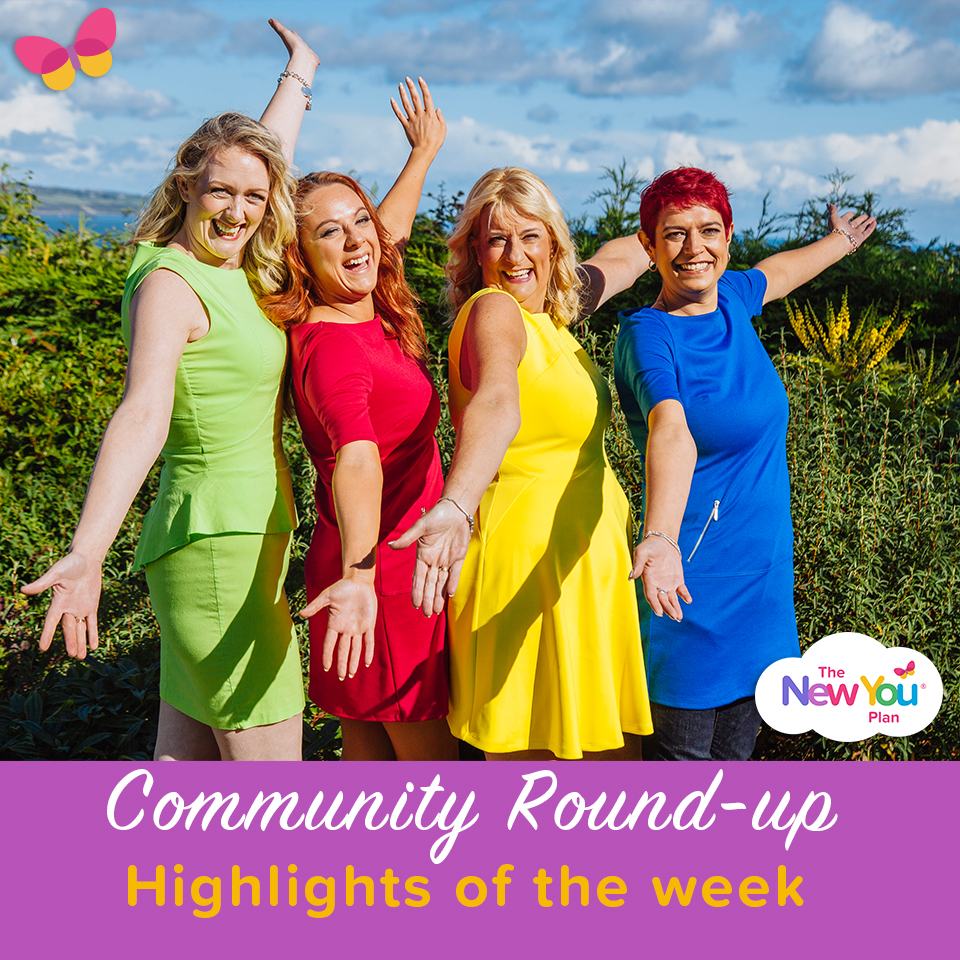 New You Plan Highlights Of The Week

As another busy week passes by, Community Manager Candida rounds up what's been happening in our Secret Slimmers & Momentum Maintainers groups with her New You Plan Highlights of the Week. From amazing weight losses, to inspirational stories, get the goss and find out what it is that makes our groups just so amazing!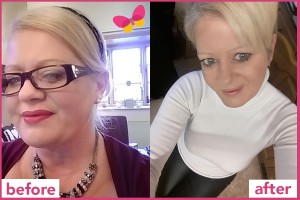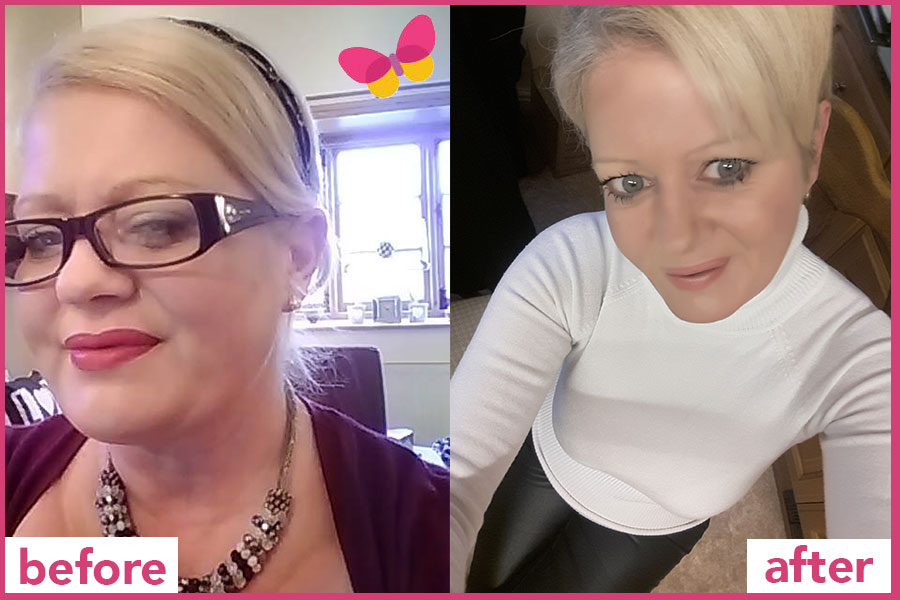 Oh you Secret Slimmers do keep us busy! I love it! What an awesome week you have all been having.
It has been absolutely fabulous to see so many of you getting together for charity events, making new friends on Secret Slimmers and generally engaging on the page.
We all have one thing in common and that is of course weight loss, which is such a personal and private thing generally. But… oh no, not on Secret Slimmers! We divulge our inner most secrets to people we don't really know but somehow, we make a strong bond with one another, which is all part of your life changing journey.
So, let's have a look at what you have all been up to thanks to my New You Plan highlights of the week round-up!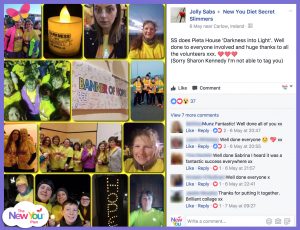 Six of our beautiful Secret Slimmers participated in an amazing cause for Pieta House. They did the Darkness into Light Walk in Co. Dublin. Sabrina, Jackie, Alison, Mary, Yvonne and Mary-Ann helped raise awareness for an incredible non-profit organisation providing a specialised treatment programme for people who have suicidal ideation or who participate in self-harming. Very proud of you all! Jackie Murphy told me that the atmosphere was electric and the whole experience of walking from night into day was very moving!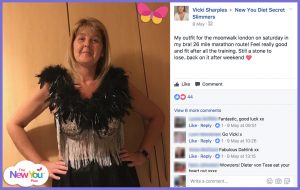 The last couple of weeks I have been following Vicki Sharples' progress in preparation for the big 26-mile Moon Walk this weekend. She has chosen her brilliant outfit and when I spoke to her she told me that she is so looking forward to meeting new people and experiencing something she would never have had the courage to do before New You. Good luck Vicki – you can do it!
Onto some astounding weight losses this week and it's great to see so many of you loving the plan and getting involved on the page. Here are some of my faves this week…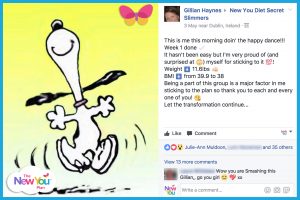 One of our newbies Gillian Hayes was doing a monumental happy dance at her 11.6Ib* week one loss.
She said: "Week 1 done! It hasn't been easy but I'm very proud of (and surprised at) myself for sticking to it 100%. Weight down 11.6lbs* and BMI down from 39.9 to 38. Being a part of this group is a major factor in me sticking to the plan so thank you to each and every one of you! Let the transformation continue…" – WOOHOO! Brilliant start and attitude!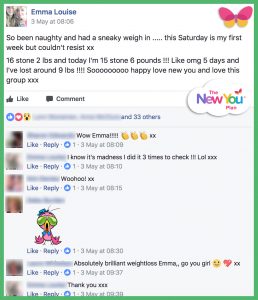 Emma Louise is 9lbs* down in her first week and she said: "Sooooooooo happy love new you and love this group xxx" – What's not to love?! The most amazing plan and a support group that is second to none! I am over the moon for you Emma!
Natalie Dunn and her mum, Sharon have just completed their first re-feed and low and behold after their first week back on full TFR Natalie lost a whopping 11Ibs and Sharon an incredible 12Ib! Well done to mum and daughter – totally awesome!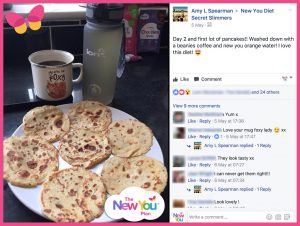 I was so envious when I saw Amy L Spearman's pancakes. They were perfect!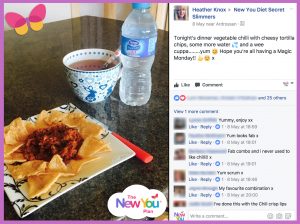 Heather Knox was also cooking up a storm with her stunning looking chilli surrounded by tortilla crisps. Diet? Did someone say diet?! I think you will agree that we are so lucky to have such lovely tasting products.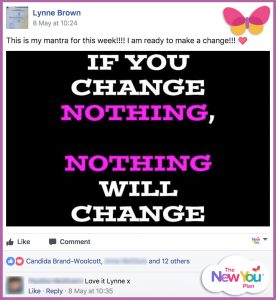 Usually this is when I introduce you to one of our Cheerleaders but you have now met them all! However, what goes on behind the Facebook pages and the New You site is a little hive of industry, with staff working through the day and sometimes the night to make sure that you are very happy slimmers and are receiving the best possible plan, meals, service and advice.
So from all the team, have the most incredible week, keep sharing your meals, your thoughts and ideas and keep your momentum going. Let's prove to everyone what we are capable of achieving!
Baby steps to BIG dreams!
Love,


*Weight loss results may vary. This is not a guarantee.
_____________________________________________________________________________________
Start Your TFR Journey Today!

Getting started is the first step in your journey to a brand New You! To help you understand fully how our plan works, our Get Started page was designed specifically for people new to the plan.
Head over to our site where you'll find tonnes of important information including how our plan works, the science behind it, loads of top tips, information on our meals, as well as real customer testimonials.
Click here to visit our Get Started page!