Before & Afters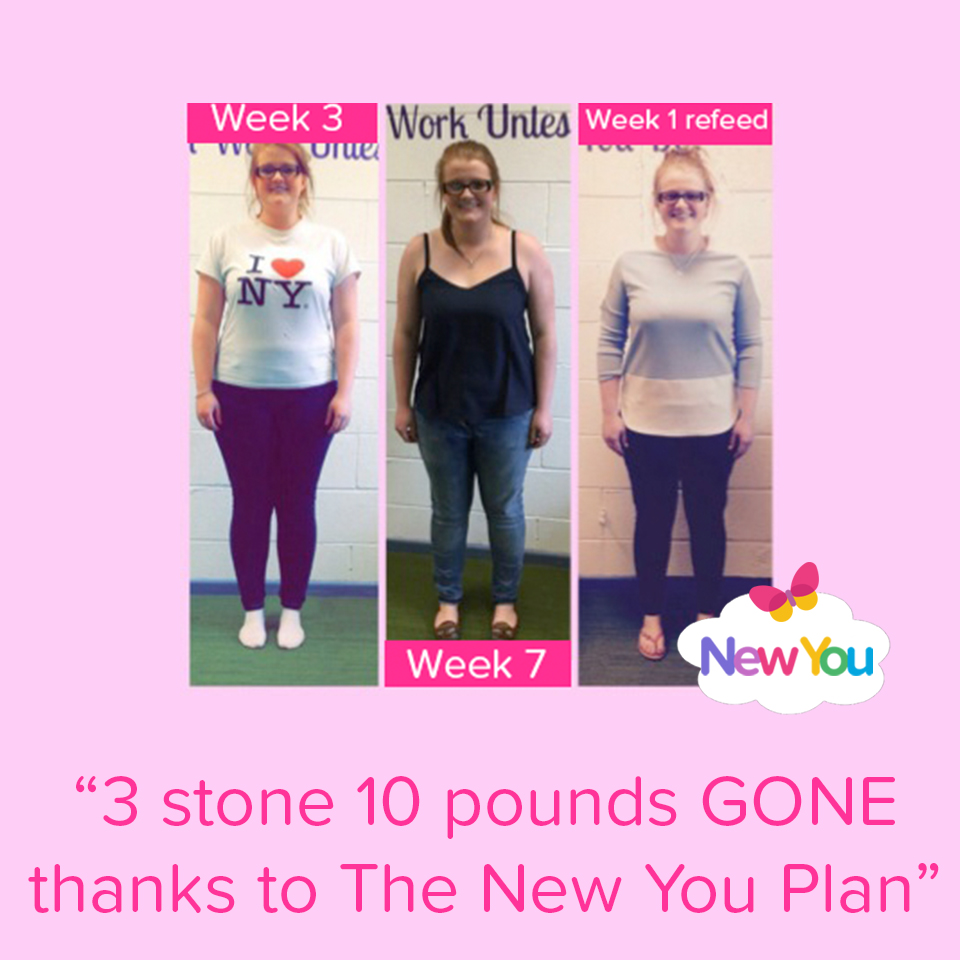 [GUEST BLOG: TASHA]: "3 stone 10 pounds GONE forever thanks to The New You Plan"*
HIYAAAAAAAAAA!
So I had my weigh in on Thursday morning and I have lost another 10 whopping pounds*! I'm sooooo happy. I started refeed last Friday as the wedding I am attending is this Friday. I am loving it! I have been counting my calories and writing down what I'm eating just to keep myself on track. I still have my New You Snacks and Hazelnut Bar and I don't think I am ever going to be able to leave them! They are sooooo tasty!
*Results may vary. This is not a guarantee
I didn't really take many full length pictures of myself because I was embarrassed to have my photo taken! In the colleges these are the time scales: left: 3 weeks into my New You journey and 16lbs lost at this point. Middle: week 7 of the plan where I was 2 stone down. Right: first week of refeed 3 stone 10lbs gone!
I am starting to do a bit more exercise now that I am lighter on my feet. I went for a run last week with the girls in the office. I was dreading it the whole day and I was even trying to make up excuses as to why I couldn't go, but nope, I bit the bullet and went for it. I couldn't believe that I did so well! I was expecting to be lying crying behind a tree somewhere – I really shouldn't have put myself down because I was so happy with myself after it. I am continuing to do this twice a week (if my back feels up to it, obviously).
Ohhhhhh and last thing for this week – I got the claws done! They are bright orange – even brighter than they look in this photo! I had them done to match my dress for the wedding. I cannot wait to get a picture of me all dolled up. I'm so excited! Who knew that when you lost weight you would feel so good, ehhh!?
WOOHOOOOOOO…… I FEEL AMAZING!
*Results may vary. This is not a guarantee