New You Plan Blog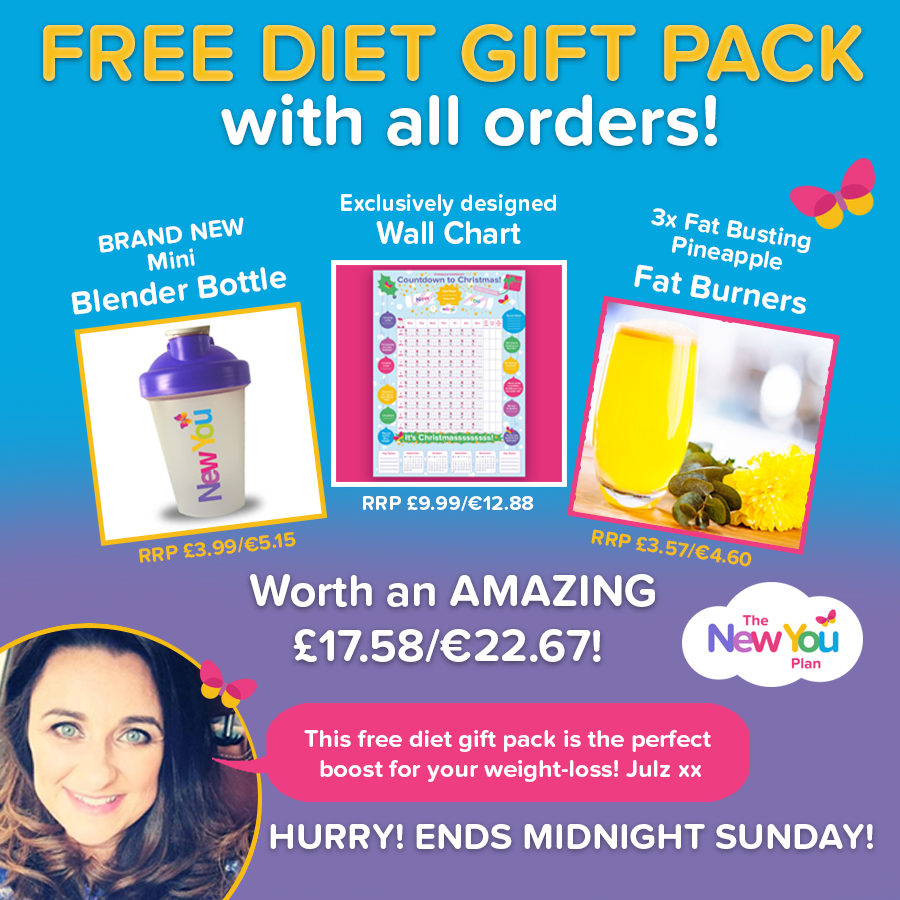 FREE DIET GIFT PACK WITH ALL ORDERS!
✔Mini Blender Bottle: £3.99/€5.14
✔3 Pineapple Fat Burners: £3.57 /€4.60
✔Countdown to Christmas Wall Chart: £9.99/€12.88
Total Value of Diet Gift Pack = £17.58/€22.67
This Diet Gift Pack is the perfect boost for your weight loss…
3 x Pineapple Fat Burners – These are my secret weapon! I truly believe they have had a MASSIVE effect on my weight loss journey. If you haven't yet tried their amazing properties for yourself, try them today for FREE! Really take your weight loss up a notch & watch as those jean sizes fall FAST with these deliciously refreshing weapons of fat destruction!
1 x BRAND NEW Mini Blender Bottle – These small but mighty Blender Bottles have been a popular choice with customers. They are the perfect size for popping in your bag for those on-the-go days, but they are still large enough to hold one of our delicious Shakes, meaning you are always prepared!
1 x Exclusive Wall Chart – Recording your weight loss journey is the perfect way to stay motivated & keep you 100% focused! This specially designed Wall Chart will help you visualise your journey and there's no better feeling than ticking off those 100% days!
This winning combination is the perfect trio to really enhance your New You Plan journey*! These incredible freebies are worth an amazing £17.58/€22.67 are an ABSOLUTELY FREE with ALL orders! No minimum spend!
*Weight loss results may vary. This is not a guarantee.
This limited time only offer won't be around for long so you'll need to be super quick! Simply place your order before midnight on Sunday to receive your amazing FREE goodies!
If you need any help with your order, please give our experienced and friendly customer service team a call on tel: 028 3833 0720 and they will be only too happy to help!
£17.58/€22.67 free with ALL orders! No minimum spend or promo code required!! Shop HERE now!