New You Plan Blog
Find Your Mojo Again with Mojo March!
The mindset focus for March is getting your mojo back. But what does that mean? It means getting excited again and getting back your zest for life! All of this can get easily lost when you go through difficult times. You end up feeling stuck with no way forward. Well, there is a way forward and that way starts with you and the decision to make a change for the better.
That's right, It's your choice to get your mojo back! And why wouldn't you choose to enjoy life, feel motivated, have more energy and feel better in general?
When you elevate all these things you find that you make better choices for yourself – like following a healthy plan. And when you make better decisions, you feel empowered and in control of your life.
The nights are getting lighter and the sun is showing its face a little more, so why not take this chance and a new month to rediscover your mojo and hit the ground running into summer!
It's ok to feel a little lost in your life and the first step to finding your way out is accepting it. The second step is to take advantage of some mindset coaching from Pascale over the next 5 weeks. Yes, this month is a 5 weeker! And she kicks off her first session with rediscovering your goals by helping you to:
Stay focused on what you want, not on the obstacles on the way.
Clarify your current priorities and look at the habits, behaviours, and actions you'd like to start, stop or continue.
Have a goal that is realistic, motivating and rewarding.
If you download your workbook, you can get started with Pascale's Start – Stop – Continue method. If you make a list of all the habits and things you want to start doing in your life to make yourself happy and reach your goals, then the things you would like to stop doing because they are harmful to your goals. And then you can add what you would like to continue doing.
Pascale will then coach you into using this to get really specific with your goals so you feel inspired, motivated and empowered. This will go a long way into bringing back your mojo!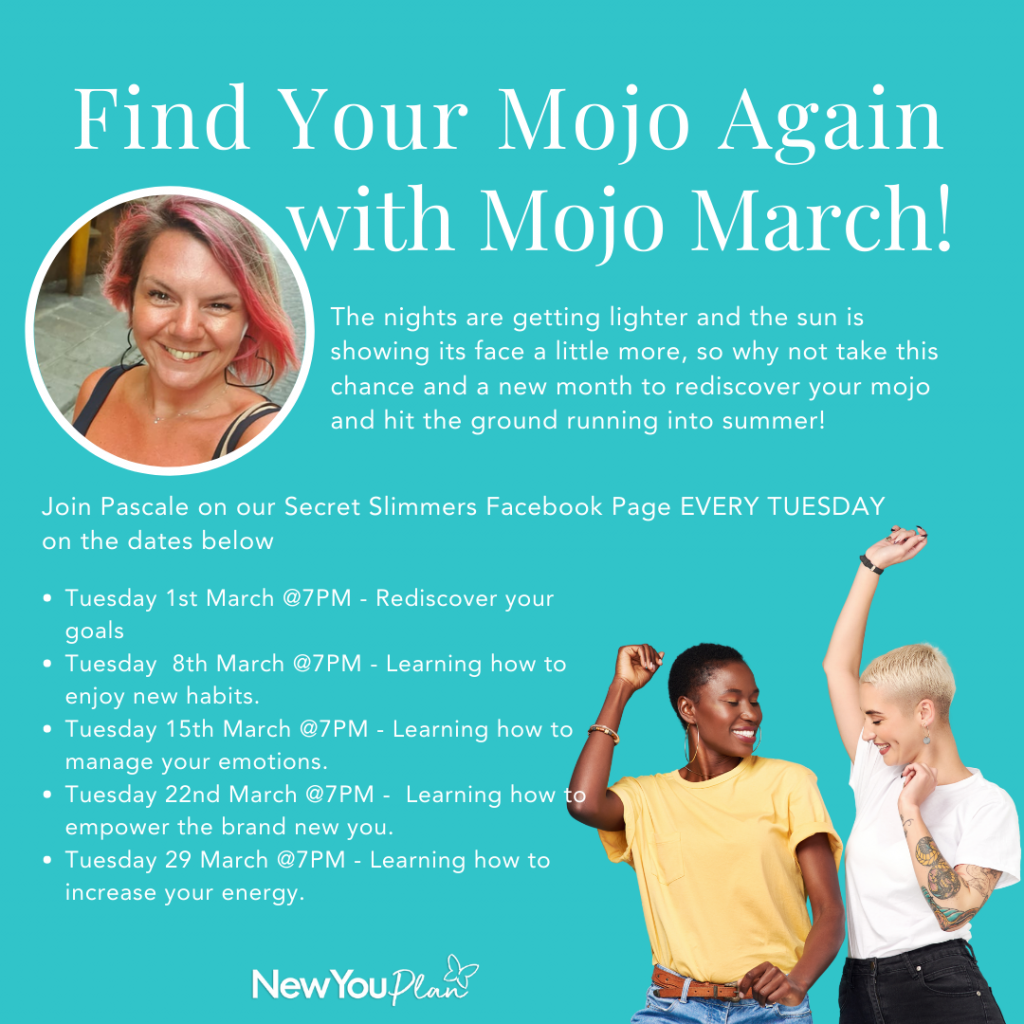 Pascale believes that by getting your mojo back, that not only it will make your New You Plan journey easier, but you will experience life with a brighter and more positive perspective.
So isn't that worth making time for?
Here's what else you can look forward to with Pascale in Mojo March, don't forget to pop these dates in your diary, as this is when you can see Pascale:
Tuesday 1st March 7 pm – Rediscover your goals
Tuesday 8th March 7 pm – Learning how to enjoy new habits.
Tuesday 15th March 7 pm – Learning how to manage your emotions.
Tuesday 22nd March 7 pm – Learning how to empower the brand new you.
Tuesday 29 March 7 pm – Learning how to increase your energy.
You can Join Pascale over on the Secret Slimmers Facebook group and if you make it live you could win yourself £25 in New You credit. If the day and time aren't ideal then you can catch up with Pascale's sessions in the Guides section.
Oh and don't forget to download your workbook, it's so handy to refer to again and again.
With springtime just around the corner, it's the perfect time to refocus on your goals and get excited about the future again. Your mojo is there, deep down inside you you've just got to encourage it out again!