Before & Afters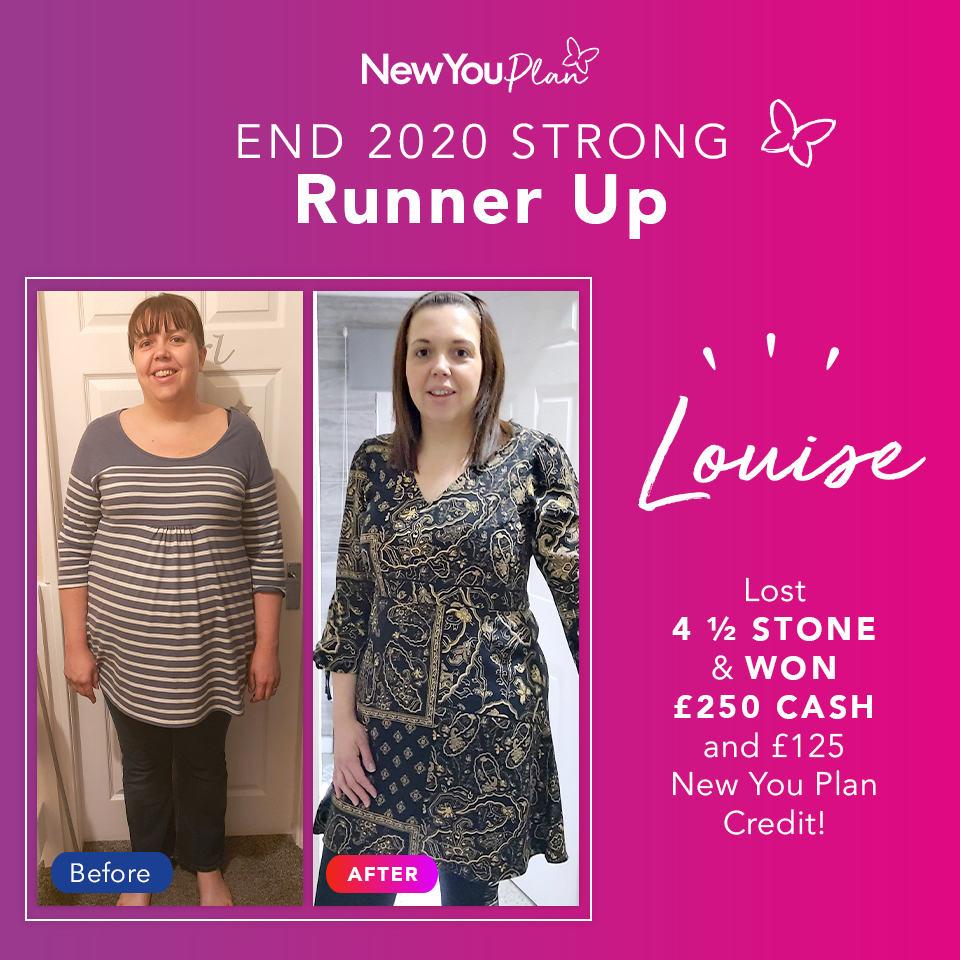 'End 2020 Strong' Transformation Challenge Runner-up, Louise, lost 4.5 stone and WON £250

She lost an incredible 4st 9.5lbs in 28 weeks. Read about her amazing achievement below
Meet Louise our End 2020 Strong Transformation challenge RUNNER UP and winner of £250.
Louise started the New You Plan 28 weeks ago and in that time managed to lose an impressive 4 stone and 9.5 pounds.
New You Plan founder Julie-Ann called Louise to give her the great news and find out how she found her journey with the New You Plan.
Louise, how did you hear about the New You Plan?
To be honest, it was really odd. I'd been unhappy for a while and I'd been thinking about dieting. Many years back, I did a similar total food replacement… I only did it for six weeks, it was before I got married so I could get into my wedding dress! I'd toyed with the idea of doing it again and as I was scrolling through Facebook, the New You Plan was one of the ads that came up!
I clicked on the ad and read through all the info and success stories…I thought it looked really good. Price-wise, it's a really affordable option compared to others. I feel really lucky that I saw the advertisement!
Do you think this was part of your motivations to stick to the plan?
Yes. One of the things I noticed when I looked on the website was the bundles. I ordered a four week bundle thinking, "if I'm going to do it, I'm going to commit" and it arrived the day or so after I ordered it.
How much have you lost?
Altogether I've lost 4st 9.5lb in 28 weeks. During the challenge it was around 2 stone. I'm not far off my target now!
How did you feel when you placed your first order?
Before I placed the order, I was miserable. I was the biggest I've ever been & it was just increasing. We were three months into the national lockdown & we didn't have the opportunity to go out or do anything…I've got a health condition on top which impacts on my joints & causes pain etc, I was at a really bad point with it all. I felt generally rubbish really! I just had no interest in anything, I didn't want to do any clothes shopping because nothing looked good, nothing fitted properly…but it gave me the motivation to get started.
What have you found most enjoyable about the plan?
For me, it has to be the variety of different products. It helped with sticking to things & looking forward to what you're eating. You don't get bored. The snacks were great too, it was great still being able to have a snack or a treat. The Secret Slimmers group has been such a support, when I went on for the first time, I saw such really good advice & it's such a nice community.
Have you had any struggles and how have you overcome then whilst on the plan?
The first week I found really hard, it was such a change & everyone was telling me that day three & four would be the peak for hunger. Mine was five & six! I had a great loss first week- 11lbs! It gave me the drive to go on. At the end of my 12 week block we'd planned to go away, so I'd given myself a week off plan. I put on 8lbs, but I managed to lose it when we came back- I went straight back on plan. I found it a bit harder when I went back on plan, but the Secret Slimmers group was such a support, all the encouragement was amazing.
What are your favourite products?
I love the chocolate porridge, definitely one of my favourites. I'm a huge fan of the risotto, I really enjoy it, you get so much! The other thing I really love is the dark truffa bars.
How many dress sizes have you dropped?
4! I was a size 20/22 & I'm now a size 12!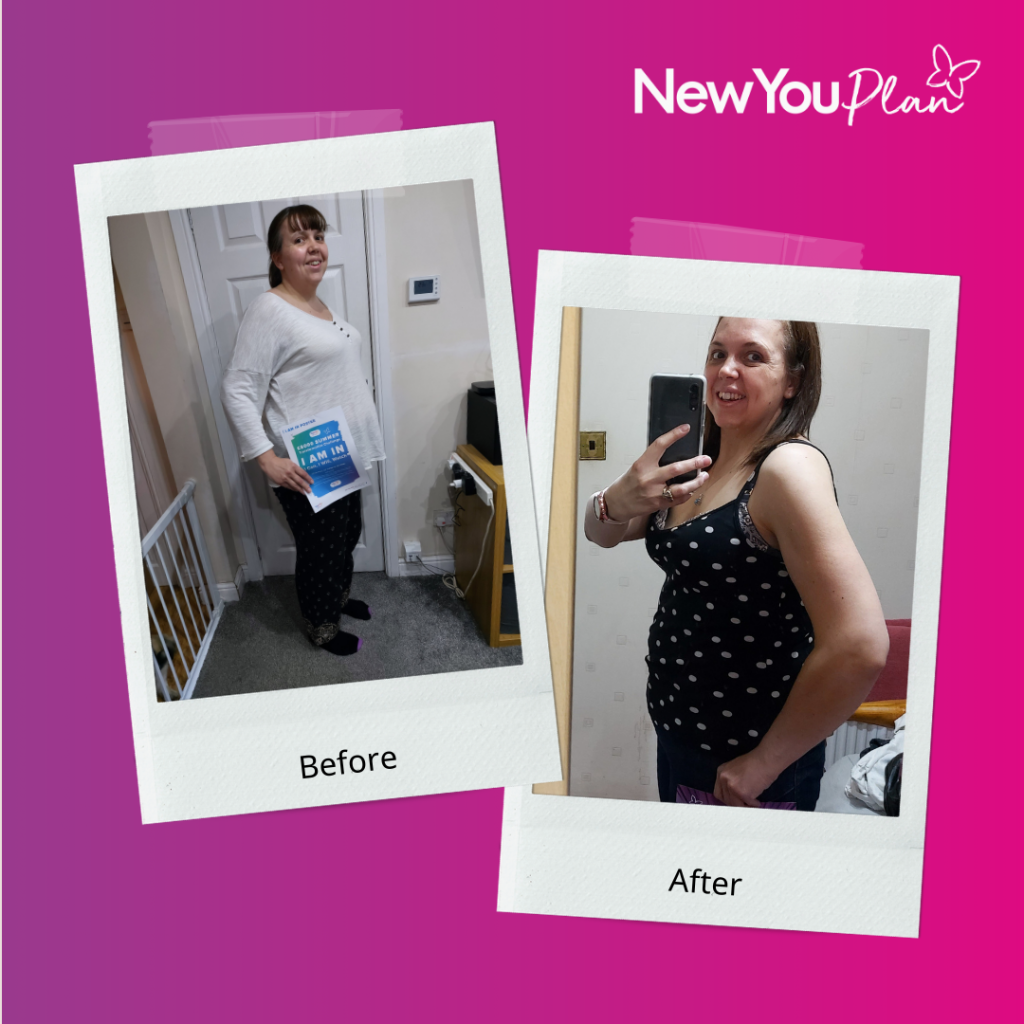 You said you haven't reached your target yet, how much have you got left to lose?
I set a target originally and I'm 4 pounds away from that. However, because I'm nearly there, I'm going to try losing another half a stone and I'll be happy.
Why did you take part in the Ending 2020 Strong challenge?
After my holiday, I struggled a bit getting back on the plan…I was having cheat days. The challenge helped me focus, I wanted to show what I can do. Seeing everyone else's transformation posts on the Secret Slimmers group really spurs you on.
How has the plan changed your life & how has your health improved?
I have never felt as good, or as well, in my whole life. I was on medication to manage my symptoms and pain, and I hardly ever need to take anything now. My stomach issues have completely resolved. I've never felt as healthy or as energetic before!
What advice would you give someone who was thinking of starting the plan?
I would say go for it! No matter how hard you find it, that first weigh in will keep you going. You'll be thanking yourself in a few months when you feel so good!
---
Watch out for our Transformation Challenges and you could win £1000