Challenges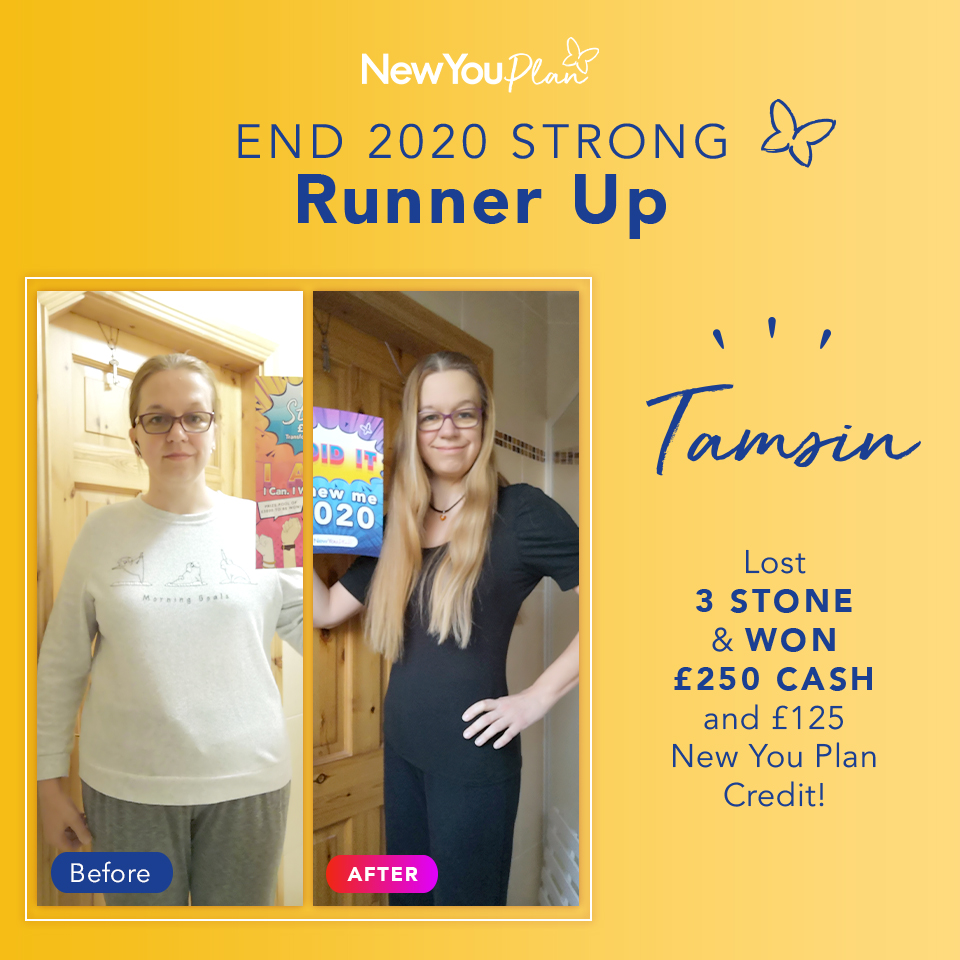 'End 2020 Strong' Challenge Runner-up, Tamsin, shares her New You Plan story and how she WON £250

Tamsin first started the New You Plan in 2017 wanting to lose weight for a friend's wedding. She has been on and off the plan since and through the End 2020 Strong Challenge has lost an amazing three stone and more than one dress size. 

She was crowned runner-up in the End 2020 Strong Challenge and won £250 in cash and £125 New You credit. 

Here's what she had to say about her motivation and journey so far…

How did you hear about the New You Plan?
A friend recommended it to me back in 2017. I was very heavy at the time, over 14 stone approaching 15 stone and I wanted to lose it for a wedding that I was going to. 


What was your motivation to begin and stick to the plan?
I realised when trying on dresses in the shop for the wedding that I was heavier than I imagined I was. When I was trying to squeeze into my old sizes and they weren't fitting me I knew that the pregnancy I had taken its toll on my body and I hadn't lost that fat. I wanted to fit back into clothes that I used to fit in. 


How much have you lost in the End 2020 Challenge and how much in total on the plan?
I started on the New You Plan in 2017 and I was approaching 15 stone at that point and my lowest weight has been 10.66 stone. This time round on this challenge I was just over 14 stone to begin with and that was in July/August and the lowest I got was just under 11 stone. 


How were you feeling before you started the New You Plan?
I hated the fact that I couldn't easily wash my toes in the shower. When I couldn't reach past my belly, I felt terrible. Especially this time round, I felt that I had failed myself because I had got the weight back again and I think that was due to Covid and Christmas last year. I felt that I had let myself down. I knew I could do it again. I knew I could get back to this point. Being able to reach into a cupboard, at the back of a cupboard and feeling that my belly was not in the way was huge for me. 

Before I started I felt very floppy and not nice. If I walked or ran somewhere I could feel that I wobble. I could feel myself wobbly and now I don't feel wobbly. When you can feel it happening in real time is great. My breasts could be quite large too which was a hindrance at certain times. They were very heavy. Just to have lost the excess makes it more practical. It makes it a lot easier. 


Have you struggled with anything and if so, how have you overcome these struggles?
I tend to be a night time eater when my daughter has gone to bed. I think a lot of mums have this. The children are in bed. You come down, you are doing the washing up, you have a obligatory cup of tea which leads to biscuits and chocolates and other things. Overcoming that habit of eating late at night was a huge thing. How I overcame it was instead of having tea I always have boiled water. Now I prefer a cup of boiled water to a cup of tea. The psychological thing of having a hot beverage in my hand is a huge comfort. From a point of view of eating food, I do have my crisps. The chicken tortillas. I may have some during the day and save a few for the evening to have that little nibble. I try not to eat past eight o'clock. I brush and floss my teeth then so I won't want to have to do that again. 


What are your favourite New You Products?
I love the hazelnut shake and mint chocolate shake. I love spicy noodles nosh. That's definitely my favourite. It feels like a real meal and fills you up. Putting tortillas with it too makes it feel like a real dinner. I love the lemon bar. I love the milk chocolate truffle when I want a chocolate hit. I love the chicken tortillas crisps. I cannot get enough of them. That's my number one snack. I love the chicken noodle curry as well. 


Do you do anything with your products out of the norm?
I used to add chilli flakes to the cottage pie. I add hot water to the peach tea flavouring. I find that is very satisfying. 


How many dress sizes have you dropped?
I've got down from a very tight 16 to now a 14 but it depends on the store. I'm back in my leggings. I love my leggings. They are no longer sliding off me because the bulge is in the way. They are sitting comfortably and they would have been a size large. I've lost more than a dress size. 


Have you reached your target and if not, how much have you left to lose?
I haven't reached my target yet. This time around, my target is 10 stone. I'm 5ft 10 and I know that will make me very skinny but the idea is that I've always experienced a bounceback. I always gain five to seven pound every time I come off the New You Plan. After Christmas I want to hit 10 stone so when it comes to springtime and summer I want to be able to fit back into some gear again. 


Why did you decide to take part in the End 2020 Strong Challenge and do you think it helped your overall weightless journey?
I do. I decided to do it because the poster was in the box of food and I thought 'yes, I'll give that a go' so I took a photo of myself the next morning. I always weigh myself every morning and when I was doing it I thought 'let's aim for the 30th November, let's get this done'. Whether I had won or not, I don't know if I would have made a difference. It was an extra motivational factor for me. It definitely did help. 


What is the biggest lesson that you have learnt taking part in the challenge?
Remaining motivated towards a goal. I didn't hit 10 stone by the 30th November but I wasn't going to beat myself up about it either. I've had a lot of blip days. We all have had blip days. Being kind to myself but being motivated. 


Has the plan changed your life and has your health improved in any way?
Yes when I'm on the plan my skins improves dramatically. I don't know quite why or how. It could be because I'm drinking four litres of water a day. Other bodily changes would be less pain with my periods. I have more energy in the morning too. I feel very ready to seize the day. I don't feel hungry in the mornings at all. When I'm off the plan I do feel more lethargic. It has also changed my taste buds for the better. 


What advice would you give to someone starting to New You Plan?
I've actually advised three people to do it and two of them have taken it up. I would say try the foods first, do a week bundle but don't give up after the first week or two weeks because the first week is hard, it is. For me, the first four or five days were very challenging but if you can get past day five, you're flying it. And if after one week, you'll feel a whole lot better. You'll be feeling the benefits of the extra energy and not feeling as hungry and after two weeks, you're not feeling hungry at all. As I advised my friend, there will be challenges and you will have cravings. 
---
Join our us for a New Year New You challenge and win £3000 CASH!